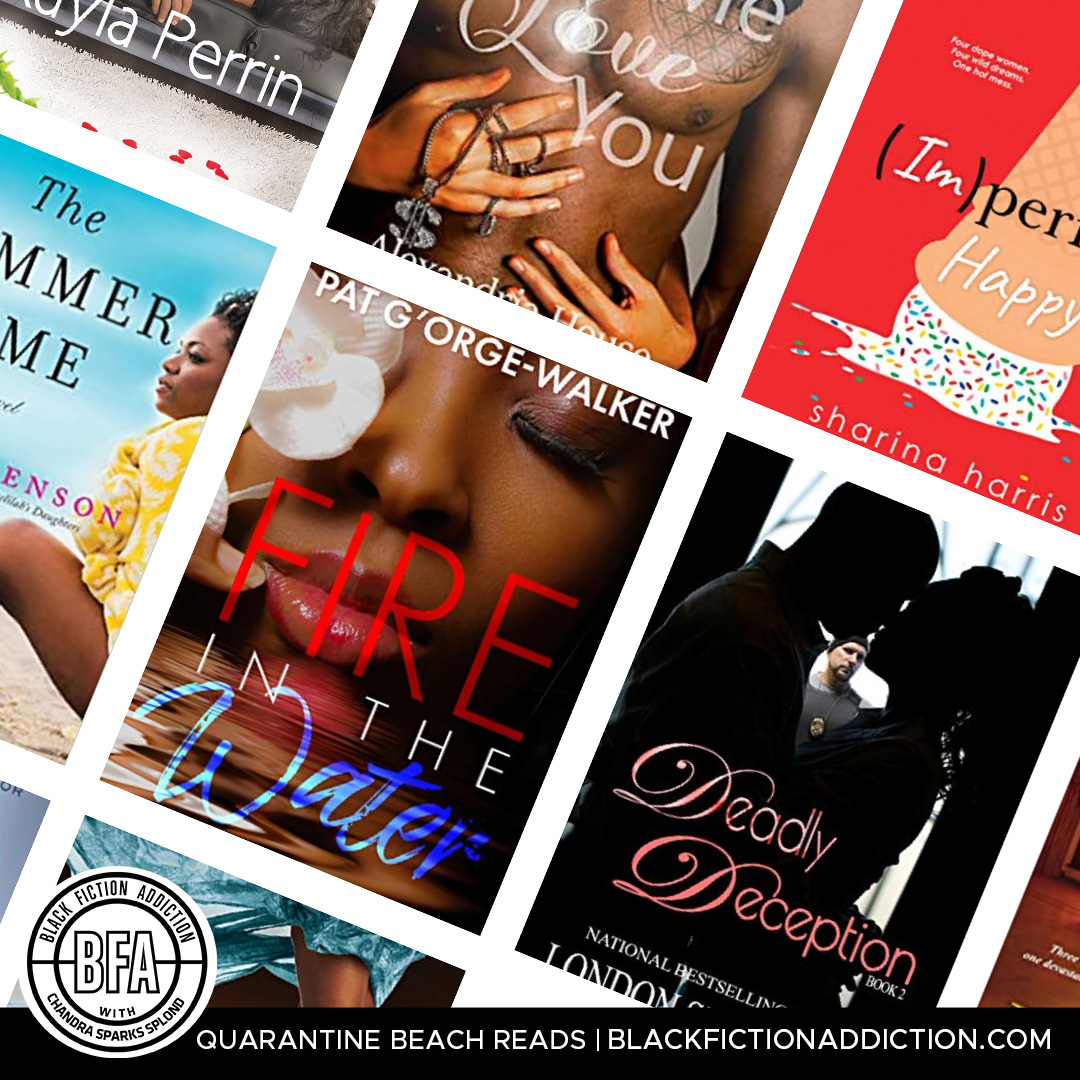 In a perfect world, many of us would be headed to the beach this month, getting ready to happily curl up with a book. Since we're living in the time of corona and that vacation isn't a possibility, isn't it great to know we still at least have books. Here are a few books to check out for your summer staycation:
Room Service
Rochelle Alers
New Yorker Jasmine Washington had a successful interior design business, a high-powered marriage, and a chance at motherhood—until her perfect husband betrayed her big-time. Now starting from scratch, the Asian and African-American stunner is tackling a lifetime opportunity: co-managing her friend's new luxury inn about to open in the Garden District. The last thing Jasmine needs is romance. New Orleans' most eligible bachelor, investment banker Cameron Singleton, begs to differ.
Cameron challenges Jasmine's cautious ways, teases her back into having real fun—and makes one sexy, utterly irresistible Mr. Right Now. But their passionate nights soon result in a surprise bonus. . . . Even though Cameron insists on being there for Jasmine, can she really believe his love is the real thing? Can she shake the past and design a completely new life? And is there really only one way to find out?
Summer of Me
Angela Benson
When Destiny sends her children to spend the summer with their father and stepmother, she decides to spend the time addressing her own needs, including finishing her college degree. Her mind isn't on romance—until she meets Daniel. As she finds herself falling for the pastor, she also grows in ways she never imagined!
Fire in the Water
Pat G'Orge-Walker
Smooth-talking Musician, Sanjay Thomas' "hit it and quit it" past has caught up to him. Like a Mack truck, it will flip him and leave him waffling, wondering if Jesus was only kidding about forgiving him.  Falling in love with best selling author, Celeste Francois, was unplanned. That romance placed him in a situation where a 'lie' will force him to make another life-altering decision; if he leaves her, he will save Celeste's fragile self-esteem and her amazing literary career from being destroyed, staying is no longer an option. Sanjay Thomas makes the sacrifice to abandon her …but for how long?
Celeste Francois, a single mother with a pair of ten year-old high-spirited twin girls, Jonnay and Jeannette, is on a mission. Celeste is seeking revenge on the man who told her he didn't care if she thought she was overweight. He didn't care if she was more successful in her writing career than he was as a struggling musician. He said he just wanted her for her. She knew he lied when he suddenly disappeared without a word.
Nothing has prepared her for the shock of learning the object of her hatred will return from the shadows fifteen years later until the church hires him to be the musical director for the Masterpiece she works hard to put in production. Now she's mad and conflicted enough to think she can persuade Jesus to let her have revenge on the man who's turned her world upside down, after that they can go their separate ways. Celeste brings her own brand of hell to Sanjay. Heaven help him, he's going to need it.
Blessed Trinity
Vanessa Davis Griggs
Faith Alexandria Morrell, the oldest of a mysterious trio of sisters, lives a troubled life and guards a horrifying secret. Yet few, least of all her new church family, would believe this always impeccably dressed woman is so utterly lost. But what lies beneath the surface of Faith's carefully constructed veneer could completely destroy her.
Needing help, Faith and her sisters, Hope and Charity, join Followers of Jesus Faith Worship Center. This new mega church, led by the dreadlock-wearing, Holy Ghost-filled Pastor George Landris, just may offer the solace she needs. But Faith soon discovers that all is not well in her new church home.
(Im)Perfectly Happy
Sharina Harris
When four college friends formed the Brown Sugarettes Mastermind Group, they had very different goals—but matched each other in ambition. Yet ten years later they can't help wondering what happened to the hopeful, confident, driven women they used to be—and how to get
them back . . .
 
Radio personality Raina, known as "the black Delilah," hates the wholesome persona that's made her a success. Doling out syrupy versions of her grandma's wisdom feels worlds away from the sarcastic, tell-it-like-it-is woman Raina really is.
Kara Jones was sure she'd be a master sommelier by thirty. Life and loss interfered with that plan. Now she has one more chance—but it's taking a toll on her self-esteem and her marriage.
Nikki Grayson hardly recognizes the stay-at-home mom she's become. When her band signed a record deal, she swapped the limelight for a minivan and a sensible 'do. Now she's wishing she had followed her heart. Instead, she's drowning her regret in alcohol.
Public defender Sienna Njeri willingly put her city council aspirations aside to support her fiancé's bid for office—and now she's wondering if her loyalty is misplaced.
Longing for the support, advice, and tough love they once shared, all four resolve to start meeting up again. After all, their dreams may still be within reach. But are they worth the price they'll pay to achieve them?
Basketball and Ballet
Suzette D. Harrison
Yazmeen Williams is a busy woman. The former professional dancer is a church Administrative Assistant by day and the mother of three-year old twin boys, always. What she isn't, is interested in love thanks to a monster of an ex-husband who's a danger to the well-being of her sons. When retired NBA player Tavares Alvarez enters her life looking "utterly orgasmic," that disinterest is severely challenged as is her hold on celibacy. But he'll need to gain her trust, or her phone number first. With Yazmeen, neither will come easily.
Tavares has had zero relationships, but more than his share of women. Now that he's born-again, he's no longer focused on the opposite sex. His attention is devoted to his five-year old daughter and being a venture capitalist. Meeting Yazmeen proves a delicious disruption. The attraction is instant, but clearly she's disinterested. Tavares will need to work to secure her affection despite the drama caused by his unhinged "Baby Mama."
Dive into this faith-filled, sexy romance that will leave you rooting for Yazmeen and Tavares, laughing at their antics, and gasping at the actions of their questionably sane exes.
Let Me Love You
Alexandria House
Trying to put past hurts behind you is hard when your ex is a fool, but buoyed by child support and alimony, Jo Walker is moving forward with her life, pursuing a career, raising her little girl, and trying to live in peace. She believes she has all the bases covered in her world. But what about her heart?
Rap legend Everett "Big South" McClain is divorced, too, knows all about failed relationships, and has relegated his love life to casual connections rather than pursuing something real. That is, until he lays eyes on Jo.
She's exactly what he never knew he needed.
He's what's been missing from her world.
Will she accept what he has to offer and let him love her?
Contains mature themes.
Undeniable Attraction (Burkes of Sheridan Falls)
Kayla Perrin
When a family wedding reunites Melissa Conwell with Aaron Burke, she's determined to prove she's over the gorgeous soccer star who broke her heart years before. Newly single Aaron wants another chance with Melissa and engineers a full-throttle seduction. Will Melissa risk heartbreak again for an elusive happily-ever-after?
Better Late Than Never
Kimberla Lawson Roby
Rev. Curtis Black is no stranger to scandal. Throughout the decades, he has done much in the public eye, both good and evil. But what most people don't realize is that Curtis has been hiding a horrific childhood that has affected him in countless, unspeakable ways.
His buried past resurfaces when his estranged sister becomes alarmingly ill and his youngest child, twelve-year-old Curtina, becomes the kind of problem daughter whom he never imagined she could be. This is only the beginning.
The horror of Curtis's childhood secrets, as well as Curtina's wild and rebellious behavior, takes a critical toll on Curtis and the entire Black family. All the public scandals they've experienced over the years now seem like child's play compared to the turmoil they are facing in private. Who could have known that the deepest wounds would come from within?
Deadly Deception
London St. Charles
Four years have passed, and Cadence Goldsmith's family is in just as much danger as it was before they moved to Germany. Lester, the man of many evils, has still managed to evade capture for Braelyn's murder, and the trial of rogue Detective O'Brien, who had threatened Cadence, is less than one week away. She wouldn't be so worried if she weren't seven months pregnant, on top of being the star witness for the prosecution, which means Cadence has to leave the place where she feels most safe and return to Chicago and face the menaces that prey on her demise.
Cadence's husband, Jackson Goldsmith, is not on board with his wife testifying. Not only is their safety at stake, but the welfare of their daughter, Jackie, who, through years of therapy, overcame the nightmare that Lester inflicted on her young life. Jackson's holding onto the promise that the trial will be over in enough time for them to return to Germany before the baby's born. Though Jackson feels strongly about staying put, he supports Cadence's decision and vows to protect her at all costs.
Less than twelve hours after arriving in Chicago, their greatest fears become a reality. Havoc and unforeseen coincidences consume their life, starting with vandalism to the family home. No longer knowing whom she can and can't trust in law enforcement, Cadence questions every day if she made the right decision.
Who knows what other injustices may happen to the family while awaiting trial?
Let Cadence and Jackson pull on your heartstrings as they maneuver through obstacles and triumphs that will have you rooting for them from beginning to end. They'll show you why love is an action word through this story that's filled with mystery, suspense, and intrigue.
---
Post contains affiliate links.