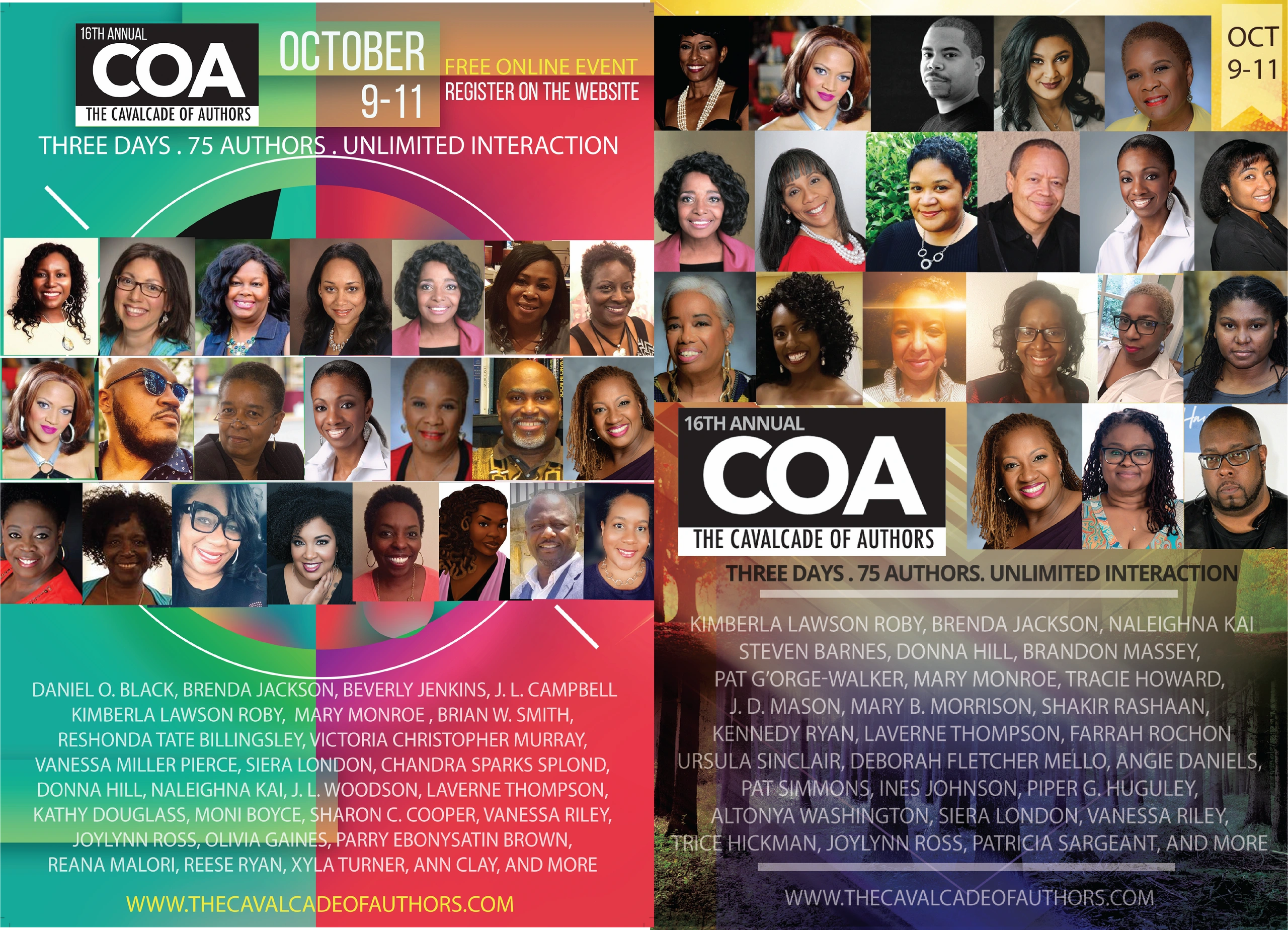 If you are looking to connect with your favorite authors virtually, you don't want to miss the free 16th Calvacade of Authors event taking place October 9–11.
According to event founder and USA Today bestselling author Naleighna Kai, 75 authors will gather for the three-day event, which is being held via Zoom and is being hosted by Tribe Called Success members London St. Charles, Michelle Rayford, Deanna McNeil, Karen Bradley Shakir Rashaan, J S Cole Addison, Stephanie M. Freeman, Anita Roseboro-Wade, Bridgett McGill, Bridgett Rena, Carol Jones, Christine Pauls, Florenza Denise Lee, J.L. Woodson, MarZé Scott, Marie Lackey, Lori Hays Sekinah Jackson, Terri Johnson, Tiffany Erika Myles, Unique Hiram, and Yolanda Kay Cranford.
"The Cavalcade started purely by accident," Kai said. "I received a call from the Chicago Public Library and at the end of the call the woman said, 'We really would like someone from the area to do an event that hosts Black authors. And we'll give you marketing and promotion support.' Those last words were music to my ears. And so it began, 16 years ago. My first Cavalcade was several libraries, major chains, and culminating in a masquerade ball over a three-day weekend. This has purely been a way to connect readers with their favorites and introduce them to new voices."
The event will include New York Times, USA Today and national bestselling authors and will offer readings, giveaways, games and more.
Confirmed authors are: Brenda Jackson, Kimberla Lawson Roby, Naleighna Kai, Mary B. Morrison, Mary Monroe, Beverly Jenkins, Brandon Massey, Donna Hill, Steven Barnes, ReShonda Tate Billingsley, Victoria Christopher Murray, Daniel O. Black, J. D. Mason, Kennedy Ryan, Pat G'Orge Walker, Xyla Turner, Pat Simmons, Altonya Washington, Angie Daniels, Ann Clay, Brian W. Smith, Chandra Sparks Splond, Deborah Fletcher Mello, Ehryck F. Gilmore, Farrah Rochon, Ines Johnson, J. L. Campbell, J. L. Woodson, Janine Ingram, Joylynn M. Ross, Kassanna, Kathy Douglass, LaVerne Thompson, Moni Boyce, Olivia Gaines, Parry Ebony Satin Brown, Patricia Sargeant, Perri Forrest, Piper G. Huguley, Reana Malori, Reese Ryan, Sesvalah, Shakir Rashaan, Sharon C. Cooper, Siera London, Tracie Howard, Trice Hickman, Vanessa Miller Pierce, Vanessa Riley, and Ursuala Sinclair.
Although it started as a local event, it has gotten the attention of people across the country.
"We've even had a Grammy Award winning artist, as well as producers from The Oprah Winfrey Show," Kai said.
As a result of the pandemic, the event is being held virtually this year, but it is continuing to grow.
"The event started in Chicago, but has also been held in Washington, DC, during Book Expo America, several times at the Atlantis Resorts in Paradise Island, Bahamas, and will be venturing to Dubai in 2022," Kai said. In 2021, the Cavalcade will partner up with BWE to host the literary café during an event that brings 20,000 to 30,000 people."
Participants can look forward to connecting with their favorite authors, and they'll have opportunities to collect plenty of swag.
"Each registrant will receive a free book from one of the NK Tribe Called Success Members and are able to win books throughout each event," Kai said. "Come prepared to have a great time."
To register for the free event, visit http://bit.ly/CavalcadeofAuthorsOnline
Event Schedule:
Friday, October 9 – 5:30 p.m. to Midnight
Saturday, October 10–9:00 a.m. to Midnight
Sunday, October 11–9:00 a.m. to 10:00 p.m.