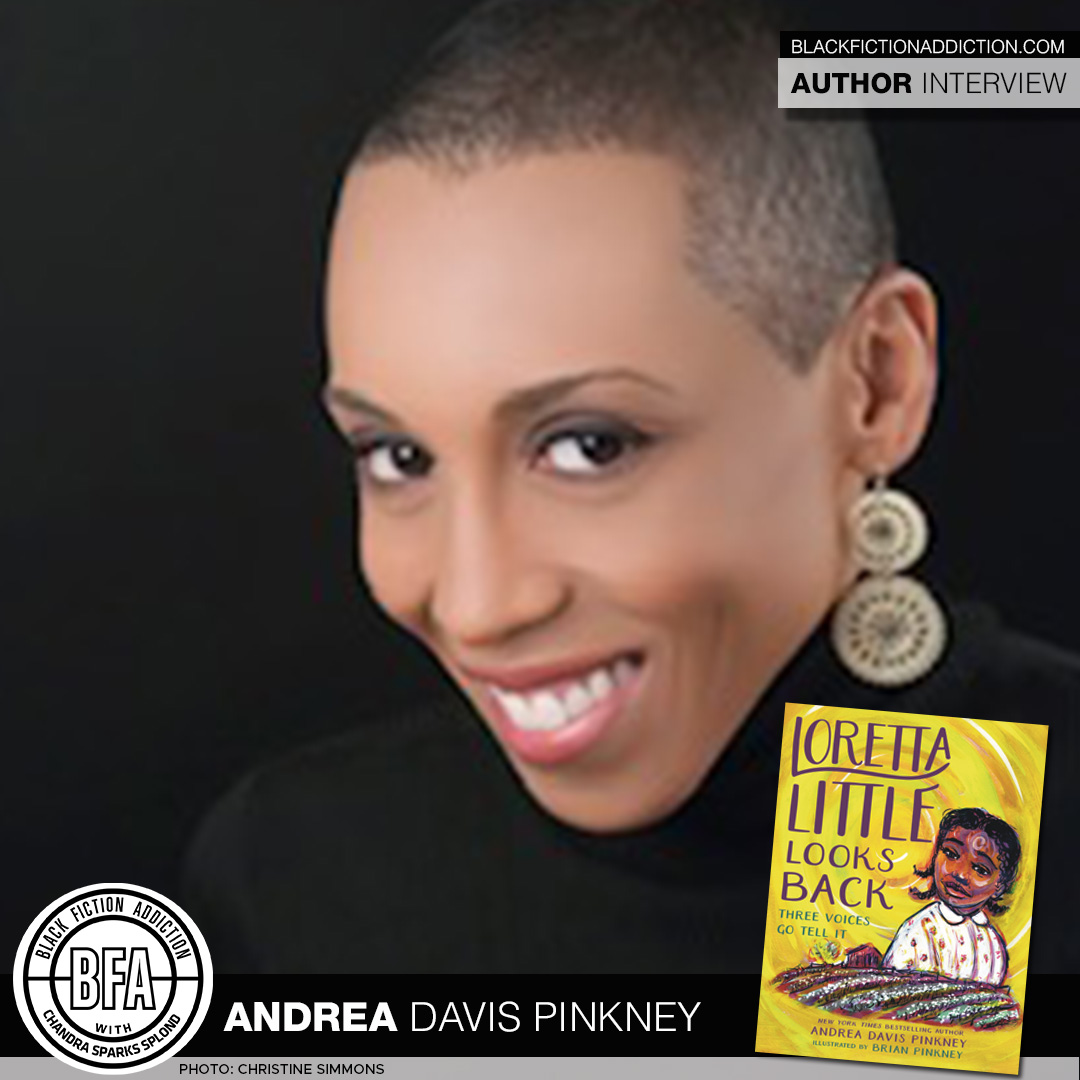 New York Times bestselling author Andrea Davis Pinkney is giving readers a "behind-the-eyes" look at kids from the past in her latest release, Loretta Little Looks Back: Three Voices Go Tell It.
Tell me about your latest book.
Loretta Little Looks Back: Three Voices Go Tell It is the story of Loretta, Roly, and Aggie B., members of the Little family. Each presents the vivid story of their young lives, spanning three generations. Their separate stories—beginning in a sharecropping cotton field in 1927 and ending at the presidential election of 1968—come together to create a single journey that gives readers a front-row seat to the dramatic events that lead to African Americans claiming the right to vote.
Why did you decide to write it?
The novel stems from my family tree. It's a very personal story. As a child, I spent summers on the porches of my relatives where I heard stories of how we, as a people, transcended so much bigotry and inequality. These stories ignited something in me—the true understanding that Black people are strong, resilient, resourceful, and smart. As a kid, these ideas were instilled from a very young age, though there weren't many books that featured African American protagonists who exhibited these qualities. Loretta Little Looks Back is delivered as a series for first-person narratives. I wrote this story to offer young readers a "behind-the-eyes" look at kids from the past, who, like themselves, reach for what they believe in, despite obstacles.
What do you want readers to learn from the story?
As the author of numerous books for children and young adults, I've devoted my life to sharing African American stories with children. Loretta Little Looks Back is a narrative that I hope will inspire young readers of all races to talk to the grownups they know about the lives and times of their own family members—their histories and triumphs. I hope kids will pull up a chair and listen deeply to stories that speak to their hearts—and then be inspired to go out into the world to do good by reaching into to the hearts of others.
If you could pick another profession, what would it be and why?
I was the kind of kid who called others together in the backyard, and said, "Hey, let's put on a show!" I loved to assign characters and their lines to my classmates and friends. I guess I was a theater director in the making, which is the profession I would've chosen had I not been a writer. In some respects, Loretta Little Looks Back has allowed me to pursue my theatrical passions. As a storyteller, I've always been intrigued by the creative ways stories are crafted and shared. Loretta Little Looks Back is presented through a mix of fictional first-person narratives, spoken-word poems, folk myths, gospel rhythms and blues influences that weave a tapestry to illuminate the dignity of sharecroppers in the rural South. Rooted in storytelling's oral tradition, the vignettes are presented in a series of theatrical monologues that paint a portrait of the struggle for civil rights as seen through the eyes of the children who lived it.
What's the best part of being an author?
Imagine being able to do work you love, anytime, anywhere? Imagine that every day there's something to spark and inform that work—a lemon, a blue-jay, a flat tire, a cricket, a singing taxi driver. These are just some of the beauties of being an author. One of the greatest gifts, too, is seeing kids become readers when they dive into stories, then watching them share those stories with their friends.
What's next for you?
I've spent the last year working on two exciting projects that are coming to fruition now. The first: I'm the guest curator of an upcoming museum exhibition, PICTURE THE DREAM: The Story of the Civil Rights Movement through Children's Books. The show will open at Atlanta's High Museum of Art on August 15, and will travel to the Eric Carle Museum of Picture Book Art in February 2021. This is the first exhibition of its kind that features the social justice works of the most notable African American picture book creators, as well as those new to the field. The exhibition webpage provides more info.  Also, I've written the libretto for an opera based on the classic children's book The Snowy Day by Ezra Jack Keats, the first mainstream book to feature an African American child as the primary character. The opera's world premiere will be in December 2021 at the Houston Grand Opera.
---
Andrea Davis Pinkney is the New York Times Bestselling and Coretta Scott King Book Award-winning author of numerous books. She is a four-time NAACP Image Award nominee, and has been named one the "25 Most Influential Black Women in Business" by the Network Journal.
Connect with Andrea Davis Pickney on social media.
Twitter: @AndreaDavisPink / https://twitter.com/AndreaDavisPink
FB: https://www.facebook.com/andreadavispinkney
---
Use the Black Fiction Addiction affiliate link to purchase your copy of Loretta Little Looks Back: Three Voices Go Tell It.