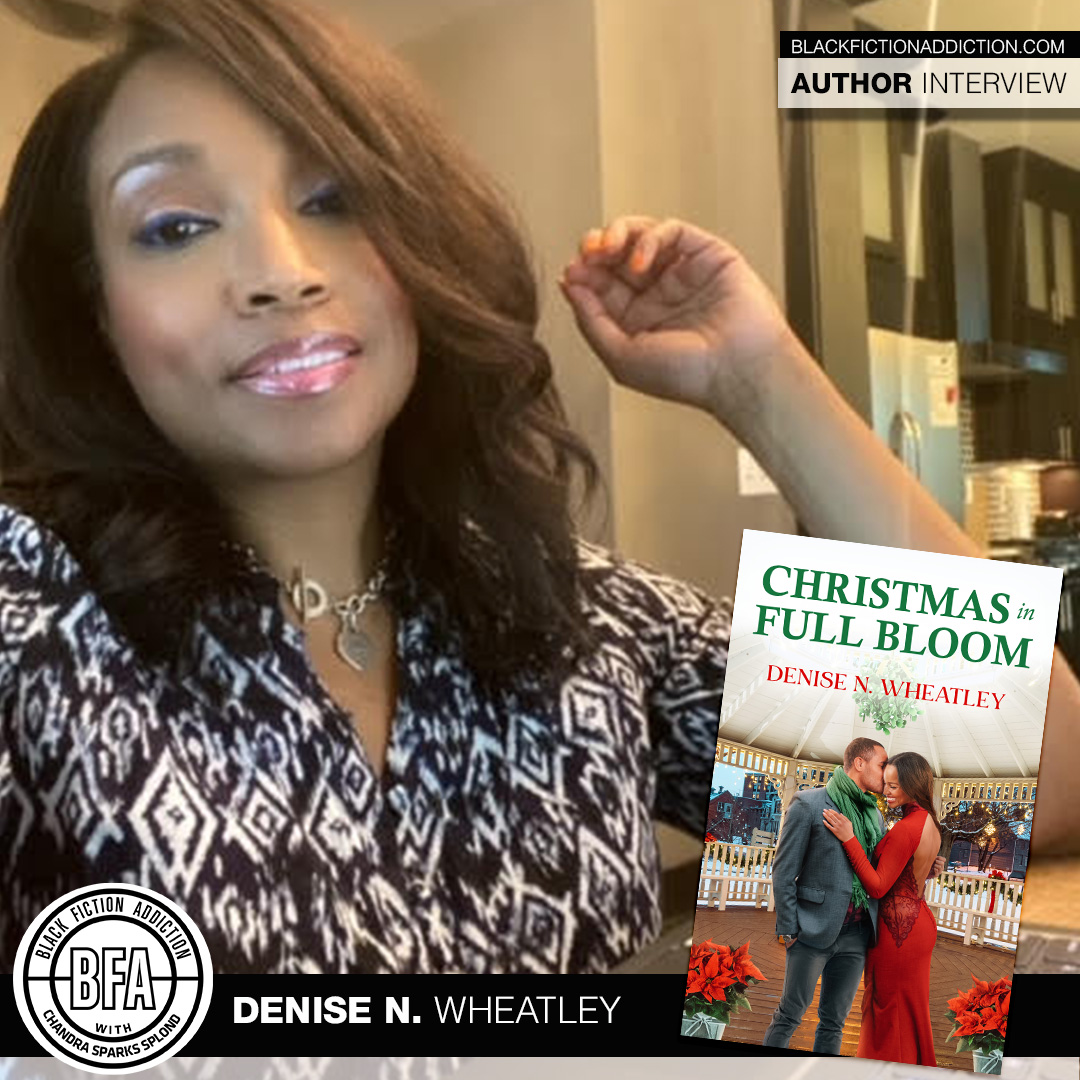 Author Denise N. Wheatley is back with another sweet holiday read. I recently spoke with her about Christmas in Full Bloom. 
Tell me about your latest book.
I am so excited about my latest holiday book, Christmas in Full Bloom. Here is the official blurb:
When savvy, up-and-coming floral designer Lauren Beal returns home to Maple Valley, Michigan, for her sister's holiday wedding, she's determined to be the perfect maid of honor. She didn't expect the best man to be the college crush she'd reluctantly left behind to pursue her Chicago-based dreams.
Family practice doctor Mel Jennings always knew he'd remain rooted in Maple Valley to work for his father's clinic. He happily juggles his demanding practice with philanthropic endeavors that connect him to his tight-knit community. Sparks fly when he reunites with Lauren, the one who ran away. As they enjoy Maple Valley's Christmas festivities, Mel remembers how close they once were. But can they ever have a future?
Lauren finds herself falling for Mel and suspects the feelings are mutual. Yet they're both pulled in different directions by work and family. Will the pair find a moment alone during the hectic holiday season to figure things out, or will they miss their chance at love once again?
Why did you decide to write it?
I love holiday stories. After my novel Love at the Icicle Café was so well-received last year, I decided to follow it up with this sweet Christmas book. Writing these seasonal novels brings me so much joy, and I hope to continue doing so every year.
What do you want readers to learn from the story?
I hope that readers will connect with my characters' desire to find fulfillment in life, all while pursuing their dreams and balancing their careers. The pursuit of happiness is a major theme in most of my books. Christmas in Full Bloom is no exception. I would love for readers feed off of my characters' courage and willingness to take risks in order to attain what they want in life.
What do you want readers to learn from your life?
Wow. That is a great question. I'd like for readers to learn how I never gave up on my writing dreams. During my journey, I heard so many nos, got laughed at by people close to me, and ran into my fair share of naysayers. But I never quit. My determination to keep going got me to where I am today. When you drown out the noise and stay focused on your goals, they come to fruition.
If you could pick another profession, what would it be and why?
I would love to teach writing or work as a librarian. Reading and writing have always been close to my heart. So if I weren't writing books, I'd want to be doing something closely related to them.
When did you fall in love with the written word?
I fell in love with the written word when I was a young child, during reading time with my mother. She always told me that books are my friend, and I took that statement literally. There is something about storytelling that grabbed hold of me at an early age and never let go. It's an indescribable passion that I cherish, both when I'm reading books and writing them.
What's something readers would be surprised to know about you?
Readers might be surprised to know that I don't drink alcohol. Never have. I don't cook much either. I can, but I don't lol. I write about a lot of different cocktails and delicious cuisine, but my knowledge is gained mostly through research rather than what goes on in my kitchen.
What books have you read lately and loved?
I recently read Jacquelin Thomas's A Family for the Firefighter, Reese Ryan's Just a Little Married, and K.D. Richards's Missing at Christmas. All excellent, entertaining books!
What books are you excited to read?
I'm in the middle of Jadesola James's Redeemed by His New York Cinderella, and I am loving it. So I'm looking forward to finishing that, then starting Kelly Cain's An Acquired Taste.
What's next for you?
I am currently celebrating the upcoming release of my Harlequin Intrigue novel, Bayou Christmas Disappearance, which will be available wherever books are sold on November 30. The third book in my Fearless Fairytale series, She Gets a Happy Ending, will be released in March 2022 (spoiler alert: it's a really fun, holiday-themed read!), and my next Harlequin Intrigue novel, The Heart-Shaped Murders, will be released in June 2022.
Do you have anything you would like to add?
I'd love to take a moment and thank my readers for coming along on this journey with me, supporting my work, and motivating me to keep going. Their kindness is beyond appreciated!
---
Use the Black Fiction Addiction affiliate link to purchase your copy of Christmas in Full Bloom.
---
To learn more about author Denise N. Wheatley, connect with her on social media.
Writer's Blog: https://www.denisenwheatley.com/
Instagram: https://www.instagram.com/denise_wheatley_writer/
Twitter: https://twitter.com/denisewheatley?lang=en
TikTok: Denise N. Wheatley (@denise_wheatley_writer) TikTok
Facebook: https://www.facebook.com/DeniseNWheatley/
BookBub: https://www.bookbub.com/authors/denise-n-wheatley
Goodreads: https://www.goodreads.com/author/show/3118421.Denise_Wheatley
Amazon Author Page: https://www.amazon.com/-/e/B001KHBZ7E