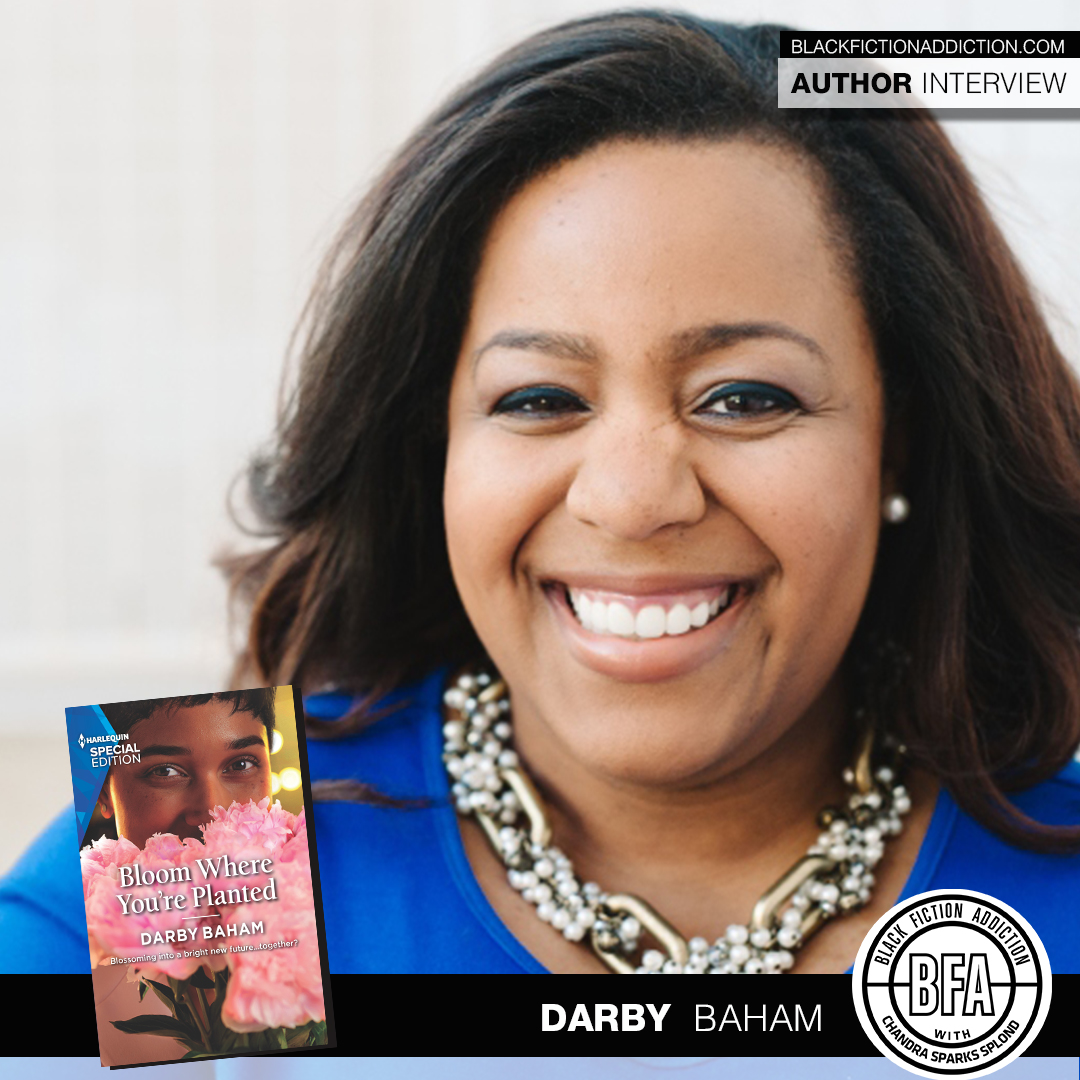 Author Darby Baham is back with the second installment in her Friendship Chronicles series. I recently spoke with her about Bloom Where You're Planted.
Tell me about your latest book. 
Bloom Where You're Planted is the follow-up to my debut novel, The Shoe Diaries, and it tells the sexy but introspective story of Jennifer Pritchett, a young Black woman who lives in Washington, DC, loves her boyfriend, '90s R & B, and her friends—but lately, not much else.
In the beginning of Bloom Where You're Planted, Jennifer finds herself in a maybe not so unique situation for a lot of people coming into 30. It's not that anything in her life is truly awful—she's got a steady job, a sweet enough boyfriend, a great circle of friends, etc.—but when she compares her life to that of the people around her, she just feels like every part of it is lacking. The job that she has is secure, but she wants more from it; her relationship is three years in but has seemingly lost all fire; and her friends are leading exciting lives with grandiose stories while she's often stuck in a classroom cleaning up crayons or on the sofa next to her boyfriend who has fallen asleep on the latest TV show they were supposed to be watching. It's not at all what she expected, and because of that, she feels increasingly invisible and left behind. Readers will get an intimate viewpoint of what one woman goes through as she figures out how to bloom in her own right, and through trial and error, learns how to communicate her desires to her partner.
Why did you decide to write it?
I had two main goals when I started writing this book. The first is that I wanted to tell the story of a young woman who has been comparing her life to everyone around her and how she learns to love herself fully for who she is, separate and apart from even the people she loves and admires. It's a journey I've had to go on in my personal life, where I've had the privilege of being around some really successful friends and have had to decide to use their success as motivation instead of as a way to silently beat myself down for not being where they are. It's something that I think a lot of people struggle with, figuring out your timeline and your path and learning to appreciate that.
The other goal was to explore what it's like when you are years into a relationship with the person you know you want to be with, but the sparks seem to have died. So many books tend to focus on the beginning of relationships, and don't get me wrong, I love those. I am a big fan of meet cutes! But I really wanted this book to dig into some of the questions you deal with after the happily ever after, like how do we work to get that initial passion back? Is that even something that's important to us or would we rather settle into a relationship that's more comfortable? What does it look like to tell your partner you want more and still affirm their place in your life when neither of you saw great examples of relational communication growing up? These are the kinds of questions Jennifer and Nick tackle throughout this book. And I just found myself really enjoying digging into those parts of a romance.
What do you want readers to learn from the story?
I think two of the biggest lessons that Jennifer learns in the story is how damaging comparisons can be and how lack of communication can destroy even the most beautiful of relationships. So, that's really what I want readers to learn from the story too—that honest communication is so critical to every relationship in your life and that your path is yours for a reason. That last one can be hard to remember in our social media era.
What do you want readers to learn from your life?
Wow, that's a tough question, but probably my answer goes back to the idea of comparisons and finding my own path. I've learned the hard way that while comparisons can be great motivators for me, I have to be careful not to spend too much time wanting what someone else has or I'll get stuck focusing on what I don't have or haven't done instead of just taking the next step and trusting that what God has for me is for me. It's something I'm still working on every day. So, writing Bloom Where You're Planted was also a great way to sort of remind myself of this fundamental belief I have—that what's mine is mine, and when I focus on that and I live my life honestly, I'm so much happier and content as a person.
If you could pick another profession, what would it be and why?
I think therapist. I've become increasingly interested in how much our mental health impacts our lives, and I know my therapist has been one of my greatest lifelines in the past five years. So, it's certainly something I've thought would be kind of cool to do. I also tend to play the role of listener among my friends and family, so I already have the disposition for it. The toughest part of that job, though, is not holding all the stories and pain you hear from others within you. That would be hard for me, and I imagine is probably hard for most therapists. So, it's a great motivator to stick with my job as a writer and editor for now lol.
What's something readers would be surprised to know about you?
I am actively trying to learn French these days. In fact, I just recently surpassed a 500-day streak on Duolingo, and I'm determined to at least be conversational in it at some point. My grandfather grew up speaking Louisiana Creole French but didn't pass it down to his children for a lot of the reasons people in that generation didn't. But now, that's something I want to learn and be able to speak with any future children I have.
What books have you read lately and loved?
Unfortunately, I haven't had as much time to read lately as I would normally like to. I think that's one of the downfalls they don't tell you when you become a published author. My reading time has greatly decreased even as my TBR list has grown. It's so sad! Anyway, all that to say, I recently read Christie Tate's Group: How One Therapist and a Circle of Strangers Saved My Life and Farrah Rochon's The Boyfriend Project. Completely different books, but I was captivated by both and struggled putting either down until the end.
What books are you excited to read?
I know I'm so late on this, but I'm determined to read Talia Hibbert's Get a Life, Chloe Brown this year. I've just heard such really good things about it. I also started Olivia Dade's Spoiler Alert, but I had to stop reading it because I've been on crunch time writing my own next book. So, I can't wait to pick that one back up to finish it. And I really want to read Emily Nagoski's Come as You Are and Adriana Herrera's American Sweethearts.
What's next for you?
Next up is the third book in my Friendship Chronicles series, London Calling. It will follow Robin Johnson, one of the friends who shows up in both of the previous books, as she journeys to London in hopes of finding love in a new country.
Do you have anything you would like to add?
Just that I hope readers will enjoy this latest installment of the Friendship Chronicles! And for anyone who read The Shoe Diaries and wanted to know more of what happens with Reagan and Jake or Robin and the prince, all those answers are provided in this book alongside Jennifer's storyline.
---
Use the Black Fiction Addiction affiliate link to purchase your copy of Bloom Where You're Planted.
---
To learn more about author Darby Baham, visit her website or connect with her on social media.
Website: www.darbybaham.com
Instagram: instagram.com/darbybaham
Twitter: twitter.com/darbybaham