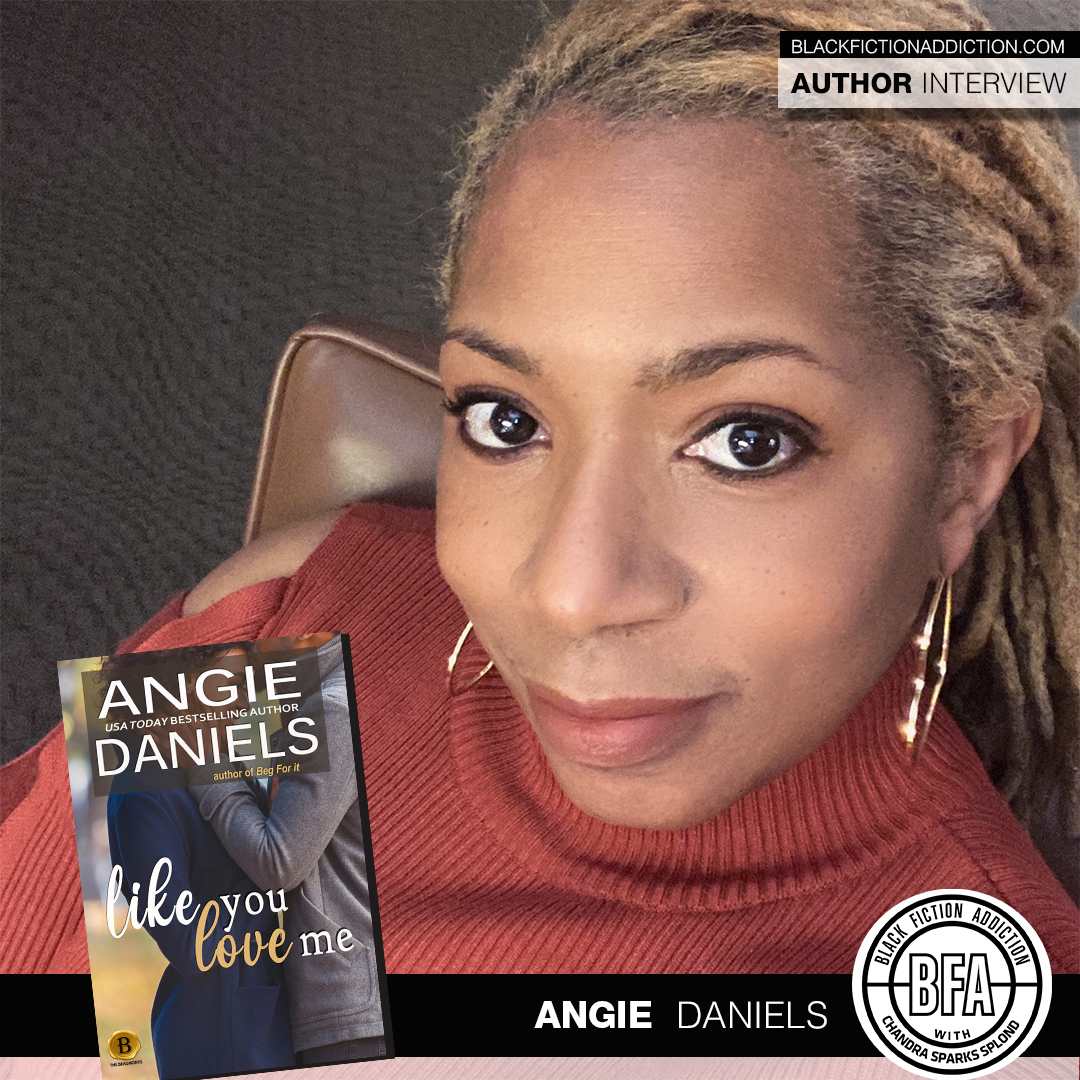 USA Today bestselling author Angie Daniels is back with the latest release in her Beaumont series. I recently spoke with her about Like You Love Me.
Tell me about your latest book.
 My latest book, Like You Love Me, is a follow-up story to my favorite book family, the Beaumonts. After a near-death experience, Bianca Beaumont Brown tries to return to quiet family life with her daughter and loving husband, London Brown. When an unwelcome blast from Bianca's past shows up, she knows it's only a matter of time before a seven-year-old secret is no longer private. London is consumed with his own family drama, and one bad decision sends trouble knocking at their door.
Why did you decide to write it?
I love writing about the Beaumonts. They were the first series to kick off my career, and I continue to revisit them. I remember when I was just a reader of romance, and long after reaching THE END, I was left wondering what was next for the couple and imagining what their life would be like. As a result, I started writing follow-up stories, allowing readers to catch up with the series' characters. Bianca and London were first introduced in For You I Do. Bianca was pregnant by a man who turned out to be a con artist. Coming from a small town and a rich family, there was no way she could tell her parents, so London (her brother's best friend) steps in and marries her, and eventually they fall in love. Seven years later, the con artist is back in Like You Love Me.
What do you want readers to learn from the story?
The lesson learned is there are consequences when you keep secrets in relationships. People often say there should not be secrets in a marriage, but sometimes we feel compelled to hold on to issues, and this story shows what happens when couples aren't united.
What do you want readers to learn from your life?
I want readers to know that I have day-to-day stressors like everyone else. I'm in a Ph.D. program and had no idea how time-consuming and mentally draining the program would be. As a woman, I draw on my superpowers when life throws curveballs and try to come out on top even if it is a delay in my writing schedule, which since 2018, there have been quite a few. However, I believe that we can achieve anything with hard work and determination.
If you could pick another profession, what would it be and why?
The only thing I've ever wanted to be was a writer, so I feel truly blessed to have reached this point in my career. I'm a human resources professional, and it pays the bills; however, writing has always been my passion, and when I begin the next chapter of my life, my focus will be to write even more. Being an author brings all the joy I could ever dream of having, and I believe I have discovered my purpose in life.
When did you fall in love with the written word?
I fell in love with writing at a young age, and I couldn't tell you how young, but probably around the time I realized I loved to read. I started doodling and began writing stories on my father's yellow legal pads. I loved make-believe, and once I started, I have never been able to stop. It wasn't until I was in my 30s that I realized that this could be a profession, which made me love writing even more. I wish I had more time to write. I find that more frustrating than anything else. I have school, a day job, serving in the Air National Guard, and family life, and yet I'm writing something every day. I could be sitting in a doctor's office with a notepad and pencil or even just on my phone taking notes and outlining. Writing has become a lifestyle for me.
What's something readers would be surprised to know about you?
I am a DIY girl. I'm always looking at different ways to modify or beautify. I hang out at Lowe's, browsing the aisles and thinking of things I could do at home when I have free time. It's a stress reliever when I need a moment away from the keyboard to refocus.
What books have you read lately and loved?
I haven't read much other than research articles the last few months and a couple of great holiday romance novels, but the last book to capture my heart and mind was Magic City by Jewell Parker Rhodes. Ever since I watched the adaptation of the Tulsa Race Massacre during an episode of Lovecraft Country, I have been compelled to read the history of Black Wall Street and the days that led up to the devastation that changed the lives of thousands of African American residence. I then stumbled across the audiobook of Magic City that weaved the history into a tale so emotionally gripping that I felt as if I, too, was a resident of Greenwood, Oklahoma, in 1921. I will be forever moved by this page-turner inspired by true events.
What books are you excited to read?
I am always excited to read mysteries and thrillers. However, in this phase of my life, I have learned that there are a lot of inspirational and motivational stories that have also captured my attention. As a facilitator of our organization's diversity and inclusion council and as an HR professional, D&I has been a topic with a huge focus. My role is to create a culture of inclusion. I spend a great deal of time planning events and discussions that bring people together regardless of race, religion, gender, etc. At some point in my career (once I obtain my Ph.D.), I can see myself writing a book on diversity and inclusion in the workplace from the perspective of a black woman.
What's next for you?
In 2022, I will graduate with my Ph.D. in Human Capital Development. And once I mentally realize that school is over and I can take a break from research, I will dig in and write the books I have been promising and have not had the time to write. My most popular series is In the Company of my Sistahs, and I am anxious to write the fifth installment, which means I need to plan another girls' trip. My girlfriends have inspired so many ideas for women's fiction.
Do you have anything you would like to add?
I appreciate all my readers' support over the years. They have motivated me to be the author I am today. I'm hoping to step out on faith by 2024 with something huge that will take my writing career in a slightly different direction. More to come.
---
To learn more about Angie Daniels, USA Today bestselling author, visit her website or connect with her on social media.
Website: www.angiedaniels.com
Facebook: Facebook.com/ AuthorAngieDanielsFanPage
Instagram: Instagram.com/authorangiedaniels
---
Use the Black Fiction Addiction affiliate link to purchase your copy of Like You Love Me.