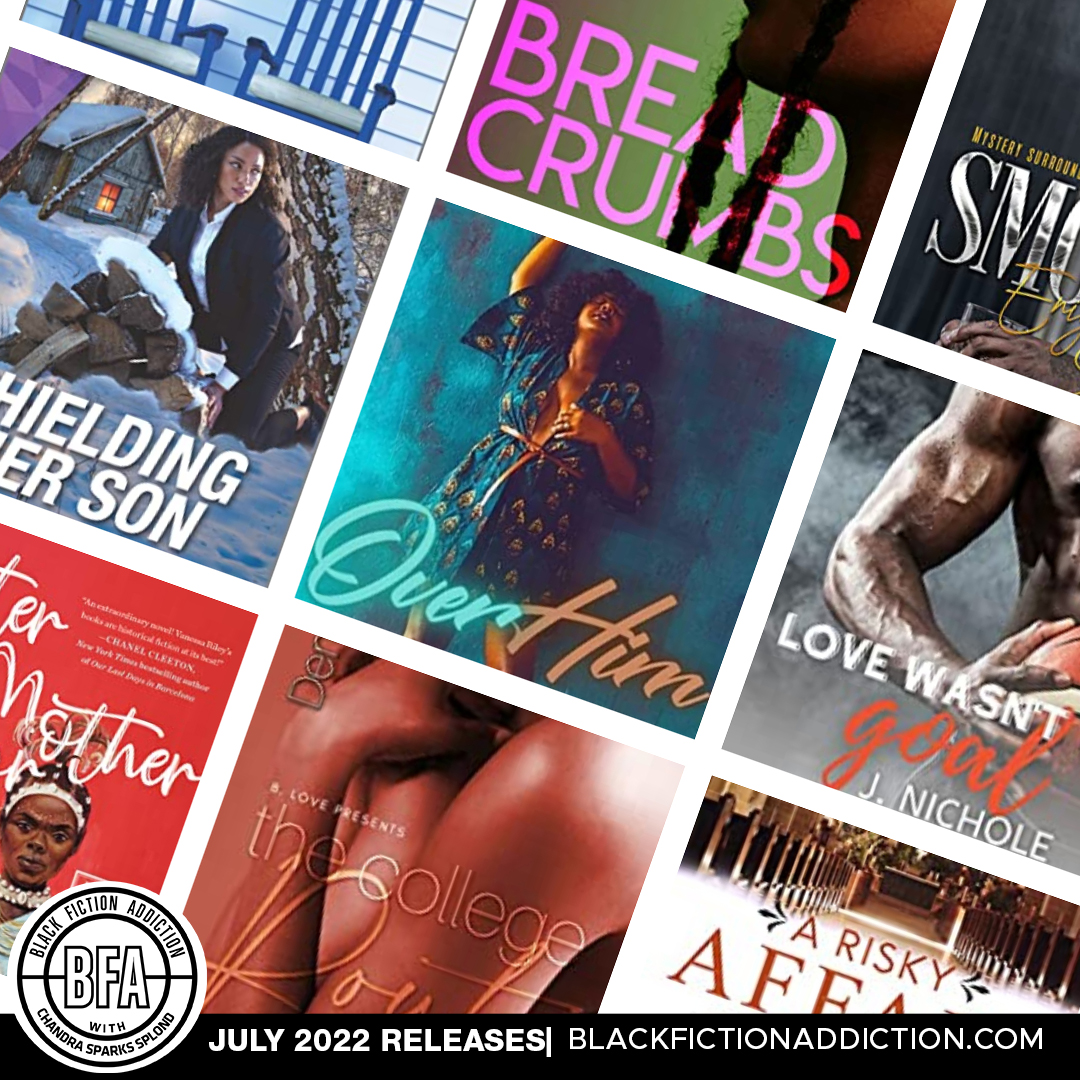 And just like that, July has come and gone, but not without leaving the gift of a lot of black books by some amazing authors.
Aja
Mystery, crime, and grit surrounded his family, often bringing power-hungry enemies right to his doorstep. Never one to back down from any opposition, he often stood victorious. But this new threat is something different and not at all one he is prepared for until an old love comes to save him.
Elijah Lewis aka "Smoke" has to decide what to do with the gift of knowledge he's received. Does he deliver more pain to the people responsible for trying to take him out, or does he take well-meaning advice and get out of this line of work? For people like him, there were only so many places he could go and the top two were: to jail or to hell.
---
Kianna Alexander
Two very determined women—in love, at odds, and risking a lot on a second chance.
After years away from home, Summer Graves is back in Austin, Texas, to accept a new teaching position. Of all the changes to the old neighborhood, the most dispiriting one is the slated demolition of the high school her grandmother founded. There's no way she can let developers destroy her memories and her family legacy. But the challenge stirs memories of another kind.
On the architectural team revitalizing the neighborhood, hometown girl Aiko Holt is all about progress. Then she sees Summer again. Some things never change.
Neither can forget the kiss they shared at their senior-year dance. Neither can back down from her unwavering beliefs about what's right for the neighborhood.
For now, the only thing Summer and Aiko are willing to give in to is a heat that still burns. But can two women with so much passion—for what once was and what could be—agree to disagree long enough to fall in love?
---
Bolu Babalola
Sweet like plantain, hot like pepper. They taste the best when together…
Sharp-tongued (and secretly soft-hearted) Kiki Banjo has just made a huge mistake. As an expert in relationship-evasion and the host of the popular student radio show Brown Sugar, she's made it her mission to make sure the women of the African-Caribbean Society at Whitewell University do not fall into the mess of "situationships", players, and heartbreak. But when the Queen of the Unbothered kisses Malakai Korede, the guy she just publicly denounced as "The Wastemen of Whitewell," in front of every Blackwellian on campus, she finds her show on the brink.
They're soon embroiled in a fake relationship to try and salvage their reputations and save their futures. Kiki has never surrendered her heart before, and a player like Malakai won't be the one to change that, no matter how charming he is or how electric their connection feels. But surprisingly entertaining study sessions and intimate, late-night talks at old-fashioned diners force Kiki to look beyond her own presumptions. Is she ready to open herself up to something deeper?
A gloriously funny and sparkling debut novel, Honey and Spice is full of delicious tension and romantic intrigue that will make you weak at the knees.
---
Camille Baker
Tiwanda Harris's thirtieth birthday is a turning point. Gifted her late mother's journal, Tiwanda is finally getting a glimpse of who her mother was as an adult. Shortly after, the budding entrepreneur receives a grant to jump-start a delicious business opportunity—and her sweet dreams don't end there. Tiwanda's been sent a dating app called Met that promises four matches, and among them, her soul mate. All Tiwanda has to do is tap "Yes"…
Though she's doubtful about fitting romance into her life, the choices are hers. As the matches begin to surface, Tiwanda is surprised to find that maybe there is some future potential there after all. But which one could lead to real love? Only time will tell. That is, if she can find the time.
With her focus split between launching her career, helping heal old family rifts, maintaining friendships while building new ones, and also trying to open her heart to romantic love, chasing so many dreams is leaving Tiwanda breathless. But who knows? With destiny on her side, maybe there's a chance all those dreams could come true.
---
Jenay Balderas
One woman. Eight men. One complicated game show.
Sammy: It was a drunken dare. That's it. There's no way I would have thought things were going to turn out the way they did. He was annoying, rude, and just plain disrespectful. It was so hard just to sit through a date with him. But the longer he remained on the show, the more I started to see him. Once I stopped playing the game, and allowed things to happen the way they were meant to…… I realized there was a lot more to Monte Claire than I had given him credit for. And everything that he was, was exactly what I needed.
Monte: The truth is…. I just needed to find someone desperate enough to marry me so that I could have access to my inheritance. The game show was supposed to be an uncomplicated way for me to do that. But Sammy unhinged me the moment I laid eyes on her. Because she was perfect. In every way. And I couldn't fight the force that pulled me to her. Things weren't supposed to go this far. I was never supposed to fall in love with the girl that I met on a game show.
---
Chandra Blumberg
After doing her time in corporate Chicago, Simone Blake returns to small-town Illinois to tackle a new venture: her grandfather's barbecue restaurant. The secret, as they say, is in the sauce. Simone's plan is to sell Honey and Hickory's signature sauce to put her hometown on the map.
But she's not the only one with a recipe and a plan: chef Finn Rimes from nearby Springfield has a similar vision. To jump-start his dream of opening a culinary school, he shows up at the local farmers' market with his own barbecue sauce.
When Simone's plan to outsell Finn falls flat, she auditions for a reality show to pitch her brand. But she's horrified to discover Finn's had the same idea. As Simone and Finn wage barbecue war on television, their feud turns into an undeniable attraction.
With their livelihoods on the line, it may not be so much about making the best sauce—but finding their way to each other.
---
Iris Bolling
Family is not always determined by blood…Sometimes it's found in the people you love.
Lawrence 'LT" Palmer came from humble beginnings. Contrary to his past, LT is now a self-made billionaire, the mayor of a large metropolitan city, and about to marry the love of his life, Sapphire "Phire" Lassiter.
Sapphire, the sassy-mouthed baby girl of a family of twelve children, brought life, passion, and love into his world. She is his inspiration for the games he designs and his biggest supporter as mayor. However, her wish for their wedding day is something he is not sure he can deliver.
Sapphire Lassiter has connections all the way to the White House. She has the ability to make things happen and people disappear. However, at this moment she has two goals. One is to marry LT Palmer, the other is to have his and her family together supporting them on their wedding day. Unfortunately, two of LT's half-siblings interfere in her dream. They go too far when their cruelty touches LT's grandmother. For Sapphire, all bets are off for a friendly-family gathering. Rather than striking back with her fists, which is her usual reaction, Sapphire counteracts with a vengeance that is life-changing for many.
Will LT and Sapphire make it to the altar before one of them end up behind bars? No one is certain as the wedding of the century turns into…A Risky Affair.
---
Lane Clarke
High school junior Michie is struggling to define who she is for her scholarship essays, her big shot at making it into Brown as a first-generation college student. The prompts would be hard for anyone, but Michie's been estranged from her mother since she was seven and her concept of family has long felt murky.
Enter new kid and basketball superstar Derek de la Rosa. He is very cute, very talented, and very much has his eye on Michie, no matter how invisible she believes herself to be.  When Michie's mother unexpectedly reaches out to make amends, and with her scholarship deadlines looming, Michie must choose whether to reopen old wounds or close the door on her past. And as she spends more time with Derek, she'll have to decide how much of her heart she is willing to share. Because while Michie may not know who she is, she's starting to realize who she wants to become, if only she can take a chance on Derek, on herself, and on her future.
---
Parker J. Cole
A nun on the run. An engineer with a dream. When secrets are revealed, will friendship develop into a forbidden love?
Genevieve Bailey is hiding in Last Chance. She sees the drought-ridden town as an opportunity to live her truth or hide away from the world and keep her secrets safe. Meeting a handsome engineer stirs up forbidden longing and the more she gets to know him, the more their association threatens to unravel the threads binding her broken heart and expose the secret that could destroy her faith.
Ambrose Young's dreams are within his grasp. After helping a small town restore its water supply, he can now work on building his own cattle empire. What he doesn't expect is a virtuous woman that makes him question his own calling. What starts out as friendship blooms into forbidden feelings more, but can he forget the beautiful woman's supreme vow?
---
Ronali Collings
West London. Tania Samarasena (recently divorced), her mother Helen (recently widowed), and her best friend Priya (recently nearly sacked following The Outburst) are three women at a crossroads in their lives.
As they make plans to reinvent themselves, a series of shocks, old secrets and surprises plays havoc with their relationships, as well as their futures.
A warm, witty and wonderful debut about second chances, Love & Other Dramas tells the story of three women dealing with the drama of life, love, family, friendship and keeping people out of your business in a culture where Aunty knows best.
---
Stacey Covington-Lee
Ryker was the quintessential success story. Small town boy studied hard, moved to the big city, and became what every businessman dreams of and what most women lust after. However, it wasn't until he returned to small town Georgia that Ryker met the woman who would capture his heart. Sitting in the old rickety church, he heard the voice of an angel. When he lifted his eyes, he saw his future bride. What he didn't realize was that the woman with the angelic voice, Lyriq James, had once fallen and was still struggling to regain her footing. Despite the objections of his beloved mother and concerns of the local pastor, Ryker was convinced that Lyriq was divinely created for him.
It wasn't long before Ryker realized that stealing Lyriq away to the big city may have been more than she was prepared for. Los Angeles had all the trappings that caused Lyriq to fall from grace five short years ago. It offered her the same seductive high that took the life of Ryker's father, the same enticement that his mother had warned him about. But Lyriq was his now, to have and to hold until death do they part. He took his vows and his faith seriously, but would that be enough to pull her back from the cliff she was about to fall from? Were the friends and faith leaders that he turned to for help going to be the ones to push his wife into the clutches of a demon in order to save their own souls?
---
Shantel Davis
Storm loved Zo until he proved he wasn't worth the effort she put into him.
Lionel knew Storm was his before she even knew he existed.
Zo's not willing to let go. He wants Storm and the life he's building without her.
On a rainy night in Florida, Storm takes advice from a song that changes her life.
---
Zuri Day
All it takes is one glam makeover for this nanny to feel like falling for her boss. It's a nanny 911 as The Eddington Heirs series continues, only from Zuri Day!
She'll solve his nanny problem
And maybe his playboy problem, too…
When a casual weekend romp ends with an unexpected baby on his doorstep, CEO Desmond Eddington needs Ivy Campbell's nanny help pronto! Ivy dotes on the precious little girl.Her powerful playboy single father? Not so much. She's instantly smitten, but struggles to guard her heart. Painful pasts have left both her and Desmond wary of love. But will their undeniable attraction—and growing attachment—be a nanny game win after all?
---
Kathy Douglass
Anything he can do
She can do better
Rodeo riders Jack Burris and Audrey Hawkins are both at the top of their game—except when it comes to love. Competing against each other in the Bronco Summer Family Rodeo, they are so determined to win they've put blinders on, tamping down their mutual attraction. In this battle of the sexes, the real victory may lie in surrender, but who will get off their high horse first?
---
Connie Easton
Just when you think everything in life is flowing the way it needs to, a curve ball is thrown to cause havoc. Sometimes havoc is good though. It opens the doors for new interactions and connections.
Kween Yuller is a successful woman that has everything she wants. Her sisters are her biggest supporters, and her job loves the ground she walks on. Her everyday life consists of Geno Tech and caffeine.
Jelani Rhodes is a reformed felon that is focused on his daughter and the café his wife left behind. His world stopped when his wife died and now, he's trying to move on with life. Melanated Café has a loyal customer that will help him move on indeed.
Sometimes we just need a distraction to help us cope with things. However, don't let the distraction become the main focus.
---
Jayce Ellis
Years ago, Cookie Pearson ran off the love of her life, Tommy, because she couldn't accept his sexuality. She's learned since then, and after drop-kicking her philandering cad of a boyfriend to the curb, all she wants is a second chance with the one who got away.
But her family's not so understanding, either of her breakup with their hand-picked suitor, and definitely not of her plans to reunite with Tommy. They're still mired in the same headspace they've been her whole life, determined to bring her down with them. And she'll be damned if she lets that happen.
That means defending herself, him, and them, something she's never done before. But if it means a chance of getting—and staying—in Tommy's arms, it'll be well worth the inevitable fallout.
---
Denise Essex
Rashad is a smart street kid who thinks he has a good thing going with his soon to be ex-girlfriend Veronica. She's a popular, unfocused, seductive sorority girl. When Rashad learns an awful truth about her, he makes a radical decision concerning his sex life.
Will Rashad's salacious sexcapades get in the way of his goal of graduating and becoming an engineer?
When Rashad meets Nina, an army brat putting herself through school by working as a yoga teacher, she is unlike anyone he's ever met. She can literally read his mind in the best possible way. Now he craves more than a shallow affair.
Is Nina another distraction? Or will Rashad's hang-ups ruin what could be a real vibe?
---
Nina Foxx
His boat came in, but Denise Martine's husband, Charles, wasn't on it. Almost a year later, with his death still a mystery, Denise retreats to their vacation home on Kiawah Island to begin to sort out his affairs and her feelings amongst a group of her friends, only to be confronted with the mystery he left behind. Although she must go on, Denise feels as if something is not quite right with her husband's mysterious disappearance. Her suspicions are compounded as an old flame from college, Trent, shows up and begins to poke around in what Denise considers to be a very private matter.
---
Nadine Gonzalez
Attorney Alexandra Lattimore doesn't play games, but entrepreneur Jackson Strom brings out her competitive side. Her former high school rival is all grown up—oozing class, challenging her and tempting her in equal measure. But she's back home to deal with family business, not to revisit the past or get tangled up in messy emotions. Is a casual fling the best strategy? Maybe… Succumbing to Jackson's physical appeal is one thing; revealing her secrets is another. But she knows he won't be satisfied until he's made her his queen…
---
Ayana Gray
Koffi has saved her city and the boy she loves, but at a terrible price. Now a servant to the cunning god of death, she must use her newfound power to further his continental conquest, or risk the safety of her home and loved ones. As she reluctantly learns to survive amidst unexpected friends and foes, she will also have to choose between the life—and love—she once had, or the one she could have, if she truly embraces her dangerous gifts.
Cast out from the only home he's ever known, Ekon is forced to strike new and unconventional alliances to find and rescue Koffi before it's too late. But as he gets closer to the realm of death each day, so too does he draw nearer to a terrible truth—one that could cost everything.
Koffi and Ekon—separated by land, sea, and gods—will have to risk everything to reunite again. But the longer they're kept apart, the more each of their loyalties are tested. Soon, both may have to reckon with changing hearts—and maybe, changing destinies.
---
Chassilyn Hamilton
After a recent breakup, Camryn Southern is coerced into attending a singles' cruise to shake back and dive back into the dating pool. She expected nothing more from the trip than relaxing in the crystal blue, wide-open ocean.
A brief encounter with Sylvester Cameron, her much older and still very handsome former professor who she had a crush on years ago, shows Camryn that he sees her for the thirty-year-old woman she is now, and not the barely-legal adult he taught years before, giving her the impression that her fantasies could turn into a reality.
Choosing to succumb to their mutual attraction, the two navigate through uncharted waters while sailing the ocean. Can they overcome the obstacles standing in their way of making things official on land? Or will they decide their romance is best left at sea?
---
Rachel Howzell Hall
TV writer Yara Gibson's hometown of Palmdale, California, isn't her first choice for a vacation. But she's back to host her parents' twentieth-anniversary party and find the perfect family mementos for the celebration. Everything is going to plan until Yara receives a disturbing text: I have information that will change your life.
The message is from Felicia Campbell, who claims to be a childhood friend of Yara's mother. But they've been estranged for years—drama best ignored and forgotten. But Yara can't forget Felicia, who keeps texting, insisting that Yara talk to her "before it's too late."
But the next day is already too late for Felicia, whose body is found floating in Lake Palmdale. Before she died, Felicia left Yara a key to a remote lakeside cabin. In the basement are files related to a mysterious tragedy, unsolved since 1998. What secrets was Felicia hiding? How much of what Yara knows about her family has been true?
The deeper Yara digs for answers, the more she fears that Felicia was right. Uncovering the truth about what happened at the cabin all those years ago will change Yara's life—or end it.
---
Alexandria House
A trip to The Village's Red, White, and Blues Fest leads to more than Rashida Gray ever imagined.
*This is a short story.*
---
Brenda Jackson
The biggest mistake of Jaye Colfax's life was letting Velvet Spencer leave. For three years, they were together exclusively and it was great—at least for Jaye. But Velvet wanted more. Jaye wouldn't commit to anything because he just didn't believe in love or marriage. Tired of waiting, Velvet left him without so much as a goodbye. Only then did Jaye realize he'd been too proud to admit he loved her. But it was too late—his stubbornness had cost him the love of his life.
It took Jaye two years to find where Velvet had gone. Now, he's come to Catalina Cove to prove his love and win back her heart. He'll do whatever it takes, even buy the local bank and move in next door. But will Velvet have him?
---
Danielle Jackson
Rival photographers are forced to collaborate on a body-positive lingerie campaign, but they might have to readjust their focus when sparks fly.
Photographer Cassie Harris loves her job—her company Buxom Boudoir makes people look beautiful and feel empowered with her modern twist on classic pinup photography. Cassie's best friend, Dana, is about to launch her own dangerously dreamy lingerie line and wants Cassie to shoot and direct the career-changing national campaign. But company politics and Dana's complicated pregnancy interfere, and Cassie finds herself—a proud plus size Black woman—not behind the camera but in front of it.
Though she's never modeled herself, Cassie's pretty sure she can handle the sheer underwear and caution tape bralettes. She's not sure she can work so intimately with the chosen photographer, her long-time competitor in the Chicago photography scene, Reid Montgomery. Their chemistry is undeniable on set, however, and feelings can develop faster than film…
---
Kwana Jackson
Sometimes fireman Lucas Strong feels like he can only find any peace and quiet at the local laundromat, where every day is rinse and repeat — until a fateful run-in with his high school crush.
Hoping to attract more customers to his family's knitting shop, Lucas Strong participated in an FDNY charity calendar and accidentally became a local celebrity. The only place he can find solace is Scrubs—a 24/7 laundromat where he can disappear for a couple of hours. But Lucas's soapy sanctuary is shaken by an inquisitive little girl with a late-night interest in knitting, whose mother is his old school crush.
Sydney Harris knows that Harlem is like any other small town, and everyone is probably whispering about how she left such a good man—and a good life—behind to wash and fold laundry by the pound. If only they knew the truth. But Sydney will always put her daughter's happiness first, even if that means moving back to Harlem and facing her past.
What Sydney never expected was to see Lucas again. A long-forgotten attraction kicks into high gear as Lucas and Sydney start to spend time together at the laundromat, and they must decide if this is true love or just an infatuation, thin and fragile as a soap bubble.
---
Christina C. Jones
Sometimes, you just need someone to help you see things in a different light.
A shift in the angle.
Forced Perspective is a New Heights Novella.
---
Jacki Kelly
Alexandra moved back home to escape her past. There were plenty of mistakes she wanted to forget. Her life was going well until someone decided to destroy the tranquility. One vicious rumor and her cherished job is gone, someone's hacked her social media accounts, and she's under investigation.
Quentin can get the story of his career, maybe even a Pulitzer Prize. All he needs to do is get Alexandra to talk about her relationship with the soon-to-be City Councilman. But she has every reason to hate him.
When the two of them end up on a luxury cruise, trouble shows up too. Will Alexandra and Quentin forge a friendship long enough to save Alexandra from the rising threats?
---
Ashantay Keys
The Coalman Brothers have made their way in the streets. Money, respect, and the women of their choosing. With the eldest brother Aziz, at the helm, being abandoned by their father as children forged a bonded will to survive. However, for him, beneath the layers of strength and leadership, are the crumbs of anger, distrust, and an unhealed heart.
Then there's Diamond Kees. Bold, beautiful, and in tuned with herself. Despite his beastly efforts, Aziz cannot escape her, nor can she, him. He is her person and no matter her pain, her heart remains open to giving him the love he needs.
When tragedy strikes, though, Aziz is left with an ultimate decision. Will he become the man he wished his father would be, or continue the cycle of false joy and real pain?
---
Bunny (audio)
Rae Lyse
Desmond Simmons' life is at an impasse.
After a tragic near-death experience, he's left struggling to pick up the pieces of an existence that's grown monotonous. He's so sure he's stuck until an old neighbor reappears, turning his new, uneventful life upside down.
While reconnecting, the two embark on a journey that leaves them grappling with their new lives and falling back into a whimsical world full of secrets they created as children to escape reality. They soon learn that outrunning the truth isn't as easy as it once was, but that doesn't mean they won't give it a try.
---
Tina Martin
I wanted to keep Quintessa close to me because she's special. She's a girl from my past that grew up into an amazing, beautiful brilliant woman. I want to make her mine, but she doesn't trust me fully because she doesn't know who I am.
Therefore, the time has come to reveal my true identity before she finds out on her own, but things don't always go as planned, does it? I know that firsthand. If life went by a plan, Quintessa would've been mine years ago. We would've been together. We would've been living our happily ever after.
But we're not. We're lagging behind. Playing catchup. Reminiscing…
I can't risk losing her again after putting forth all this effort to ensure we found each other again. But who's to say that won't happen anyway, especially when I struggle with my own identity. When I fear that the person I've become is not a man she could love.
This is the conclusion to the DePaul & Company Series!
---
Brandon Massey
Divorce can be deadly…
Seven years ago, Austin Dash's dangerously jealous wife, Naomi, nearly stabbed him to death, an act that landed her in prison. Freed from her influence, Austin filed for divorce and took their young son to Atlanta for a fresh start. He established his own business and met the loving, gentle-hearted Brooke. Swept up in a charmed romance, they marry and prepare to welcome a new baby into their lives. But memories of Naomi haunt Austin's nightmares…
And now, she's back.
Recently released from prison, Naomi has one mission: to reunite her family. She'll do whatever it takes to bring Austin and their son back home, and she's got plenty of help. Her mother. Her sister. And her father–the whole tribe of Austin's ex in-laws, who might be as treacherous as Naomi…
But Austin and Brooke, with their new family on the line, won't give up without a fight.
---
Diane McKinney-Whetstone
Residents of an active-living retirement community revert to lives of youthful indulgence, even as time-bomb secrets of their pasts tick toward explosion.
The Gen—short for Sexagenarian—is an upscale fifty-five-plus community located in the bucolic suburbs of Philadelphia. Main character Cynthia befriends the Gen's two other Black residents, Bloc and Tish, as well as Lavia, who everyone assumes is from India. They regularly convene to smoke weed, line dance, and debate politics and philosophy as the wine goes down like silk. Their camaraderie is exhilarating.
But beneath the fun and froth, storms gather. With its walls of windows gushing light and air, the Gen becomes the catalyst for secrets to be exposed.
Shifting the narrative between the characters' pasts and the present day, Diane McKinney-Whetstone deftly builds suspense as she captures with insight, poignancy, and humor, the scars, tenderness, and swagger of those not yet old, but no longer young, coming to the mean acceptance that life is finite after all, who knew.
---
Deborah Fletcher Mello
He's undercover
She's under his skin
Detective Philip Rees is shocked by his new assignment: going undercover on a Western-themed reality TV show. Nonetheless, he's determined to complete his mission to take down a contestant suspected of leaking confidential information. To find the culprit who is sabotaging the competition, Philip gets close to producer Naomi Colton. As Philip and Naomi begin to trust one another with their secrets and hearts, will he manage to keep her safe, on and off the set?
---
KC Mills
Free Evan's life isn't perfect but it's reliable.
When she crosses paths with a handsome stranger who seems to have her on his radar, Free gets caught up in the thrill of the unknown. Diego "King" Kingston is a walking temptation. Free falls hard and fast but quickly learns that she has to accept both sides of the new man in her life and King proves to be more that she can handle. The women in his past and his life in the streets make her question whether or not he's worth the trouble. As the daughter of District Attorney Wesley Evans Free's whole world has been country clubs and private schools, but from the second she lays eyes on Diego Kingston she knows that everything she's relied on is about to change.
Secrets about her mother's death are exposed, that challenge her relationship with her father leaving the only person that Free can depend on to be the new man in her life. Relying on a man who is rooted in the streets means leaving everything she knows in order to fit into his world.
Diego "King" Kingston lives a life of luxury.
His hands are full running a street empire while trying to raise his younger sister, but when Free walks into his life King's world changes. As a man determined to have it all he does his best to be what she needs but the streets control his life and he knows that will never change.
With his father in prison and a mother who's incapable, King is struggling to balance running an empire, raising his sister and loving Free. After learning the identity of Free's father, King is also faced with the hard truth that he holds secrets that will change her life forever. King is torn. Free is changing him in ways that he's not used to. Her love makes him weak which means she's a liability and could potentially cost him more than he's willing to lose. Trying to stay true to the streets and being in love with Free are putting him in constant conflict but he's not willing to let either one of them go.
---
Shot Clock: Love Is a Beautiful Game
M. Monique and A.J. Davidson
Life has a way of throwing curve balls at you and for Naomi, she was hit with a major blow during one of the biggest events of her life.Getting news about her health that takes her from what she loves, is the last thing Naomi wanted to hear. With a man like Sin, he wasn't about to let his woman stay down for long and he'll stop at nothing to prevent her from falling into a dark place.
Pen has to hold it together while being worried about her sister and finishing the playoffs strong, without Naomi by her side. Zoo stepped up and became that crutch that Pen needed, the only thing is, she doesn't want him to be. Leaving Zoo to pick up his feelings and grant her wishes to stay away.
Bri and Brooklyn have taken things a step further and their friendship has blossomed. Thinking things with their past is behind them, Teddy shows his face but is not prepared for the heat that's waiting for him.
3 couples fighting to the end to be all each other needs. Some will make it with no doubts, and some will be pushed to the edge, forcing the other to stand on the last words they said to them.
Love is a beautiful game, except when you lose… then the game is not so pretty anymore.
---
Tinia Montford
WILL THEY PULL OFF THE PERFECT PERFORMANCE?
It's double time for Cami Clinton…
Dance is in Cami's blood, but a bombshell diagnosis puts her on the sidelines. Now returning for her senior year of college, she's determined to prove she is the dancer she once was. Each year, at the end of the semester, the campus hosts a dance festival. It's not unusual for talent agencies to recruit PGU students, launching their careers. Cami knows this is her shot at redemption, but while at a party, things go horribly wrong and Cami suddenly has a new boyfriend: Marsh Lincoln.
Marsh Lincoln has two left feet…
He doesn't dance. A nasty accident haunts Marsh and he's ready to graduate until he's told he's missing credits. To make matters worse, his girlfriend breaks-up with him in front of everyone at a party, leaving him with a new girlfriend he's never met before…
The only class left to fill his missing credits? Ballroom dancing.
His new girlfriend? Cami Clinton.
It takes two to tango…
Acting like the perfect couple isn't easy when you've just met. Cami and Marsh make a deal: pretend to be a couple and ace the dance festival. Should be easy… Right? When the lines between what's real and pretend blurs, Cami and Marsh have to ask themselves the question: Can you catch feelings for something that's all pretend?
---
Tyora Moody
A mother pleads for help to find her missing daughter. She's convinced the boyfriend knows something.
When the boyfriend's body is found, it becomes imperative to find the missing young woman. The son of one of the town's wealthiest families, the pressure is on. Law enforcement thinks the woman isn't really in danger but on the run after committing murder.
Not sure what to believe, PI Serena "Rena" Manchester is starting to wonder if she should have taken this case on at all. Everyone she questions leave Serena feeling helpless and confused about the events surrounding the last time the woman had been seen.
The clock is ticking as Serena and her crew crawl down a rabbit hole, trying to find a woman, whose time is running out or may have already run out.
---
I Don't Ever Wanna See You Again
Neyrey
Currently expecting her first child, Swann is balancing impending motherhood and a steady career with One Chord Records, and making it look easy to outsiders. However on the inside, Swann is heartbroken over the death of the her child's father and has officially closed herself off from loving again. Imagine her surprise when she encounters Samson.
When your heart bleeds musical notes but you have bills to pay, you end up like Samson, just working a nine to five until you can catch your big break. The last thing he's expecting is to fall head over heels for Swann, but that's exactly what ends up happening. Despite the blur that mixing business and pleasure creates, will Swann and Samson fall victim to their hidden passions despite all the obstacles in their way? Or will they both stay true to their first love, music?
---
J. Nichole
Professional basketball had always been Nico Maxwell's dream — but a life-altering diagnosis changed his plans. When his goals were crushed, it took him some time to realize he had to live life fully and spontaneously. Instead of planning for the future with a career, wife, & family–he's taking life one day, one woman at a time.
Marketing Expert, Destiny Harlow, thought her girlfriend title would soon be upgraded to wifey. That was until her boyfriend broke her heart. She was crushed and found an old friend, Nico Maxwell, the perfect guy to help ease her heartache.
A growing baby bump was not what either expected. But was what they needed to help change their perspective on their life goals.
---
Robin W. Pearson
Paulette and Fred Baldwin find themselves wading through a new season of life in Hickory Grove, North Carolina. Their only son, McKinley, now works hundreds of miles away, and the distance between the husband and wife feels even farther. When their son returns home, his visit dredges up even more conflict between Fred and Paulette.
McKinley makes it no secret that he doesn't intend to follow in his father's footsteps at George & Company Fine Furnishings or otherwise. Fred can't quite bring himself to accept all his son's choices, yet Paulette is determined McKinley will want for nothing, least of all a mother's love and attention—which her own skin color cost her as a child. But all her striving leaves Fred on the outside looking in.
Paulette suspects McKinley and Fred are hiding something that could change the whole family. Soon, she's facing a whirlwind she never saw coming, and the three of them must dig deep to confront the truth. Maybe then they'll discover that their history is only skin-deep while their faith can take them right to the heart of things.
---
Erica Ridley
Nothing happens in London without Graham Wynchester knowing. His massive collection of intelligence is invaluable to his family's mission of aiding those most in need. So when he deciphers a series of coded messages in the scandal sheets, Graham's convinced he must come to a royal's rescue. But his quarry turns out not to be a princess at all… The captivating Kunigunde de Heusch is anything but a damsel in distress, and the last thing she wants is Graham's help.
All her life, Kuni trained alongside the fiercest Royal Guardsmen in her family, secretly planning to become her country's first Royal Guardswoman. This mission in London is a chance to prove herself worthy without help from a man, not even one as devilishly handsome as Graham. To her surprise, Graham believes in her dream as much as she does, which makes it harder to resist kissing him…and falling in love. But how can she risk her heart if her future lies an ocean away?
---
K.D. Richards
She thought she'd escaped her past…
Has it caught up with her?
Erika Powell has lived in hiding for years to protect her son from his wealthy, tyrannical grandfather. Wary of strangers, she's suspicious of James West, who's renting a neighboring cabin, despite their sizzling chemistry. But when attempts are made on Erika's life, James fears he may have endangered her—because the undercover PI's investigation of Erika may have led someone dangerous right to her.
---
Vanessa Riley
Gran Toya: Born in West Africa, Abdaraya Toya was one of the legendary minos—women called "Dahomeyan Amazons" by the Europeans—who were specially chosen female warriors consecrated to the King of Dahomey. Betrayed by an enemy, kidnapped, and sold into slavery, Toya wound up in the French colony of Saint Domingue, where she became a force to be reckoned with on its sugar plantations: a healer and an authority figure among the enslaved. Among the motherless children she helped raise was a man who would become the revolutionary Jean-Jacques Dessalines. When the enslaved people rose up, Toya, ever the warrior, was at the forefront of the rebellion that changed the course of history.
Marie-Claire: A free woman of color, Marie-Claire Bonheur was raised in an air of privilege and security because of her wealthy white grandfather. With a passion for charitable work, she grew up looking for ways to help those oppressed by a society steeped in racial and economic injustices. Falling in love with Jean-Jacques Dessalines, an enslaved man, was never the plan, yet their paths continued to cross and intertwine, and despite a marriage of convenience to a Frenchman, she and Dessalines had several children.
When war breaks out on Saint Domingue, pitting the French, Spanish, and enslaved people against one another in turn, Marie-Claire and Toya finally meet, and despite their deep differences, they both play pivotal roles in the revolution that will eventually lead to full independence for Haiti and its people.
Both an emotionally palpable love story and a detail-rich historical novel, Sister Mother Warrior tells the often-overlooked history of the most successful Black uprising in history. Riley celebrates the tremendous courage and resilience of the revolutionaries, and the formidable strength and intelligence of Toya, Marie-Claire, and the countless other women who fought for freedom.
---
Compromised into a Scandalous Marriage
Lydia San Andres
Escape to the Caribbean in this tension-filled compromised-into-marriage story!
From island scandal
To dutiful vows!
When heiress Paulina Despradel is banished from the family quinta in a storm, she seeks shelter with her dashing new neighbor, Sebastian Linares. Their attraction may be as electrifying as the lightning outside, but the night they spend together is totally innocent. Barely more than strangers, they must now marry. But left alone with their simmering chemistry, can they build a true union from the ashes of scandal?
---
Jacqueline Scarlett
Five years after tragically losing her husband Taye and her only child Taraji to leukemia, Jayla Hamilton has slowly begun to rebuild her life. Helping her is this process is Randall Davis, a kindhearted, supportive, and protective man she never saw coming. His unconditional and nonjudgmental love is like a breath of fresh air. Together, they are raising beautiful twin boys, his children from a previous relationship and planning their wedding.
She still remains in close contact with TJ; Taye's son, keeping her promise to always remain in his life as his mother. Her best friend Sasha, who has also found love again is only a phone call away. Jayla has a picture perfect life. A life she never expected. As she begins to question whether or not she deserves all the happiness coming her way, will she allow the demons from her past to resurface and ruin her future? Or will she finally give in and accept that there truly is life after death?
---
Jodie Slaughter
The first time Aja Owens encounters the man of her dreams, she's having a panic attack in the frozen foods section of the Piggly Wiggly. The second time, he's being introduced to her as her favorite bingo buddy's semi-estranged grandson. From there, all it takes is one game for her to realize that he's definitely going to be a problem. And if there's anything she already has a surplus of, it's problems.
In Walker Abbott's mind, there are only two worthwhile things in Greenbelt, South Carolina. The peach cobbler at his old favorite diner and his ailing grandmother. Dragging himself back after more than a decade away, he's counting down the days until Gram heals and he can get back to his real life. Far away from the trauma inside of those city limits. Just when he thinks his plan is solid, enter Aja to shake everything up.
A hastily made bingo-based sex pact is supposed to keep this…thing between them from getting out of hand. Especially when submitting to their feelings means disrupting their carefully balanced lives. But emotions are just like bingo callers—they refuse to be ignored.
---
Mecca Jamilah Sullivan
Growing up in a rapidly changing Harlem, eight-year-old Malaya hates when her mother drags her to Weight Watchers meetings; she'd rather paint alone in her bedroom or enjoy forbidden street foods with her father. For Malaya, the pressures of her predominantly white Upper East Side prep school are relentless, as are the expectations passed down from her painfully proper mother and sharp-tongued grandmother. As she comes of age in the 1990s, she finds solace in the music of Biggie Smalls and Aaliyah, but her weight continues to climb—until a family tragedy forces her to face the source of her hunger, ultimately shattering her inherited stigmas surrounding women's bodies, and embracing her own desire.
---