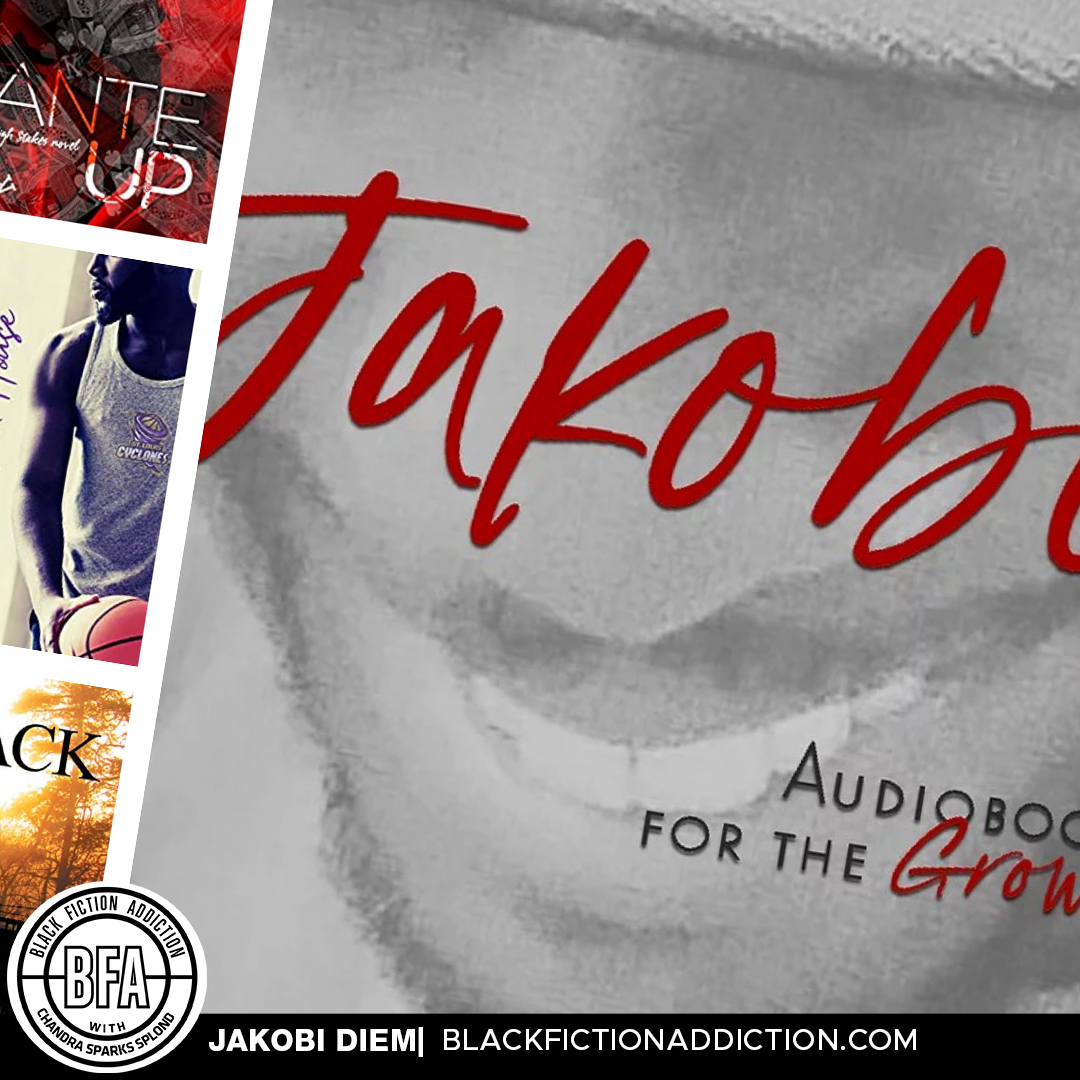 Known as the audiobook narrator for the grown and sexy, Jakobi Diem could recite the alphabet, and we'd be happy. Some of our favorite audiobooks he's narrated include:
Flagrant by Alexandria House
NBA star Paul "Polo" Logan is known for his on-court prowess and his off-court philandering.
Kendra Doll is the main woman in his life, and although their past bonds them together, it also may be what tears them apart.
He's ready to make a change and truly commit to her, but is it too late?
Polo and Kendra were first introduced in the novel Let Me Hold You by Alexandria House.
This story contains content that may be sensitive for some listeners.
---
Let Me Love You by Alexandra House
Trying to put past hurts behind you is hard when your ex is a fool, but buoyed by child support and alimony, Jo Walker is moving forward with her life, pursuing a career, raising her little girl, and trying to live in peace. She believes she has all the bases covered in her world. But what about her heart?
Rap legend Everett "Big South" McClain is divorced, too, knows all about failed relationships, and has relegated his love life to casual connections rather than pursuing something real. That is, until he lays eyes on Jo.
She's exactly what he never knew he needed.
He's what's been missing from her world.
Will she accept what he has to offer and let him love her?
Contains mature themes.
---
Ante Up by Christina C. Jones
I know exactly why it turns you on…because you're messed up too.
Asha's life is no fairytale, by any stretch of the imagination. There was no kind, generous father to care for and protect her from the Vegas that exists beyond the glitz and glamour of The Strip. No wise, doting mother to look over and guide her, passing down essential lessons and leading her to the right path. And certainly, no Prince Charming just around the corner, ready to rescue her from working late nights to cover steadily mounting bills.
You're not born to sharks without becoming one yourself.
In Vegas, King is exactly what his name implies. Born into money and influence, but respected – and feared – in his own right. The privileges of wealth have afforded him many things, freedom, power, massive eligibility – while simultaneously leaving him exposed to others: betrayal, exploitation, and manipulation.
Like attracts like…
Her poker face has kept her alive all this time, and he keeps his cards close to his chest. Neither is interested in gambling their hearts, but when they can't stay away from each other, there's only one choice…ante up.
Contains mature themes.
---
Grip by Kennedy Ryan
Resisting an irresistible force wears you down and turns you out.
I know – I've been doing it for years.
I may not have a musical gift of my own, but I've got a nose for talent and an eye for the extraordinary.
And Marlon James – Grip to his fans – is nothing short of extraordinary.
Years ago, we strung together a few magical nights, but I keep those memories in a locked drawer and I've thrown away the key. All that's left is friendship and work.
He's on the verge of unimaginable fame, all his dreams poised to come true.
I manage his career, but I can't seem to manage my heart. It's wild, reckless, disobedient – and it remembers all the things I want to forget.
Contains mature themes.
---
The Fold Complete Series by Sabrina B. Scales
Thou Shall Not Run: Having met when they were just 12 years old, Jadalynn and Andrew experienced some of their best and worst moments together. Falling in love was inevitable as they grew older and remained close. And falling out of love was just as certain when the two finally bumped heads.
Thou Shall Not Hide: Looking for love was never on Chad's list of things to do, until he held Taya in his arms on a dance floor and watched God laugh at his plans. She was beautiful in a way that caught his eyes and his heart. Foreign feelings that wouldn't fade had him questioning his sanity. They're both too young to fathom that any of this could be real. So, they come and go and then come back again until there's nowhere left to hide.
Thou Shall Not Fear: Perfection was the main objective when it came to Angela. She was stubborn, strong-willed, and completely incapable of relinquishing control, at times risking her own happiness to preserve the image of what others thought she should be. Angela must take it upon herself to figure out which way to go after leaving a toxic marriage. And she may or may not find refuge in an equally stubborn alpha male by the name of Damien Christopher Briscoe.
---
Black by Joan Vassar
In August 1831, Nat Turner leads a group of escaped slaves in a rebellion that rocks the South. The revolt comes to a quick and violent end. In November, Nat is publicly hanged, and as his body swings, a false sense of peace washes over Jerusalem, Virginia.
Unbeknownst to the world, on the day Nat Turner dies, his son, Nat Hope Turner, is born. Reared by Big Mama on the Turner plantation, young Nat's identity is kept secret to keep him safe. As Nat grows to manhood, he leads his own uprising against slavery and is forever after known as Black.
Fate – by way of Big Mama – leads Black to rescue a young female slave, Sunday, before the plantation owner can sell her. Black has lived for liberty until the day he comes face to face with the alluring Sunday. As the two embark on a sexually charged ride toward love and freedom, they set off a chain of events that forces Black to risk his own liberty for hers.
Black shares the appealing tale of a passionate love between a man and a woman bound together to change their destiny.