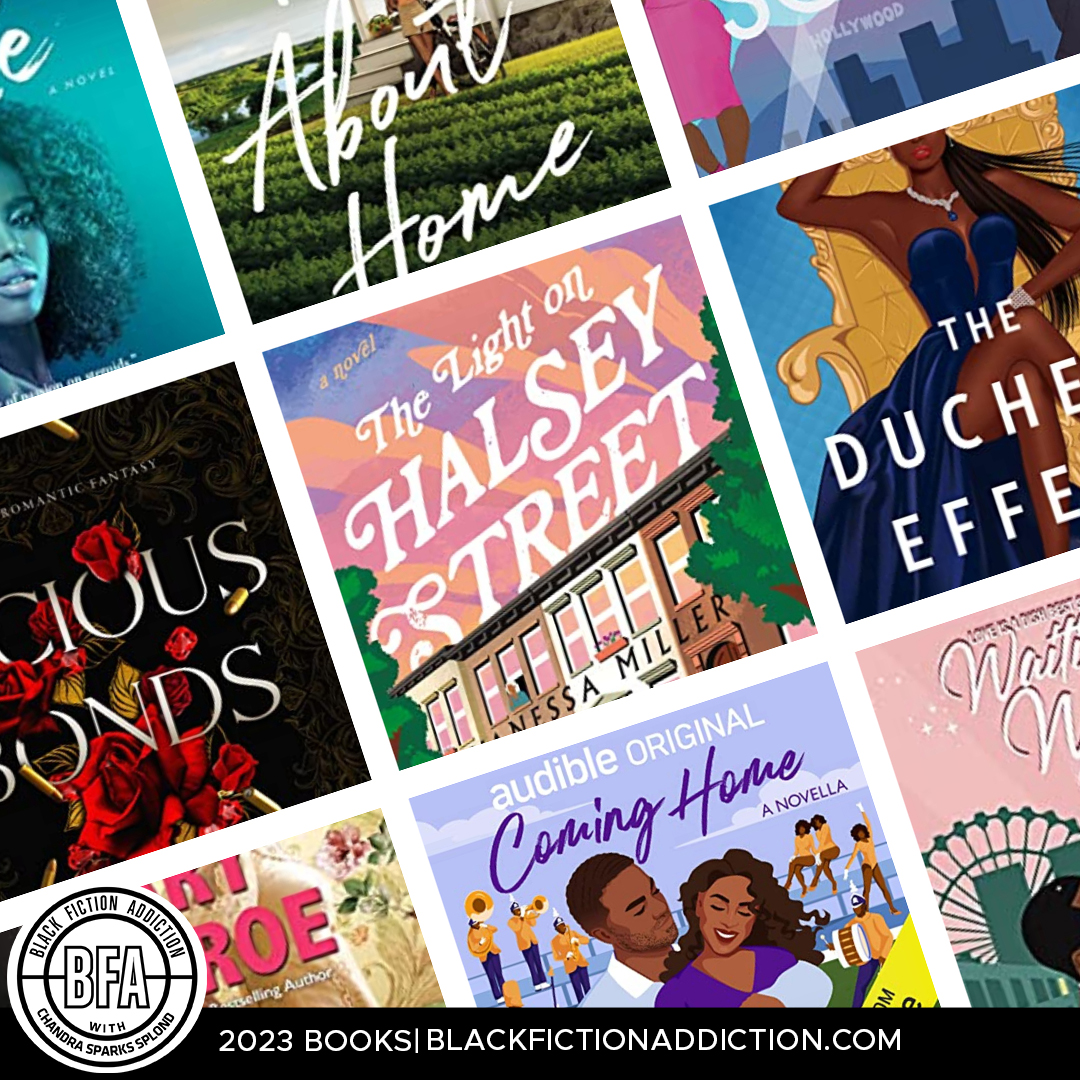 A new year means new releases from some of your favorite and future favorite authors. Here are a few books on my radar for 2023.
Tanzania Glover
What would you do if you had six months left to live? Initially Kellen Turner plans to live as normally as possible then go peacefully into the night. But when his longtime crush waitress Wendy Bell finally works up the nerve to ask him out, he realizes that he just may have something to live and fight for after all.
---
Tracey Livesay
Against all odds, sexy American rapper, Danielle "Duchess" Nelson and brilliant reclusive royal Prince Jameson have fallen in love! They've decided to take their relationship public and find a way to make their two worlds coexist. On their terms.
Unfortunately, falling in love was the easy part.
Jameson and Dani's love story has made them the most popular royals since Prince John, but that popularity comes with a price. Dani looks forward to signing the deal with a major cosmetics company that will make her skin care line, Mela-Skin, a force in the industry, and finally grant her the control over her life she's craved since childhood. But the company wants to take advantage of their fame and involve Jameson in Mela-Skin's marketing campaign. Dani is outraged! Her company has nothing to do with Jameson.
After stepping up for the royal family, Jameson yearns to retreat back into academia. But he's fired when his university raises concerns about his newfound notoriety. And suddenly the queen, initially against the relationship, backtracks, seeing their cooperation when the family is embroiled in yet another scandal. This isn't the quiet life Jameson was hoping for.
Dani and Jameson truly love each other. But under the scrutiny of the international spotlight, when the doubts, compromises, and secrets begin to take their toll, will their love be enough?
---
Olivia Matthews
Little Caribbean, Brooklyn, New York: Lyndsay Murray is opening Spice Isle Bakery with her family, and it's everything she's ever wanted. The West Indian bakery is her way to give back to the community she loves, stay connected to her Grenadian roots, and work side-by-side with her family. The only thing getting a rise out of Lyndsay is Claudio Fabrizi, a disgruntled fellow bakery owner who does not want any competition.
On opening day, he comes into the bakery threatening to shut them down. Fed up, Lyndsay takes him to task in front of what seems to be the whole neighborhood. So when Claudio turns up dead a day later—murdered—Lyndsay is unfortunately the prime suspect. To get the scent of suspicion off her and her bakery, Lyndsay has to prove she's innocent—under the watchful eyes of her overprotective brother, anxious parents, and meddlesome extended family—what could go wrong?
---
Rhonda McKnight
Home is not a place—it's a feeling.
Casey Black needs an escape. When her picture-perfect vow renewal ceremony ends in her being left at the altar, the former model turned social media influencer has new fame—the kind she never wanted. An embarrassing, viral video has cost her millions of followers, and her seven-year marriage is over. With her personal and business lives in shambles, Casey runs from New York City to South Carolina's Lowcountry hoping to find long-lost family. Family who can give her more answers about her past than her controlling mom-slash-manager has ever been willing to share.
What Casey doesn't expect is a postcard-worthy property on a three-hundred-acre farm, history, culture, and a love of sweet tea. She spends her days caring for the land and her nights cooking much needed Southern comfort foods. She also meets Nigel, the handsome farm manager whose friendship has become everything she's never had. And then there are the secrets her mother can no longer hide.
Through the pages of her great-grandmother's journals, Casey discovers her roots run deeper than the Lowcountry soil. She learns that she has people. A home. A legacy to uphold. And a great new love story—if only she is brave enough to leave her old life behind.
---
Vanessa Miller
Two girls' lives are irrevocably intertwined the summer of 1985 in the streets of Brooklyn, New York, and neither will ever be the same in this coming-of-age story that spans decades.
Lisa Whitaker and Dana Jones live in the same neighborhood in Brooklyn, NY, but their lives couldn't be more different. Lisa's father owns a corner store that's a staple in the community. She comes from a loving but strict family. Meanwhile, Dana is always looking for the next adventure, and since her mother is in and out of rehab, Dana enjoys plenty of independence.
The two girls form an unlikely friendship until the summer of 1985 when Dana is gradually sucked into a life of crime that Lisa wants no part of. By the fall, Lisa is starting her freshman year of college and Dana is in prison. But the two girls' lives are forever entangled in decades of lies, fraud and deaths that so profoundly change them; it will take a lifetime to forgive the betrayal and thoughtlessness that youthful summer in Bed-Stuy set in motion.
---
Mary Monroe
With mysterious serial murders putting peaceful Lexington, Alabama, on edge, Jessie and Hubert Wiggins' steadfast calm and devotion to each other reassures everyone that faith will see them through. But Jessie and Hubert have paid a terrible hidden cost to maintain their devout facade and respectable standing. Nothing can allay the guilt they feel—or stop the growing distrust between them . . .
Hubert thought he and his secret lover, Leroy, could continue seeing each other on the down-low in peace. But when Leroy's ex-wife moves back in with him, a heartbroken Hubert is driven to distraction trying to keep Jessie in the dark—and quell his mounting jealousy. And his need for satisfaction is driving Hubert to reckless extremes—and desperate risks . . .
Jessie believes the struggles between her and Hubert will all be worth it if she can connive him to finally consummate their marriage—no matter what she has to do. But his erratic behavior and her frustration soon has her trying yet another new lover, who is as charming as he is unreliable—and unexpectedly dangerous . . .
Now with their secrets out of control—and the police perilously near—Jessie and Hubert discover who might be behind the deaths plaguing their town. But can they risk a pursuit that could expose their own web of lies? When their only choice pits them and their suspicions against each other, their next move will either bury their deceptions deep for good—or reveal the one truth they can't escape.
---
Victoria Christopher Murray
Journee Alexander grew up believing that the only person she could depend on was herself. After being abandoned by her mother, burning bridges with friends, and narrowly escaping bad business dealings with her first mentor, her trust is hard to earn and harder to keep. But she has overcome all of that and now, as a successful mortgage broker at the top of her game in Houston's booming real estate market, she has every reason to be proud of her accomplishments. She achieved this massive success on her own—there's no need to put her trust in anyone else.
But when Journee starts receiving cryptic text messages from an unknown number threatening to destroy everything she has worked to build, she is out of her depth for the first time. Forced to consider accepting help from someone, Journee turns to the first man she loved, the one who got away. But old habits are hard to break and after trusting only her own instincts for so long, can she put her pride aside and accept advice from an old flame? Or should she put her trust in a brand-new love who is in sync with all that she wants to do?
Journee is forced to confront the secrets of her past, the old hurts that never seem to heal, and the fact that sometimes a meteoric rise is just the first step in a devastating fall that will change her life forever.
---
Kennedy Ryan
They got everything they wanted…but never had each other.
Touré Wallace and Niomi Spencer were close friends at Finley College, the prestigious HBCU they attended. The attraction that simmered between them every semester was a question they never got to ask or answer before soaring ambitions launched them to opposite corners of the world. Both chased their dreams of grit and glamor as high-profile journalists. They got it all…except a shot at being more than friends.
Years later, Touré is an award-winning investigative journalist and Niomi is America's most popular morning-show host, but they both feel like something's missing. When their alma mater recruits its most famous alums for an interview during homecoming, every look, every touch is electric. The air hums with what could have been, and they're tempted by what they could have right now, if only for one weekend. Have they traveled the world, chasing something special, when all it took was coming home?
Featuring the musical stylings of Southern University's marching band, Human Jukebox!
---
Reese Ryan
Ambitious real estate agent Sinclair Buchanan is ecstatic to be her best friend's maid-of-honor—until she discovers the best man is Garrett Davenport. Sin and Rett's mutual hate crush ignited when they were teens and hasn't let up since . . . except for that one extremely hot (and extremely regrettable) night they shared five years ago.
Nothing gets Rett fired up like going toe-to-toe with Sinclair. She's as infuriatingly stubborn, and as absolutely gorgeous, as when he fell for her back in high school. Working together to plan their best friends' last-minute wedding is one thing, but when his matchmaking grandmother gets involved Rett knows he's in deep. Attraction has always simmered between them, but this time, they're both in danger of losing their hearts.
---
Toni Shiloh
Hollywood hair stylist Nevaeh Richards loves making those in the spotlight shine but prefers the anonymity of staying behind her stylist chair, where no one notices her. But when a photo of Nevaeh and Hollywood heartthrob Lamont Booker goes viral for all the wrong reasons, her quiet life becomes the number-one trending topic.
Lamont Booker's bold faith has gained him a platform, and the authenticity of his faith is well known . . . until the tabloids cause the world to question everything he claims to be. With his reputation on the line, he finds himself hearing out his agent's push for a fake relationship–something he never thought he'd consider in a million years.
With their careers at risk, Nevaeh and Lamont have to convince the world that their scripted romance is more than just an act. But when fake seems to turn into something real, can Nevaeh trust her heart in a world where nothing is ever as it seems?
---
Shanora Williams
WILLOW
I was never meant to live an ordinary life, and when I'm dropped from the sky into a haunting forest, facing the barrel of an unknown man's gun, I believe it to be true.
Ruler of Blackwater, Caz Harlow, is the man behind the gun. He's broody, calculating, commanding and, surprisingly, I can hear every thought that runs through his mind. Because I can, he wants me out of his world and sent back to where I came from, so he makes it his mission to find a way.
It seems like a simple task, until I realize his world is unlike mine—that his is filled with violence, chaos, destruction, and gifted people who can kill you with one look. In his universe, it's hard for a regular human like me to survive, but with Caz at my side, the possibility is higher. And the more time we spend together, the harder it is for me to ignore the connection that makes me feel alive.
He says we're not meant to be, so why does everything about him set my soul on fire?
CAZ
I have too many enemies to count, and when this Willow woman drops into my forest, that's exactly what I think she is: an enemy.
But then she makes a remark without even opening her mouth, and I realize I can hear her thoughts, and she can hear mine.
As Monarch of Blackwater, I can't allow her to stay. By doing so, I risk losing everything I've worked so hard to build, so I make it my mission to find her a way back home.
But as this mission rolls on, I realize my bond with Willow goes much deeper than I ever could have imagined. And the more I reject her, the more pain I feel entering my body. However, when I lower my guard, the pain disappears and I crave her touch.
This relentless, undeniable bond is becoming impossible to ignore, but I can't give into it. For if she stays, death will come for us, and it's up to me to choose our fate.
Do I risk staying with her and putting her life at constant risk, or do I sacrifice the one thing that brings me happiness and let her go?
---
This post contains affiliate links.