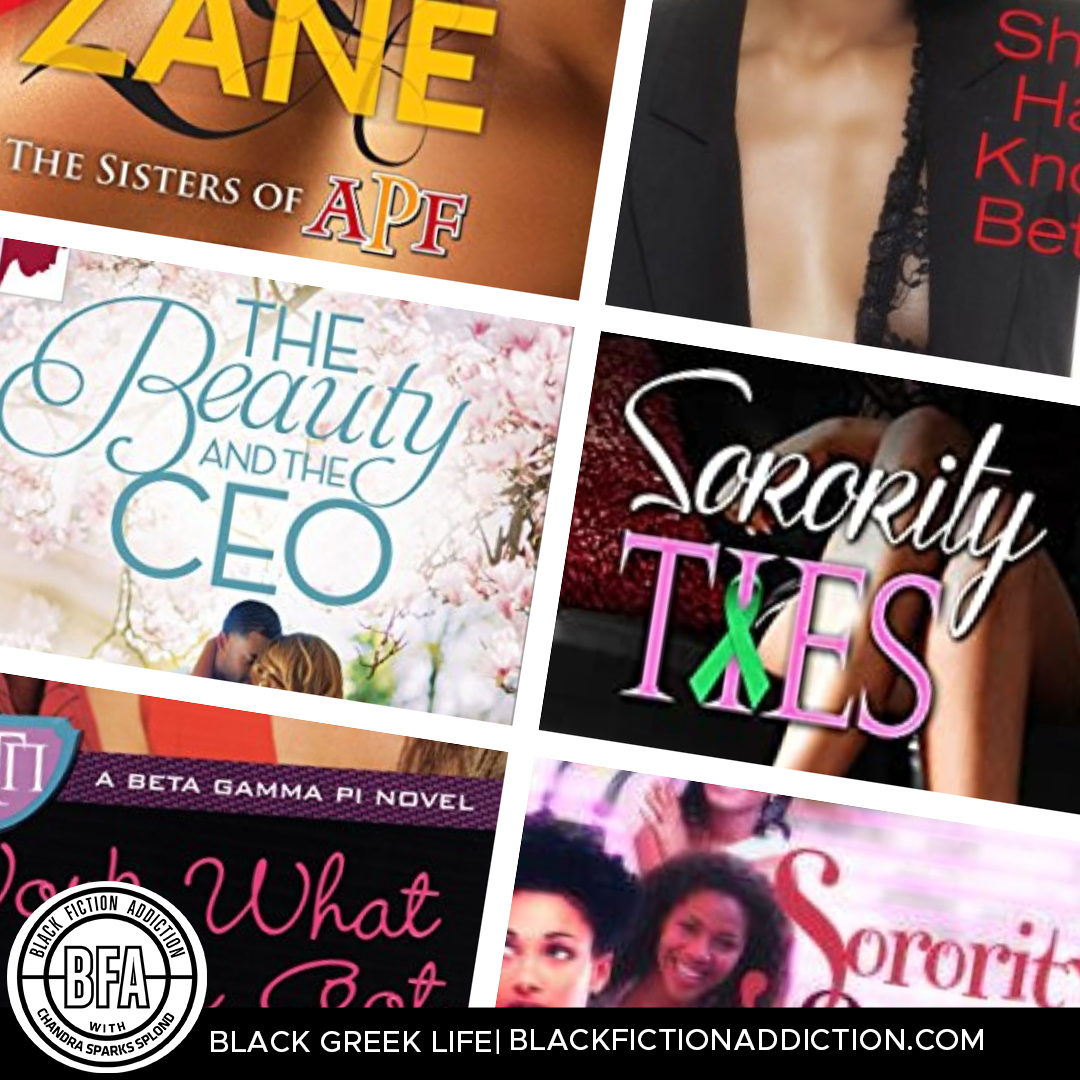 It's Founders' Day season for a lot of Black Greek letter organizations (shout out to my sorors of Alpha Kappa Alpha Sorority, Inc. and the other members of the Divine Nine), so in their honor, check out these books that fictionalize Greek life.
Anna Black, Saundra, Lakisha Johnson, Tammara Matthews, Jamie Dossie, Melissa Love
Sorority ties was supposed to bind Delilah to a sisterhood that would last a lifetime. But instead all she found was a betrayal at the hands of Stephanie that left a bitter taste in her mouth.
Fortunately for her Karma is a bitch. And when her sudden good fortune becomes too good to be true Delilah proves she will stop at nothing in order to seek her long awaited payback.
One story, six authors, equals drama, and more.
---
Tajuana Butler
Dear Heavenly Father,
Thank you for developing me into a
beautiful and talented woman.
Thank you for being my protector
and my guide.
And as I make my way along my journey,
bless me with the wisdom to make
intelligent choices.
So begins Sorority Sisters by Tajuana "TJ" Butler, a dazzling new voice in African-American fiction. In this wonderful debut novel, five young women from diverse backgrounds pledge an African-American sorority and learn the true meaning of sisterhood.
CAJEN is a naive freshman whose brief affair with Jason, the campus Romeo, has life-changing repercussions. With hardly a chance to cope with her new circumstances, she finds herself dealing with the stress of pledging while battling feelings of depression and guilt.
TIARA grew up as the oldest of five children raised by a single mother in the projects of Gary, Indiana. Motivated by Rhonda, her mentor through the Big Sisters program, she has worked hard for everything she has achieved. Simply being in college is a victory for her.
CHANCEY is brilliant, with a photographic memory that has allowed her to breeze through school. In fact, she skipped her freshman year entirely and entered college as a sophomore. She has always been made to feel like an outsider because of her intelligence, and the sorority represents an opportunity for her finally to fit in.
STEPHANIE is the spoiled only child of a prominent, wealthy family from Savannah. She is used to getting the best and expects no less. But Stephanie is adopted and harbors a secret about her birth mother that she fears win cause others to think less of her.
MALENA is ambitious, talented, and smart. She knows what she wants and is steadfast when it comes to achieving her goals. Her strength and resolve ultimately benefit the group as a whole.
These five very different young women are thrust together and soon must learn to unite and draw upon one another's talents. During the course of their pledge process, they struggle to discover and define their futures, finding strength in the group and within themselves.
---
Adrianne Byrd
Kappa Psi Kappa brother Stanley Patterson has sworn off love. The only problem is that his heart is no longer listening. When he meets a gorgeous woman at a company party, sparks fly. By the end of an explosive night, he realizes that love isn't through with him yet. Is it possible that he has found something honest and real?
Journalist Honey Laura Clark is on a mission to bring down her father's ex-business partner turned corrupt private military contractor and all those associated with him. But when her path crosses a billionaire recluse, she weaves herself into a tangled web of deceit. Can she pull out of it before it cost her everything?
---
Carolyn Hector
Undeniable chemistry
Makeup artist Zoe Baldwin can't believe the gorgeous guy she flirted with on the way to a job interview was her potential boss. So when Will Ravens, CEO of his family's cosmetics company, tells Zoe her innovative approach isn't right for his brand, she agrees to work alongside him at a beauty pageant to prove her skills. But where there are sparks, there's certain attraction…
Will is fighting to keep his family legacy afloat. He's going back to basics at Ravens Cosmetics, leaving no time for romance or Zoe's avant-garde ideas. But despite his intentions, he finds himself falling deeper under Zoe's sensual spell. Amid the chaos caused by company sabotage, can both their career dreams and passionate fantasies come true?
---
Stephanie Perry Moore
In Book 1 of the Beta Pi series, between moving off campus, gearing up to pledge a sorority, and trying to keep her faith first, Hayden Grant is about to become one very busy Beta.
College sophomore Hayden Grant and her three roommates can't wait to join Beta Gamma Pi sorority. At least that's what Hayden thought-until Myra, Bridget and Chandra announce a change of plans. Can Hayden and her girls hold onto their friendship as they pursue different paths? And speaking of pursuit, Hayden's caught the eye of Creed, a hottie she met her first year. There's just one complication: Hayden's ex-boyfriend heads the fraternity Creed's pledging. It looks like it's going to be one crazy year of trials, tribulations, and unexpected lessons-in leadership and love.
---
Grace Octavia
Dawn Johnson's sorority sisters thought she made a huge mistake marrying blue-collar Reginald. But Dawn and Reginald have built a beautiful life for themselves and their two children. Dawn can't wait to show everyone how wrong they were–especially when her mega-successful best friend, Sasha, comes to visit. She never expected Sasha and Reginald would hit it off so well. She never expected they'd betray her in the most shocking and hurtful way imaginable–by running off together. And she never knew how much rage she could hold in her broken heart. . .
With her life now in shambles, Dawn will do whatever it takes to regain what she's lost. But the road back will mean risking more than she ever imagined. . .
---
Zane
The Sisters of APF is Zane's first book based on one of her most popular short story subjects, the sexy escapades of a sorority like no other.
Many readers have written to Zane and asked to join the sorority or to launch a new chapter in their region. APF is fantasy, but the enthusiasm of Zane's fans is real. So now, with The Sisters of APF, she's offering readers what they want, a book-length story chronicling the adventures—and recruitment process—of the fearlessly sexy women of APF.​
APF stands for Alpha Phi F***em, a sorority dedicated to sexual freedom and the fulfillment of its members. Mary Ann is the daughter of a chicken farmer from South Dakota. She has never been more than fifty miles from home and has led a sheltered life. By the time she goes off to college in Washington, D.C., she has been intimate with only one man—her high school sweetheart. The resident manager of Mary Ann's dormitory, Patricia, befriends the country bumpkin. She finds Mary Ann amusing, but also senses something intriguing about her, hidden beneath the surface. After Mary Ann becomes smitten with Trevor, the campus playboy, Patricia is determined to show Mary Ann how to outdo the players and heartbreakers. She indoctrinates Mary Ann into the ranks of the sexiest secret society ever: the sisters of APF.