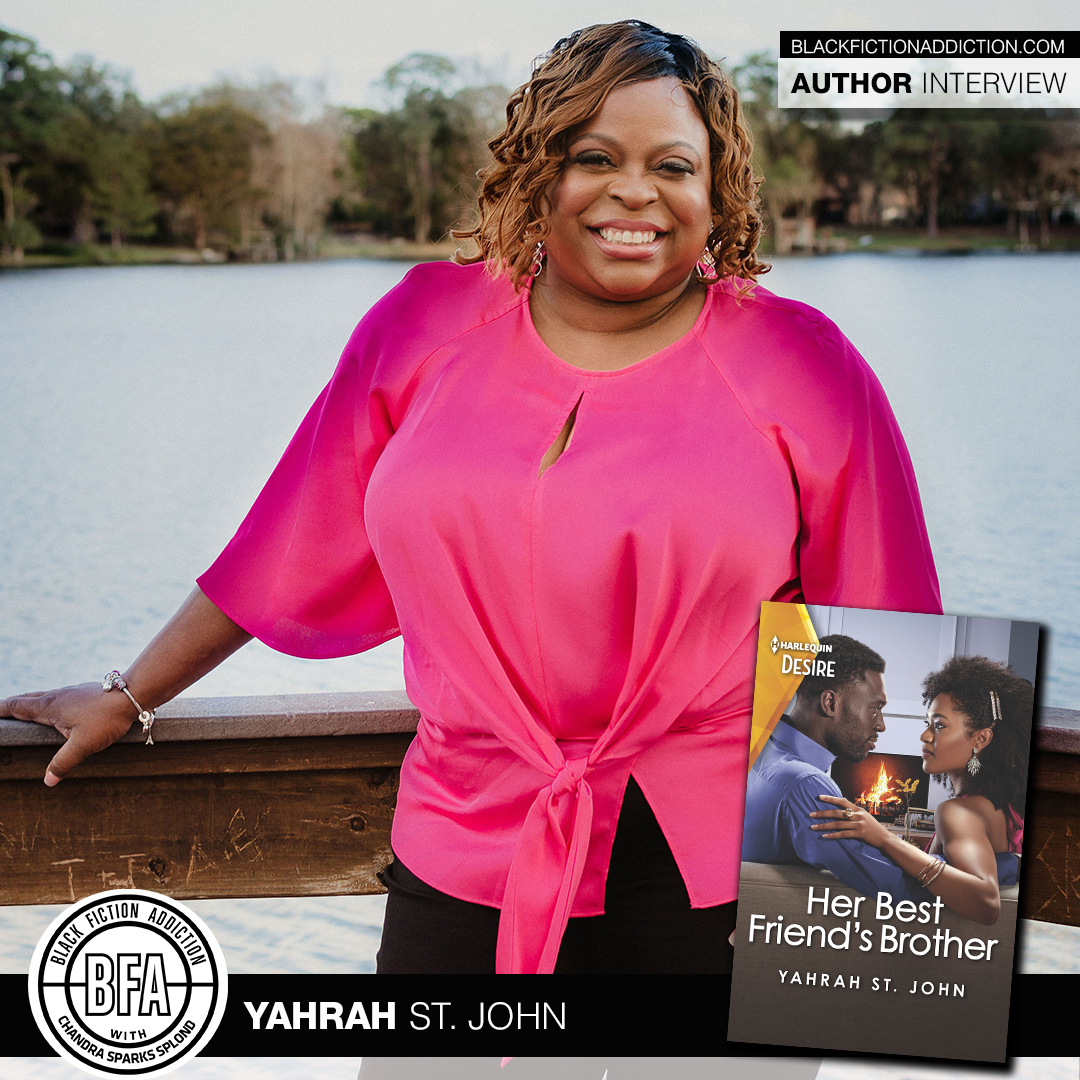 Contemporary romance author Yahrah St. John is back with a new series based on her love of her friends. I recently spoke with her about Her Best Friend's Brother.
Tell me about your latest book. 
My 44th book Her Best Friend's Brother is the first book in a new series titled The Six Gems. My two-line pitch about Her Best Friends Brother is this: Cut off financially by her parents after the death of her aunt, travel blogger Wynter Barrington runs into her best friend's brother, prominent lawyer Riley Davis whom she's always crushed on, and they strike up a passionate affair. Wynter falls for the cynical serial dater, but he runs scared. Riley witnessed his parents' acrimonious divorce and is determined not to end up destroyed like his mother who never recovered and had a mental breakdown. He's afraid of opening himself up to that kind of pain. Meanwhile Wynter is dealing with her family challenging her aunt's will after she inherits her aunt's estate and never living up to their expectations. Yet somehow these two strong individuals find their way to take a chance on love. I just love it!
Why did you decide to write it?
The idea for the Six Gems series sprung from a taking a girl's trip with my best friends to Gatlinburg last year. I've been friends with many of these amazing women for twenty- to thirty-five-plus years. They aren't just friends anymore; they're my sisters, and there's nothing I wouldn't do for them. So, I thought, wouldn't it be great if I wrote a series about six friends who get together every year to discuss their dreams, fears and love life woes much like me and my sista group? To make it even more dramatic, what if they inherited money to make all their dreams come true? That's how Six Gems was born.
Who is your favorite character in the book and why? 
I absolute love Wynter Barrington. She's kind, caring, yet strong and sassy much like me. Some people might take her kindness for weakness. but it's not because she has the love of her best girlfriends: the Six Gems. Her story resonates for me because my best friends have always been who I go to when I need an ear to listen or a shoulder to cry on. They've been my sisters even when I was estranged from my family. I'm happy to say that me and my family have grown closer in recent years, but I will always have my gems.
What was the hardest part about writing the story?
I would say delving deep into trauma Wynter was going through over the death of her aunt. I understand because I've lost both my parents and best friend, so writing the first few chapters were particularly difficult. Even more so for Wynter because she didn't have her family on her side, but guess who was there? Riley. And their love story starts from there.
If you were to write a book about your life, what would be the title and why?
I've actually written the synopsis for my memoir. It's titled Never Break. That title rang true after a heard the John Legend song. I've dealt with the tragic losing my mother and being unable to revive her, best friend dying from cancer at 45 years old, father in a routine surgery in a thirteen-year period while also having dealt with growing up in a religious culture for a decade that was not only mentally abusive but robbed me of my childhood. However, I'm still standing, and I never broke. I've continued to thrive, become an author, get married and find my one true love and live my best life because tomorrow is not promised.
What is something readers would be surprised to know about you? 
Yahrah is not the name I was given at birth. Due to the religion, I mentioned above, my name was change from Dorice to Yahrah. And after forty-plus years, Yahrah has kind of grown on me.
Tell me about a book that changed your life and why. 
I can't think of a book that changed my life. However, in recent years I have really enjoyed listening to memoirs from Michelle Obama to Robin Roberts to Mariah Carey. My most recent listen was Finding Me by Viola Davis. Hearing her story and her trials and tribulations to get where she is now is nothing short of inspiring. I always thought I had a hard life and then I heard Viola's and realized we all have a story.
What's next for you?
The continuation of the Six Gems with the second book, Her Secret Billionaire. My second favorite character in Her Best Friend's Brother was Egypt Cox because she was outspoken. I knew her book would be next.  Here's a quick snippet about the book: New restaurant owner Egypt Cox has no time for love until sexy CEO Garrett Forrester lands in her lap after being carjacked at her restaurant. The chemistry between them is undeniable, but Garrett can't remember who he is. When his memory returns, it threatens their newfound love.
Do you have anything you would like to add?
For those of you who may not know me, I'm a contemporary romance author of 44 books. My books have lots of drama for the hero and heroine; a big cast of characters; steamy, passionate loves scenes; and of course a happily ever after. For more info about me, or if you would like, sign up for my newsletter at http://www.yahrahstjohn.com/ where you'll get all the latest news, cover reveals, excerpts, upcoming stories and more.
---
Use the Black Fiction Addiction affiliate link to purchase your copy of Her Best Friend's Brother.
---
To learn more about contemporary romance author Yahrah St. John, visit her website or connect with her on social media.
Email: [email protected]
Website: http://www.yahrahstjohn.com/
Facebook: https://www.facebook.com/YahrahStJohn/
Instagram: https://www.instagram.com/yahrahstjohn/
Pinterest: https://www.pinterest.com/yahrahstjohn/
BookBub: https://www.bookbub.com/authors/yahrah-st-john