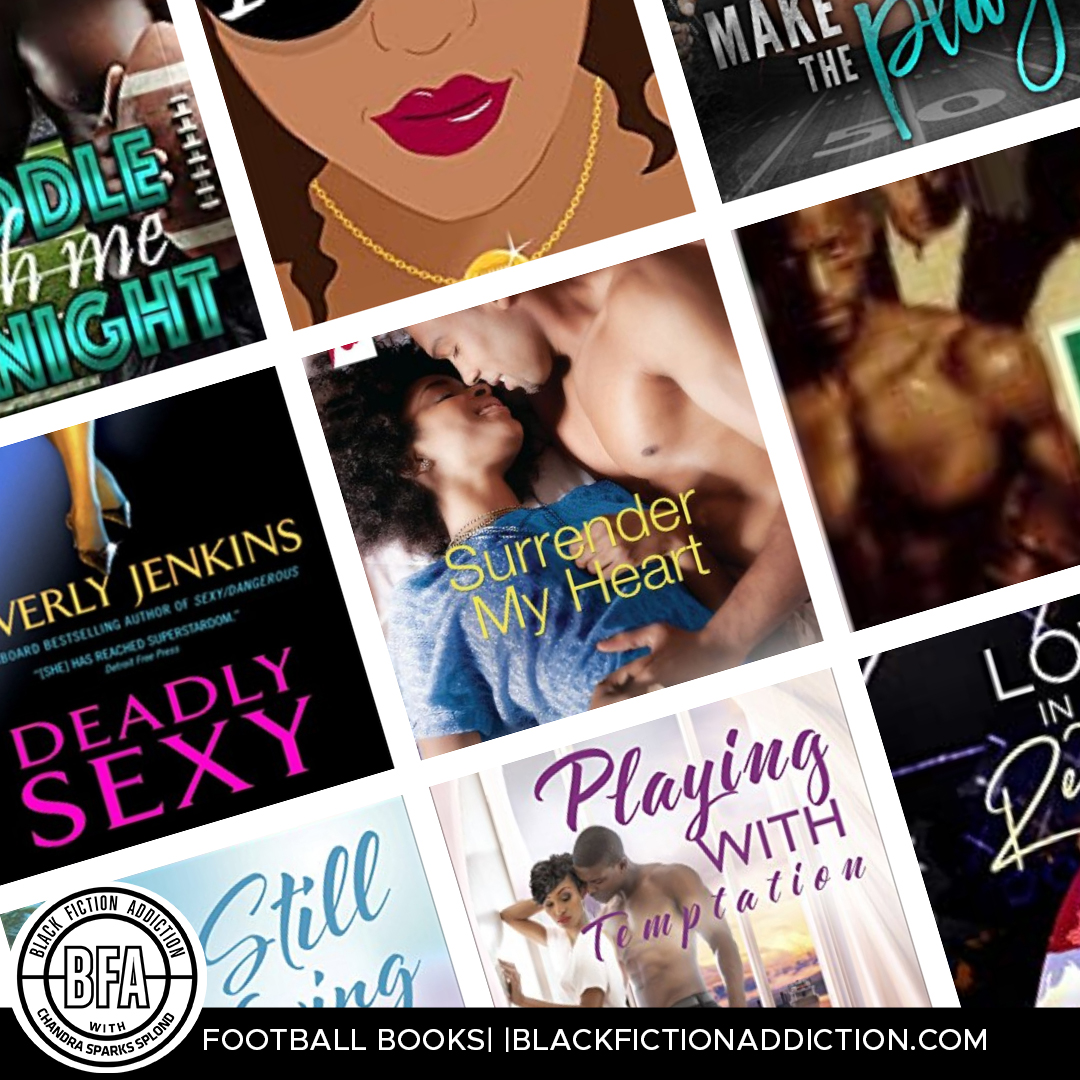 Are you ready for some football? The Super Bowl is only a couple of weeks away, but if you just can't wait, check out these black books* where football is a part of the plot.
Connecticut Kings series by Love Belvin and Christina C. Jones
Can you tell the difference between a distraction and a blessing? It should be simple, but sometimes what we think is a distraction can actually be a turning of the tide required to bring life full circle, to a place of blessing.
Meet Trent Bailey, who is fighting for the right to continue his stellar professional football career after enduring striking legal woes in the recent past. Trent cannot and will not blow his second chance for anyone; after all, this is the blessing he's been praying for. After receiving confirmation that staying focused is all he needs, it's what he aims to do. No distractions. That's until he bumps into two unexpected overnight guests.
Jade Matthews is doing everything she can for herself and her young son, Kyree. After journeying through her own bumps in the road, she's finally getting it together. She's doing what she has to do to make sure her family of two stays afloat. Life's setbacks won't stop Jade from providing for her little one, even though she fumbles each pass thrown at her.
What starts out as a temporary favor turns into rapid passion. There's one agenda here, but getting to the same meeting point has never been more difficult. Fighting their way through trust and self-esteem issues, the two must meet in the right zone; the red zone, where you may think you're safe, but life has a way of intercepting blessings and…turning the tide.
Love Belvin and Christina C. Jones collaborate on a series of football romance, staring two football greats who so happen to be in for the biggest play of their lives: for their hearts. Quarterback, Trent Bailey, and wide receiver, Jordan Johnson, give their all out on the green. But what happens when the two friends encounter true love?
Take on Connecticut Kings' finest and journey through their discovery of developing themselves as men, and exploring love.
***Book one of the "Connecticut Kings" series***
---
And This Too Shall Pass by E. Lynn Harris
In And This Too Shall Pass, E. Lynn Harris takes us into the locker rooms and newsrooms of Chicago, where four lives are about to intersect in romance and scandal.  At the heart of the novel is the gay but celibate Zurich, a rookie quarterback for the Chicago Cougars whose trajectory for superstardom is interrupted by a sexual harassment suit by Mia, a female sportscaster with her own sights on fame.  With his career in jeopardy, Zurich hires Tamela, a high-powered attorney, to defend him, while Sean, a gay sportswriter, covers the story, and ultimately helps Zurich do the right thing.
---
Deadly Sexy by Beverly Jenkins
Though her Lexus may be broken down on the California freeway, Jessi Teresa Blake is no damsel in distress. Rich, smart, and beautiful, JT, or "Lady Blake," as she is called, is one of the toughest sports agents around. She's negotiated megabucks contracts for every superstar in the business, and only the most confident of men can match wits with her. Men like Reese Anthony, the impossibly sexy trucker who gives her a lift back to Oakland.
But Reese isn't just a truck driver–he's a partner in his family's multi-million-dollar company, a lawyer, and a former cop. He's been asked to quietly investigate a murder in the world of L.A. football, a job he's thrilled to discover brings him closer to the beautiful woman he found stranded on the highway. And when he detects a bitter enemy threatening JT's life, he's willing to protect her–and pleasure her–all night long.
---
Still Loving You by Sheryl Lister
Malcolm Gray is Lauren Emerson's biggest regret. Eight years ago, a breakdown of trust cost her a beautiful future with the most charming man she'd ever met. Now a career-making opportunity brings the nutrition entrepreneur home, where she hopes to declare a truce with her ex-love, the star running back of the Los Angeles Cobras. But their first encounter unleashes explosive passion…and unwanted memories of the precious dreams they once shared.
Malcolm can't forgive Lauren for her betrayal after they had pledged their eternal devotion. But her play-stopping curves alone are a turn-on he can't resist. He knows he'll never get over her—nor does he want to… Is their love worth a second chance? Or is he risking heartbreak again? As they jockey for position, a new set of rules could change the game for both of them.
---
The Playbook series by Alexa Martin
Marlee thought she scored the man of her dreams only to be scorched by a bad breakup. But there's a new player on the horizon, and he's in a league of his own…
Marlee Harper is the perfect girlfriend. She's definitely had enough practice by dating her NFL-star boyfriend for the last ten years. But when she discovers he has been tackling other women on the sly, she vows to never date an athlete again. There's just one problem: Gavin Pope, the new hotshot quarterback and a fling from the past, has Marlee in his sights.
Gavin fights to show Marlee he's nothing like her ex. Unfortunately, not everyone is ready to let her escape her past. The team's wives, who never led the welcome wagon, are not happy with Marlee's return. They have only one thing on their minds: taking her down. But when the gossip makes Marlee public enemy number one, she worries about more than just her reputation.
Between their own fumbles and the wicked wives, it will take a Hail Mary for Marlee and Gavin's relationship to survive the season.
---
New York Sabers series by Farrah Rochon
From Book 1: Originally Published by Harlequin Kimani Romance – September 2010
Entertainment columnist Paige Turner is known for getting under the skin of the people whose books she reviews on her popular blog. When her criticism of NFL standout Torrian Smallwood's cookbook/memoir goes viral, it sparks an online war between the city's most beloved blogger and one of football's hottest stars.
Torrian couldn't care less what some book blogger thinks about his upcoming memoir. His main focus is on making a success of the new restaurant he's opening for his sister. That is, until he meets the gorgeous Paige Turner face-to-face. When a local TV station invites them to bring their online battle into the kitchen in a reality TV cook-off, Torrian comes up with a new goal: making Paige his.
Will either of them be able to stand the heat, or will they succumb to the white-hot attraction that neither can deny?
Reading order:
Book 1: Huddle With Me Tonight
Book 2: I'll Catch You
Book 3: Field of Pleasure
Book 4: Pleasure Rush
---
Playing with Temptation by Reese Ryan
North Carolina pro footballer Nate Johnston built his reputation on talent, drive and good sportsmanship. But a devastating recent loss derails his team's shot at winning the championship…and Nate's career when a compromising video goes viral. In need of a miracle, the star wide receiver feels ambushed when his brother enlists media consultant Kendra Williams to do damage control. The reignited desire for the woman he once wanted to spend forever with can only cause Nate deeper heartache.
Walking away from the man she loved seven years ago is the biggest regret of Kendra's life. Now her son needs a closer relationship with his father…and Kendra needs to win back Nate's trust. After breaking his heart, repairing his career is the least she can do to help save his dream. Powerful passion still smolders between them, tempting the former lovers to move beyond their painful past. Will the emergence of a jealous ex with a vicious revenge scheme sabotage their second chance at a future and a family that's almost within reach?
---
Football Widows by Pat Tucker
During football season, when NFL coaches gear up for war on the gridiron, their wives are left to fend for themselves. NFL wife B.J. Almond has had enough. When she walks in to find her head coach husband in bed with one of his assistant coaches' wives, she is livid. But what really sets her off is when she discovers the other wives knew about the affair all along. Now she's furious and hungry for revenge. And what better way to exact that revenge than to air everyone's dirty laundry in a juicy tell-all book.
B.J. knows where all the bodies are buried, and she's digging up all the dirt. But before she starts writing, she's running up the score with a lawsuit against her husband and his mistress. Armed with flight records, copies of naughty emails, phone records, and pictures, B.J. isn't holding back. And neither are the other football wives, who will stop at nothing to keep their dirty secrets from going public.
---
Make the Play by Jamie Wesley
Meet Carter Jones. The youngest Jones boy. The newest member of the Memphis Soul.
After signing a contract with his hometown team that made him the league's highest paid wide receiver, Carter thought life couldn't get any sweeter. But he's dropping passes in games and hearing the boos from the fans. Worse, his oldest brother/roommate keeps butting into his business. He needs a new place to stay. Today. When he drives by an open house, he thinks his luck is changing. When he meets the beautiful real estate agent, he knows things are looking up–even if she wants nothing to do with him.
Gabby Stephens has had enough of rich guys. After kicking her ex-husband to the curb, she's eager for a fresh start and has no time for playboys, even the ridiculously hot ones. But when her bills start piling up, finding a home for Carter becomes her top priority. Her second priority? Ignoring her overwhelming attraction to the pro athlete.
In this game of love, Carter's more than ready to make the play to win Gabby's heart.
---
*This book contains affiliate links.