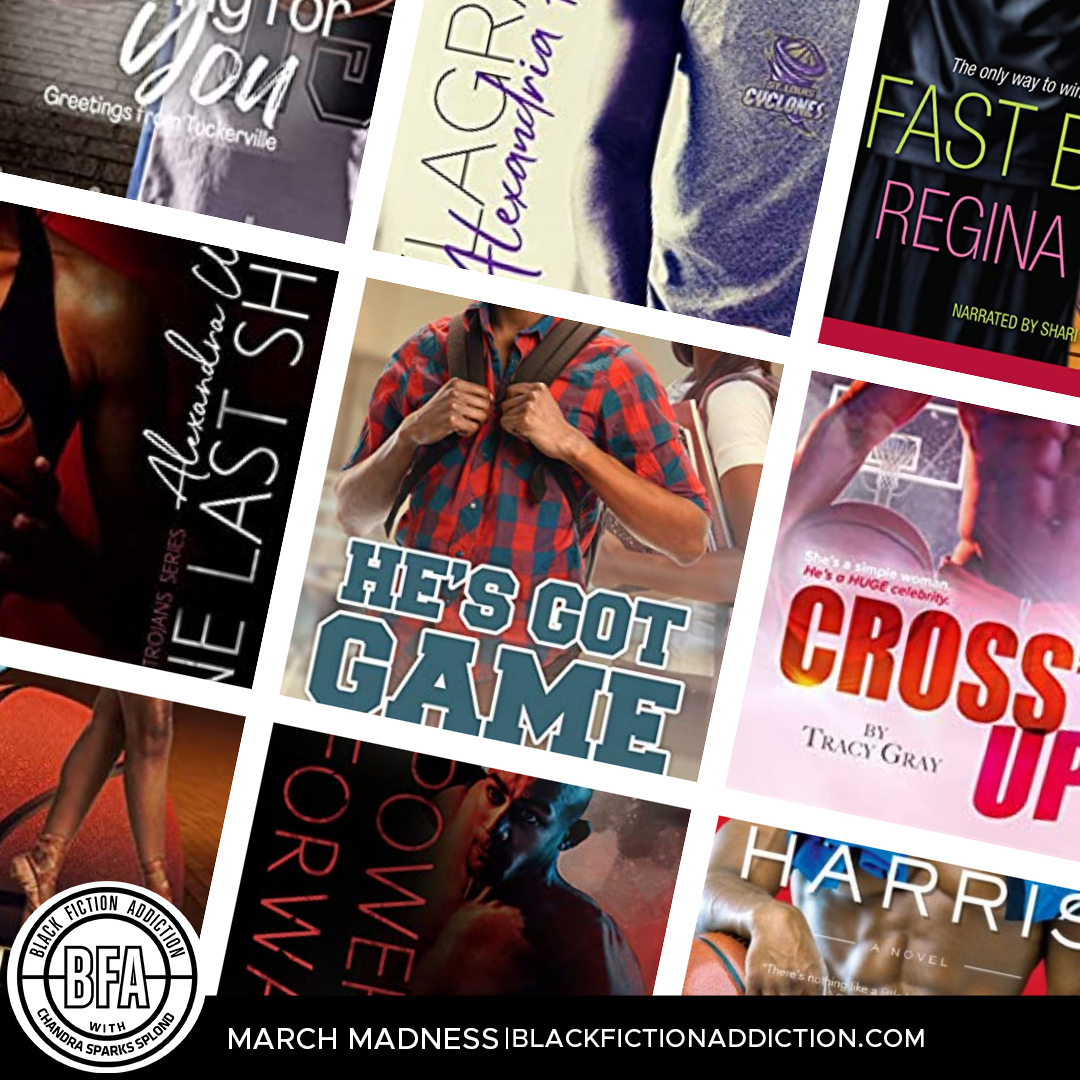 In honor of March Madness this week, here are a few black basketball books you may enjoy:
Nicole Falls
"It's your world, baby. Whatever you want, whatever you need, I got you."
Starting Center for the Nashville Trojans Zebediah Kennedy has always been known as the guy everyone turns to for a good time. As a free agent going into the next season his future is unknown, but he's determined to make the best of it, now matter how the cards may fall. His aim is to be a Trojan for life, but if circumstances dictate otherwise, the wizened vet will do what he has always done, adjust his approach and keep it pushing.
Kyra Macklin is a powerful, in-demand agent whose sole focus is ensuring her clients' success on and off the court. She recently entered into partnership with a large sports agency and quickly learned that all that glitters isn't gold. As she deals with professional disappointment, she is dealt a crushing blow in her personal life that upends her entire world.
At the time of her greatest need, Zebediah shows up for Kyra, being a port in the midst of her personal storms. And when the seas of his life experience a bit of turmoil, Kyra is right there to provide an assist. While personal and professional overlap brings them together, Kyra and Zebediah's chemistry and attraction draws them even closer, creating a beautiful relationship neither saw coming.
---
Tracy Gray
Christian "Cross Up" Upton is one of, if not the most skilled player in professional basketball.
Genesis "Gensie" Cole considers herself a regular/degular girl, with a dream of making good food and getting her catering company off the ground.
---
E. Lynn Harris
AJ Richardson is living the good life. Thanks to his longtime lover, NBA star Dray Jones, he has a gorgeous townhouse in New Orleans, plenty of frequent-flier miles, and an MBA he's never had to use. Built on a deep and abiding love, their hidden relationship sustains them both. But when Dray's teammates begin to ask insinuating questions, Dray puts their doubts to rest by marrying Judi, a beautiful and ambitious woman. Judi knows nothing about Dray's "other life." Or does she?
---
Suzette D. Harrison
Yazmeen Williams is a busy woman. The former professional dancer is a church Administrative Assistant by day and the mother of three-year old twin boys, always. What she isn't, is interested in love thanks to a monster of an ex-husband who's a danger to the well-being of her sons. When retired NBA player Tavares Alvarez enters her life looking "utterly orgasmic," that disinterest is severely challenged as is her hold on celibacy. But he'll need to gain her trust, or her phone number first. With Yazmeen, neither will come easily.
Tavares has had zero relationships, but more than his share of women. Now that he's born-again, he's no longer focused on the opposite sex. His attention is devoted to his five-year old daughter and being a venture capitalist. Meeting Yazmeen proves a delicious disruption. The attraction is instant, but clearly she's disinterested. Tavares will need to work to secure her affection despite the drama caused by his unhinged "Baby Mama."
Dive into this faith-filled, sexy romance that will leave you rooting for Yazmeen and Tavares, laughing at their antics, and gasping at the actions of their questionably sane exes.
---
Regina Hart
The first in a new series chronicling the fortunes of the Brooklyn Monarchs, a fictional NBA franchise, Fast Break is another triumph for fan-favorite author Regina Hart. Here, two-time league MVP and three-time champion DeMarcus Guinn is going to turn the Monarchs around his way, or not at all. The only obstacle he must overcome is a developing rivalry with the fiery team owner, Jaclyn Jones.
---
Alexandria House
NBA star Paul "Polo" Logan is known for his on-court prowess and his off-court philandering.
Kendra Doll is the main woman in his life, and although their past bonds them together, it also may be what tears them apart.
He's ready to make a change and truly commit to her, but is it too late?
(Polo and Kendra were first introduced in the novel, Let Me Hold You, by Alexandria House.)
*This story contains content that may be sensitive for some readers.*
---
J. Nichole
After a season-ending knee injury, the last place Nate wanted to be was his small hometown of Tuckerville.
And he certainly didn't want to show up to her yoga class to help him heal his mind. But then her calm voice, as she asked, "Can I help you adjust?" before her soft hand rested on his forearm had him thinking maybe his agent was right, maybe he did need to breathe.
There wasn't anything or anybody Aria was willing to let interrupt her peace. Not her well-paying career, and the promise of more money. And definitely not him — an NBA All-Star with a stick up his…
At least that's what she repeated to herself as she watched his muscles form into different poses. Not him.
---
Chandra Sparks Splond
Sixteen-year-old Noah Benjamin has dreams of being the first in his family to graduate college. All that changes when he becomes the breakout star of his high school's basketball team. Despite his girlfriend Megan Agee trying to keep him on track, girls are showing interest, and people are in his ear telling him he should take his talents straight to the NBA. It doesn't sound like such a bad idea since it will give him the money to support his little sister, Natalie, and his grandparents. It would be so easy to forget about his game plan, but is that the way to go when the people around him have their own agendas?
---
Alexandra Warren
"I've always trusted you with the ball in your hands. But can I do the same with my heart?"
As a professional basketball player, Selena "Sharpshooter" Samuels seemingly has everything going in her favor. Playing for her hometown, playoff-bound team, the Nashville Nymphs. Playing under a knowledgeable coach who she adores. Playing for a franchise that's well respected and family-owned. But the potential dynasty she's trying to build comes under threat when a new assistant coach is hired; an assistant coach who she may or may not have had a huge crush on growing up.
DeAndre "Dre" Leonard hasn't had it easy. After being banned from the league as a player for violating the drug policy, his world came crashing down. But now he's back and ready to rebuild his reputation, starting with a coaching opportunity with the sister team of his beloved Trojans that includes one of the best women's players in the game; and arguably the finest woman he's ever seen.
Selena and Dre both want the same thing; to have a successful season. But as they spend more time together chasing a championship, that shared goal slowly begins to change from a title… to each other.