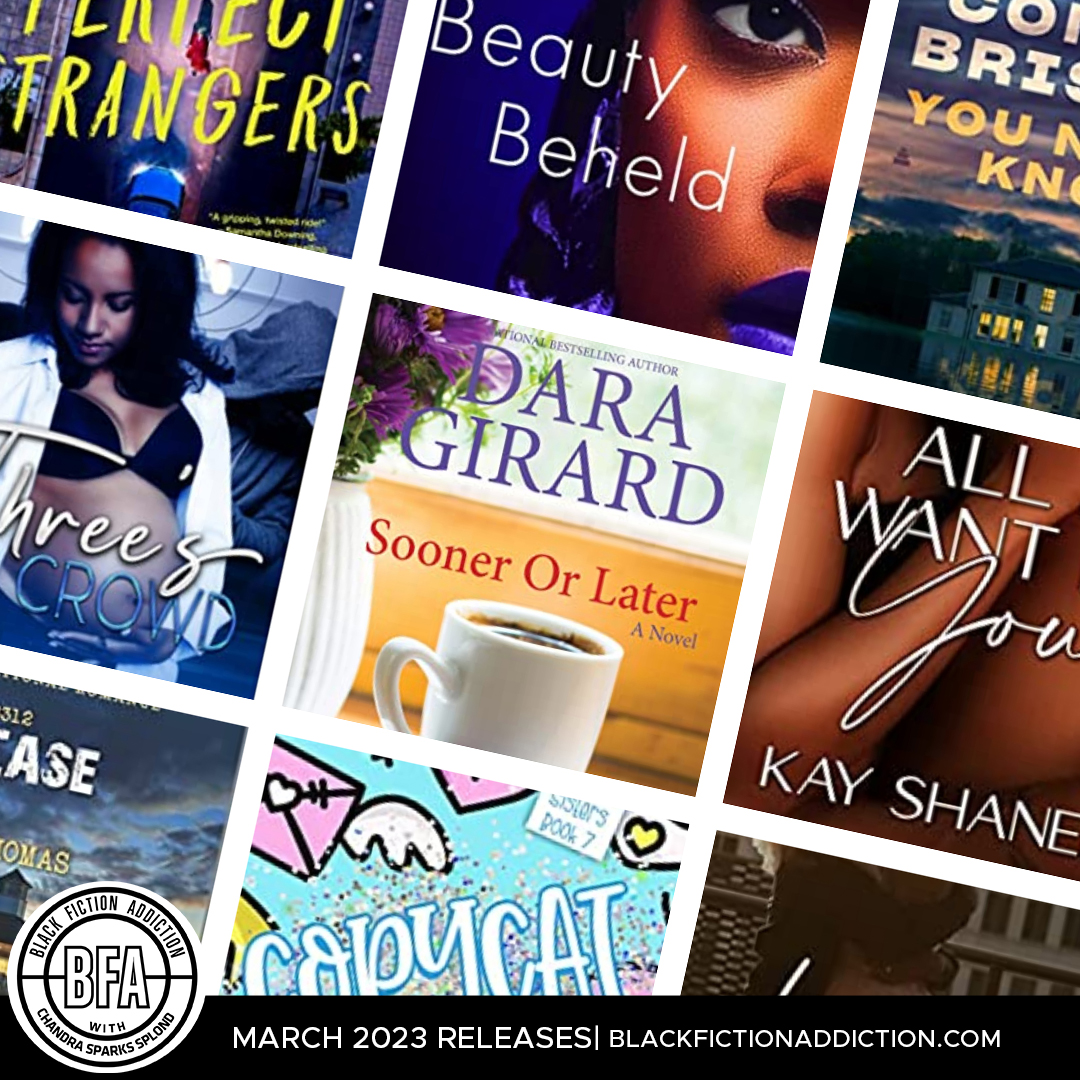 March seemed to fly by, but it did lots of amazing new releases behind. Check out these books from some of your favorite authors.
Jade Adia
A raised fist against the destructive forces of gentrification and a love letter to communities of color everywhere, Jade Adia's unforgettable debut tells the darkly hilarious story of three best friends willing to do whatever it takes to stay together. The gang is fake, but the fear is real. Rhea's neighborhood is fading away—the mom-and-pop shops of her childhood forced out to make space for an artisanal kombucha brewery here, a hot yoga studio there. And everywhere, the feeling that this place is no longer meant for her. Because while their little corner of South L.A. isn't perfect, to Rhea and her two best friends, it's something even more important—it's home. And it's worth protecting. But as more white people flock to their latest edgy, urban paradise for its cheap rent and sparkling new Whole Foods, more of Rhea's friends and family are pushed out. Until Rhea decides it's time to push back. Armed with their cellphones and a bag of firecrackers, the friends manipulate social media to create the illusion of gang violence in their neighborhood. All Rhea wanted to do was protect her community. Her friends. Herself. No one was supposed to get hurt. No one was supposed to die. But is anyone ever really safe when you're fighting power with fear?
---
Aja
Reina has wanted Blaze since they were children but Blaze's conviction stood in the way of it going beyond looks filled with longing. Until one forbidden night. Now, trying to get over what was declared a mistake, fate and a bit of highhandedness, force these two to see that there is never a mistake when love is at play.
---
Kianna Alexander
These fierce rivals propose a merger between their companies…and in the sheets. It's Kianna Alexander's latest 404 Sound novel.
She's his biggest rival in the music industry
…and his steamiest temptation!
Atlanta record executive Pierce Hamilton needs a bold move to prove he's ready to take over his family's legendary studio. The biggest gamble? Revisiting a merger with rival studio 404 Sound. That means wooing CEO Nia Woodson, who's never shown signs of being wooable.
Melting Nia's frosty exterior soon leads to a different kind of merger—a sizzling between-the-sheets kind! Strictly casual, of course. Two busy music moguls have no time for a relationship. But can their deepening bond, and Pierce's business plan, survive a bombshell revelation that could destroy Nia's family?
---
Krystle Zara Appiah
On a Spring afternoon in London, Sam hops the stairs of his flat two at a time. There's £1,300 missing from his and his wife, Efe's, shared bank account and his calls are going straight to voicemail. When he finally reaches someone, he learns Efe is nearly 5,000 miles away as their toddler looks around and asks, "Where's Mummy?"
When Efe and Sam met as teens headed for university, it seemed everyone knew they were meant to be. Efe, newly arrived in the UK from Ghana and sinking under the weight of her parents' expectations, found comfort in the focused and idealistic Sam. He was stable, working toward a law career, and had an unwavering vision for their future. A vision Efe, now a decade later, finds slightly insufferable. From the outside, they're the picture-perfect couple everyone imagined, but there are cracks in the frame.
When Efe and Sam are faced with an unplanned pregnancy, they find themselves on opposing sides. Fatherhood is everything he has dreamed of, but Efe feels stuck in a nightmare. And when a new revelation emerges, they are forced to confront just how radically different they want their lives to be. Already swallowed by the demands of motherhood and feeling the dreams she had slipping away once again, Efe disappears.
---
Zariah L. Banks
Life is practically perfect for Patience Hampton. She enjoys her challenging work as a voice actor, has a supportive network of family and friends, and is expecting a proposal from her long-term boyfriend, Daniel. But, when Patience is blindsided with shocking news, in an instant, everything she's placed her trust in comes crashing down.
While recovering from her explosive breakup, Patience is finally determined to focus on defining happiness. So, when she crosses paths with Mr. Charisma, Lennox Davenport, while on a business trip out of town, she's open to spending the night with the handsome stranger. Lennox is everything Patience didn't know she needed: assertive, encouraging, inquisitive, and has a sex appeal that leaves her senseless. As their interactions quickly intensify, she realizes she doesn't know herself at all.
Patience wants much more from her casual relationship with Lennox and begins recognizing how the relationship residue left by an absent father and a manipulative ex poses harm to her growth, healing, and happiness. Is she ready to finally release her emotional baggage and love freely? Or will her toxic habits resurface to sabotage yet another chance of finding real love with the man who has finally managed to behold her beauty within?
---
Brenda Barrett
Pearl Day had finally broken free from Leonard's grip as the manager of Sensuous City, but little did she know that her heart would become entangled with the charming gardener, Phil Knight, at her new job.
Despite her unhappy past with men, Pearl was ready to take a chance on love, but could she let go of her high standards and embrace a man who wasn't wealthy?
And even if she did, would she survive the wrath of Leonard, who was determined to track her down and exact his revenge on her for leaving?
---
Kalynn Bayrone
In the Remixed Classics series, authors from marginalized backgrounds reinterpret classic works through their own cultural lens to subvert the overwhelming cishet, white, and male canon. This gothic YA remix of Dr. Jekyll & Mr. Hyde subverts the cishet white perspective of the original, starring a Black queer teen searching for the reason behind his best friend's disappearance and the arrival of a magnetic stranger.
London, 1885. Gabriel Utterson, a 17-year-old law clerk, has returned to London for the first time since his life— and that of his dearest friend, Henry Jekyll—was derailed by a scandal that led to his and Henry's expulsion from the London Medical School. Whispers about the true nature of Gabriel and Henry's relationship have followed the boys for two years, and now Gabriel has a chance to start again.
But Gabriel doesn't want to move on, not without Henry. His friend has become distant and cold since the disastrous events of the prior spring, and now his letters have stopped altogether. Desperate to discover what's become of him, Gabriel takes to watching the Jekyll house.
In doing so, Gabriel meets Hyde, a a strangely familiar young man with white hair and a magnetic charisma. He claims to be friends with Henry, and Gabriel can't help but begin to grow jealous at their apparent closeness, especially as Henry continues to act like Gabriel means nothing to him.
But the secret behind Henry's apathy is only the first part of a deeper mystery that has begun to coalesce. Monsters of all kinds prowl within the London fog—and not all of them are out for blood…
---
Mary J. Blige
Most of the time, people say "no" or "you can't" because they dream too small.
Young Mary has been told that there are many things she can't do. Like stay up past bedtime, or be an astronaut or become president. But what she really wants is to sing, and she isn't about to let anyone tell her she can't do it!
A powerful motivating tale about a confident and ambitious girl who doesn't feed into negativity, this debut children's book from legendary artist Mary J. Blige proves that anyone can make their dreams come true by believing in themselves. It's a great conversation starter for overcoming discouragement from others.
---
Connie Briscoe
Alexis Roberts is asleep one night when someone breaks into her home and tries to assault her. Though she manages to escape serious harm, the invasion has left her scared and shaken. The police are investigating, but Alexis has few details to share with the detective on the scene. She's hearing impaired and could not find her cochlear implants in the darkness, which left her unable to both see and hear the intruder.
Was her attacker a stranger or someone whom she knows—a person who may have once been close to her?
Flashback to a year earlier when Alexis meets the man of her dreams. Marcus is handsome, successful, polished and everything she's ever wanted. Attentive, charming, and fluent in American sign language, he's unlike any man she's ever known. Believing he is the Mr. Right who was meant to be her forever partner, Alexis says yes when he asks her to marry him. Why wouldn't she?
But once they're married, Marcus grows distant and resembles little of the charming man who swept her off her feet. Who is this stranger she's married? Determined to uncover the truth, Alexis begins to carefully unearth the secrets in her husband's life. When she makes a horrifying discovery—his first wife is missing and suspected dead—Marcus suddenly disappears without a trace.
Now, in this gigantic house in an isolated neighborhood with no family and friends nearby to help, a terrified Alexis waits for her intruder to return. She's trapped in the dream home that has become a nightmare, unsure who Marcus really is . . . and what he's capable of doing.
---
Belle Calhoune
To truly come home,
She must face the reason she left…
Moving back to her Alaskan hometown was an easy decision for soon-to-be-single mom Autumn Hines. It's the perfect place to raise her baby. When her path crosses that of her old flame, widowed fisherman Judah Campbell, new sparks are ignited. There's just one thing standing in their way: Autumn has a secret. Revealing it could set them free, but can she find the courage to speak the truth?
---
Sharon C. Cooper
Chief financial officer Chase Kennedy has always lived life on the edge until he almost died a year ago in a car crash. He now realizes life is too fragile to keep taking it for granted. That's why he proposed marriage to his best friend, Wynter Garrett. He's in love with her, but she refuses to see him as more than a friend.
Wynter owns a multimillion-dollar business, and the last thing she has time for is a love life. Besides, she doesn't believe in happily-ever-after. But when Chase tells her that he wants to be more than friends, she's annoyed. Of course, she loves him—but why tamper with their friendship when it's already perfect?
But after one smoking-hot kiss, Wynter rethinks her stance on their relationship. Maybe friends do make the best lovers…and husbands.
---
Zuri Day
In Chicago, Abe Baiden is a janitor—and an incredibly good-looking, self-assured one. Here, no one knows about his soccer stardom, his billions or his royal family. He likes it that way, until he meets sexy, driven Reign Eddington. Reign is everything he's running from: she comes from wealth and works in PR for her father's business. The very same company that hired Abe, the janitor!
Now Abe's family says he needs a wife, and Reign is the woman he wants. Fiercely. Unequivocally. Hungrily. He just has to convince the savvy business exec to fall in love with him…before she learns who "Abe" really is.
---
Delaney Diamond
With such different beliefs about relationships, should they even try?
Vow renewal planner, Lorna Kessler, sees the beauty of love every day in her work. Life is short, and she believes when you find someone to love, you should jump in with both feet.
Divorce party planner, Reginald Knight, sees the ugliness of divorce every day in his work. After reconnecting with Lorna—an old college acquaintance—he has no doubt that she's a special woman. He believes, however, in taking his time instead of rushing and making a big mistake.
Their relationship flourishes despite their differences, but eventually Reginald has a decision to make. Take a leap of faith with the woman who seems perfect for him, or allow another man to take his place.
---
Kathy Douglass
There's a baby surprise in store
for this Aspen Creek cowboy!
Unexpectedly named guardian of a baby girl, rancher Isaac Montgomery gamely steps up for daddy duty. Fatherhood keeps him on his toes, but luckily new neighbor Savannah Rogers offers to help. Savannah's beauty isn't lost on this ladies' man, either. Yet she's reserved even as their feelings heat up. Are Isaac and his baby too painful a reminder of her heartbreaking loss? Or do they hold the key to healing?
---
Connie Easton
Rory and Ryan Cordova are the women to be in Graceland Heights. With business of their own, their money is tall and flourishing. The love they have for each other is unmatched. With it being just them two of them since birth, they ride hard for one another and make sure they're always good. However, an unexpected night out changes things for them.
The Hoffman brothers didn't have to speak because their money and presence did it for them. Sko is the life of the party and Nash… well, he's the man that paid for it. These brothers have women eating out the palm of their hands all for them to be interested in none. While Sko likes to have fun, Nash doesn't have time to mess around.
Two worlds collide and form something neither knew they needed. They said when you weren't looking for something it found you.
---
Connie Easton
Rory and Ryan are in situations they've never faced before. With one being locked up and the other being shot, they're not sure of the status of the other. Love is something they didn't care for but received it from the Hoffman brothers and now it had them spiraling in a pond of emotions.
The Hoffman brothers are on the most wanted list with the FEDs and have to make a move before their worlds come to an end. With so much on their plate, they have to prioritize what gets their energy and what doesn't. However, what gets left unattended could possibly be their downfall.
Trust and loyalty are supposed to be instilled in those you call family but sometimes those close to you are the ones that will cause the most chaos in your life. Intuition never steers you wrong but advice from others might.
---
Sherron Elise
Cierra signs up to be a Big Sister for a mentoring program at her church and is assigned to mentor a 5th grader named Riley. But Riley seeks to be just like Cierra, and she wants all of Cierra's time and attention.
Riley's neediness doesn't go unnoticed by The Slumber Sisters. Will they be able to convince Cierra that Riley is trying to drive a wedge between their friendship before it's too late?
---
Nicole Falls
Starting Center for the Nashville Trojans Zebediah Kennedy has always been known as the guy everyone turns to for a good time. As a free agent going into the next season his future is unknown, but he's determined to make the best of it, now matter how the cards may fall. His aim is to be a Trojan for life, but if circumstances dictate otherwise, the wizened vet will do what he has always done, adjust his approach and keep it pushing.
Kyra Macklin is a powerful, in-demand agent whose sole focus is ensuring her clients' success on and off the court. She recently entered into partnership with a large sports agency and quickly learned that all that glitters isn't gold. As she deals with professional disappointment, she is dealt a crushing blow in her personal life that upends her entire world.
At the time of her greatest need, Zebediah shows up for Kyra, being a port in the midst of her personal storms. And when the seas of his life experience a bit of turmoil, Kyra is right there to provide an assist. While personal and professional overlap brings them together, Kyra and Zebediah's chemistry and attraction draws them even closer, creating a beautiful relationship neither saw coming.
---
Dara Girard
One bouquet
Three sisters
And a wedding day that will change their lives forever
Sweet and obedient Ava Kayode takes pride in following the rules.
So she senses disaster when her flower hating sister, Maya, dodges the wedding bouquet thrown at her.
But Ava never imagined her two sisters' actions would alter her carefully constructed life plan. Within weeks she loses her fiancé and starts lying to cover the truth from her meddling mother.
Soon one lie leads to another and eventually leads her into the arms of her best friend Dai.
The one man who could turn her organized world upside down in the most amazing and tantalizing ways.
---
S.M. Grady
For years, Madison longed for answers about her estranged father and his side of the family. She never expected those answers to come in the form of a stranger on her doorstep with news of a will and an unsettled estate. Now there are siblings, grandparents, and a family business to contend with. Not to mention her mother, who never wanted Madison to be acquainted with the Moores, despite giving her their last name. To get the complete story, Madison must travel across the country to Black Rock Beach and confront the family she's never known.
---
Celeste Granger
Dr. Felix Rush Jr., newly appointed Director of Emergency Services, has a lot on his plate. Not only is he getting acclimated to a new job, he is also searching for a new place to live. He most recently returned to Rhode Island to take on the new position at Eastport General and he returned home to live with his parents. Although he loves them desperately, living back home cramps his bachelor lifestyle, one he plans on expanding now that he is on new turf.
Peyton Hall is the top realtor in Eastport and the person Felix contacted to help him find the home of his dreams. Peyton is all business, all the time continuously striving to better herself even if it means neglecting love. Peyton's priorities are in check until she encounters Felix. She goes against her better judgment and agrees to go out with him.
Despite their best efforts to remain professional, unexpected sparks flew igniting intrigue and excitement neither of them could quell. Their burgeoning feelings derailed both their plans, yet, their impassioned desire remained unfurled. Their requited love was tested when Felix's skills were put to the test. They both learned that love conquers all.
---
Tatum James
Who wants a perfect love story anyway? Certainly not Avery Charles. She's worked hard and fought tooth and nail even sacrificing her marriage to land her dream job as an offensive coach for an NFL team. All work and no play makes for a dull life, but her career is what Avery lives for, and she will do whatever it takes to thrive in it.
Smith Harrison lives a life that most men only dream of. After his recent trade to the Abbeville Badgers in a fifteen-million-dollar contract over five years, he's tasked with getting acquainted with his new team as well as his new city. Tired of gold diggers and women with hidden agendas he joins an exclusive club for discreet fun with no strings attached. Little did Smith know, he would meet an elusive beauty that he can't resist.
Intrigued by the mysterious temptress, Smith seeks her out for months on end before realizing just how complicated his arrangement is. With the danger of a forbidden relationship ruining careers and lives, Avery and Smith have no choice but to try to find balance or risk losing it all.
---
Christina C. Jones
For Nalani Stark, legacy matters… maybe more than most things.
Important enough that when that legacy — inextricably tied to her mother's memory – is challenged, she's forced to consider even the most undesirable options…
Such as a match made in hell with Orion Sterling.
The heir to the competitor she grew up being warned about.
Orion is a man well-accustomed to getting exactly what he wants. Other than opportunities to grow the family business, he's moved by very few things.
One of which happens to be Nalani Stark.
They each have something the other needs, and only one way to get it : a contract that delineates exactly what each person takes from the arrangement.
Simple enough…
Unless feelings get brought into the exchange.
---
Mya Kay
When Essence Taylor, owner of Taylor Made Music Group, walks into Mocha Tea & Trends, a new high-end coffee shop in Old City Philadelphia, her goal is to get some work done. But when she overhears the manager ending a frustrating call with the artist scheduled to perform that weekend, she jumps at the chance to offer her newly signed songstress.
Enter Philadelphia basketball sensation, Shane Bishop, the shop's owner. Their eyes lock and she's certain she feels butterflies, but she refuses to be distracted—and by a ball player no less. But Shane is already smitten as he listens to her and the manager seal the deal for her artist to showcase her talent. Later, Shane slides into her DM's, sending her a message that leaves her speechless. After they exchange numbers and move to talking on the phone, she finally agrees to go out with him.
What starts out as a newfound friendship between two preacher's kids, turns into a God-ordained romance as both of their lives are shaken up by family secrets, old flames, and an incident that could ruin both of their careers.
Will Essence and Shane be able to keep their love tight through the ups and downs of the entertainment business they're a part of, or will family drama, past trauma, and rumors be too much for them to endure?
---
Sheryl Lister
He's making his case…one kiss at a time.
Since his engagement crashed and burned, Xavier Fuller wonders if marriage and a family are what he really wants anymore. Instead, he buries himself in work and taking his family's trucking company to the next level. Yet, one encounter with beautiful Zena Henderson reawakens something inside him, and fortunately, the attraction isn't one-sided. Each sensual kiss draws them closer and Xavier is determined to show her that he's the only man for her, now and forever.
A string of dating disasters prompts Zena to adopt a new motto: never give your heart, never get hurt. But nothing could prepare the aspiring singer for sexy, compassionate Xavier. He's seducing her with his words, tempting her with his passion and challenging everything she thought she believed about love. Now, Zena will have to choose between playing it safe and risking her heart one last time.
---
Lipstick Diaries: The Promise (Book 3)
Tiye Love
ALL SHE KNOWS ARE BROKEN PROMISES, SO WHY IS HE ANY DIFFERENT?
Dear Lipstick
I think my best friend just proposed to me…am I tripping? How could he remember, he can't be serious. A pact that we made when we were only teenagers couldn't still ring true…could it?
I promised my best friend that we would get married if we were both thirty-five and still single. At the time, I was a teenager and believed that I would be married long before that age. But I was wrong. So very wrong. I'll be thirty-five on my next birthday and still single.
He just reminded me of our promise, I should be happy because he's offering me the ending without the uncertainty of the journey. Yet, something is holding me back.
**Each book in the Lipstick Diaries can be read as a standalone.**
---
Lipstick Diaries: Beautiful Lies (Book 4)
Tiye Love
HE WAS THE BAD BOY WHO LOVED THE HUNT BUT NOT THE PRIZE.
Dear Lipstick,
Impossible. I can't fall for this man. He's the type that women want to brag about taming. But I don't believe in urban myths and fairy tales and have no desire to waste time on a man who doesn't know the meaning of fidelity.
Especially when that man is my brother's best friend.
And now, I need a date for my company retreat, and he's the only one I can ask. The only one who will do anything for me. Even pretending to be my fiancée.I can protect my heart if I ignore these traitorous desires for two days. Unfortunately, Terrick seems just as determined to use these two days to turn our lie into something too damn real.
---
Tina Martin
Andre wants adventure. He wants to travel the world. But Ava's health prevents her from doing most of the things he desires. Bored with his marriage, Andre struggles with putting his wants and needs on hold while taking care of Ava. He questions his own happiness and future after completely changed his life and routine to take care of Ava, but who's taking care of him?
---
Tay MoNae
Dealing with her boyfriend's infidelities leads Nicolette into the arms of an ex. Soon she learns that all actions have consequences. Now she's stuck between two men with a belly in the mix.
---
Mary Monroe
With mysterious serial murders putting peaceful Lexington, Alabama, on edge, Jessie and Hubert Wiggins' steadfast calm and devotion to each other reassures everyone that faith will see them through. But Jessie and Hubert have paid a terrible hidden cost to maintain their devout facade and respectable standing. Nothing can allay the guilt they feel—or stop the growing distrust between them . . .
Hubert thought he and his secret lover, Leroy, could continue seeing each other on the down-low in peace. But when Leroy's ex-wife moves back in with him, a heartbroken Hubert is driven to distraction trying to keep Jessie in the dark—and quell his mounting jealousy. And his need for satisfaction is driving Hubert to reckless extremes—and desperate risks . . .
Jessie believes the struggles between her and Hubert will all be worth it if she can connive him to finallyconsummate their marriage—no matter what she has to do. But his erratic behavior and her frustration soon has her trying yet another new lover, who is as charming as he is unreliable—and unexpectedly dangerous . . .
Now with their secrets out of control—and the police perilously near—Jessie and Hubert discover who might be behind the deaths plaguing their town. But can they risk a pursuit that could expose their own web of lies? When their only choice pits them and their suspicions against each other, their next move will either bury their deceptions deep for good—or reveal the one truth they can't escape . . .
---
Mya
Twenty-seven-year-old King Barrett was born and raised in the trenches. After being abandoned by his parents, he found solace in the streets, alongside the gangsters and dope boys. Even after retiring from the business, he stayed close to his roots.
One fateful afternoon, King and his best friend are in the wrong place at the wrong time and cross paths with a rival gang. Shots are fired, lives are lost, and a war brews. With only one option to protect himself, King has to lie low for a while.
Twenty-five-year-old Drew Cambridge never knew her father and her mother died. The only family she had was her older brother, Rashad Cambridge. Rashad was her biggest stressor because he wanted to become the king of the streets. At the sight of a war, Drew begs her brother to calm down, but his only goal is to add fuel to the fire until the whole city burns. Needing to escape, Drew cashes in her vacation time to treat herself.
When King and Drew end up in the same city, emotions are revealed. Sparks fly, blood is shed, and lives are changed forever in King's Gambit.
---
Stephanie Nicole Norris
Special Agent Tristan Neil Clark has been with the FBI for over a decade, and he's known for his sharp investigative skills and unwavering dedication to his job. But there's one thing that terrifies him more than any criminal: falling in love.
Tristan's past heartbreak still haunts him, and he's convinced that he's not meant for love. That is, until he meets the popular singer, Chelsea Bellamy, who saved his life during their impromptu meeting.
Chelsea is everything Tristan never knew he wanted—beautiful, funny, with a voice that captures his heart along with the heart of millions.
Despite Tristan's reservations, he can't help but be drawn to Chelsea, and their paths continue to cross as she becomes the target of a dangerous killer.
As his obsession ignites, taking a chance with the woman he adores could cause irreversible damage, and saving her might mean losing himself.
---
Malay Renee
The universe tends to throw us curve balls, and when it does, we have two options: we either give in to the obstacles, or we can take full control of our lives.
For Akeem Sanders, life handed him a bit more than he could chew. Still mourning a life from his past, he's been fighting himself to move on to new and better things. When his friend pushes him to visit one of the best kept secrets of Syracuse, his mind slowly changes. Stedman's becomes his escape from reality. A one-night fantasy of Tonight's Promise becomes a lingering thought on his mind… a thought he doesn't see himself shaking.
Smile more, talk less.Carrington Kennedy has always been a good girl. She has been one of her mother's most prized possessions. Becoming one of the city's top therapists, helping other's tap into their better selves, Carrington slowly realizes one of the things she teaches her clients seems to be the one thing she can't master yourself—standing on her own two feet. With her upcoming nuptials, Carrington finds herself trying to please those who don't seem too concerned about her true happiness. In the time leading up to her wedding, Carrington finds solace in a man she has no business attaching herself to. A man who is not only her father's new prodigy, but a man who is also her new client.
In a short time, many rules are broken, and boundaries are crossed. With so much happening right under everyone's nose, these two are left wondering if what they feel is a wave of lust, or the act of love imbedding itself within them. Join these two as the find comfort in forbidden arms.
---
Nola Reign
Growing up, Rae heard the old adage, 'if you love something, let it go.' But when her husband of 10 years says that he wants to do just that, Rae finds it incomprehensible.
Hard to cope with Samir's decision to leave, feelings of heart break, confusion, and sadness plague her… until she eventually finds the courage to pick up the pieces and make a fresh start.
Determined to start anew, Rae begins exploring the new pathways that life has opened up for her but just as soon as she does, trauma knocks on Rae's door and she can't stifle the anger and disappointment left in its wake.
When Rae finally accepts life's changes, Samir wants to make amends.Will Rae be able to forgive him and accept his love again? Or has she already moved on?
---
A Valentine for Christmas (audio)
Reese Ryan
A red-hot romance between a career-focused woman and a determined younger man? Doctor's orders!
Dr. Julian Brandon is too charming, too sexy and too young for Chandra Valentine.
But after the successful bachelor rescues her—twice—she owes him. Still reeling from life-changing family revelations, Chandra somehow agrees to pose as Julian's girlfriend. And now the irresistible Julian has plans that start with seduction under the mistletoe and end with their fake relationship erupting into a scorching affair.
Now Chandra's questioning everything she believed about love …
---
Catching the Carling Lake Killer
K.D. Richards
She's kept her secret for years…
But now a killer knows.
Journalist Simone Jarrett and Carling Lake sheriff Lance Webb have kept their casual affair clandestine to avoid gossip. But as his feelings for Simone deepen, Lance is troubled by the knowledge that she's hiding something. Then, after twenty years, the Card Killer strikes again. And Simone's secret puts her in the killer's sights. Now the two must team up to find the murderer…and save Simone's life.
---
Kay Shanee
Ella Amoure has her whole life ahead of her. As a soon-to-be college graduate, majoring in marketing and minoring in international business, she has plans to see the world, which includes going to Paris, France, to complete her graduate degree in a few months. However, after falling in love, she begins to question her well thought-out plans.
Love is the last thing on Kaanan King's mind. As a successful event organizer/party promoter and owner of multiple businesses, he's satisfied with the nameless faces he entertains when the need arises. One night with a woman most would consider forbidden fruit changes his whole perspective on love—and all he wants is her.
When Ella and Kaanan connect, it feels like what they've been missing. Knowing their relationship will ruffle some feathers, they keep things on the low for as long as possible. Ella isn't ready to expose their secret love affair, while Kaanan is tired of sneaking around. What's done in the dark will always come to light, and when it does, will their love be strong enough to survive?
---
L.S. Stratton
Tasha Jenkins has finally found the courage to leave her abusive husband. Taking her teenage son with her, Tasha checks into a hotel the night before their flight out of D.C. and out of Kordell Jenkins's life forever. But escaping isn't so easy, and Tasha soon finds herself driving back to her own personal hell. As she is leaving, a white woman pounds on her car window, begging to be let in. Behind the woman, an angry man is in pursuit. Tasha makes a split-second decision that will alter the course of her life: she lets her in and takes off.
Tasha and Madison Gingell may have very different everyday realities, but what they have in common is marriages they need out of. The two women want to help each other, but they have very different ideas of what that means . . .
They are on a collision course that will end in the case files of the D.C. MPD homicide unit. Unraveling the truth of what really happened may be impossible‒and futile. Because what has the truth ever done for women like Tasha and Madison?
---
Jacquelin Thomas
An unsolved homicide. Old secrets.
And investigators with a past.
Cold Case Unit supervisor Phillipa Stevenson is willing to investigate an unsolved murder for her ex-fiancé—without his help. Detective Kyle Rossi broke her heart years ago, but she'll find justice for his sister-in-law. Only, the victim isn't who they thought she was. And working with Kyle becomes Phillipa's best chance. As they follow a decade-long trail of betrayal and murder, Phillipa must put aside her heartache to u
---
Monica Walters
Always having to look over your shoulder is a horrible feeling. Jericho Marcellus is living his worst nightmare. Having to flee from his home in Florida for a crime he committed to defend his sister years ago has been devastating to his mental. Even after sixteen years, he can't get out of that rut. He feels like he's become the very man he despised growing up and is having a hard time getting back to who he used to be. Leaving his sister and mother in his older brother's hands was a mistake, but another mistake was leaving the love of his life behind. When he disappeared, it was like she disappeared too, because he hasn't been able to locate her. Searching for her replacement hasn't been easy, and he realizes that he's looking for her in every encounter he experiences.
Sometimes, starting over, no matter how difficult, is what's needed. Whitney Paul had to leave her home to ensure her safety. She ends up in Dallas, Texas and has to change her name to assure she couldn't be located, all because her boyfriend was on the run. He disappeared and sixteen years later, she still hasn't found a man that compares to him. Settling in a mediocre relationship proves to be a horrible decision. However, when she receives a text message that offers the opportunity to reconnect with the man she's carried in her heart all this time, she can barely contain her excitement and nerves.
When Whitney and Jericho see one another again, time stands still. Their attraction is just as strong as it was all those years ago. The challenge is getting to know and accept the adults they've evolved into, especially Jericho. Can Whitney accept his new lifestyle and the aggressive nature he's embraced, or will it all be just too much for her to deal with?
---
Trent D. Walters
From the moment Glen Russell stepped onto the campus of Winton College, one of the nation's most prestigious HBCU's, not a single thing has gone right. From rain on move-in day, to the should've-predicted-it-but-somehow-didn't tardiness of his best friend and ride to Winton, Reshard, to multiple uses of "Gilbert," his real (and very much hated) first name, Glen's first day at college is nothing like he planned. To top it all off, a computer glitch forces him into a dorm room with an unexpected pair of roommates for the entire semester—the super-religious Braylon Davis, and the exasperating ladies-man, Grayson Stewart. The three couldn't be more dissimilar. As the scholastic and social expectations of college begin to collide, the three handle things differently, making choices that ultimately lead to powerful, life-altering consequences.
---
Denise Williams
Love takes flight in a collection of sexy, fun novellas all set at the airport from the acclaimed author of The Fastest Way to Fall.
The Love Connection
An airport pet groomer meets her frequent-flier crush and finds herself in a fake-dating situation with a professional risk assessor who moonlights as a romance author.
The Missed Connection
Two strangers share a romantic night only to discover months later that they're professional rivals about to embark on an extended business trip together in this grumpy-meets-sunshine romance.
The Sweetest Connection
Two best friends have one week to return a lost love letter found in a candy store at the airport—and work up the courage to confess the deep feelings between them—before one of them leaves the country.