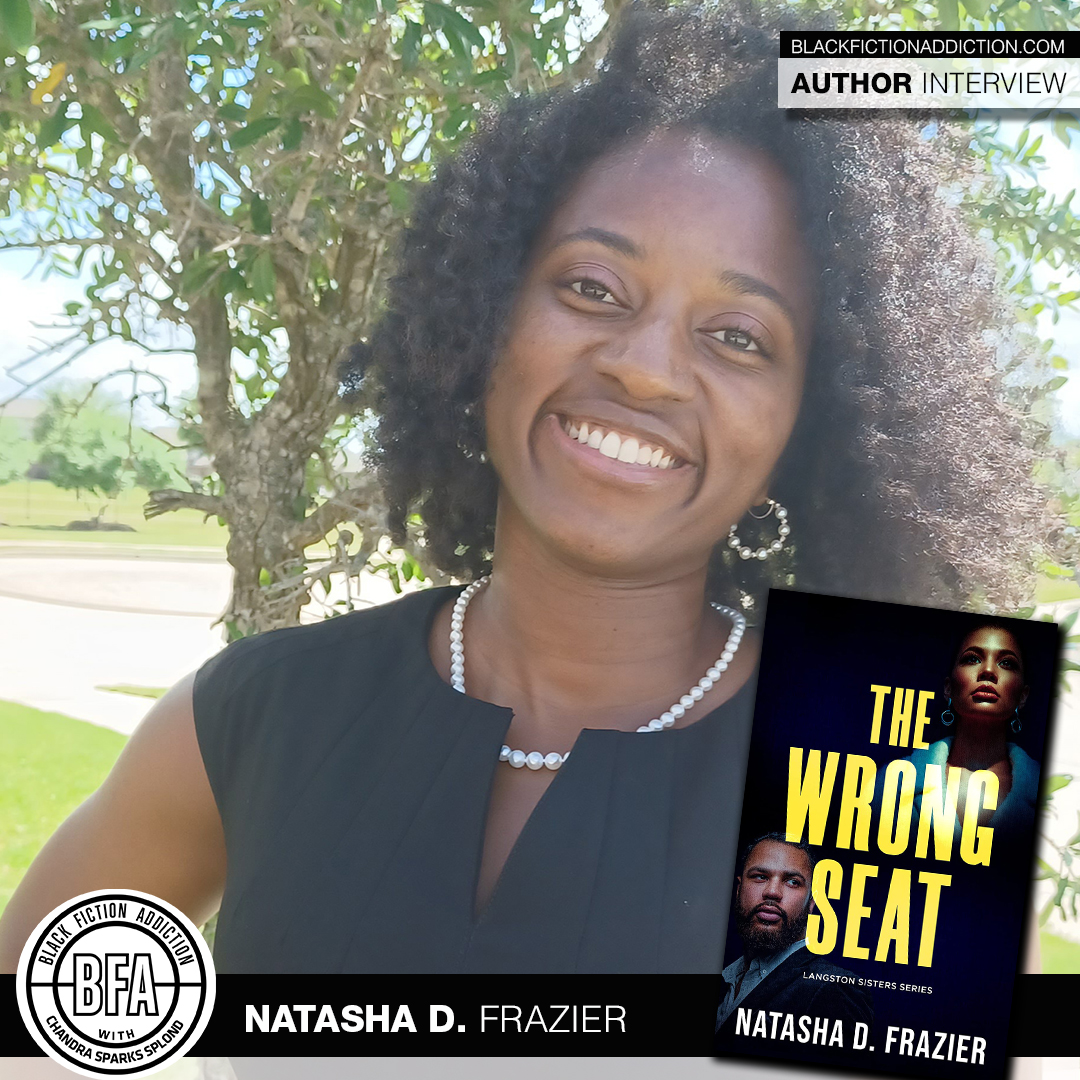 Author Natasha D. Frazier is back with the latest installment of her popular Langston Sisters series. I recently spoke with her about The Wrong Seat.
Tell me about your latest book.
I'm so excited to share Ava's story with the reading community. Ava is the middle sister of the three Langston sisters. In book 1, The Reunion, she was out of the country, but now she is back in the States with her own story to tell. Being a middle child, Ava feels like she has to prove herself and maybe work a little harder than her sisters to receive what she perceives as her due praise. Because of this, she works to get her family's company back on track after the murder charges against her oldest sister Crystal (The Reunion) paints their company in a negative light and tanks their sales. The issue here is that someone doesn't want their company to flourish and hinders her good deeds by poisoning Ava, hoping to keep Langston Brands from succeeding once again. And of course, her dad, Lamont Langston, will do whatever it takes to keep his daughter safe, so he hires The Four Kings private security firm and requests that one of the four Kingsland brothers personally sees to Ava's safety.  Zack Kingsland is tasked with protecting Ava, which is supposed to be a simple job to ease him back into the field after five years. However, this job is not as clear cut as it seems. Zack falls for Ava, but will stop at nothing to keep her safe, even if that means giving up his own personal happiness. I just love their story and can't wait for everyone to read it.
Why did you decide to write it?
The Wrong Seat is book 2 in the Langston Sisters series. Ava had a story to tell (as does Layla), and it must be told.
Who is your favorite character in the book and why?
Zack Kingsland is my favorite character. I love everything about him. His commitment to his work. His loyalty. His strength, both mentally and physically. Most of all, I love how he cares for Ava, even before either of them realizes he's fallen in love with her. I also admire how he's willing to risk losing her if it means keeping her safe. My favorite scene is when she asks how he feels about her and his response… I can't say it because I'd be spoiling it.
What was the hardest part about writing the story?
Keeping the characters apart. For me, I could feel the chemistry between Zack and Ava, but holding off until that perfect time was difficult. Did I mention that I love their story?
If you were to write a book about your life, what would be the title and why?
The Woman Who Tries to Do It All. I'm always in search of balance, and often some things fall by the wayside, but that doesn't stop me from trying. Just today, my friend/coworker said that I have a whole job outside of work (referring to my writing career), and indeed it's true. But that isn't the only job when I consider my family life. However, every day I strive to find a little bit more balance with all of my daily responsibilities.
What would you tell your 16-year-old self?
Slow down. I have always imposed these time constraints on myself, and I'm unsure why. But I'd tell 16-year-old Natasha that there is no rush to accomplish your goals. Enjoy the moment. I'd also remind her that God has created her for His unique purposes.
What is something readers would be surprised to know about you?
If I can find the time, one day I'd like to become a fitness instructor. My favorite group exercise is LesMills Bodypump, and eventually I'd like to teach fitness classes.
Tell me about a book that changed your life and why.
Other than the Bible, I'm not sure if there is any specific book that changed my life. But I will say that reading Arabesque romances as a teenager helped inspire my love for romance novels.
What's next for you?
Book 3, Layla's story (untitled) is coming late 2023. When the Langston sister's trilogy is complete, I plan to release The Four King series, which will feature stories of Zack's three brothers, and possibly his cousin.
Do you have anything you would like to add?
In advance, thank you for your support of the Langston Sisters series. Please read, review, and share with others. For more details, subscribe to my mailing list at www.natashafrazier.com.
Use the Black Fiction Addiction affiliate link to purchase your copy of The Wrong Seat.
To learn more about author Natasha D. Frazier, visit her website or connect with her on social media.
https://www.natashafrazier.com
Instagram: www.instagram.com/author_natashafrazier
Facebook: www.facebook.com/craves.2012
Twitter: www.twitter.com/author_natashaf
TikTok: @author_natashafrazier