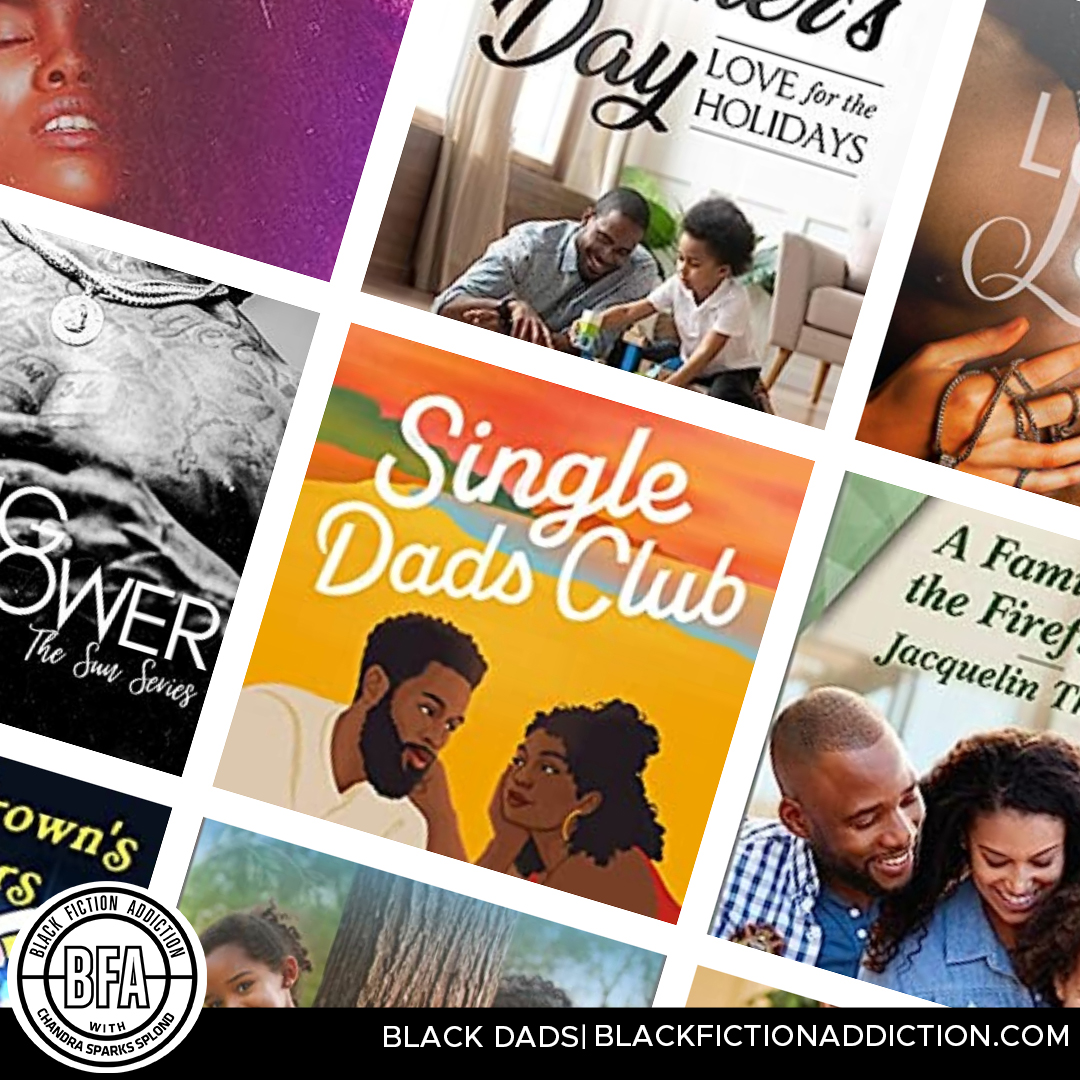 Father's Day is almost here, and what better way to celebrate than reading books that feature amazing black dads and daddy figures? Here are a few to check out.
Therese Beharrie
In this warmly funny romance about finding your way, opposites attract when an ex-heiress and a single dad cross paths, only to find that their separate roads may lead them to the same destination.
Rowan Quinn knows fatherhood is a role he doesn't want to take on—until he unexpectedly finds himself a single dad. He uproots his perfectly constructed life to move to a tight-knit coastal community in South Africa where, with the help of his grandmother, Rowan has a shot at giving his son the family he never had.
Once footloose and fancy-free, former heiress Delilah Huntington is now a waitress in Sugarbush Bay determined to build a better life and a better self. So when she meets introverted Rowan, she makes it her personal mission to induct him into the town's circle of single dads to give him the support he needs.
The more Delilah lends her help to an out-of-his-depth Rowan, the more Rowan begins to realize that family is what you make it…and, just maybe, Delilah could be part of his.
---
Alexandria House
Trying to put past hurts behind you is hard when your ex is a fool, but buoyed by child support and alimony, Jo Walker is moving forward with her life, pursuing a career, raising her little girl, and trying to live in peace. She believes she has all the bases covered in her world. But what about her heart?
Rap legend Everett "Big South" McClain is divorced, too, knows all about failed relationships, and has relegated his love life to casual connections rather than pursuing something real. That is, until he lays eyes on Jo.
She's exactly what he never knew he needed.
He's what's been missing from her world.
Will she accept what he has to offer and let him love her?
***This novel contains profanity and sexual content. If you do not like those elements in your romantic reads, this is not the book for you***
---
Zoey Marie Jackson
Separated at birth
and determined to become a family.
"She looks like me!" When her orphaned niece utters those words, Kelsey Harris is shocked—not only that Morgan has a long-lost twin but that the grieving five-year-old spoke at all. Overjoyed by Morgan and Mia's instant connection, Kelsey and Zach Johnson, Mia's widowed adoptive father, agree to be friends—and only friends. But can they ignore their growing feelings when the matchmaking sisters put their plan into action?
---
Sherri Lewis
All Devon Wright wants is peace and some time to chill with his boys. He's jerseyed up and waiting for his boy, Charles, to show up with tickets to the Atlanta Falcons' season opener. Instead, at his front door he finds "Satan's little sister," aka Quartisha Shauntae Randall, his baby momma. Once again, she's dropping off their daughter unexpectedly and ruining his plans.
Devon doesn't mind, though. His daughter, Brianna, is the most important thing in his life. He's worried about the poor example Shauntae (He refuses to EVER call her by her first name) is setting with her ghetto-fabulous lifestyle. He can't believe he ended up with such a crazy baby momma. He's vowed to stay away from all women for a while—until Charles introduces him to Cassandra.
Cassandra is nothing like Shauntae. She's a good, church-going woman. Devon is pleasantly surprised to find out that Cassandra's not what he thought a Christian woman would be. Cassandra Parker is not only fine; she's also smart, sassy, and sexy. Devon is intrigued, and he wants to get to know Cassandra better, but how will he be able to handle his daughter, his crazy baby momma, and a new woman in his life?
---
Rae Lyse
Dominic DeBlanc is a wayward street hustler and part-time rapper constantly running from a past that haunts him. With a bleak outlook on life, he finds himself teetering between two worlds—a seedy one where he's not guaranteed to see his twenty-second birthday and a promising one that might bring him recognition for his talent. After a chance encounter with a peculiar waitress, he finds himself engulfed in a friendship he never knew he needed. However, his complex life and reckless decisions challenge their already complicated bond.
---
Tay Mo'nae
Aisha owns her own printing company, creating custom shirts, mugs, and other things. She's guarded and has a hard time allowing men to get close to her on a serious level. One heartbreak was enough for her. She eventually learns the only one who can heal that hurt she felt years ago is the same guy who caused it. But is that possible knowing the secret she's holding onto?
Gage is doing the only thing he ever wanted, playing professional basketball. After being injured he finds himself coping with it in unethical ways. A trip back home is meant to help him regroup and refocus to get back into the game, but when he's hit with another blow, he sinks deeper. Now he's stuck battling internal demons and trying to stay above water. Will he be able to bounce back or will he lose it all from life humbling him?
These two deal with forbidden love, secrets, deception, and hitting rock bottom. Is there love enough to overcome it all?
---
Pat Simmons
One Father's Day, three fathers, and four children. Will the real dad, please stand up? It's never too late to be a father—or is it?
Christian Andersen is looking forward to spending his first Father's Day with his blended family. But Father's Day becomes more complicated than Christian or Joy, his wife, could have ever imagined, when the biological fathers of his adopted children threaten to ruin his special day. But he depends on God to guide him through the journey with a surprising outcome.
A Christian Father's Day is a romantic Christian novella that celebrates fatherhood year round.
---
Michelle Stimpson and CaSandra McLaughlin
Back in the day, green-eyed Stanley David Brown was a ladies' man. Now he's God's man, and he's got a lot of cleaning up to do. But where does an absentee father start in the quest to get to know the children he abandoned? Will they give him a chance to make up for lost time?
Stanley has missed out on his chance with his son. But his three daughters, Yolanda, Kim, and Sabrina, are in for a surprise when their long lost father comes strolling back into their lives. Stanley's presence is met with three different responses, not to mention the reactions from his children's mothers. Stanley is doing his best to win the girls' hearts, but how many times can one man apologize before giving up again?
Bestselling author duo CaSandra McLaughlin and Michelle Stimpson had their editor crying with this one! Join this journey of life, love, and forgiveness as Stanley and his daughters walk through touch territory in a storyline that rings true for so many people. Grow with Stanley and his daughters as they all grow to know the Best Father ever!
---
Jacquelin Thomas
He's a courageous man…
But can he rescue himself?
Firefighter Leon Rothchild had endured his share of grief. Still, honor compelled him to look after his late friend's ex-wife and daughter. Though it was obvious the lovely Misty Brightwater could take care of herself, she welcomed Leon into her three-year-old's life. Their family was a marvelous glimpse into the warmth of the one he'd lost and desperately missed. And perhaps it was the push he needed to risk everything again…