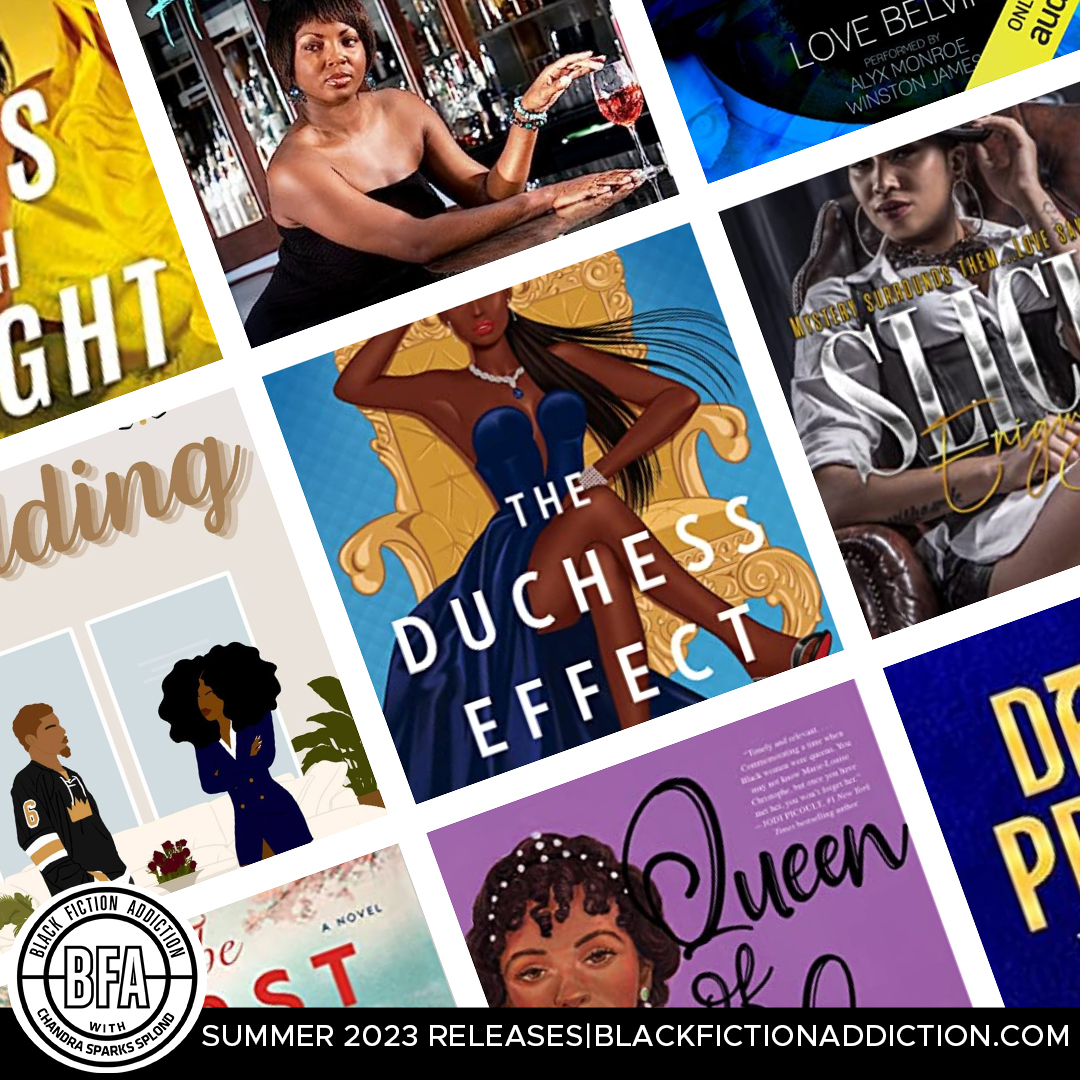 Summer officially begins today, and there are lots of great books on the horizon. Here are a few to which I'm looking forward.
Aja
Sarai "Slick" Lewis is the princess of the family with the most to learn.
Sarai is known to be the loose cannon: explosive & unpredictable.
The truth is that only she can save herself, but love can help.
---
Yasmin Angoe
Until his untimely death, Nena's mentor was the backbone of the Tribe. With his leadership position unfilled and despite the Tribe's newfound misgivings about her, Nena has stepped into a new role she never wanted.
Politics is an entirely new venture for her, and now one of the Tribe's own has been kidnapped, forcing her back to her origins as an assassin. But the only person qualified for such a rescue mission is Nena Knight—and a new team whose trust in her continues to waver.
Determined to harness the power of her former role to succeed in her new one, Nena must also face what she left behind. Old fears, resentments, and anger threaten the precarious hold Nena has on her new life as she realizes that the past—and the people from it—are never far behind.
---
Love Belvin
Ashira, a belle from the suburbs, is the wealthy acting CEO of her father's booming building firm.
That's when she's not the dancer on the Gram and TikTok, dating the latest Black Hollywood shooting star.
To her, Jas, a construction laborer, is a walking conundrum. He's fruitlessly ambitious yet steadfast in his spiritual convictions. He's enigmatic, well-read, regimented, and poor. Oh, and a felon. An incredibly disarming parolee who wants no connection to her. Until he does.
Two souls, galaxies apart. He's an unanticipated UFO about to collide in her world like an unmitigated asteroid.
Mercy is book one of the Prism series and ends on a suspenseful cliffhanger. Contains mature content.
---
Marie Benedict and Victoria Christopher Murray
The daughter of formerly enslaved parents, Mary McLeod Bethune refuses to back down as white supremacists attempt to thwart her work. She marches on as an activist and an educator, and as her reputation grows she becomes a celebrity, revered by titans of business and recognized by U.S. Presidents. Eleanor Roosevelt herself is awestruck and eager to make her acquaintance. Initially drawn together because of their shared belief in women's rights and the power of education, Mary and Eleanor become fast friends confiding their secrets, hopes and dreams—and holding each other's hands through tragedy and triumph.
When Franklin Delano Roosevelt is elected president, the two women begin to collaborate more closely, particularly as Eleanor moves toward her own agenda separate from FDR, a consequence of the devastating discovery of her husband's secret love affair. Eleanor becomes a controversial First Lady for her outspokenness, particularly on civil rights. And when she receives threats because of her strong ties to Mary, it only fuels the women's desire to fight together for justice and equality.
This is the story of two different, yet equally formidable, passionate, and committed women, and the way in which their singular friendship helped form the foundation for the modern civil rights movement.
---
Holding
Alexandria House
Childhood neighbors, enemies, best friends, lovers, enemies, Sires lineman Terrence Ford and his ex-wife, Krystle, have meant all these things to each other.
Once believing their union was indestructible, they find themselves unhappily apart.
Maybe what they see as an ending is really the beginning of a stronger bond and a deeper understanding of what love really is.
Holding is a novel that offers intimacy, healing, and forever.
---
Tracey Livesay
Against all odds, sexy American rapper, Danielle "Duchess" Nelson and brilliant reclusive royal Prince Jameson have fallen in love! They've decided to take their relationship public and find a way to make their two worlds coexist. On their terms.
Unfortunately, falling in love was the easy part.
Jameson and Dani's love story has made them the most popular royals since Prince John, but that popularity comes with a price. Dani looks forward to signing the deal with a major cosmetics company that will make her skin care line, Mela-Skin, a force in the industry, and finally grant her the control over her life she's craved since childhood. But the company wants to take advantage of their fame and involve Jameson in Mela-Skin's marketing campaign. Dani is outraged! Her company has nothing to do with Jameson.
After stepping up for the royal family, Jameson yearns to retreat back into academia. But he's fired when his university raises concerns about his newfound notoriety. And suddenly the queen, initially against the relationship, backtracks, seeking their cooperation when the family is embroiled in yet another scandal. This isn't the quiet life Jameson was hoping for.
---
Vanessa Riley
The Queen of Exiles is Marie-Louise Christophe, wife and then widow of Henry I, who ruled over the newly liberated Kingdom of Hayti in the wake of the brutal Haitian Revolution.
In 1810 Louise is crowned queen as her husband begins his reign over the first and only free Black nation in the Western Hemisphere. But despite their newfound freedom, Haitians still struggle under mountains of debt to France and indifference from former allies in Britain and the new United States. Louise desperately tries to steer the country's political course as King Henry descends into a mire of mental illness.
In 1820, King Henry is overthrown and dies by his own hand. Louise and her daughters manage to flee to Europe with their smuggled jewels. In exile, the resilient Louise redefines her role, recovering the fortune that Henry had lost and establishing herself as an equal to the kings of European nations. With newspapers and gossip tracking their every movement, Louise and her daughters tour Europe like other royals, complete with glittering balls and princes with marriage proposals. As they find their footing—and acceptance—they discover more about themselves, their Blackness, and the opportunities they can grasp in a European and male-dominated world.
---
Pat Simmons
New Christian convert Tally Gilbert knows the power of prayer and the pain of walking away. She's witnessed family and friends' healing, salvation, and deliverance. There's one holdout, and he's at the top of her prayer list. The love of her life, Randall Addams, won't surrender to the Lord, so Tally ends the relationship. What will it take for Randall to turn to God? Will Tally's prayers be answered, or will Randall—and their love—be lost forever?
Don't underestimate a woman who knows how to pray, has backup, and believes "The Word of God is quick, and powerful, and sharper than any two-edged sword, piercing even to the dividing the soul from the spirit, and of the joints and marrow, and is a discerner of the thoughts and intents of the heart." Hebrews 4:12.
If the devil wants a battle, he picks the wrong woman to fight.
---
LaChelle Weaver
Hello Beautiful…
So begins the string of text messages newly divorced Adore Farrow receives from Brian Carson, the attractive, beguiling man she meets on a dating app at the suggestion of her work friend, Kitty. Although the dissolution of her marriage was far from amicable, Adore isn't bitter toward men. In fact, she welcomes some companionship. Adore is initially apprehensive about dating online; however, Brian seems like a nice guy, and Kitty met her husband on the same app. It couldn't be that bad, could it? Adore doesn't think so, until Brian suddenly ghosts her, disappearing without a trace.
Dejected, Adore perks up when handsome stranger Cameron slides next to her at the bar where she was supposed to meet Brian, striking up a conversation that keeps her captivated. But when news gets back to Adore that Cameron is always the common denominator when women are ghosted at the same bar, she realizes something far more sinister is at hand than a broken commitment. Will she be able to unravel the game the men are playing, or will Adore find herself in more trouble than she expected?