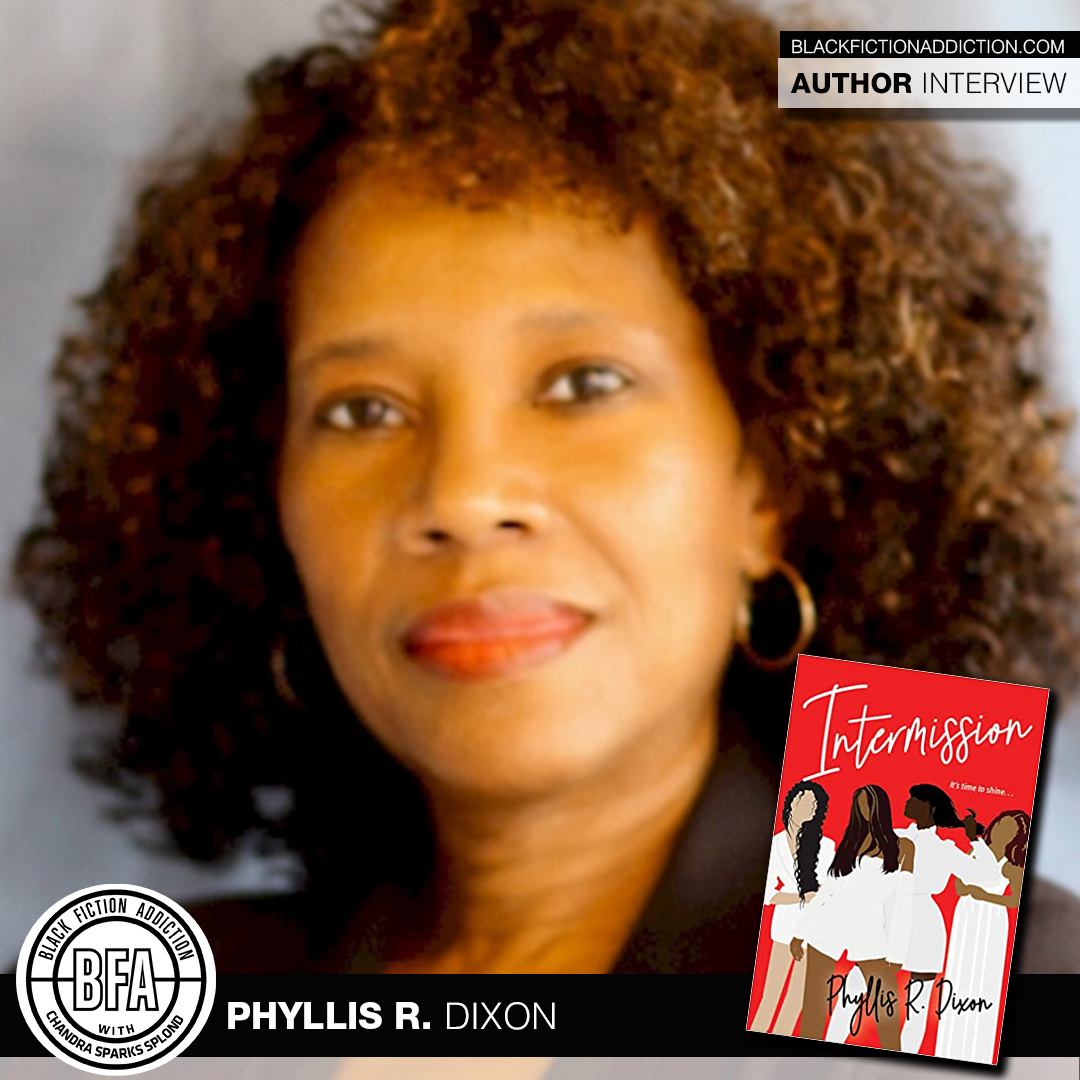 Author Phyllis R. Dixon is back with a new release. I recently spoke with her about Intermission.
Tell me about your latest book. 
Intermission is the story of four former girl group members who reluctantly consider reuniting for a twentieth anniversary tour. The Diamonds were a popular girl group in the 1990's. They imploded just as they were on the verge of mega-success. The 1990's are now the good old days, and each Diamond is facing a crisis that touring will help resolve. They consider reuniting, despite vows never to speak again. Whoever said "Diamonds are forever" didn't know this group. Each has their own memory of who did what to whom, and that memory has governed their life decisions. The truth is somewhere in between, and Intermission is the story of how they get to that truth.
Why did you decide to write it?
This sounds corny, but I've always made up stories. Maybe it has something to do with being an only child and entertaining myself. This idea came to me years ago and never left. I even pushed it aside and wrote another book before coming back to this idea about a girl group. During the COVID lockdown, I had no distractions, so I finally finished it.
Who is your favorite character in the book and why? 
That's like picking your favorite child. I like them all for different reasons. I like Carmen and Jade because they dare to change. I admire Doreen because as a banker, she does things I wanted to do (I worked in banking 30 years). I like Angel because she goes after what she wants.
What was the hardest part about writing the story?
Cutting it to a commercial length. I lived with these characters in my head for so long, they had a lot to say. My initial drafts were much longer, and it was hard deciding what to omit.
If you were to write a book about your life, what would be the title and why? 
I know this title has already been used, but Wouldn't Take Nothing for My Journey Now. I'm a "late bloomer" as far as the publishing world. I told myself, delay is not denial, but sometimes it's hard to stay motivated. Now I realize the journey was preparing me for this time. While I could have done without an ex-husband (or two), that was all part of the process.
What would you tell your 16-year-old self? 
Listen to your mother.
What is something readers would be surprised to know about you? 
I formerly owned a bookstore and never intended to be a writer.
Tell me about a book that changed your life and why. 
I Know Why the Caged Bird Sings by Maya Angelou was the first book I ever read by a black woman. I was an avid reader. I liked Nancy Drew and books like A Date for Diane. Never anything by a black author. Reading Maya Angelou provided something I didn't even know was missing. Not just the fact that she was a black woman, but there were other factors I could relate to. She was from Arkansas. My family is from Arkansas. She liked to read. I liked to read. She was in a majority white school, and so was I. Finding Maya Angelou was validating.
What's next for you?
I'm working on my next novel.  As a "late bloomer," I've got a lot of catching up to do!
Do you have anything you would like to add?
I'm thankful for the positive response Intermission has received so far. Writing a book is almost easier than marketing it, and I thank you for sharing your platform. I appreciate the opportunity to connect with readers as an author, but I also appreciate you presenting authors and books I may not have otherwise known about.
---
Use the Black Fiction Addiction affiliate link to purchase your copy of Intermission by Phyllis R. Dixon.
---
To learn more about Phyllis R. Dixon, visit her website or connect with her on social media.
Website—www.phyllisrdixon.com
Amazon author page—amazon.com/author/phyllisrdixon
Goodreads—https://www.goodreads.com/phyllisrdixon
Facebook—https://www.facebook.com/phyllis.dixon.376
Instagram—instagram.com/prdixon18