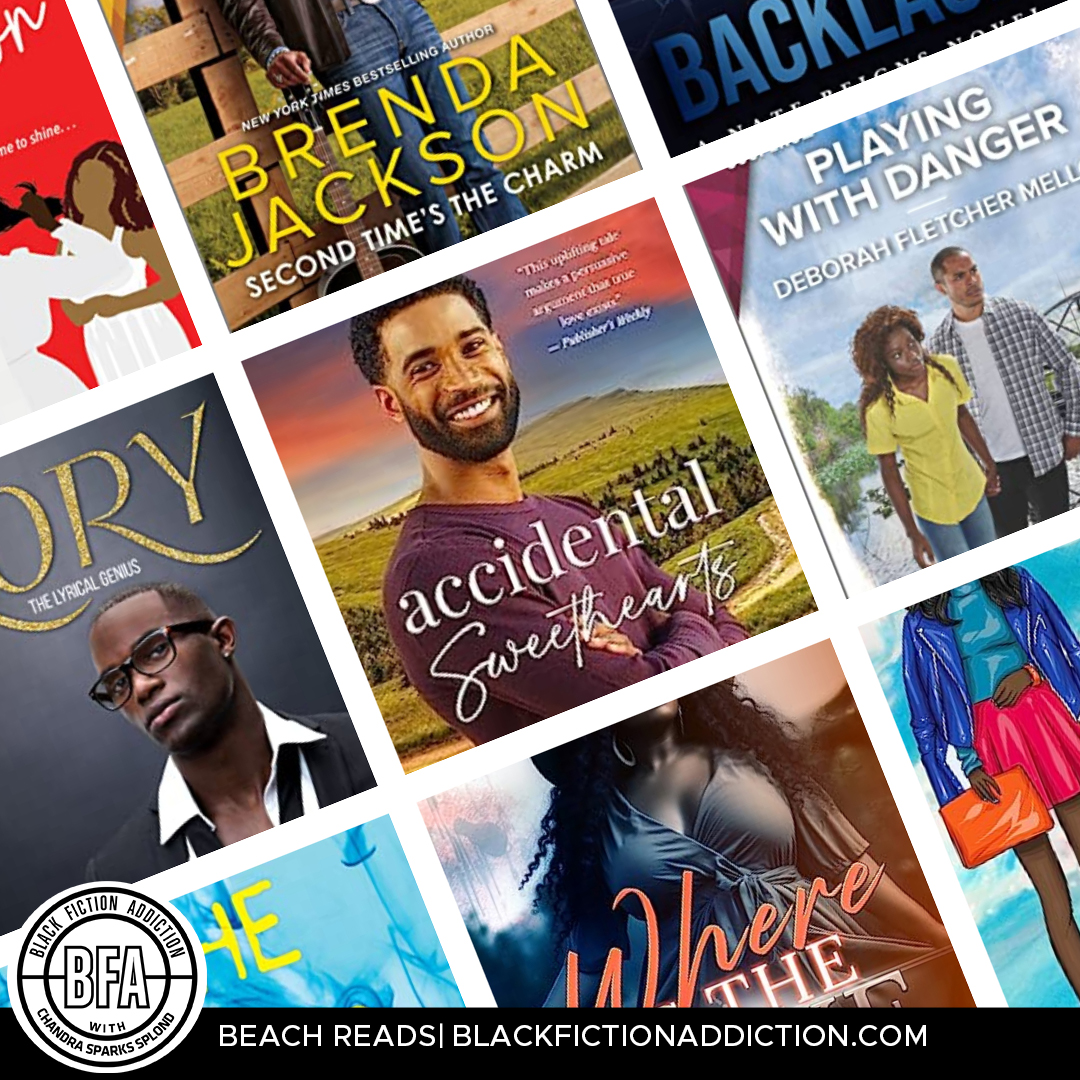 Whether you're heading to the beach or looking for a few ways to unwind at home, check out these black beach reads for the ultimate escape.
Joy Avery
Honey Hill residents have enough to gossip about without Happi Daniels and Sebastian Charles adding their drama to the mix. However, when details of their accidental Vegas nuptials are made known, the hairstylist and home renovation expert become the talk of the town.
Outside forces are hard at work to ensure Happi and Sebastian find the happily ever after neither are looking for. But will it be enough to ensure the two remain one?
---
Iris Bolling
When the law breaks the law, the consequences can be deadly!!!
Detective Nate Reigns and Federal Prosecutor Attorney, Skylar Burrell find themselves in a conundrum. Nate discovers the murder of his friend, prosecutor Alex Burnette, is connected to something larger than a simple murder. With Skylar's help, he discovers a connection to the deaths of several prosecutors from other jurisdictions.
Nate and Skylar uncover proof that an organization, P.I.E, is responsible for a variety of deaths. P.I.E.'s evil agenda has national implications. They must be stopped; however, the P.I.E organization is more powerful than anticipated. The organization have infiltrated the police department, the Commonwealth Attorney's office, and the local judicial system. To make matters worse, Nate discovers, their reach extends to the United States Congress.
It is up to Nate to expose and prove their evil intent. But the question is…to who?
Not knowing who to trust, Nate and his small circle of associates try to determine who is friend and who is foe, while fighting to stop the P.I.E. organization from pushing their agenda forward. The riveting response from top-ranking political figures has Nate and his associates, running from their lives. With no public support from the top brass in the police department, Nate, alone has to deal with the Backlash.
---
J.L. Campbell
Have you ever been drawn to someone you knew was wrong for you?
That's Nasira's dilemma after she wades through Rory McGregg's fans and sits next to him on a flight. An accomplished dancehall deejay, he's charming, self-assured, and has a certain vibe that's hard to resist.
By the time they touch down in Jamaica, Rory has her number and a promise to see him again.
The after-party she says yes to coordinating turns into a rollercoaster ride of frustration and interference, thanks to his celebrity status and bad-boy reputation.
His lifestyle and circumstances make Nasira uneasy, but Rory's heart is fixed. There's nothing he won't do to prove they're right for each other.
---
Phyllis R. Dixon
Angel. Carmen. Doreen. Jade. Talented Memphis girls who had a brush with pop music fame—guided by Carmen's warm-hearted mother. But when she was elbowed out for a bigger manager, Carmen walked too. The bitter breakup shattered the Diamonds' never-easy "sisterhood" —and cost them the big-time. Now a reunion offers a fresh start, just as mid-life struggles are pushing all four to the brink.
Angel hopes to reignite her failing solo career, but her insatiable ego keeps getting in the way. . . . Carmen was the group's peacemaker, but with her son in serious trouble, she's run out of patience. . . . Doreen longs to recapture the highs of performing, minus the drug haze—even as it risks her life as a pastor's wife. . . . And Jade, always the wallflower, is determined to get recognized this time around.
As the women contend with the new and overwhelming demands of celebrity, they find that the old traps have stayed the same. Can they ever reach true sisterhood—and help each other become the sparkling gems they were meant to be?
---
Brenda Jackson
Years ago, family tore them apart. Will sweet revenge lead to a second chance? Find out in the latest from New York Times bestselling author Brenda Jackson!
This one chance at revenge may be their second chance at love
Part-time rancher and world-renowned musician Dylan Emanuel never forgot his college romance with Charm Outlaw. Nor the pain of their sudden break-up and her father's demands to stay away. So when they cross paths on vacation, Dylan can't resist inviting her to his ranch—and Charm can't resist a little seductive payback. But sun-soaked days melt into fiery nights, leaving Charm caught by her own desire. Will revenge lead to a second chance…or the truth about what really happened the first time around?
---
Deborah Fletcher Mello
Murder on the bayou
…forcing rivals to unite.
When a young woman is found in a Louisiana swamp, police detective King Randolph finds his investigation hindered by private investigator Lenore Martin. He's loath to share this murder investigation with such a problematic person. But despite mutual distrust, they forge a combative alliance. Soon, as more bodies drop, heat rises between the partners. And grave danger threatens from every corner of New Orleans.
---
Monica Walters
Past trauma can be a beast to overcome, but Jessica Monroe has proven time and time again that she's up for the challenge. Every hurdle thrown her way, she finds a way to conquer it and keep moving. After landing a successful career, she's ready to settle down. However, it seems that love is missing in action where she's concerned. It doesn't help that she's slow to express her feelings for fear of being hurt. Trying to overcome the hurt of a failed relationship has left her vulnerable, something she's usually able to mask. When she runs into a friend from school, she's reminded of how close they used to be and longs for that closeness once again.
Brixton Lewis has been intentional about everything in life. He's a business owner and knows exactly where his life is headed until he gets the call that his dad has passed away. He makes the decision to go home and take over the family farm. That responsibility comes with a lot of unknowns. One of those unknown responsibilities presents itself and leaves him in a state of depression and despair. However, running into Jessica has changed everything. She's the one that got away. Brixton is more than determined not to let her get away again.
When Jessica and Brixton see each other, their excitement can't be hidden. They immediately try to pick up where they left off, although their personalities are somewhat different as adults. However, adversity rears its ugly head and threatens to ruin everything. Can the two of them focus on the possibilities instead of the problems and make a lasting relationship out of their reconnection?
---
Bailey West
Acclaimed author Bella Roe, known for her poignant stories about love, harbors a deep skepticism toward the existence of true love. Despite her immense success in the literary world, she remains convinced that the passionate relationships she writes about are nothing more than figments of her imagination.
Everything changes when Bella meets Leven Chandler, a charming and grounded man, at a book signing event. Like Bella, Leven is not actively seeking romantic love. He dedicates all his energy to his children and his demanding job, believing that love is something he can no longer afford to pursue.
Bella and Leven experience an immediate and undeniable connection that shakes their preconceived notions about love. Their encounters are filled with heartfelt conversations, shared laughter, and a growing intimacy that neither can ignore. But both are hesitant to explore their feelings further, uncertain of what lies beyond the boundaries they have built around their hearts.
Will Bella, the skeptic of love, embrace the possibility of a true and lasting connection? Can Leven, consumed by his role as a father and provider, allow himself to open his heart to a new love?
---
Shanora Williams
Adira Smith-Cortez knows how to turn around a troubled past. Now she's a self-made multi-millionaire who takes exquisite care of herself and her only true love: her husband, Gabriel. Adira has it all—except the answer to one tormenting question: why is attentive, affectionate Gabriel cheating on her—with not just one, but two women. There's sexy Jocelyn, a club owner. And then there's Julianna, a celebrity makeup artist he's even crazier about. In a tricky twist, vengeful Jocelyn offers Adira the perfect plan to get her straying spouse back . . .
It sounds simple: Adira will befriend Julianna through a fake identity, play on her and Gabriel's vulnerabilities and cause them to split up permanently. Determined to reclaim her happiness, Adira won't—can't—stop to think what could possibly go wrong . . .
Until too many of Gabriel's lies start adding up to a disquieting truth. Until Julianna discovers who Adira really is—and Jocelyn pushes Adira to ever-more-unthinkable extremes. With her world collapsing and shattering memories tearing her apart, how far will Adira's obsession take her—and how much of herself is she willing to lose in the process . . .