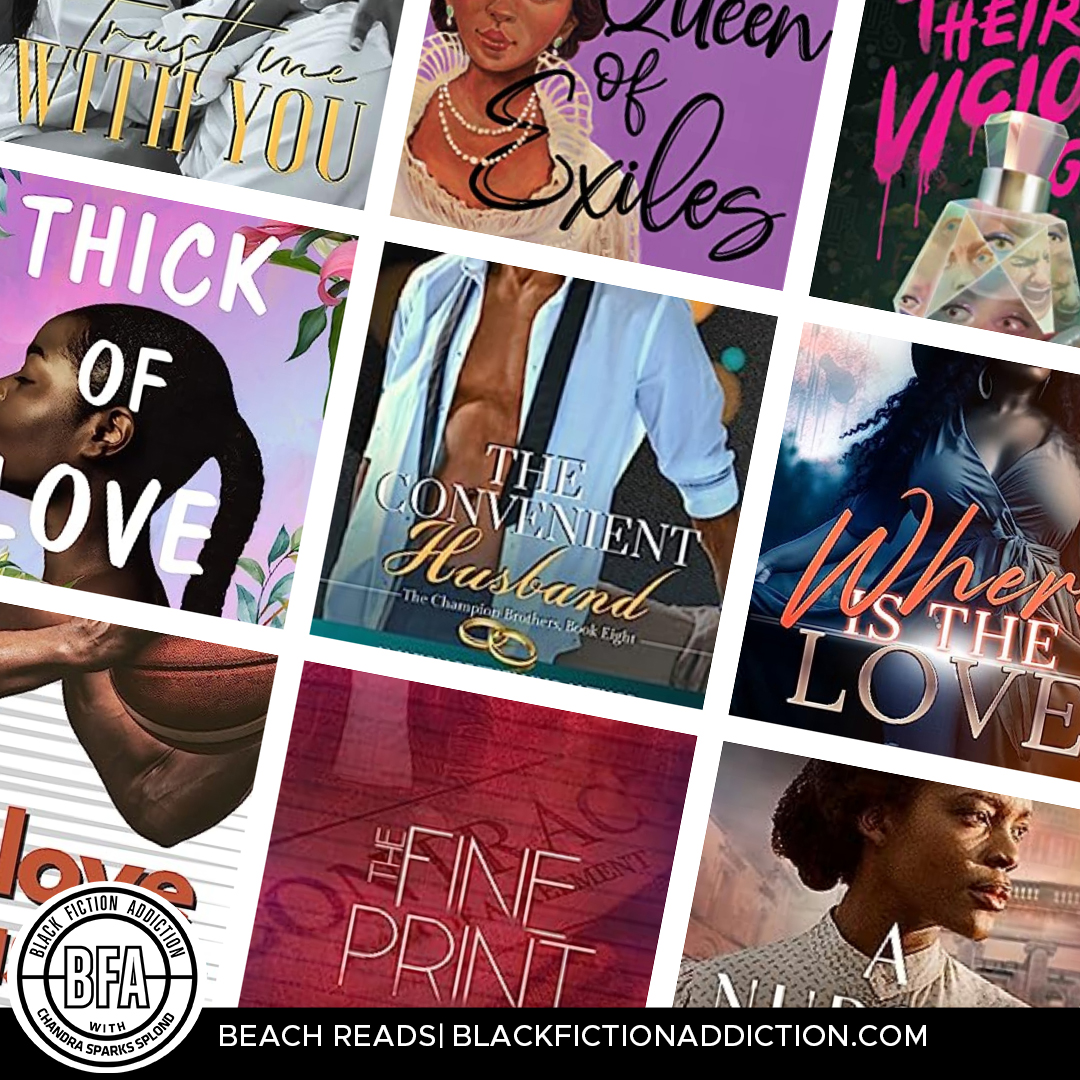 And just like that, summer is almost over. For many, it's time to get back in the school routine. Just in case you have time to sneak in another book or three, here are few black books released in July.
Kemi Ashing-Giwa
The dust may have just settled in the failed war of conquest between the Holy Vaalbaran Empire and the Ominirish Republic, but the last Emperor's surrender means little to a lowly scribe like Enitan. All she wants is to quit her day job and expand her fledgling tea business. But when her lover is assassinated and her sibling is abducted by Imperial soldiers, Enitan abandons her idyllic plans and weaves her tea tray up through the heart of the Vaalbaran capital. There, she will learn just how far she is willing to go to exact vengeance, free her sibling, and perhaps even secure her homeland's freedom.
---
Joy Avery
Honey Hill residents have enough to gossip about without Happi Daniels and Sebastian Charles adding their drama to the mix. However, when details of their accidental Vegas nuptials are made known, the hairstylist and home renovation expert become the talk of the town.
Outside forces are hard at work to ensure Happi and Sebastian find the happily ever after neither are looking for. But will it be enough to ensure the two remain one?
---
Ola Awonubi
Born Nigerian royalty, Princess Adenrele Ademola trained as a nurse at Guy's Hospital in London and stepped up to serve the people of Britain when war broke out – facing both the devastation of the Blitz and the prejudice of some of the people she was trying to help.
80 years later, Ade's great-niece Yemi arrives in London clutching the Princess's precious diaries and longs to uncover the mysteries they hold…
---
Love Belvin
Ashira, a belle from the suburbs, is the wealthy acting CEO of her father's booming building firm.
That's when she's not the dancer on the Gram and TikTok, dating the latest Black Hollywood shooting star.
To her, Jas, a construction laborer, is a walking conundrum. He's fruitlessly ambitious yet steadfast in his spiritual convictions. He's enigmatic, well-read, regimented, and poor. Oh, and a felon. An incredibly disarming parolee who wants no connection to her. Until he does.
Two souls, galaxies apart. He's an unanticipated UFO about to collide in her world like an unmitigated asteroid.
Mercy is book one of the Prism series and ends on a suspenseful cliffhanger. Contains mature content.
---
Iris Bolling
When the law breaks the law, the consequences can be deadly!!!
Detective Nate Reigns and Federal Prosecutor Attorney, Skylar Burrell find themselves in a conundrum. Nate discovers the murder of his friend, prosecutor Alex Burnette, is connected to something larger than a simple murder. With Skylar's help, he discovers a connection to the deaths of several prosecutors from other jurisdictions.
Nate and Skylar uncover proof that an organization, P.I.E, is responsible for a variety of deaths. P.I.E.'s evil agenda has national implications. They must be stopped; however, the P.I.E organization is more powerful than anticipated. The organization have infiltrated the police department, the Commonwealth Attorney's office, and the local judicial system. To make matters worse, Nate discovers, their reach extends to the United States Congress.
It is up to Nate to expose and prove their evil intent. But the question is…to who?
Not knowing who to trust, Nate and his small circle of associates try to determine who is friend and who is foe, while fighting to stop the P.I.E. organization from pushing their agenda forward. The riveting response from top-ranking political figures has Nate and his associates, running from their lives. With no public support from the top brass in the police department, Nate, alone has to deal with the Backlash.
---
Phyllis R. Dixon
Angel. Carmen. Doreen. Jade. Talented Memphis girls who had a brush with pop music fame—guided by Carmen's warm-hearted mother. But when she was elbowed out for a bigger manager, Carmen walked too. The bitter breakup shattered the Diamonds' never-easy "sisterhood" —and cost them the big-time. Now a reunion offers a fresh start, just as mid-life struggles are pushing all four to the brink.
Angel hopes to reignite her failing solo career, but her insatiable ego keeps getting in the way. . . . Carmen was the group's peacemaker, but with her son in serious trouble, she's run out of patience. . . . Doreen longs to recapture the highs of performing, minus the drug haze—even as it risks her life as a pastor's wife. . . . And Jade, always the wallflower, is determined to get recognized this time around.
As the women contend with the new and overwhelming demands of celebrity, they find that the old traps have stayed the same. Can they ever reach true sisterhood—and help each other become the sparkling gems they were meant to be?
---
Alechia Dow
Zaira Citlali is supposed to die. After all, she's the god Indigo reborn. Indigo, whose song created the universe and unified people across galaxies to banish Ozvios, the god of destruction. Although Zaira has never been able to harness Indigo's powers, the Ilori Emperor wants to sacrifice her in Ozvios's honor. Unless she escapes and finds Wesley, the boy prophesized to help her defeat Ozvios and the Ilori, once and for all.
Wesley Daniels didn't ask for this. He just wants to work as a smuggler so he can save enough money to explore the stars. Once he completes his biggest job yet—bringing wanted celebrity Rubin Rima to a strange planet called Earth—he'll be set for life. But when his path crosses with Zaira, he soon finds himself in the middle of an intergalactic war with more responsibility than he bargained for.
Together, Zaira, Wesley, and Rubin must find their way to Earth and unlock Zaira's powers if they're going to have any hope of saving the universe from total destruction.
---
Joya Goffney
Nikki can't wait to leave Texas and follow her dreams of a music career . . . After a painful betrayal by her sister and a heated argument with their mother, Nikki is kicked out and finds herself homeless. She decides to go to California to pursue her singing career. When her best friend, Malachai, discovers her plan to flee Texas, he begs her to spend the remainder of spring break with him. He believes that over the course of a week, he can convince her to stay in Texas, or to at least graduate high school. But their plans are interrupted when Nikki's little sister Vae goes missing.
Nikki is forced to work alongside her difficult mother as they set off in search of Vae, with Malachai's support. Will Nikki find a reason to stay in Texas, or will this spring break be the last time she sees them? Through her emotional journey, Nikki ultimately finds the love she's always been missing and discovers the power of her own voice.
---
Terah Shelton Harris
It's been eight years since Sara Lancaster left her home in Savannah, Georgia. Eight years since her daughter, Alana, came into this world, following a terrifying sexual assault that left deep emotional wounds Sara would do anything to forget. But when Sara's father falls ill, she's forced to return home and face the ghosts of her past.
While caring for her father and running his bookstore, Sara is desperate to protect her curious, outgoing, genius daughter from the Wylers, the family of the man who assaulted her. Sara thinks she can succeed—her attacker is in prison, his identical twin brother, Jacob, left town years ago, and their mother are all unaware Alana exists. But she soon learns that Jacob has also just returned to Savannah to piece together the fragments of his once-great family. And when their two worlds collide—with the type of force Sara explores in her poetry and Jacob in his astrophysics—they are drawn together in unexpected ways.
---
Alexandria House
Childhood neighbors, enemies, best friends, lovers, enemies, Sires lineman Terrence Ford and his ex-wife, Krystle, have meant all these things to each other.
Once believing their union was indestructible, they find themselves unhappily apart.
Maybe what they see as an ending is really the beginning of a stronger bond and a deeper understanding of what love really is.
Holding is a novel that offers intimacy, healing, and forever.
---
Charae Lewis
What happens when two souls bind together after leaving grueling chapters in their lives? A fire is set ablaze when Yazmin enters the Saintil Household. She's offered an opportunity that would greatly benefit her but soon realizes that the work may be too strenuous. Matters are made worse when a larger-than-life personality enters her existence. He's everything that Yazmin imagined but knows he's no good for her. However, his presence is way too commanding for her to ignore and she soon finds herself confined in his web of chaos.
---
Tracey Livesay
Against all odds, sexy American rapper, Danielle "Duchess" Nelson and brilliant reclusive royal Prince Jameson have fallen in love! They've decided to take their relationship public and find a way to make their two worlds coexist. On their terms.
Unfortunately, falling in love was the easy part.
Jameson and Dani's love story has made them the most popular royals since Prince John, but that popularity comes with a price. Dani looks forward to signing the deal with a major cosmetics company that will make her skin care line, Mela-Skin, a force in the industry, and finally grant her the control over her life she's craved since childhood. But the company wants to take advantage of their fame and involve Jameson in Mela-Skin's marketing campaign. Dani is outraged! Her company has nothing to do with Jameson.
After stepping up for the royal family, Jameson yearns to retreat back into academia. But he's fired when his university raises concerns about his newfound notoriety. And suddenly the queen, initially against the relationship, backtracks, seeking their cooperation when the family is embroiled in yet another scandal. This isn't the quiet life Jameson was hoping for.
Dani and Jameson truly love each other. But under the scrutiny of the international spotlight, when the doubts, compromises, and secrets begin to take their toll, will their love be enough?
---
T'Lyn
If the plan doesn't work change the plan not the goal.
Those words become the anthem to Soraya Gault's life in ways she never could have imagined. Soraya sacrifices a lot to secure her future and take care of her family but it never feels like enough.
Zamaseon Hendricks works hard and lives by his own rules. There is only one woman in his life who he is willing to risk it all for. Even if risking it all means completely altering his life's plan, what is required of him is as good as done.
Zamaseon and Soraya have common goals but their only option to reach the finish line means falling in line with an unconventional plan.
Reading the fine print is easy enough but as soon as the ink dries their worlds collide in the best and worst ways possible.
---
Thick of Love
Danielle Marcus
Dallas once believed in forever love, but that was before her marriage had hit a dead end. When Trenton Smith walks into her life, he's ready to love her the way she deserves to be loved—only Dallas' walls are up. In time she will know if he is merely history on repeat, or the kindred connection she's been praying for.
Sasha wanted nothing more than to have a baby with her fiancé, Hunt. After years of trying to conceive, she's finally concluded that a baby may not be in the cards for her. Sasha begins to question her womanhood, and before long, it sends her into a fit of depression—until she finds comfort in the arms of another man.
After dating the momma's boy, the thug, and her ultimate favorite—the tired brother with good sex but no money, Candace finally finds her knight in shining armor. Things are going well until she discovers the roommate he conveniently failed to mention. When Sasha's brother, Diego, decides to help mend her heart, Candace soon realizes that her soul mate may have been right under her nose the entire time.
---
The Convenient Husband
Tina Martin
Amira Champion has had enough of men – especially after she found out how her father treated her mother. She's coasting through life solo and living drama-free, but a series of text messages from a stalker threatens her peace.
Dominick Summerlin is a highway patrolman intent on law and order. After losing his wife three years ago, he has sworn off ever loving another woman. But one traffic stop sets in motion events that may change his plans and his life.
---
K.C. Mills
Yonas "Nas" Kadir is a man of few words. He has learned the art of never showing his hand, which is a valued asset for a man who balances his life between dark and light. There's not much he desires that isn't as good as promised to him, which is why Dae Richardson can fight the attraction but will ultimately fall for his good looks and undeniable charm, or so he hopes.
Dae Richardson is a self made success story. Her company has paired some of the most exclusive and elite professional around the world, however she can't seem to find the companionship she longs for to complement her luxurious lifestyle. That is, until Nas Kadir steps into her office and demands to become one of her clients for the weekend, only he doesn't want anyone from her impressive clientele list, he wants her.
When souls collide there's not much you can do but buckle down and prepare for the explosion, because there will definitely be fireworks!
---
Trust Me with You
Tay MoNae
Who knew one night in Vegas could lead to a life time of commitment.
Tori and Chase have 30 days to decide if they want to correct the accidental marriage between them or stay married. How will things play out between the two?
---
M. Monique
Tempest Franklin wants nothing more than to escape the clutches of her ex-husband. Raising two children with a man like her ex is daunting. Although a woman of faith, Tempest has little hope that her life will ever be peaceful.
Adonis Stallworth is a single father, with a love for his community that spreads far and wide. The same city he once wreaked havoc in, he now commits to restoring. A man who prides himself on family, Adonis isn't afraid of love or committing to the one woman he believes was made for him.
Life allows these two to collide in one most sacred and innocent moment. Will a woman bent on never being hurt again cause her to sacrifice a man who's bent on fully loving.
---
J. Nichole
Professional basketball player, Jared Mathis, is back in his hometown. Ready to prove he's as good as he's always been.
But first, he must find a house.
Real Estate is in her blood. Or at least it should be.
Unfortunately, Amelia Forrest is nothing like her mogul mother though.
If she finds a home for Jared Mathis, that could all change.
---
Vanessa Riley
The Queen of Exiles is Marie-Louise Christophe, wife and then widow of Henry I, who ruled over the newly liberated Kingdom of Hayti in the wake of the brutal Haitian Revolution.
In 1810 Louise is crowned queen as her husband begins his reign over the first and only free Black nation in the Western Hemisphere. But despite their newfound freedom, Haitians still struggle under mountains of debt to France and indifference from former allies in Britain and the new United States. Louise desperately tries to steer the country's political course as King Henry descends into a mire of mental illness.
In 1820, King Henry is overthrown and dies by his own hand. Louise and her daughters manage to flee to Europe with their smuggled jewels. In exile, the resilient Louise redefines her role, recovering the fortune that Henry had lost and establishing herself as an equal to the kings of European nations. With newspapers and gossip tracking their every movement, Louise and her daughters tour Europe like other royals, complete with glittering balls and princes with marriage proposals. As they find their footing—and acceptance—they discover more about themselves, their Blackness, and the opportunities they can grasp in a European and male-dominated world.
---
Pray for Me: Struggles of a Broken Heart
Neesh Santiago
Harmonie's life seems picture-perfect, except for one major obstacle: her overbearing parents. Despite her impeccable grades and well-behaved nature, they suffocate her with their rules. Just when she reaches her breaking point, fate steps in, revealing the mesmerizing gaze of Cairo – a boy like no other.
Cairo, seeking solace from a troubled past, arrives in town with aspirations of a brighter future. Yet, life's trials weigh heavily on him, making it a challenge to stay on the right path. He yearns for redemption, but it's far from easy. Then, like a guiding light, Harmonie enters his world, and suddenly, his problems lose their grip. However, there's a forbidden element that threatens to tear them apart: Harmonie's parents say they can't see each other.
Determined not to let their love be crushed by oppressive rules, Harmonie decides to venture into the unknown, risking everything for a chance at happiness. Everything should go well… as long as they don't get caught.
---
Jodie Slaughter
Miriam Butler's life is going nowhere in the slowest, most excruciating way possible. Stuck in the same barely-paying job she's had since she was sixteen and spending every night sleeping in the spare twin bed in her mother's house, her existence might be hilarious if it wasn't so bleak. One trip to her favorite corner store upends everything when she finds herself the winner of a Mega Millions Lottery Jackpot. Unfortunately, not even life-altering roses come without their painful thorns. Hers just so happen to be in the form of an estranged husband who has the right to claim his share of her money.
It's been eight years since Leo Vaughn has had a conversation with his wife. When she calls out of the blue, practically begging him to come back to Greenbelt, the last thing he expects her to tell him when he gets there is that she's come into a whole heap of money. She offers him a life-changing proposition of his own. Take a lump sum, finally sign the divorce papers, and be done with her for good. Only, a forever without her is the last thing Leo wants. So he gives a proposition of his own. One that won't cost her nearly as many millions, but will buy him the time to do the one thing he's been hungry to do since he left — win her back.
---
Brian W. Smith
Saxophone Bo has been playing jazz tunes on the same Bourbon Street corner for over fifty years. He's always been a crowd favorite because of his skills, personality, and the thing that makes him stand apart from the other musician's roaming the French Quarter…he's blind.
When Saxophone Bo is found dead at the spot that he stood at for decades, the locals and police are baffled. Why would anyone murder such a kind man? And why did the murderer leave Bo's money and his most prized possession, his saxophone, untouched? Trying to catch the killer seems impossible since there were no witnesses or apparent motive. But Sleepy Carter is determined to not let this case go unsolved. Why? Because Saxophone Bo was Sleepy Carter's uncle.
---
Monica Walters
Past trauma can be a beast to overcome, but Jessica Monroe has proven time and time again that she's up for the challenge. Every hurdle thrown her way, she finds a way to conquer it and keep moving. After landing a successful career, she's ready to settle down. However, it seems that love is missing in action where she's concerned. It doesn't help that she's slow to express her feelings for fear of being hurt. Trying to overcome the hurt of a failed relationship has left her vulnerable, something she's usually able to mask. When she runs into a friend from school, she's reminded of how close they used to be and longs for that closeness once again.
Brixton Lewis has been intentional about everything in life. He's a business owner and knows exactly where his life is headed until he gets the call that his dad has passed away. He makes the decision to go home and take over the family farm. That responsibility comes with a lot of unknowns. One of those unknown responsibilities presents itself and leaves him in a state of depression and despair. However, running into Jessica has changed everything. She's the one that got away. Brixton is more than determined not to let her get away again.
When Jessica and Brixton see each other, their excitement can't be hidden. They immediately try to pick up where they left off, although their personalities are somewhat different as adults. However, adversity rears its ugly head and threatens to ruin everything. Can the two of them focus on the possibilities instead of the problems and make a lasting relationship out of their reconnection?
---
Joelle Wellington
A Black teen desperate to regain her Ivy League acceptance enters an elite competition only to discover the stakes aren't just high, they're deadly, in this searing thriller that's Ace of Spades meets Squid Game with a sprinkling of The Bachelor.
You must work twice as hard to get half as much.
Adina Walker has known this the entire time she's been on scholarship at the prestigious Edgewater Academy—a school for the rich (and mostly white) upper class of New England. It's why she works so hard to be perfect and above reproach, no matter what she must force beneath the surface. Even one slip can cost you everything.
And it does. One fight, one moment of lost control, leaves Adina blacklisted from her top choice Ivy League college and any other. Her only chance to regain the future she's sacrificed everything for is The Finish, a high-stakes contest sponsored by Edgewater's founding family in which twelve young, ambitious women with exceptional promise are selected to compete in three mysterious events: the Ride, the Raid, and the Royale. The winner will be granted entry into the fold of the Remington family, whose wealth and power can open any door.
But when she arrives at the Finish, Adina quickly gets the feeling that something isn't quite right with both the Remingtons and her competition, and soon it becomes clear that this larger-than-life prize can only come at an even greater cost. Because the Finish's stakes aren't just make or break…they're life and death.
Adina knows the deck is stacked against her—it always has been—so maybe the only way to survive their vicious games is for her to change the rules.
---
Bailey West
Can a person find true love more than once? Roman "Blue" Bluette doesn't think so until she comes along.
Zanetta is a smart, non-traditional woman who believes that women rule the world. She also believes in love but it seems to elude her until he comes along.
Blue's Beauty is a journey of love lost, love found and redemption.
---
Bailey West
Acclaimed author Bella Roe, known for her poignant stories about love, harbors a deep skepticism toward the existence of true love. Despite her immense success in the literary world, she remains convinced that the passionate relationships she writes about are nothing more than figments of her imagination.
Everything changes when Bella meets Leven Chandler, a charming and grounded man, at a book signing event. Like Bella, Leven is not actively seeking romantic love. He dedicates all his energy to his children and his demanding job, believing that love is something he can no longer afford to pursue.
Bella and Leven experience an immediate and undeniable connection that shakes their preconceived notions about love. Their encounters are filled with heartfelt conversations, shared laughter, and a growing intimacy that neither can ignore. But both are hesitant to explore their feelings further, uncertain of what lies beyond the boundaries they have built around their hearts.
Will Bella, the skeptic of love, embrace the possibility of a true and lasting connection? Can Leven, consumed by his role as a father and provider, allow himself to open his heart to a new love?
---
Colson Whitehead
It's 1971. Trash piles up on the streets, crime is at an all-time high, the city is careening towards bankruptcy, and a shooting war has broken out between the NYPD and the Black Liberation Army. Amidst this collective nervous breakdown furniture store owner and ex-fence Ray Carney tries to keep his head down and his business thriving. His days moving stolen goods around the city are over. It's strictly the straight-and-narrow for him — until he needs Jackson 5 tickets for his daughter May and he decides to hit up his old police contact Munson, fixer extraordinaire.  But Munson has his own favors to ask of Carney and staying out of the game gets a lot more complicated – and deadly.
1973. The counter-culture has created a new generation, the old ways are being overthrown, but there is one constant, Pepper, Carney's endearingly violent partner in crime.  It's getting harder to put together a reliable crew for hijackings, heists, and assorted felonies, so Pepper takes on a side gig doing security on a Blaxploitation shoot in Harlem.  He finds himself in a freaky world of Hollywood stars, up-and-coming comedians, and celebrity drug dealers, in addition to the usual cast of hustlers, mobsters, and hit men. These adversaries underestimate the seasoned crook – to their regret.
1976.  Harlem is burning, block by block, while the whole country is gearing up for Bicentennial celebrations.  Carney is trying to come up with a July 4th ad he can live with. ("Two Hundred Years of Getting Away with It!"), while his wife Elizabeth is campaigning for her childhood friend, the former assistant D.A and rising politician Alexander Oakes.  When a fire severely injures one of Carney's tenants, he enlists Pepper to look into who may be behind it. Our crooked duo have to battle their way through a crumbling metropolis run by the shady, the violent, and the utterly corrupted.