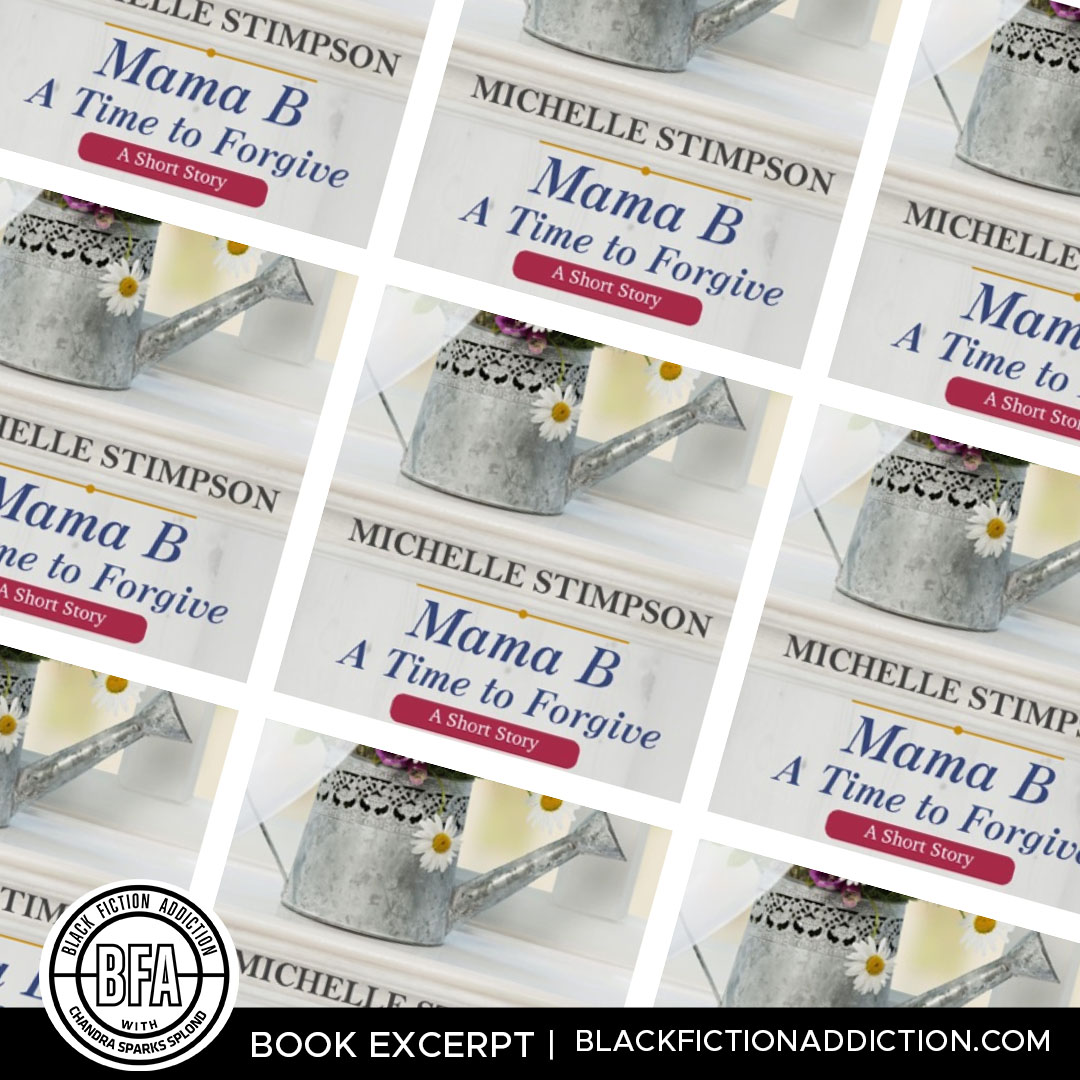 Michelle Stimpson is back with a new and timely addition to her popular Mama B series, and she's sharing an excerpt with Black Fiction Addiction readers.
About the Book:
To begin with, Mama B really had no business running around town in the middle of the virus shelter-in-place orders. She knew better. And she got more than what she bargained for when she ran into Pearl Whitlow, a former church musician who left Mt. Zion under bad, unresolved circumstances. Will Mama B make amends or is best for Pearl to keep her social distance and then some!
Excerpt:
Maybe if I would have listened to my son and my husband and the mayor, the governor, and the President, the Lord could have just sent me an instrumental CD of worship songs and we could have called it even.
But no, no, no. He had to go all out. And I had to go all out of the house for Frank's cholesterol medication at the pharmacy, and fresh ingredients to make a salad from the grocery store. Let me tell you, even though they kept sayin' we needed to stay home to stop the spread of the virus, by the looks of the parking lot and the check-out line at the grocer, folks were still out there shopping like a regular day. Children, women, men, old, and young alike.
So by the time I'd been to two stores, I figured since I was already in violation. I might as well do everything I wanted to do in one trip before I shut myself in again.
I headed myself all the way to the outskirts of Dallas to the place with the little buttery-tastin' mini bundt cakes with the cream cheese frosting. I know those cakes ain't nowhere near the list of necessities in life, but after weeks of being cooped up during what's supposed to be the golden, sunset years of my life, I felt like I deserved a little piece of cake. They be so moist and tasty, just like my momma used to make.
The first sign I was on the wrong path should have been apparent along the 30-mile trek when I realized I was going to have to fuss with Frank whenever he saw the extra cakes I would have to store in the refrigerator, since I was planning on getting at least two or three to last me a while.
He might even tell Son, and I'd never hear the end of it, especially with going all over creation to get it.
Oh, well. They'll have to get over it. What difference did it make if I was buying something near home or near Dallas? I was in the confines of my car, driving down a highway. Just as safe as if I was at home lying in my bed. I prayed over myself and drove on out for my cake.
When I arrived at the cake place, a parking spot opened up right next to the front.
"Look at You, God!" I told Him.
Then, as though I was sitting right next to Frank, I put on my third pair of plastic gloves for the day and walked into the place.
They didn't have their usual sample plate, which made sense, of course, but still… It used to be nice to get a little taste while waiting.
Not that I had to wait a long time for service. Let me tell you, the young man behind the counter smiled bright and wide when he saw me. Wasn't no other customers in sight.
"Hello, ma'am! How can we help you?"
He poised his finger to push the button on the register and another young lady slid on her gloves to fill my order.
"Y'all slow these days, huh?" I asked. Now, I know the question was silly question on a day like that one, but I gotta tell you, I was just happy to be talking to somebody, really.
"Yes, it sure is. We've been taking every precaution, though, I assure you."
I nodded politely. "'Tis good to know." And I went on to order a lemon, a vanilla, a chocolate, and a red velvet mini cake. "These should last me the rest of the shut-down."
The young man winced. "I don't know. We might be in for quite some time."
"I'm believing for a sudden, unexplainable stop to this whole thing," I spoke. "That's what I'm speaking."
"Beatrice Jackson? Is that you?" a scratchy, familiar voice called my previous name.
I turned slowly, careful to make sure my face didn't give away my dismay. When I finally saw her head-on, I sensed a sharp decline in my attitude. "Pearl Whitlow."
She went to try and hug me. Chile, I was never so thankful for social distancing. I held up my hand, "Oh no, Pearl. We gotta stay apart, remember?"
Pearl poked out her tiny, red-lined lips. "B. Really? I haven't seen you in nearly twenty-five years and we probably got less than five left. You really ain't gonna hug me?"
My eyes rolled before I knew it. "Speak for yourself. I'm believing for a loooong life. So, no. No hugs today."
She crossed her arms for a second. Looked me up and down. Then she half-laughed. "You always did think you was something special."
And so did her husband, but that wasn't my fault.
Pearl batted her eyes, probably still trying to guess at my figure underneath my leopard print poncho. Folks can't hardly tell what size you are when you wear black, you know, and Pearl had always been more than obsessed with everything about me since we first met.
Time had been good to Pearl, too. Her bronze skin was moisturized, her makeup flawless. Her short, gray afro gave an heir of class, quite a distinguished appearance. She wore a coral dress shirt with bedazzled flip-flops. She'd always been an attractive woman, but her ugly ways nevertheless overshadowed her looks.
The young man told me my total. I swiped my card, signed, and took my bag.
Again, Pearl closed in on me. I took a few steps toward the door.
"What you doin' here, anyway, B? Last I heard, you was married to a doctor, living in a big ol' mansion on the outskirts. What happened? He died, too?"
My mouth flew open. "He is most certainly not dead. And why would you say something so silly, Pearl?" She about as irritating as a piece of chicken stuck between your teeth.
"Beatrice, calm down." She shooed me off with nails she had obviously tried to paint by herself. With nail salons closed, people were left to their own devices. If you ask me, she should have left them undone.
Lord, forgive me for real.
"My husband is alive, thank you very much," I said.
"Well. Is he a doctor?" she pressed.
"As a matter of fact he is. And we live in a beautiful home and I still have the home me and Albert built in Peasner as well. Any more blessings from God you want to know about?"
By that time, I was nearly in her face, back in the same game, with her ruffling my feathers and me responding like I didn't already know her method of operation. I was too old for it back then, so I was certainly too old for it by now. Not to mention I had broken the social distancing rules.
Lord, this ain't like me 'cause this ain't like You.
I'd had about enough of this old side of me and this same side of Pearl. What happened between us was a long time ago, and there was no need in me or her keeping up this petty foolishness.
I took another step away, patting my brown paper bag. "These cakes sure are good. I hope you'll enjoy yours, Pearl. Have a good day. Take care."
"How can I help you, ma'am?" the friendly young man asked Pearl.
She pivoted toward him and gave him the hold-on index finger.
Seeing as there was no one else in the store, he didn't have much of a choice.
I attempted to turn away because, for all I knew, my work there was done.
"B," Pearl called my name again.
I really, really, really didn't want to respond. I mean, I didn't owe her anything in the world. Not my attention, not face-time, not an apology, not even respect, for that matter. But the fact is, ignoring people ain't what I do; it's not the heart God put in me when He made me new. Even when they treat me wrong, I just can't bring myself to repay evil for evil.
So I stopped myself and gave her my attention again. "Yes, Pearl?"
For a second, she looked like she might be about to say something sensible and civil. But then her eyes glazed over and a sly grin covered her face. "Don't eat all the cake by yourself. I'd watch those hips if I were you."
That was all I needed to hear to high-tail it out of there. I hopped back in the Range Rover, sat my cakes down, flipped my gloves off inside out, and threw them on the floorboard of the passenger's side. Then I opened my bin of anti-bacterial wipes and disinfected my steering wheel, gear shifts, window and door controls, and turning signal knobs.
All the while, I dared not look back at Pearl inside the store.
Instead, I practiced those breathing exercises Cassandra told me about. Breathe in four seconds. Hold it four seconds. Breathe out four seconds. Hold it four seconds. I repeated the routine a couple of times before I drove away.
Really, I was more mad at myself than I was at Pearl. Why did I let her get to me? More importantly, what was in me that, all these years later, I still reacted to her antics? Some might have called it a love-hate relationship, but I wouldn't have agreed with that definition because I didn't hate Pearl. I didn't hate anybody. I just didn't like her or her reality-show ways long before anybody had ever heard of a reality show.
I blew out a cleansing breath as I exited the shopping center, heading back home. The incident with Pearl was over. We didn't run in the same circles, didn't keep tabs on one another. I hadn't seen her in a quarter of a century, so in all likelihood, I wouldn't see her again on this side of heaven, which was fine with me. Some folks you can do without seeing for the rest of this lifetime.
I turned on the radio and let The Clark Sisters put me back in a peaceful, worshipful mood. This really wasn't no time to be dredging up old feelings. People all over the world were sick and dying. Businesses people had worked hard to build were failing. Children were missing out on their education. Graduates couldn't walk across the stage. Homeless people had no place to call their shelter-in-place. Doctors and nurses were working themselves to exhaustion, some of them sacrificing their own lives to save virus victims. There were more pertinent things to concern myself with than one Pearl Whitlow.
On my way home, Son called. Before I could even answer the phone good, he picked up on the sound of me being in a car and started fussing. I told him I'd call him back another time. Next thing I knew, Frank was calling and asking my whereabouts. They think they're slick, those two, in cahoots to manage me.
"Frank. I got your medicine. Then I got fresh veggies for my salad. And then, since I was already out, I went to get some of those bundt cakes we both like." I said 'both' hoping he wouldn't fuss too much.
He seemed a little less upset, if I don't say so myself, as his voice lowered some.
"Did you use your gloves?"
"Yes, I did. And I took them off the way you taught me to as well."
"You got your wipes?"
"Yes. Everything is clean."
He sighed. "I guess there ain't much more I can ask."
"Thank you very much. I also prayed, just in case you want to know that, too."
He laughed. "Can't beat prayer," he said. "I'll see you at home."
My mind was calmed all the way down by the time I got back to the house, and I was ready to eat half of my mini lemon cake in peace. I used to save dessert for dinner, but since I'd had all this time to read stuff online those days, I'd come to believe it was better to eat all my carbs earlier in the day.
So there I was, at three o'clock in the afternoon. I had just settled into my husband's easy chair with my plastic container full of cake and a spoon.
That's when the doorbell rang.
I hadn't heard it chime in weeks, seeing as people were not particularly of the visiting spirit those days.
I thought it must have signaled a package, something I'd ordered online and forgotten about.
But when I looked out the side window, I saw a car parked against the curb of my house. A little black Honda, to be exact.
"Who is it?" I called.
"It's Pearl."
I promise you, I felt like somebody just threw a glass of iced water across my face.
A look through the peephole confirmed Pearl's unwanted presence.
Slowly, I twisted the deadbolt, then unlocked the door. I pulled the knob back, and there she was. Standing on my porch. Looking like a lost puppy.
---
About the Author:
Michelle Stimpson the national bestselling, award-winning author of more than 50 books and 50 short stories. A former public school teacher, Michelle takes joy in teaching others through a good story. She and her husband are the thankful parents of two adult children and one amazingly joyful granddaughter.
---
Use Black Fiction Addiction's affiliate link to purchase your copy of Mama B: A Time to Forgive.