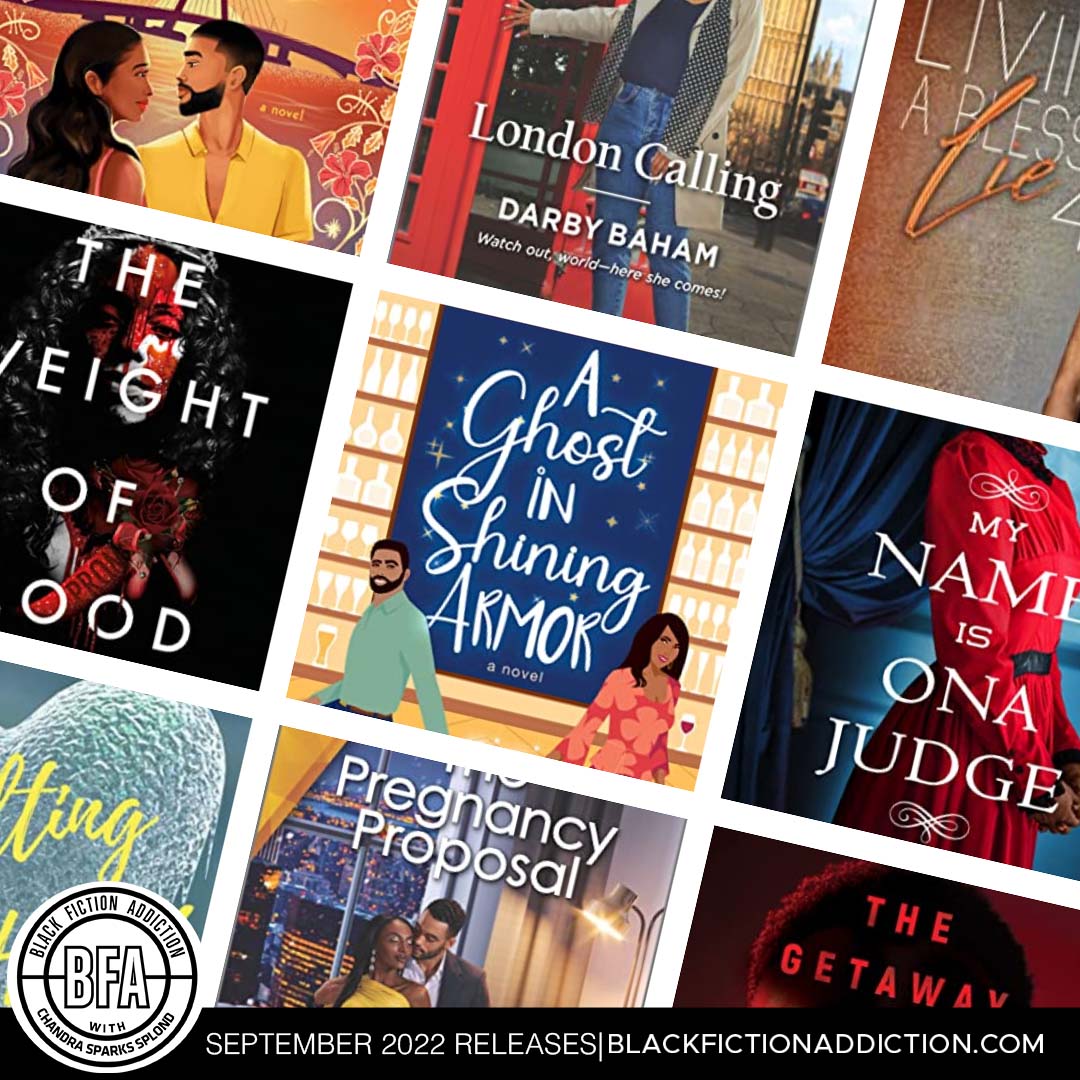 As we fall fully into fall, check out these books released in September 2022.
What Hassan Wants
Danielle Allen
What Hassan Wants
What Hassan wants is her body.
What Hassan needs is her mind.
What Hassan has is a problem.
---
Yasmin Angoe
Yasmin Angoe's They Come at Knight is the heart-pounding second installment in the Nena Knight series about an intrepid female assassin who will stop at nothing to protect her family.
For elite assassin Nena Knight, eliminating dangerous players on the world stage is part of the job. The Tribe, a powerful business syndicate in Africa, ensures that she has those opportunities. But for Nena, the Tribe is more than just her employer; it's an organization that supports the African people—until it turns on itself.
As Nena embarks on a new mission, a violent siege by a paramilitary group throws the Tribe into chaos, and mysterious acts of violence plague the Tribe's territories. As the attacks escalate, Nena suspects a different kind of enemy at play: someone on the inside, determined to undermine the Tribe's leaders.
As this new threat closes in on her own family, Nena enlists a team to root out the danger. But as she gets closer to the truth, she will have to risk everything to protect the future she holds dear—even if it means facing off with an enemy she never expected.
---
Darby Baham
An American in England…
Searching for true love!
Newly promoted expat Robin Johnson is ready to take London by storm! Her career blossoming, Rob soon tumbles headlong into the local dating scene…with disastrous results. When she confides her misadventures to her coworker's understanding brother Craig, the last thing she expects is to find an elusive spark—with him! After so many false starts, can Rob find it in her heart to give Craig the chance that he deserves?
---
Therese Beharrie
Once haunted . . .
Gemma Daniels has never been quite the "down to earth" woman her adoptive parents raised her to be. She even has a unique gift: she can see ghosts—and she likes helping them settle their unfinished business. But the hotter-than-hot stranger she impulsively kisses on a bet is not only a phantom, he's determined to help her. And the only way Gemma can explain his presence is to pretend they're a real-life couple . . .
Twice shy . . .
Levi Walker lived—and died—to save his sister. Now he's got a second chance at life if he assists Gemma in reuniting with her own long-lost sibling . . . and then never sees Gemma again. But as he starts to enjoy her irrepressible personality, he's finding it hard to abide by any rules at all . . .
Third time's the unforgettable charm . . .
Gemma is thrilled to be getting to know her sister, but it causes a family rift she may not be able to heal. On top of that, she's falling for a ghost with a dilemma. For Levi must decide what loyalty—and living—is truly all about. To fix their mistakes, Gemma and Levi must risk being real with themselves—and each other—if they're ever to claim true love . . .
---
Niobia Bryant
A one-night stand with a celebrity playboy and this pregnant PR guru needs serious damage control! Watch fireworks fly in Niobia Bryant's latest Cress Brothers novel!
What's riskier to a good girl's career—
A fling with a bad boy…or having his baby?
Career-driven PR whiz Montgomery Morgan is all about her professional public image. So why did she have a steamy hookup with celebrity chef Sean Cress? In an elevator, no less! Their secret is safe until Morgan learns she's expecting. Now, damage control requires an engagement. Sean's requirements are more "hot nights with Montgomery" and less "til death do us part." But nothing can stop their undeniable passion—not even the start of something deeper…
---
Parker J. Cole
Step into Paris in this Louis XVI Cinderella romance
An arranged betrothal…
By royal approval!
As the servant girl who discovered she was the long-lost daughter of a comte, Lilas Moreau is no stranger to scandal. Now, more famous for her art, she won't have her independence threatened by the return of her betrothed, Bastien, Duc de Languedoc. As a new attraction sizzles between them, Lilas is relieved he wants to end their secret marriage contract. But a summons from the queen means they're forced to continue their charade!
---
Matthew Dawkins
As the only Black student at her ballet academy, Naomi Morgan knows her feelings of isolation and artistic sacrifice are the price she has to pay in order to win the Youth American Grand Prix, the country's most prestigious dance competition. Winning means access to a spot in a top ballet school and, ultimately, a place with The New York City Ballet. Nothing else matters.
But when Naomi's dance instructor assigns her Odette's variation from Swan Lake, Naomi's world begins to fall apart. She doesn't think she can dance the part—and her doubts become the loudest voice in her head. Her best friend, Jessica, used to be her sounding board, her support, her co-star—and even though Jessica died in a freak car accident, Naomi still sees and hears her everywhere.
She's been burying her grief by focusing on her dancing. But when an injury steals that refuge, Naomi's mental health deteriorates and she starts to seek answers outside of her carefully constructed reality. Then one night, she meets Saint, a street artist, and he opens up an entirely new world for her. A world that's not connected to dance.
Saint spends his nights creating brilliant and beautiful messages of social change that the world needs to hear. In their sleepy California town, he wants to mix it up—to force the world to see him as he is—he's got a voice and isn't afraid to use it. Even if his family life is tough. Even if the same avenues that are open to Naomi are not open to him.
Together they both learn that there's no one right way to be in the world. For Naomi, this means that maybe dance isn't the only choice for her. Maybe her voice can be louder off stage, and she can shine in a different kind of spotlight. Maybe she and Saint will shine together and everything will be different in the best possible way.
---
Lamar Giles
Jay is living his best life at Karloff Country, one of the world's most famous resorts. He's got his family, his crew, and an incredible after-school job at the property's main theme park. Life isn't so great for the rest of the world, but when people come here to vacation, it's to get away from all that.
As things outside get worse, trouble starts seeping into Karloff. First, Jay's friend Connie and her family disappear in the middle of the night and no one will talk about it. Then the richest and most powerful families start arriving, only… they aren't leaving. Unknown to the employees, the resort has been selling shares in an end-of-the-world oasis. The best of the best at the end of days. And in order to deliver the top-notch customer service the wealthy clientele paid for, the employees will be at their total beck and call.
Whether they like it or not.
Yet Karloff Country didn't count on Jay and his crew–and just how far they'll go to find out the truth and save themselves. But what's more dangerous: the monster you know in your home or the unknown nightmare outside the walls?
---
Jasmine Guillory
Margot Noble needs some relief from the stress of running the family winery with her brother. Enter Luke: sexy, charming, and best of all in the too-small world of Napa, a stranger. The chemistry between them is undeniable, and Margot is delighted that she lucked into the perfect one-night stand she'll never have to see again. That is, until the winery's newest hire, Luke, walks in the next morning. Margot is determined to keep things purely professional, but when their every interaction reminds her of the attraction still bubbling between them, it proves to be much more challenging than she expects.
Luke Williams had it all, but when he quits his high-salary tech job in Silicon Valley in a blaze of burnout and moves back to Napa to help a friend, he realizes he doesn't want to tell the world—or his mom—why he's now working at a winery. His mom loves bragging about her successful son—how can he admit that the job she's so proud of broke him? Luke has no idea what is next for him, but one thing is certain: he wants more from the incredibly smart and sexy woman he hooked up with—even after he learns she's his new boss. But even if they can find a way to be together that wouldn't be an ethical nightmare, would such a successful woman really want a tech-world dropout?
Set against a lush backdrop of Napa Valley wine country, nothing goes to your head as fast as a taste of love—even if it means changing all your plans.
---
Suzette D. Harrison
New Hampshire, 1796. "My name is Ona Judge, and I escaped from the household of the President of the United States. I was the favored maid of George and Martha Washington, but they deemed me a slave and thought me property, and I hear ten dollars is offered as reward for my capture. Now I must write the truth that I have lived, and tell my story…"
Chincoteague, Virginia, present day. Rain soaks Tessa Scott as she runs from her car to the old, vine-covered property she has been called to survey. She's too busy to accept a new job, but doing this favor for the grandmother of her childhood sweetheart delays a painful decision she must make about a future with her controlling boyfriend.
But when Tessa finds a tattered journal carefully hidden inside the house's ancient fireplace, the tragic story of how Ona was ripped from her mother's arms to live and work in the palatial Mount Vernon, and the heart-shattering betrayal that led her to risk her life and run, has Tessa spellbound. Could discovering this forgotten scandal at the heart of her nation's history force her to confront her own story? As she races to reach the final page, will anything prepare her for the desperate moment when Ona's captors find her again? Will it inspire Tessa to take ownership of her own life and set herself free?
---
Cheris Hodges
Winter McMillian doesn't make mistakes, but after an argument with her best friend and a few too many drinks, she wakes up in the arms of a man she can't stand. Remington Corders. How in the hell is she going to face him in the FBI field office where they work?
Just what had she been thinking when she kissed this man? Doesn't matter because she was going to forget it and Remy better do the same.
Besides, Winter has bigger things to focus on and that doesn't include Remington. . .
Remington Corders has never met a woman like Winter. From the moment they spared in the ring at bureau headquarters, he wanted to crack the ice that surrounds her heart. But she isn't making it easy at all. When Remington finds out what Winter's hiding, will he risk it all to melt her heart?
---
Jane Igharo
Dunni hasn't seen her high school boyfriend, Obinna, since she left Nigeria to attend college in America. Before their devastating separation, they vowed to find their way back to each other one day.
Twelve years later, and their vow is a thing of the past. Dunni works as a geneticist in Seattle and is engaged to a man she doesn't love but one her parents approve of. Her future is laid out for her, and everything is going according to plan until she returns to Nigeria for a friend's wedding and runs into Obinna. The shy, awkward boy she loved as a teenager is now a sophisticated, confident man. Things have changed, but there's still an undeniable connection between them.
As they rediscover each other, their days filled with desire and passion, Dunni is reminded of the beautiful future she once planned with Obinna. But when devastating secrets are revealed and the reckless actions of their past bring new challenges, she's left questioning everything, including if the love that consumed her as a teenager is still worth holding on to.
---
Tiffany D. Jackson
When Springville residents—at least the ones still alive—are questioned about what happened on prom night, they all have the same explanation . . . Maddy did it.
An outcast at her small-town Georgia high school, Madison Washington has always been a teasing target for bullies. And she's dealt with it because she has more pressing problems to manage. Until the morning a surprise rainstorm reveals her most closely kept secret: Maddy is biracial. She has been passing for white her entire life at the behest of her fanatical white father, Thomas Washington.
After a viral bullying video pulls back the curtain on Springville High's racist roots, student leaders come up with a plan to change their image: host the school's first integrated prom as a show of unity. The popular white class president convinces her Black superstar quarterback boyfriend to ask Maddy to be his date, leaving Maddy wondering if it's possible to have a normal life.
But some of her classmates aren't done with her just yet. And what they don't know is that Maddy still has another secret . . . one that will cost them all their lives.
---
LaQuette
Vanessa Jared, a 40-something divorcee, decided that the best way to pull herself out of their post-divorce slump was to form The Savvy, Sexy, Singles Club and start the "Do Me" portion of her and her friends' lives.
But on the two year anniversary, a sexy sheriff shows up on Vanessa's doorstep wanting her to help him keep his little sister from marrying her no-good ex. Vanessa is not down for this at all. She wants nothing to do with her ex…until she spots a photo of her ex's new fiancee wearing her grandmother's ring–which he clearly stole from her. So now it's on. Vanessa is ready to take this trifling (fill-in-the-blank) down. What she does not expect is to fall in love along the way.
---
Rae Lyse
After the introduction of a controversial criminal justice reform bill, the Georgia State Board of Pardons and Paroles grants Andre "Dre" Owens clemency.
Suddenly, he's forced back into a world that's more complex than what he remembers…and full of tempting distractions. Most are skeptical that he deserves a second chance, and he is too, until a free-spirited dancer bounces into his life.
Much to her family's dismay, Natasha "Tash" Breaux dances to her own confusing beat. She's used to existing in a world that refuses to understand her and carrying the weight of a past that still lingers in the present.
After a mutual friend thrusts them together, Natasha agrees to help Andre cope with his newfound freedom, but there's a problem—he makes her question everything she thought she knew about herself and the people around her.
She's the ultimate distraction. He's the ultimate enigma. And they're so focused on how different their worlds look that when they endure them together, neither of them realizes the trouble that lurks beneath their budding friendship.
---
Celestine Martin
Lucinda Caraway loves living in Freya Grove, the mystic seaside town where charms, hexes, and magical beings of all kinds are the norm. She spends her days teaching high school history and her nights reading tea leaves and tending to her conjure garden. It's a good life . . . but she can't stop wishing for more.
Until one night, that wish turns into a spell, and suddenly Lucy can't say no. Not to a public karaoke performance. Not to running a 10K. And, most alarmingly, not to her high school crush, Alexander Dwyer, who needs her help unjinxing his new house—which just happens to be right across the street from hers.
Alex has spent the last ten years traveling the world on adventures Lucy has only ever dreamed of, and he's planning to leave again as soon as his house is safe to sell. But until Lucy can unhex herself, she and Alex are stuck together. And with so much magic in the air, maybe the next spell Lucy casts will be the one that convinces him to stay.
---
Olivia Matthews
Marvey, a small-town librarian,
finds a mysterious list of names…
and what happens next can't be a coincidence!
If you love Hallmark mystery movies,
you'll love this cozy mystery
with humor, intrigue, and a hint of romance.
Marvey, still adjusting to life in Peach Coast, Georgia, is at a library fundraising event when she comes across a list of four names. One is the name of someone who recently died—and who may have been murdered. Another is Spencer Holt, the handsome newspaper owner who's become one of Marvey's best friends.
The four people appear to have nothing in common other than living in Peach Coast. Spencer dismisses the list at first, but before long, he has to admit he may be in danger. As Marvey prepares for a visit from her parents, can she, Spencer, and their intrepid librarian friends stop a killer bent on long overdue revenge?
---
Taye Mo'Nae
What would you do if you woke up married to a stranger?
Playboy, wild, rapper Kazier is always in the blogs for some kind of scandal. Never been the one to play by the rules, he loves to test his limits. What happens when one weekend in Vegas he pushes past those limits and wakes up next to a beautiful stranger?
Ny'asia has had a rough past. Getting caught up with the wrong guy, her life was going downhill fast. All she wanted was to start over and leave the troubles from her ex in the past. What was supposed to be a weekend of fun in Vegas turned into something life-changing.
Once news comes out about the marriage, Kazier's team thinks this is the change he needs to turn his image around. The only problem is, both Kazier and Ny'asia are like oil and water. Now forced to co exist the two must put on this persona to the public. Just when things seem like they're becoming real a bomb explodes, threatening to shake the couple's life as they know it up even more. Are you ready to take a sip and get Drunk in Love?
---
Mya
It's been three years since Ellie and Jeremiah got married. Zoe is now eight and things are going pretty good in the Lewis household, especially since Ellie just signed on for a new movie being filmed in Philadelphia. But the good times don't last very long when Ellie's old triggers start to resurface as Jeremiah spends more and more time away from home as a new children's book author. Ellie is used to both of them traveling, but it seems the more he travels, the more distant he becomes.
Even Ellie's relationship with her father, Destin, is getting better, while it seems her relationship with the two most important people in her life are getting worse. Then, her father tells her something that could break up her family completely – not to mention the director of the new film giving Ellie the attention she's been missing from her husband.
What will she do when she finds out that her father's disturbing announcement is true and could cause more problems in her marriage? Will Ellie be able to run from temptation before she destroys everything she's built? Will Jeremiah be able to say 'no' to his flesh in order to honor the woman who has made him a better man? And will Ellie be able to get Zoe the help she needs before she rejects Ellie completely?
Find out in this long-awaited sequel to Storms of Love.
---
She Nell
He caught her. Tiffany hid the truth from her husband since their wedding night. She thought she had enough time to change Terrance's mind, but she was wrong. Now her little lie is going to cost her everything she has. Too sad to cry and too scared to pray, Tiffany watches her world crumble before her eyes. Terrance is the love of her life, but candy-coated words have led to sleepless nights. It will take a chance encounter on a hot day to change her life forever.
---
Farrah Rochon
The 13th installment in the New York Times best-selling series asks: What if Tiana made a deal that changed everything?
Sometimes life in the Big Easy is tough. No one knows that better than Tiana, though she also believes that hard work can go a long way. But when the notorious Dr. Facilier backs her into a corner, she has no choice but to accept an offer that will alter the course of her life in an instant. Soon Tiana finds herself in a new reality where all her deepest desires are realized: she finally gets her restaurant, her friends are safe and sound, and most miraculous of all, her beloved father is still alive. She's got everything she's ever wanted. . . . But after a while, her hometown grows increasingly eerie, with new threats cropping up in unlikely places. Navigating through this strange new New Orleans, Tiana must work alongside Naveen and Charlotte to set things right—or risk losing everything she holds dear.
---
Toni Shiloh
Can she stop herself from falling before she's too far gone?
As a fashion aficionado and best friend of the queen of the African island country Ọlọrọ Ilé, Iris Blakely dreams of using her talent to start a sustainable clothing line to help citizens in impoverished areas and honor the country's resources. But when she discovers that Ekon Diallo–the man who betrayed her best friend–will be her business consultant, the battle between her desires and reality begins.
Ekon Diallo has lost everything: his princely title, his material possessions, his friends, and the respect of his fellow Ọlọrans. To pay for his actions against Ọlọrọ Ilé, he's forced to assist the charismatic Iris Blakely–but he can't allow his heart to distract him from regaining his status.
Though they come from vastly different worlds, Iris and Ekon are both determined to reach their goals, and the only way to do that is to work together–if they can just keep their hearts from getting in the way . . .
---
If Only for the Summer (audio)
Alexandra Warren
School may be out, but class is still in session…
After a hectic school year with her classroom of first graders, Nova Grant is desperate for a break. So when her best friend invites her to spend the summer down in Miami, taking the vacation is a no-brainer. The only thing is, her best friend's husband had the same idea, inviting his friend Guy Thompson to stay in the condo Nova was already guaranteed.
Set up or accidental… Fate or coincidental… the attraction between the two is undeniable from day one. But with their days under the sun numbered and plenty of lessons to learn between them, Guy and Nova still find themselves teetering the line of lust and love, even if it's only for the summer…
---
Denise Williams
Divorce attorney RJ would never describe herself as romantic. But when she ends up officiating an unplanned wedding for a newly engaged couple in a park, her life is turned upside down. The video of the ceremony goes viral, and she finds herself in the unlikely position of being a sought-after local wedding officiant. Spending her free time overseeing "I dos" isn't her most strategic career move, but she enjoys it, except for the type A dude-bro wedding planner she's forced to work with.
Former pro-football event manager Lear is a people person, but after his longtime girlfriend betrayed him, he isn't looking for love. He knows how to execute events and likes being in control, so working with an opinionated and inflexible officiant who can't stand him is not high on his list. He's never had trouble winning people over, but RJ seems immune to his charms.
Surrounded by love at every turn, their physical attraction pulls them together despite their best efforts to stay an arm's length apart. Lear refuses to get hurt again. RJ refuses to let herself be vulnerable to anyone. But when it comes to happily ever after, their clients might not be the only ones saying "I do."
---
Sean D. Young
Tina Webb had given up her dreams of becoming a primo ballerina that pirouetted in front of an audience of hundreds of people long ago. Having a beau to share her life with was a lost cause too. So, she poured her heart and soul into her dance studio. Instructing young girls who still held onto their dreams, in hopes they could see them realized the way she hadn't. When she receives notification that she has to move her studio, and potentially lose all she worked hard for, she doesn't know who else to turn to but attorney Alex Simmons. He's shrewd, brilliant and more handsome than any man had a right to be. He was also one of the most intolerable people she had ever gotten the pleasure to meet. And yet she needed him.Will sparks fly or will they explode?