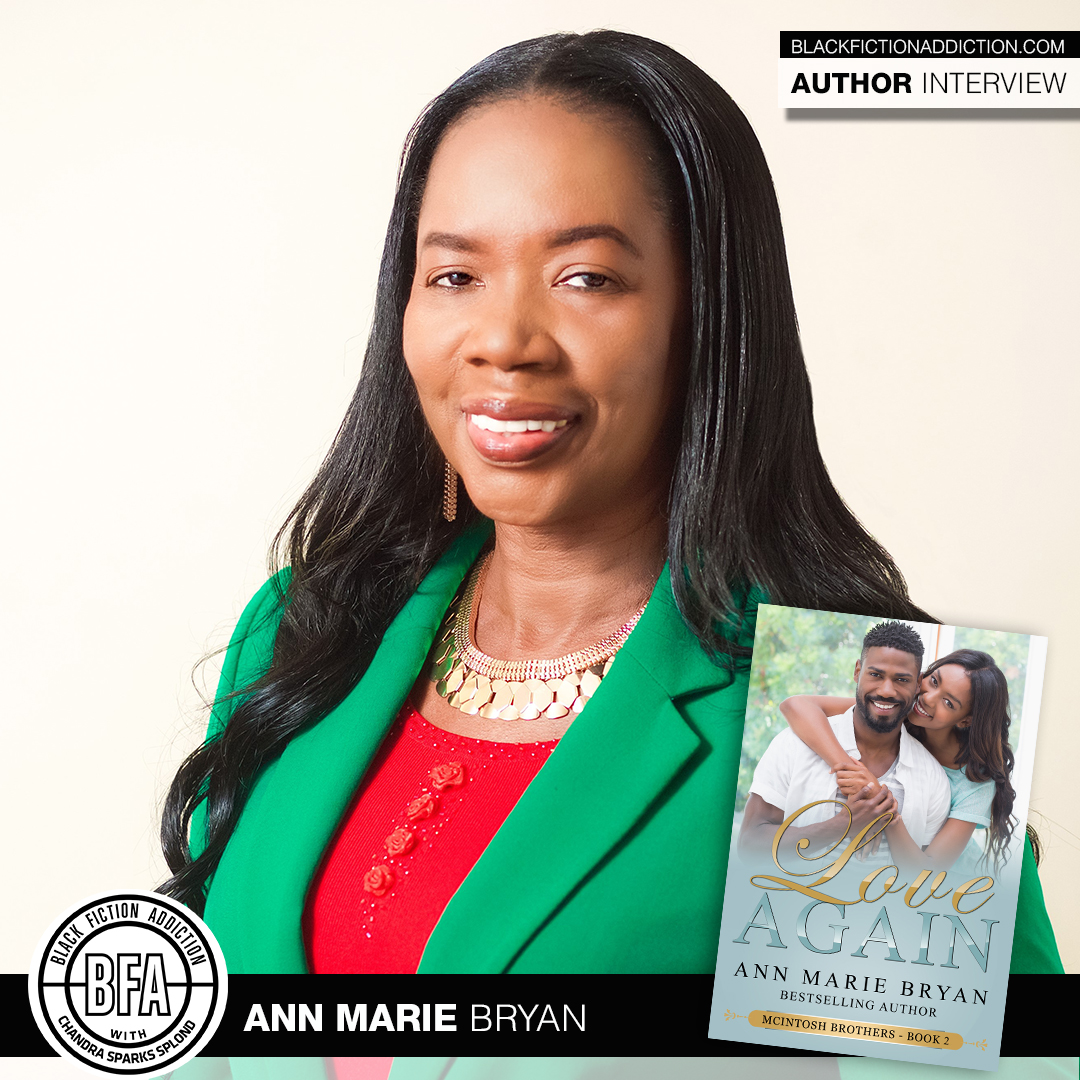 Ann Marie Bryan is back with the second installment of her McIntosh Brothers Series. I recently spoke to her about Love Again. 
Tell me about your latest book. 
Love Again is book 2 in the McIntosh Brothers Series. This standalone novel is a deeply moving story about faith, courage, a second chance at love … and what it really means to be a family. In the novel, readers will follow the love story of Rylan (Ry) McIntosh and Savannah (Sav) McKenzie. When they were young adults, Ry and Sav were deeply in love with each other, but unfavorable circumstances separated them. Now they are thrown back together by a situation none of them saw coming. They battle through the pain of their past as it comes crashing into the present. Will love bloom… again? Sometimes, all you need is a second chance at love. Let the adventure begin ….
Here's the back cover description:
Rylan McIntosh was twenty-three years old when Savannah McKenzie shattered his world. Everything was almost perfect…until she disappeared. Nearly seven years later, Savannah stands before him with not a hint of remorse. The naive young girl is gone and the woman in her place is at the top of her game. She's all glam in a tailored suit, acting like they were nothing more than mere acquaintances. But she's forgotten something—how relentless he can be.
Having experienced more than her fair share of tragedy, the last thing Savannah wants is to contend with Rylan. Back then, she'd surrendered to her feelings for him and conceded to his request for a relationship…well, until she was forced to flee. Seeing Rylan again stirs up buried memories she has no intention of reviving.
All bets are off as they battle through the hurt and pain of their shared past. Savannah begs for a truce and, surprisingly, Rylan agrees. That's until he discovers a web of secrets and lies that run deeper than he could have ever imagined. Still, some connections are too powerful to ignore. Will Rylan and Savannah develop the courage to leave the past behind? Will they allow God to restore what has been broken?
Why did you decide to write it?
For me, writing is a ministry. It's a way to remind readers about God's purpose and plan for their lives, and the wholeness that comes from living a Christ-centered life.
While romance and drama are happening in this novel, the central message is to stay the course as you walk in purpose. In other words, as you pursue your purpose, be relentless, have courage, lift your faith, and trust God that all things are working for your good. Importantly, God takes us out of our comfort zone to stretch us and show us that we can accomplish far more than we think.
The underlying scripture used in Love Again is Philippians 1:6 (NKJV), "being confident of this very thing, that He who has begun a good work in you will complete it until the day of Jesus Christ."
Who is your favorite character in the book and why? 
This is a difficult question because I have invested a lot in these complex characters. It's like choosing my favorite child. LOL!
I enjoyed writing the hero, Rylan McIntosh. Ry is the youngest of the McIntosh brothers. As is characteristic of a last-born child, he is free-spirited, charming, and outgoing. On top of that, he's a physically appealing, highly intelligent, sensitive soul. Ry has a growing relationship with the Lord, and he has a great sense of self. He is relentless in the pursuit of his goals.
What was the hardest part about writing the story?
Writing is a creative endeavor, so I have to carve out time to write and be in the right frame of mind for my creative juices to flow. I write about characters that are complex and layered, so there's always that struggle to make sure the right message flows off the pages.
If you were to write a book about your life, what would be the title and why?
Title: A Purpose Driven Life: Living in My Father's Will.
"For we are His workmanship, created in Christ Jesus for good works, which God prepared beforehand that we should walk in them" Ephesians 2:10 (NKJV). God has a plan for my life, and all I need to do is daily execute that plan. To do that, I must walk in alignment with the Word of God and have a continuous, productive relationship with the Lord. As I seek first the Kingdom of God, everything else will fall in place.
What is something readers would be surprised to know about you? 
My readers know I have a passion for the performing arts, and I have a special love for dancing. I believe the art of dance can be used effectively for worship, evangelism, and discipleship.
I doubt though that my readers know I'm excited to be awake in the morning because as soon as my feet hit the floor, I'm ready to dance. This is a part of my routine to prepare me to tackle my daily tasks.
Tell me about a book that changed your life and why. 
The Bible, the life-changing Word of God, changed my life. It continues to give me everything I need for each leg of my journey.
What's next for you?
I'm excited about my writing journey, and I'm grateful for my readers and the opportunity to share with others. I just wrapped up Love Again, book 2—McIntosh Brothers series, so I'm thinking about writing Trust Again, book 3.
In addition, I want to stay connected with my readers, so I'm building a community of readers that will engage with each other and show up as themselves.
Do you have anything you would like to add?
Thanks, Chandra, for this wonderful opportunity. All the very best in your endeavors.
---
Use the Black Fiction Addiction affiliate link to purchase your copy of Love Again.
---
 About Ann Marie Bryan
Ann Marie Bryan is an entrepreneur, bestselling author, and writing consultant, with more than a decade of experience providing top-notch literary services and innovative personal and professional development solutions to clients. As Founder and CEO of Victorious By Design, she uses her extensive knowledge and experience in human resources, information technology, banking, and writing to bring a well-rounded perspective when working with clients.
A Christian fiction author, Ann Marie writes to inspire and empower others. Her celebrated bestselling Encounters of the Heart series, blends faith and romance that test the resilience of love. In addition, Ann Marie serves as the Editor-in-Chief of VBD Magazine, a quarterly literary and empowerment resource for the faith-based community. When she is not writing and training, Ann Marie enjoys speaking at conferences, retreats, workshops, and special events.
Ann Marie's greatest passion is to empower others to succeed by tapping into their God-given potential. She enjoys writing, reading, dancing, teaching, meeting people, and traveling. With all the knowledge and experiences that God has so graciously blessed her with, Ann Marie is determined to make her life a ministry for the Lord.
Stay Connected with Ann Marie Bryan
Website: http://www.annmariebryan.com
Facebook: https://www.facebook.com/authorannmariebryan
Facebook Readers' group: https://www.facebook.com/groups/authorannmariebryan
Twitter: https://twitter.com/authorabryan
Pinterest: https://www.pinterest.com/authorabryan
Instagram: https://www.instagram.com/authorabryan
Newsletter: http://eepurl.com/bOw6sr
Amazon: http://www.amazon.com/Ann-Marie-Bryan/e/B008VTK62O
Goodreads: https://www.goodreads.com/author/show/6448888.Ann_Marie_Bryan