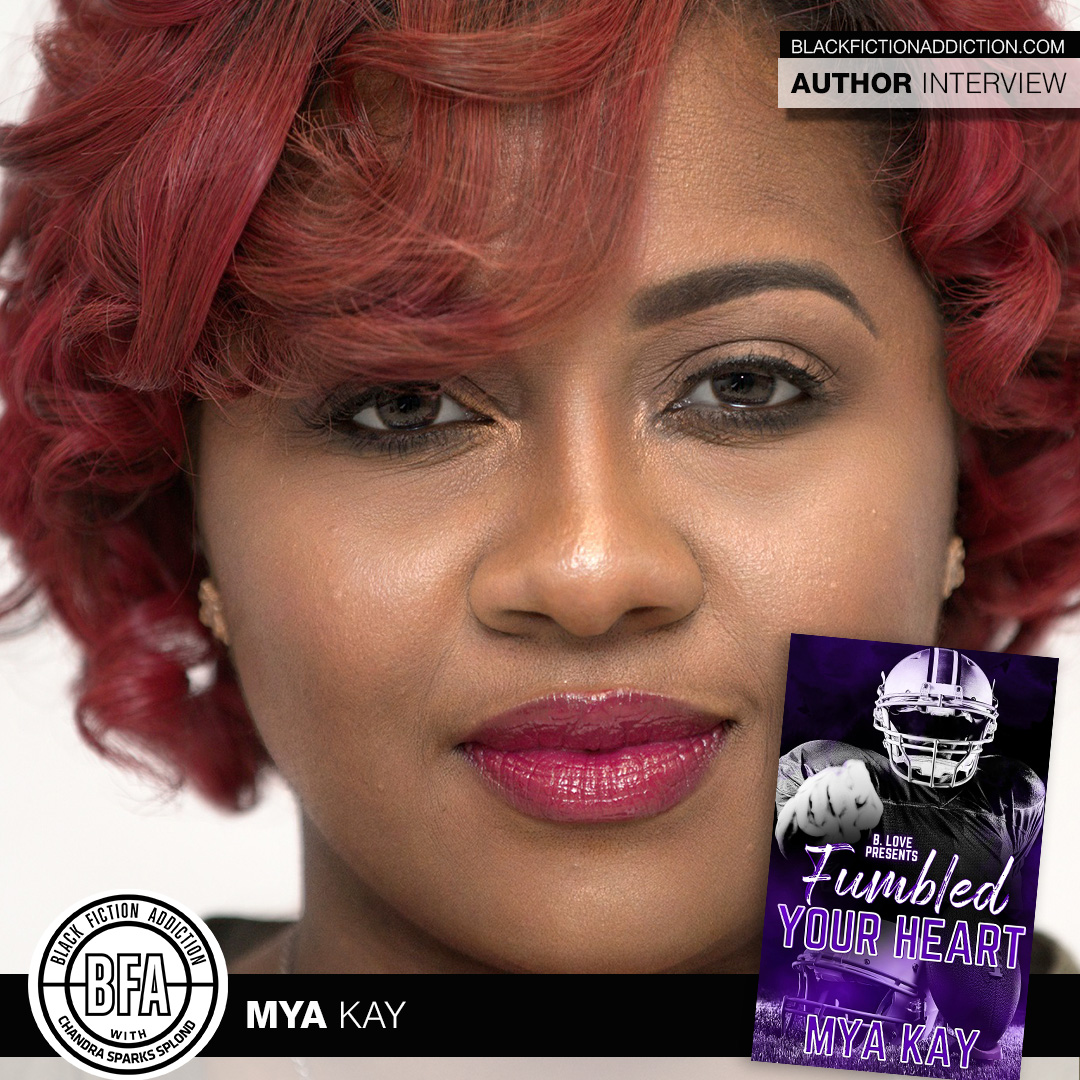 Author Mya Kay was destined to be a writer. Now that she's put pen to paper, there's no turning back. I recently spoke with her about her latest release, Fumbled Your Heart.
Tell me about your latest book.
Fumbled Your Heart is about a young black Christian couple, Trent and Jezzy, who fell in love in high school. They were truly best friends who both wanted to conquer the sports world together, her as a sports agent and him as a football player. One day, he sees her coming out of a place that he never thought she'd even go to, because it would mean she broke her promise to him. It really broke his heart, and just like Quincy in Love & Basketball, he reacted out of emotion. So, in essence, he fumbled her heart accidentally. When they reunite 10 years later, the truth comes out but they both are engaged and have moved on. Or have they?
What inspired you to write it?
Fumbled Your Heart is my pride and joy when it comes to Christian romance.
It's the reason why this is the third time it's being released. I wanted to challenge myself and write about a sport I don't watch or know a lot about. I'm a basketball fan, but I wanted to write a football story. Writing a story about a football player who fumbled his woman's heart was a huge challenge. I also believe football and love are very synonymous. A lot of terms in football can be associated with love. I also wanted to tell a black, Christian love story that was rooted in a space (sports and entertainment) where sex is easy to come by. It allowed for more challenges, and I had to come up with unique ways for my characters to overcome those challenges.
When did you fall in love with the written word?
I fell in love with books at five. I was named after Maya Angelou, and I always knew I would have something to do with books. I really fell in love with writing after reading books by Sheneska Jackson, Victoria Christopher Murray, Sheila Copeland, Karen E. Quinones Miller and others while I was in high school. I realized that black writers were really penning our stories, and it made me want to take part.
What's the best part of being an author?
Being able to touch people with my words. With The Storms of Love Series, women were writing Amazon reviews saying it made them want to get back to reading their bible and made them analyze their own walk with Christ. That means the world to me because Christian romance is really a niche lane, which means it's still growing.
I also love writing love stories about our people. Some of us grew up in homes that were loving, but somewhat toxic when it came to romance. So, being able to re-create love stories that are healthy (not perfect) gives me an opportunity to encourage women to do it God's way and not to settle.
What's the hardest part of being an author?
Building a readership. I've written 17 books, and I really just started to build traction with my readership. Sometimes, trying to get a seat at the table with a major publishing deal is very challenging, so you have to create your own table. But then, that causes you to have to wear all the hats, and I just want to write. I'm not saying I don't work hard, because I'm a natural born hustler, but sometimes, when you're the writer, marketer, designer, etc., it can really drain your energy. When you go to write your next book, you have to pull from the same place you just pulled from for all those things.
What books have you read lately and loved?
I've been reading a lot more non-fiction, just to have balance. Which is funny, because I read Balance by my pastor, Touré Roberts, which was very good. It gives a healthy perspective on what it really means to have balance and how it's more a state of being than an act of having it altogether. I also like read out of my genre. I just finished a middle grade book, the third book in a series about a girl named Mango (Mango All the Time). Lastly, I just read two books by Lakisha Johnson. I love authors who can keep my attention without sex and vulgarity. I write sweet and clean romance, so when I do read romance, I want the same.
What book(s) are you most excited to read next?
I'm re-reading Victoria Christopher Murray. I met her the weekend of October 28th of this year. I had a chance to pitch a YA romance to her. She was a judge on the panel for a reality show I got picked as one of 100 semifinalists to film for. While I didn't get picked to pitch in front of the audience, I had a one-on-one with her. It meant the world to me to hear her say she loved my pitch and for her to tell me to email her so she can assist me with it. With that, I'm starting her whole collection over. I'm also interested in trying a few of Jasmine Guillory's books.
Who would you cast in a movie to play your main characters?
For Fumbled Your Heart, I would love for Michelle Mitchenor or Renelle Nicole to play Jezzy. For Trent, I would love for Peyton Alex Smith from All American: Homecoming to play him. I think their looks fit how I visualized them.
What's next for you?
I have another Christian romance novel dropping sometime during the end of the first quarter or the beginning of the second quarter. Then, my memoir is next. More details to come on both. Sign up for my email list to learn more: http://eepurl.com/hVsnxL
Do you have anything you would like to add?
I know it's hard waiting for your mate when you're a believer. I know that the world tells us that it's taboo to wait on God for a mate or sex, however, it is worth it to do it God's way. I'm waiting, and while it has been five years, I know that it will be worth the wait. My stories are built around women who are in their 30's and 40's who are focused on purpose and are believing God for a mate. Healthy love is the best love.
---
Use the Black Fiction Addiction affiliate link to purchase your copy of Fumbled Your Heart by Mya Kay.
---
To learn more about author Mya Kay, visit her website or connect with her on social media.
Contact: @writermya on all social platforms
Website: www.writermya.com
Email List Sign Up: http://eepurl.com/hVsnxL