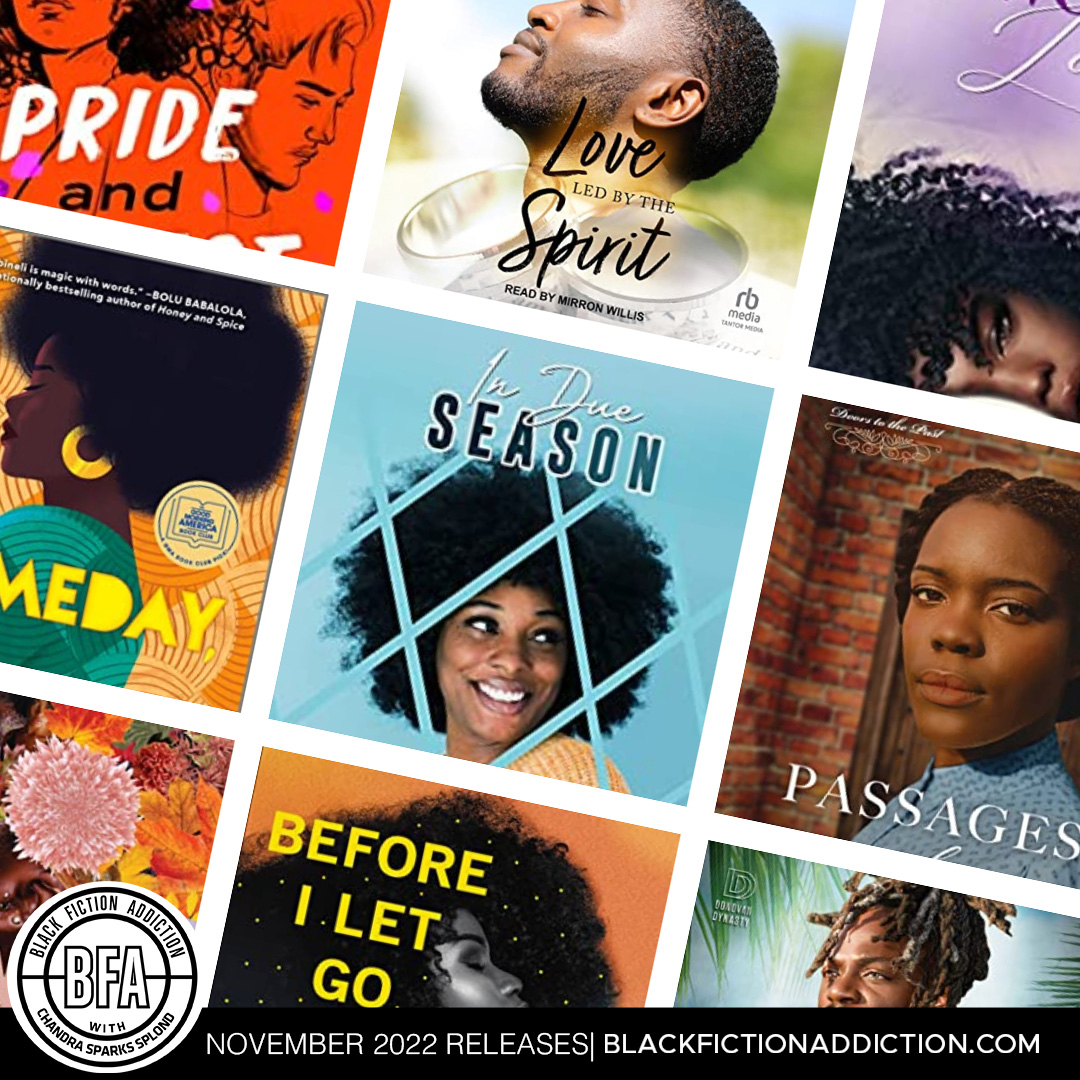 Thanksgiving has come and gone, but it's the holiday that keeps on giving thanks to some amazing releases. Check out these black books released in November 2022.
A.C. Arthur
New beginnings…
Talaya Richmond is content with her life as a social care worker in London where nobody knows her father was a notorious serial killer. The notion that nefarious tendencies could be passed via DNA still haunts her, but she's determined to build a new life, one where pain and despair are distant memories. A meeting with billionaire oilman and infamous playboy, Ridge Donovan, should have been routine. Instead, it opens a door to dark desires she never knew she possessed.
CEO to Donovan Oilwell UK, Ridge Donovan believes he's back on track after his mother's death two years ago. New house, new car, new position—all things he'd made an easy transgression toward, but the one thing he's determined to hold on to is his never-lose-his-heart mantra. That is, until Talaya Richmond interrupts his morning routine with claims of a paternity suit and an undeniable sensuality that incites his deepest cravings.
Old secrets…
While intent on unraveling the tale spun by a previous one-night-stand, Ridge is drawn closer to the alluring Talaya and the haunting pain in her eyes. When he learns Talaya is a murder suspect, instead of walking away—because their bond over shared trauma has become unbreakable—Ridge whisks her away to the safety of Sansonique, his family's private island. Amidst the pristine beauty of the Caribbean, two headstrong strangers struggle to make peace with their past demons, prepare for a confrontation with a killer and embrace a passion that just might destroy them.
---
Love Belvin
Ojasvi "Sin" Sinclair.
Fast-forwarding three years after it was finally revealed, what's in a name?
Ashira now knows the man she once thought of as a felon laborer is far more than the task she'd bargained for. Yes, he's a convicted felon who works in home-building. He's also convicted in his spiritual walk, a savvy entrepreneur, laboriously supportive, a tad insane, and has possibly run out of patience for her.
He's also the father of her three-year-old child.
Find out how Jas and Ashira navigate through pain, resentment, acceptance, and co-parenting, while remaining solid for their child, and being true to themselves.
Is there room for them to say more? Or should they simply say less?
Publisher's Note: "The Promise" is book THREE of a THREE book series. This book contains angst, violence, profanity, sexually explicit content, and potential gory material. If any of these elements is not what you prefer between the pages of a novel, this is not the venture for you.
---
Kalisha Buckhanon
A suspenseful, truthful look into the lives of women who drink to survive or just to cope, with a provocative narrator who carries readers along an emotional journey to acceptance.
Tragedy and Victor Powell have moved to the desirable but dark Grayson Glens enclave of dream homes just outside of Chicago. Stressed urbanites, they've got to live large in real life to stay large online. With only a few blacks in their elite gated community, they settle in but never quite feel at home. Then, a missing young black woman floats up in the Grayson River.
Is the spirit of the mysterious scarlet-lettered woman, Raven McCoy, haunting Grayson during the pandemic?
Tragedy, haunted by her own difficult checkered past versus Victor's sterling history, thinks so. The pressure to manage his image for profit drives her to drink, even when his trying teen daughter visits. But Victor's ex-wife, the Grayson gossip and a female detective all close in on Tragedy's unraveling life. Then Tragedy spirals into addiction, past secrets and the local women's fight for justice for a woman.
---
Khara Campbell
Thirty-three-year-old Antwain Hall felt he had no choice but to lean on his faith in God when his world was tossed upside down. Forty-five-year-old Tanya Freeman, on the other hand, had walked away from her faith because she felt it no longer served its purpose in her life – her prayers had gone unanswered for years. She finally come to realize that God's timing is far different from her own. Everything happens in due season, which is when Antwain's and Tanya's lives cross paths.
---
Dhonielle Clayton, Tiffany D. Jackson, Nic Stone, Angie Thomas, Ashley Woodfolk, Nicola Yoon
Atlanta is blanketed with snow just before Christmas, but the warmth of young love just might melt the ice in this novel of Black joy, and cozy, sparkling romance—by the same unbeatable team of authors who wrote the New York Times bestseller Blackout!
As the city grinds to a halt, twelve teens band together to help a friend pull off the most epic apology of her life. But will they be able to make it happen, in spite of the storm?
No one is prepared for this whiteout. But then, we can't always prepare for the magical moments that change everything.
From the bestselling, award-winning, all-star authors who brought us Blackout—Dhonielle Clayton, Tiffany D. Jackson, Nic Stone, Angie Thomas, Ashley Woodfolk, and Nicola Yoon—comes another novel of Black teen love, each relationship within as unique and sparkling as Southern snowflakes.
---
Mel Dau
Elora St. John has more to offer than the eyes can see. The quiet but quirky librarian lives a double life that she takes great pleasure in. Although her life can be quite magical at times, it proves to be a lonely one. What happens when an unexpected person offers a magic she didn't think she would ever be blessed with? Will her double life taint what is, or will it add an excitement that can only be manifested in a spell book?
Bain Stockman is the new fish in town and every woman wants him on her hook, but the bait is never worth biting. Moving to Ashville, North Carolina to be closer to his grandmother, he never imagined he would fall for two women at the same time. They're so different, but the same in many ways. Quiet and naughty can be a magical concoction. What happens when his two worlds collide in the most interesting of ways? Will he end up brokenhearted or caught under a spell?
It's a magical world we live in. Nature, naughtiness, and love are all the ingredients needed for the most powerful spell. Being naughty can be fun, but being a Naughty Nymph can be magical.
---
Nicole Falls
Kalise Worthington has a lot on her plate. From moving back home to corral the family business and dealing with her father's declining health, she's in the midst of trying to juggle it all and maintain her sanity. Being thrust back into communication with her former best friend, is yet another complication that she doesn't need…
Wayland Preston is desperate to get things back to the way they used to be with his best friend. Completely aware of the missteps he'd made in the past, he's now willing to fight to restore things to the way they used to be. His only problem is getting Kalise on board with this reconciliation.
Two people who were once as close as can be are now faced with not only trying to restore that friendship, but also contend with navigating through recently developed feelings of attraction and not blowing everything up.
---
Where There Is Smoke, There Is Fire
Monique Fisher
When Aaron "Smoke" Tompkins and Kara Matthews first meet sparks fly, but Kara isn't looking for love having just ended things with her boyfriend. Aaron isn't willing to give up, and their occasional casual hook-up quickly evolves. After a grave mistake that almost ends their relationship, he decides to fight for Kara. There's no way he's walking away now.
Aaron may not be the type of man Kara saw herself falling in love with—a tattooed, strong silent type who's rough around the edges–but he proves himself to be the type of man she needs. Their steadfast commitment to each other gets them through life's rough patches and takes them on a journey they never expected…
Where There is Smoke, There is Fire is a Black, contemporary take on the epic love story. Aaron and Kara's journey is what happens after the "Happily Ever After."
---
Rina Gray
Penny Paige is an aspiring novelist and current ne'er-do-well entertainment writer-slash-waitress. She knows she doesn't have this whole thing called life together. But she's got plans. Big plans. And they hinge on winning the coveted Malcolm Dagner Writer Fellowship for up-and-coming thriller authors. If she could just get enough time and money to write her sure-to-be New York Times Bestselling Novel, she can quit her crappy job and transform from a diamond in the rough to a sophisticated author.
There's just one problem: Malcolm Dagner ended the fellowship, and he kinda hates humanity. He rudely lets her know that there's no way in hell he would give her a spot, even if he had a fellowship.
Just who in the hell does Malcom Dagner think he is?
Malcolm lives in solitude among the mountainous woods in Colorado, with only the occasional company of his housekeeper. A few years ago, he was a multi-award winning and best-selling author who penned the iconic Reese Masterson books. But after a series of heartbreaking events, he's grumpy, distrustful, and absolutely will not tolerate strangers coming to learn about how to write in his home.
Oh, and he has writer's block.
The world has been waiting for three years for the latest book, but what they don't know is that Malcolm plans to kill off his iconic character.
Penny discovers his plans to kill his character, and she's not having it. Mother Nature seems to be on her side, too. Stuck in a snowstorm together, Penny falls for the loveable grump, though his heart seems as cold as the winter storm. Can her optimism melt his resolve at living unhappily ever after, or will another event outside of their control destroy their shot at love?
---
Sherelle Green
Midas Hood
I don't know how I found myself in this situation. Seriously, I should have known better. I was ready to hand over my f-boy card, until I was presented with an offer I couldn't refuse. Now, I'm in a predicament I never saw coming. My first rule in celebrating a naughty holiday is to never confess anything in bed that could come back to haunt me in the light of day. And I swore I'd never forget that notion… Until the object of all my frustrations – and obsessions – comes walking through the door of my place looking gorgeous, determined, and out for blood. Particularly mine.
The smart thing to do would be to warn her to stay as far away from me as she can. She's forbidden fruit and an affair with her could turn my world upside down. Yet, the more I get to know the real her behind the mask she often wears, the harder it is for me to stay away. Especially when she begins peeling back my layers and exposing secrets I've kept for too long.
Do you like your holidays naughty? The Hoods do! However, they don't celebrate your average holidays. A kinky holiday is the only season they know. For these cousins, nothing says brotherhood like being part of the crew others assume will fail. Get ready! Naughty Season is upon us.
---
Terri J. Haynes
Discover the Story Behind a Secret Passageway
Walk through Doors to the Past via a new series of historical stories of romance and adventure.
Gracie Kingston begins renovations on the Philadelphia house inherited from her grandmother and finds a secret room. It is connected to a house nearby, the home of William Still, the man known as the father of the Underground Railroad. As she researches, she discovers a mystery in her house's ownership. In 1855, Olivia Kingston helps a mother and her young child by hiding them in a secret room in her home. As she helps, she learns that there may be an impostor conductor in their community. As Gracie's and Olivia's stories intertwine, they learn the meaning of sacrifice and love.
---
Tatum James
When you can't get over the one that got away, do you spin the block or live with your regrets?
Summer Day owns a vegan bakery and ice cream shop. The free-spirited beauty lives life on her own terms. After being let down time after time, she gives up on love vowing to get her gratification through flings and carry on in solitude with her heart intact.
An avid businessman, Emerald Pike Jr., runs the Pike family empire a little different than his father did. After learning that his father's infidelity resulted in an outside child, his faith in him crumbles. In questioning the decisions he made to stay in his father's good graces, Emerald looks back in time to the woman he knew was his one great love… his sister's best friend.
A force stronger than pride draws these two back together, but will they finally get their happily ever after?
---
Christina C. Jones
Nalani's first thanksgiving as lady of the Sterling house will certainly be one to remember… (lady of the house is a sexy, very short story.)
---
Mya Kay
It's been three months since Bliss and Montez broke up, but Montez knew that no matter what, he would fight for Bliss. Taking the job in California was his way of putting God to the test. If Bliss was meant for him, she'd come back to him someway somehow.
Bliss is now dating Ahmad Drummond, a man that's giving her everything she needs, including local love. Sure, there are some red flags and things that irritate her about him, but nobody's perfect, right? Just when she thinks things couldn't be better, she breaks things off with Ahmad when he pulls a move that makes her uncomfortable.
Burdened with the realization that she's had two breakups in one year, Bliss cries out to God. This isn't how she expected to be introduced to her fortieth birthday, which is on the horizon. Just when she thinks all is lost, Montez returns to Philly three days before Thanksgiving and asks her to let him prove his love.
Starting on Thanksgiving Day, he challenges her to give him thirty days to sweep her off her feet and promises that by Christmas, she'll have the best gift she's ever received. She agrees, but things are already off to a rocky start when her mother's judgmental and controlling ways show up on Thanksgiving, her brother's codependency sends Montez reeling, and her own fears of losing herself in love start to surface.
Will Montez and Bliss be able to weather all the storms that'll come in the next thirty days, or will they both realize that it's just a little too late for their love?
Find out in this final installment of the Storms of Love series.
---
Eriq LaSalle
From actor, director, producer, and author Eriq La Salle, comes the first in a heart-pounding crime thriller series. Every ten years, for the past 30 years, a dozen clergymen are killed, brutally murdered in twisted scenes emulating the deaths of Jesus and his disciples. Now, "The Martyr Maker" has set his mark on New York City.
30 years. 36 priests butchered. His bloodiest masterpiece is yet to come.
The Laws of Depravity follows two NYPD detectives and an FBI agent as they race to catch a serial killer before he completes his last cycle of kills and disappears forever.
Clerical transgressions at the heart of Spotlight meets the visceral horror of Thomas Harris's Red Dragon, for a gritty, dark story about of how some of the most trusted members of society fail. The Laws of Depravity raises eye-opening questions about faith when the lines between good and evil have blurred beyond recognition.
---
Alexa Martin
As a self-proclaimed book hater and a firm believer that the movie is always better, Drew Young didn't anticipate inheriting her grandma's bookstore, the Book Nook. She's in way over her head even before the shop's resident book club, comprising seven of the naughtiest old ladies ever, begin to do what they do best—meddle.
Bestselling author Jasper Williams is a hopeless romantic. When he meets Drew at his Book Nook signing event, he becomes determined to show her the beauty of reading. He curates a book bucket list in exchange for her help exploring the local Denver scene for his current manuscript. From going river rafting to trying local restaurants, Drew begins to connect with Jasper in a way she only thought happened in fiction.
When messy family ties jeopardize the future of the Book Nook, Drew is caught between a bookshelf and a hard place. She's reminded that real life isn't always big dreams and sweeping romance. But Jasper is the plot twist she never saw coming and he's writing a happily ever after just for them.
---
Tina Martin and Stephanie Nicole Norris
When love and danger collide…
Wasn't Supposed To Love Her by USA Today bestselling author Tina Martin
Ex-soldier Royce Pembroke has a new assignment on the anti-human trafficking task force – to monitor Makeena Ellison who's just been trafficked in an undercover operation. She's young, vulnerable and naïve. Royce's team is bent on bringing the traffickers to justice, but he's constantly distracted by this beautiful young woman who's desperate for love. Can he focus on his assignment without catching feelings?
Mistaken Identity by USA Today bestselling author Stephanie Nicole Norris
Identical looks were their only commonality.
For Tiana, life is one challenge after another, but her greatest struggle is sharing a face with the sister she despises. Briana seems to have it all when her charmed life is ripped apart, and memory loss leaves her uncertain of who she is. With the help of a handsome stranger, Briana's new life and love blossom, but Tiana won't rest until Briana has no life at all.
---
Vanessa Miller
Another storm is on the horizon for the Reynolds women. And the only way out is to go through it.
Good things never happen in November—at least not for the Reynolds women. It was the month they lost their patriarch. And the month when fourteen-year-old Trinity went missing during a tropical storm. So Hope Reynolds isn't surprised when it becomes the month she walks in on her boyfriend kissing another woman. Or when she receives a panicked call from her mother about a mistake that could cost the family their treasured beach house.
Meanwhile, Faith Reynolds-Phillips is facing her own financial struggles. She's also looking down the barrel of divorce and raising a daughter who reminds her so much of her younger sister, Trinity, that sometimes it physically hurts. The last place Hope and Faith want to be is in Hallelujah, South Carolina, during hurricane season. Going home will force them to confront the secrets that have torn their family apart. But if they can survive another storm, they'll have a chance to rebuild on a new foundation—the truth.
In the latest novel from prolific writer Vanessa Miller, three women must find the strength to endure the storm and the faith to believe in a miracle.
---
K.C. Mills
Fated Bonds are nothing to take lightly. Jo wasn't the type to settle because she knew her mate was out there somewhere. When her Alpha attempted to claim her, she had no choice but to run. Jo became a lone wolf and would run as long as she had to because the alternative was far worse -spending an eternity with someone she wasn't destined to be with.
Laz understood what it meant to have a mate. His mother had warned him that one day the right wolf would enter his life and turn his world upside down, however no warning could have prepared him for the intense moment when he laid eyes on his little wolf – an Alpha just like him.
Welcome to Hollow Grove where things go bump in the night!
---
K.C. Mills
MyZell is a force to be reckoned with. He's handsome, paid and mysterious. He's every woman's dream. The fact that no one knows much about him, only makes women want him more. His only concern is making money and keeping his sister out of harm's way. MyZell learned the hard lesson that the more people know, the more power they have.
Ryan fell in love with the wrong man, she gave him her all, and all he gave her was four years of heartache. He loved her, but not in the way she needed or deserved to be loved. Polo blamed it on the fact that he was young and not ready, but she knew it was simply because he was selfish. The only way to escape his deadly love was to run and not look back. She ends up in Miami where she crosses paths with MyZell, who saves her from a bad situation and possibly her past, only he doesn't know it yet.
Ryan and MyZell both have pasts that haunt them, but when the find each other, will they be able to build a future together? Or will they get caught up trying to right their wrongs and never truly move on?
---
The Way You Make Me Feel
Tay Mo'Nae
Solange suffers a blow when her boyfriend steals her money and leaves her without a trace. Forced to put the pieces of her life back together, she's left with a broken heart and spirit. Going to Jamaica for her best friend's wedding is the last thing she wants to do, but she refuses to let her down. The last thing she expected was to run into him, the man she turned down years ago, nor did she expect for him to leave his mark on her this time around.
https://payhip.com/b/0Ge4D
---
Onyi Nwabineli
Here are three things you should know about my husband:
He was the great love of my life despite his penchant for going incommunicado.
He was, as far as I and everyone else could tell, perfectly happy. Which is significant because…
On New Year's Eve, he died.
And here is one thing you should know about me:
I found him.
Bonus fact: No. I am not okay.
Someday, Maybe is a stunning, witty debut novel about a young woman's emotional journey through unimaginable loss, pulled along by her tight-knit Nigerian family, a posse of friends, and the love and laughter she shared with her husband.
---
Nikki Payne
Liza B.—the only DJ who gives a jam—wants to take her neighborhood back from the soulless property developer dropping unaffordable condos on every street corner in DC. But her planned protest at a corporate event takes a turn after she mistakes the smoldering-hot CEO for the waitstaff. When they go toe-to-toe, the sparks fly—but her impossible-to-ignore family thwarts her every move. Liza wants Dorsey Fitzgerald out of her hood, but she'll settle for getting him out of her head.
At first, Dorsey writes off Liza Bennett as more interested in performing outrage than acting on it. As the adopted Filipino son of a wealthy white family, he's always felt a bit out of place and knows a fraud when he sees one. But when Liza's protest results in a viral meme, their lives are turned upside down, and Dorsey comes to realize this irresistible revolutionary is the most real woman he's ever met.
---
Kennedy Ryan
Their love was supposed to last forever. But when life delivered blow after devastating blow, Yasmen and Josiah Wade found that love alone couldn't solve or save everything.
It couldn't save their marriage.
Yasmen wasn't prepared for how her life fell apart, but she's is finally starting to find joy again. She and Josiah have found a new rhythm, co-parenting their two kids and running a thriving business together. Yet like magnets, they're always drawn back to each other, and now they're beginning to wonder if they're truly ready to let go of everything they once had.
Soon, one stolen kiss leads to another…and then more. It's hot. It's illicit. It's all good—until old wounds reopen. Is it too late for them to find forever? Or could they even be better, the second time around?
---
Reese Ryan
Opposites do more than attract when an older woman falls for a younger man in Reese Ryan's brand-new Harlequin Desire series, Valentine Vineyards!
A red-hot romance between a career-focused woman and a determined younger man?
Doctor's orders!
Dr. Julian Brandon is too charming, too sexy and too young for Chandra Valentine. But after the successful bachelor rescues her—twice—she owes him. Still reeling from life-changing family revelations, Chandra somehow agrees to pose as Julian's girlfriend. And now the irresistible Julian has plans that start with seduction under the mistletoe and end with their fake relationship erupting into a scorching affair. Now Chandra's questioning everything she believed about love…
---
Danyelle Scroggins
He's young, rich, intelligent, tall and ready to settle down.
I'm Louisiana thick, curvy, and I'd like to say fine because it fits, and I keep trying to talk myself out of love.
And as fate would have it, I'm stuck in his home on Christmas Day.
Being an assistant, to Destiny- the owner and lead decorator at Dobrielle's-has good and bad qualities. It's one of Louisiana's largest and most sought after design firms. And I'm leaning but eager for my opportunity to shine.
I get big coins, but I'm still only my boss's assistant. She gives me the job to decorate the office Christmas tree, and I understand this could open doors.
Like the scripture my grandpa always quotes, 'If you be faithful over a few things, God will make you ruler over many.'
Well, I'm faithful.
So much so that I'll neglect going to the office party so I can decorate for the rancher, Luca Stone.
Now, that I'm snowed in with him, he's already made it clear…
I'm His for Christmas.
---
Day Not Promised: The Intercessors
Pat Simmons
Omega Addams thought it was a typical work day until a detour on the way home changes everything. She's almost killed, but an innocent bystander, Mitchell Franklin, takes a bullet for Omega during a gas station robbery.
In the aftermath, Omega has no idea that God expects her to "pray it forward" until a spiritual battle unfolds before her eyes. Another innocent bystander is in trouble; unless Omega gets her prayer life together, others will die without Christ. It's a chain reaction that highlights the responsibility of a Christian–hot, cold, or lukewarm. It's time to get our acts together. We are our brother's keeper.
---
Love Led by the Spirit (audio)
Pat Simmons
Minister Rossi Tolliver is ready to settle down, but there is a good reason he isn't married. Besides the outward attraction, he desires a woman who is sweet, humble, and loves the Lord.
As the family minister, everybody had an opinion about what type of woman would be his perfect mate: one not prone to anger, have a gentle spirit, be kind to others, and be a faithful churchgoer. What an impressive resume. They were all good qualities, but his family had forgotten the most important criteria: She had to have his heart.
After praying for years for the "one," Rossi knew what woman could complement him. Who was he kidding? Jesetta "Jet" Hutchens couldn't claim three out of five, or even two, and she was due in town in a couple of days. What was he going to do?
Keep praying, the Lord whispered.
Jet lives by her own set of rules. Love is the farthest thing from her mind. But Rossi, the man and the minister, is hard to resist. Is Jet ready to allow the Holy Spirit to lead her to love?
---
A.E. Valdez
Publicly humiliated, Marisa Banks is blindsided by the news that the man she's been dating for months is married. Being called names she wouldn't wish on anyone in front of a room full of people by her boyfriend's wife is enough to shake her identity to its foundations. In an attempt to rebuild, she makes a few questionable decisions.
Asher Blaine is one of them. He's intelligent and sexy, but the pedestal he's got himself up on is unshakeable. Or so he thinks. Marisa asks for the one thing he can't deny her, even if it's the craziest thing he's ever done.
She wants one night, his best eight hours. And damn if he doesn't deliver. The next morning, her bubble is shattered by his loud mouth, and Marisa retaliates with a stiletto and a remote. The best night of her life is over, and she's more than happy to walk away a free woman.
Asher's job sends him to Marisa's city, and when they cross paths again, it's Asher's turn to make an offer. And just like him, she can't refuse.
Will her worst nightmare and his complicated past ruin what they're building, or can they lean on one another to make it through?
---
Denise N. Wheatley
Can they find justice
Before one of them dies?
When her body is found on a hiking trail, deputy sheriff Todd Jacobson believes his sister was murdered. Her best friend, private investigator Elle Scott, agrees to help Todd prove it. When she infiltrates an unusual, elite social club, Elle becomes embroiled in a scheme of high-stakes payouts and deadly consequences…and Todd realizes he's Elle's only hope against becoming a corpse under the tree this Christmas.
---
Preslaysa Williams
It was supposed to be the happiest day of Jaslene Simmons' life, the day she'd say "I do" to Marcus Clark. But when her sister dies in a tragic accident everything changes—including her once rosy future with Marcus. Jaslene instead pours all of her energy into caring for her now-motherless niece and running the wedding planning company she and her sister had built, wanting to honor her sister's dream even if she has to sacrifice her own.
As an archivist at Charleston's Black history museum, Marcus shines a light on the stories of forgotten people. Researching history is better than dealing with his own heartache—and the guilt he has over the role he may have inadvertently played in the death of Jaslene's sister.
Jaslene never thought she'd cross paths with Marcus again, but her need for an affordable office space brings her to the museum which is faced with the threat of closure. As they work together to save it, their buried feelings slowly reignite. They soon realize there is still room in their hearts for love…if only they can overcome their past.
---
Synithia Williams
Their romance has an expiration date.
When a kiss at a reality TV wedding is caught on camera, there's only one way to save his reputation and her career. Now paranormal promoter Tyrone Livingston and makeup artist Kiera Fox are officially dating. But their fake romance can't go on forever. Is Tyrone the love 'em–and–leave 'em player portrayed by the media? Or can a relationship with an agreed-upon end date turn into a real and lasting love?
---
T. Wendy Williams
Seventeen-year-old Madeline Richardson's lifelong dream of attending Juilliard is about to come true–or is it? A life-changing discovery threatens to put her classical concert pianist career on hold, and her father's demands have her unsure of her future. A future that includes a lover, whose involvement with her puts him in a precarious position where his chances of playing in the NBA as well as a coveted spot on the U.S. Olympic basketball team–hangs in the balance. "A Melody for Madeline," weaves an intimate tale of one girl's thrust into the complexities of adulthood. Madeline no longer sees life with childlike innocence but as a young woman whose decisions suddenly have her playing a different tune.