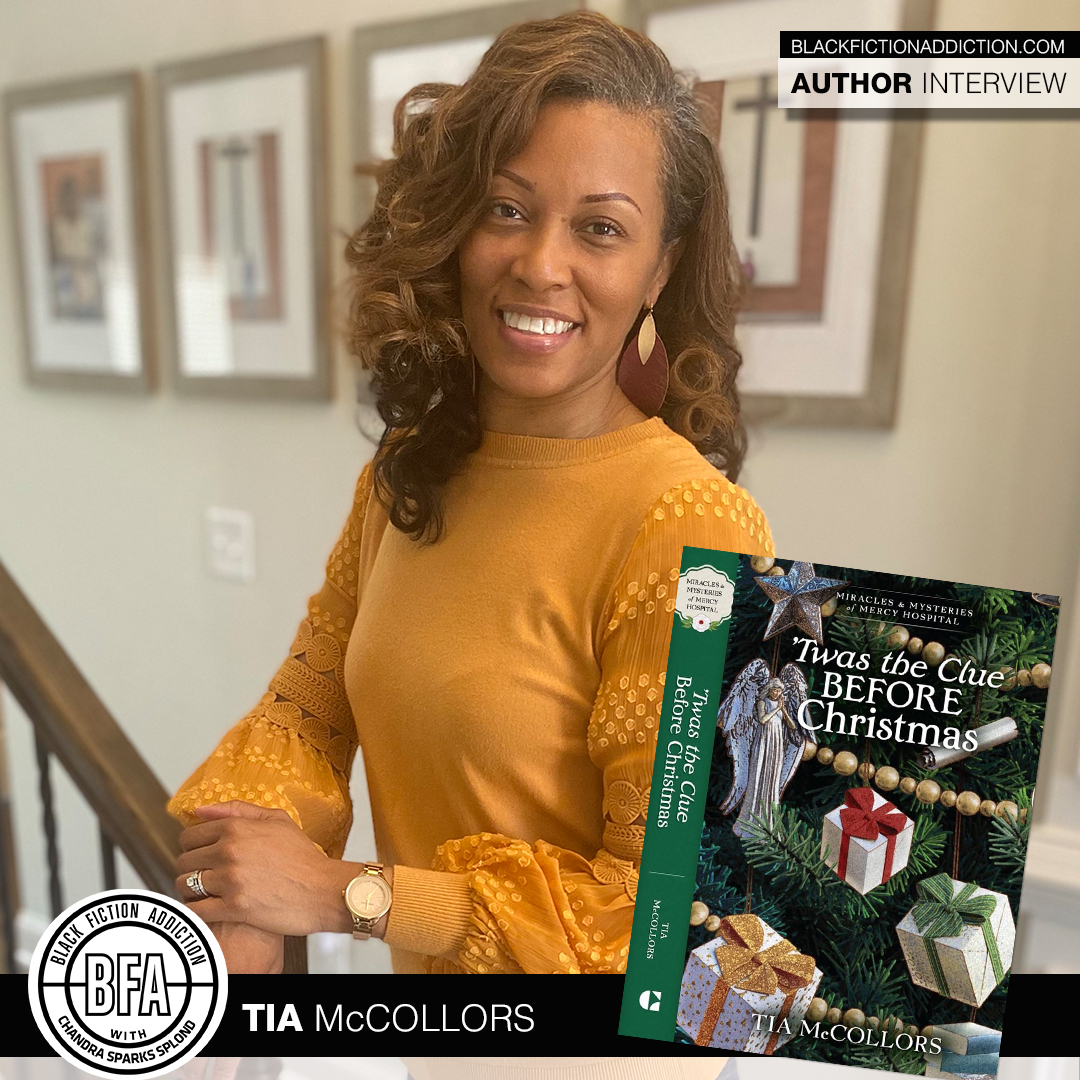 Author Tia McCollors is giving us an early gift with her latest release, 'Twas the Clue Before Christmas.
Tell me about your latest book. 
My latest book is 'Twas the Clue Before Christmas. It the last book in a 19-book collaborative cozy mystery series with Guideposts called the Sweet Carolina Mysteries (formerly Miracles and Mysteries of Mercy Hospital series). It's told from the point of view of Shirley Bashore, a beloved nurse at Mercy Hospital and one of four amateur sleuths.
Longtime Charleston resident Benjamin Christmas loved the holidays and spent his entire life spreading the kind of joy and cheer that's synonymous with his name. He also loved puzzles, games, and mysteries. So it was no surprise that when Mr. Christmas passed away he left behind one last puzzle—a scavenger hunt! At the end of the hunt is a very generous donation to Mercy Hospital—if it is completed by Christmas Eve. And there is another very important condition. In order for the hospital to receive the donation, Shirley Bashore must be the one who completes the task!
The pressure is on for Shirley. Can she fulfill her other commitments of the season and still solve Mr. Christmas's clues in time? Her journey will take her all over her beloved city, and perhaps there is more than one grand prize waiting at the end of her quest.
Why did you decide to write it?
In January 2021, I received an email from a Guidepost editor whom I'd never talked to before. She offered me an opportunity to write a cozy mystery in a collaborative project with other authors. Truth be told, I was terrified to try it. I'd never written a mystery of any kind, but I'd been praying for God to open new doors of opportunity for me. This was it! Was I willing to step out of my comfort zone and do something new? My answer was, "Yes, God." It was also intimidating to have to piggy back on the previous stories written by the other authors. It meant that I'd have to know about their characters and settings as well so we could keep the books consistent. Thankfully, there as an extremely detailed series guide for the authors that was updated with each new book.
Who is your favorite character in the book and why? 
My favorite character is Shirley Bashore. This book is written in her point of view. She's a spunky, no-nonsense nurse who returned to Charleston, South Carolina, to serve as caretaker for her mother who seems to be in the early stages of dementia. I love her compassion, her dedication to serving patients and her budding love interest.
What was the hardest part about writing the story?
As I mentioned before this book was part of a collaborative series of which I wrote books number nine and 19. There were eight other authors. Shirley's personality, appearance, career and all of the basic character information was decided by the eight books before me. Of course it was my job to make sure she evolved, but I had to make sure she stayed in "character" based on how others had written about her in the past. Each book was written from a different point of view of Shirley and her three closest hospital colleagues. She's the only African-American character, so it was important that I stay true to that voice and culture.
As a writer, I also wanted to make sure that the plot didn't fall flat in the middle. I had the study the structure of cozy mystery novels to ensure that I could write an engaging story from the first to the last page.
If you were to write a book about your life, what would be the title and why? 
Now that's a good question, and believe it or not no one has ever asked me that before. Hmmmm…. Maybe My Life To A T. Or on second thought, I'd name it after my first devotion, If These Shoes Could Talk. I'd talk about the many shoes I've had to walk in on my journey in life.
What is something readers would be surprised to know about you? 
I have lots of fun when I'm out and about amongst people. I consider myself very sociable, and I make the most out of meeting people and having a great time. But when it's all said and done, I'll choose hanging out at home any day, with a handful of friends. Creative potlucks, movie night and game night are some of my favorite things to do.
Tell me about a book that changed your life and why.
I've read so may books that I don't know if I could pinpoint one. Since I'm always seeking to grow personally, I'll share the books that I've been slowly reading over the past few months—Believe Bigger: Discover the Path to Your Life's Purpose and the accompanying journal, 100 Days Of Believing Bigger. It's doing just what it said it would do—stretching my faith, mind and expectations.
What's next for you?
I have several book ideas floating around my head, and I haven't been able to settle on one. I'm actually thinking about a non-fiction project as well. I'm open to however God leads.
Do you have anything you would like to add?
Your gifts not only make room for you, but they bring you comfort and peace. I was working on both of my cozy mystery books while my parents were experiencing health challenges in two different states. Though at times it was extremely stressful, there was also peace into fulfilling part of God's purpose for my life.
---
Purchase your copy of 'Twas the Clue Before Christmas.
---
To learn more about Tia McCollors, visit her website or connect with her on social media.
TiaMcCollors.com
Instagram: Instagram.com/tmccollors
Facebook: facebook.com/FansOfTia