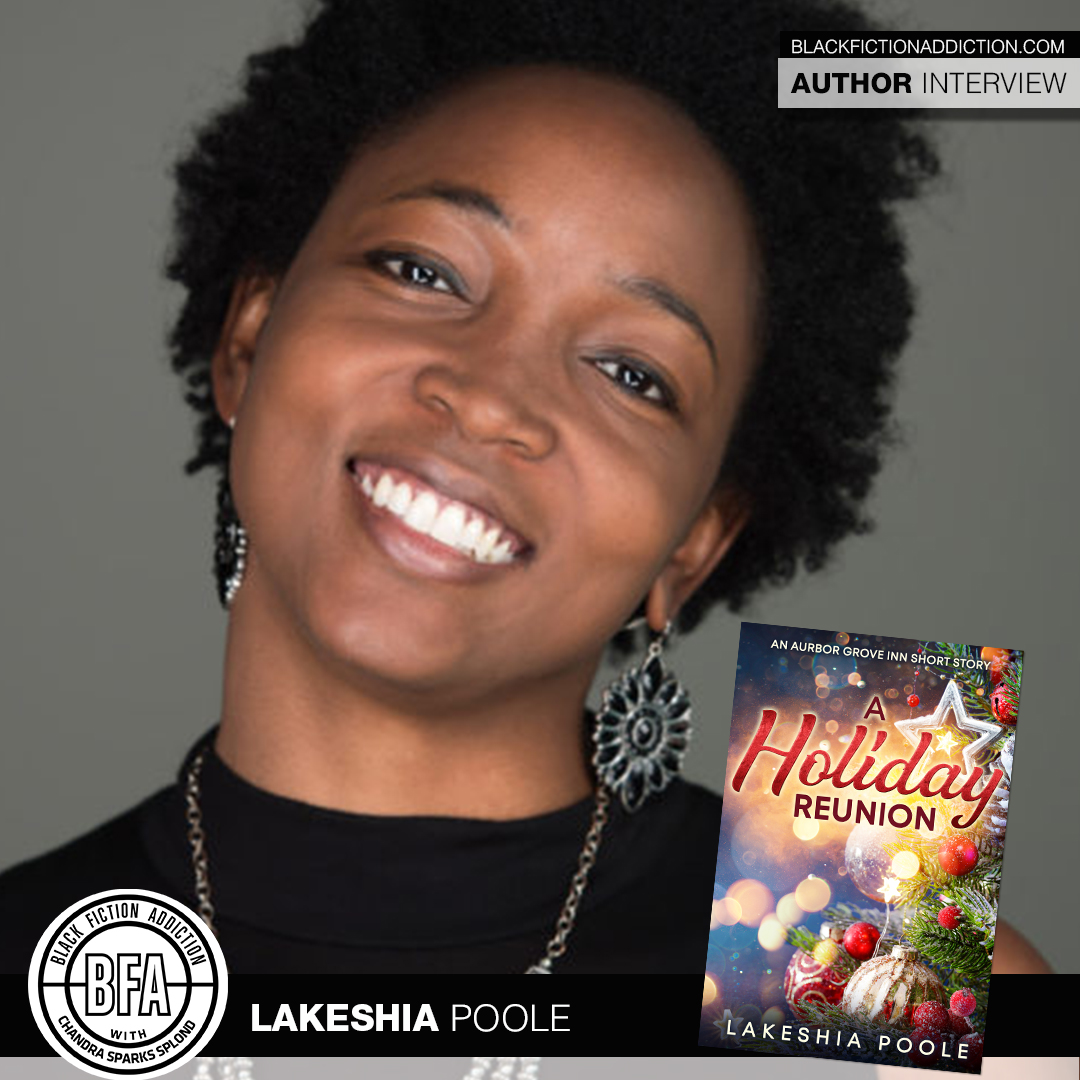 If you're looking for a holiday read, author Lakeshia Poole has you covered. I recently spoke with her about A Holiday Reunion.
Tell me about your latest book.
A Holiday Reunion is a perfect read for people who love Hallmark, Lifetime, OWN, and BET Christmas movies. It takes place two years before and in the same location as my book Happily Ever Christmas. Christmas is right around the corner, and the annual Jingle Bell Festival has arrived in the small town of Aurbor Grove, Georgia—so have Jasmine, Nell, and Ramona. These three high school friends are home for the holidays and their 15th class reunion. Nothing goes as planned. As each woman reunites with family, friends, and exes, they are forced to revisit past heartbreaks and rediscover new love, grace, and forgiveness. A Holiday Reunion has the feel-good Christmas emotions, but it's all about second chances to get things right — family relationships, romance, and more. Readers can sit down and experience hope, humor, and happy endings in a couple of hours.
Why did you decide to write it?
I love Christmas stories and how they make you feel like anything is possible. My characters feel unfulfilled in some areas of their lives, and this Christmas, they get their "happily ever after'" moment—whether with siblings, friends, spouses, exes, or most importantly, with themselves. I want readers to know the same is possible for them. We are all imperfect people living imperfect lives. The best we can do is to let love lead the way and choose to intentionally love ourselves and others well.
Who is your favorite character in the book and why?
I hold all of them close to my heart because they each have a piece of "me," but I enjoyed writing Ramona. She is the wife, mom, sister, and friend who shows up for everyone, often at the risk of sacrificing her own hopes and dreams. She's funny, and sometimes her joking is a defense mechanism to deal with life's challenges. That saying "laugh to keep from crying" is representative of her approach. Behind closed doors, she cries. I know a lot of Ramonas, and her journey from self-neglect to self-care—from being taken for granted to being taken care of—was a joy to write.
What was the hardest part about writing the story?
It's hardest to write the scenes and background about why my characters feel shame, disappointment, or a sense of hopelessness. It's realistic and rooted in things I have experienced or seen happening all the time. It's difficult to write about these things because I share the emotional lows with my characters, and it affects my mood in real life. To get them to their "happy ending," we must go through mistakes, failures, and obstacles. Before any reader talks back to my characters, questions their actions, or considers throwing the book in a corner, I do it first. I take the same emotional rollercoaster ride, but it's usually rougher for me because I've spent a lot of time with these characters. I don't want to see them hurt or getting in trouble.
If you were to write a book about your life, what would be the title and why?
I would name my life story The Little Country Girl Who Could because I am so proud of my small-town roots. Growing up in a small town, you are surrounded by so many people who know you, but it's also an environment that typically has limited resources, fewer opportunities, and low expectations. You learn to "find a way out of no way," and I'd like to tell all the stories of how I used that practice and those early lessons to persevere.
What is something readers would be surprised to know about you?
I'm obsessed with karaoke, and whenever I travel, I have to find a local spot to sing. My friends and family know this and will often help me plan that into our itinerary. My go-to song is the 90s country hit "Still the One" by Shania Twain, which DJs hate because it's a slower song. I kill it every time! But beyond pretending to be a rock star for five minutes, I love how karaoke brings strangers together to laugh and enjoy each other.
Tell me about a book that changed your life and why. 
I've been surrounded by books all my life, and I imagine they have all shaped my life in small and big ways. The one book that I know has tangibly changed me has been the Bible. It gives me life and serves as a way to connect with God. That gives me the strength and faith to live my life a certain way every day. It's the book that keeps on changing you.
What's next for you?
On the fiction side, I am working on a Christian suspense series that features another family in the Aurbor Grove small-town universe. There will be some familiar spots and people, but this is a new genre for me. The first book will be released in Spring 2023. I'm also working on non-fiction training and resources for Christian writers and communicators looking to tell better stories.
Do you have anything you would like to add?
The words and worlds we create really have life-changing power. When life is so uncertain and unpredictable, there is comfort in stories like Christmas romances and inspirational fiction. They offer us the hope to get through, and I don't take it for granted that I have the opportunity to participate in this as an author and reader.
Use the Black Fiction Addiction affiliate link to purchase your copy of A Holiday Reunion.
To learn more about author and writing consultuant Lakeshia Poole, visit her website or connect with her on social media.
Website: www.LakeshiaPoole.com
Amazon: www.amazon.com/author/lakeshiapoole
Goodreads: https://www.goodreads.com/lakeshiapoole
Facebook: www.Facebook.com/LakeshiaPooleWrites
Instagram: www.Instagram.com/LakeshiaPoole