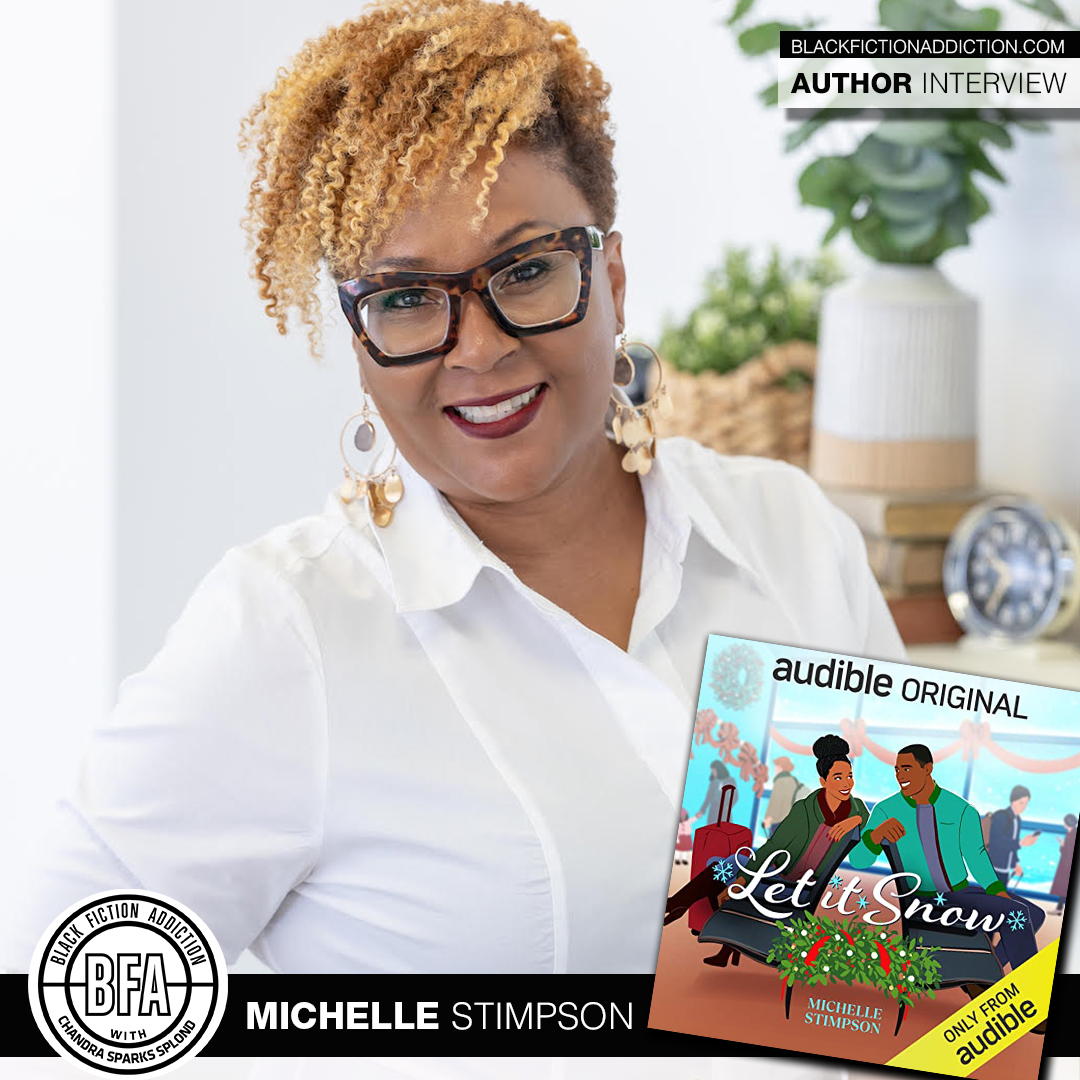 Michelle Stimpson is back with a Christmas romance that's sure to warm your heart. I recently spoke with her about Let It Snow.
Tell me about your latest book.
Let it Snow is a sweet romance featuring Nia, a teacher who is vacationing away from family for the holiday season, and Andrew, a veterinarian who is dreading his visit back home. Both are trying to wade through family drama through Christmas. But a snow storm traps them at the airport with a cast of characters that make for a funny, heartwarming story as Nia and Andrew work together to give everyone a great Christmas.
Why did you decide to write it?
I love a good Christmas story, and I love a good romance. Combining the two was a natural fit. This is my second Christmas romance with Audible, and I'm super excited about how it has been received.
Who is your favorite character in the book and why?
My favorite character is actually the hero, Andrew. I love how he challenges Nia, how he challenges himself, and how he keeps his cool under pressure (there's an animal emergency in the book, but I don't want to give it away).
What was the hardest part about writing the story?
Descriptions are always the hardest part for me, so I usually ask my author friends to help me flesh things out a little more. Kisses are hard, too, because after writing so many romance books, I'm always asking myself, "How can I make this kiss different?" It's a challenge, but I have help.
If you were to write a book about your life, what would be the title and why?
It would be Goodness and Mercy because Psalm 23:6 is my jam!
What is something readers would be surprised to know about you? 
They might be surprised to know that despite growing up in the south with a big extended family, I did not pick up the cooking gene. I think I'm fairly good at baking, but it's just not something I enjoy the way I see so many others cooking up a storm. But now that I'm a grandmother, I'm trying to get a few go-to recipes up my sleeve. So far, I'm just getting requests for grilled cheese sandwiches. (Is that cooking?)
Tell me about a book that changed your life and why.
A book that changed my life is Michelle Obama's Becoming. Listening to her experiences at Princeton gave me the confidence to own my brilliance and use it for good. I also have to mention We Should All Be Millionaires by Rachel Rodgers and the 100 Days of Believing Bigger devotional by Marshawn Evans Daniels. Both of these books helped me name what I truly want and step away from everything else.
What's next for you?
I'll be indie-publishing throughout 2023, and in 2024 my novel Sisters with a Side of Greens will be released by a traditional publisher. So, it's hybrid publishing time for me! I'm grateful for this season of clarity and focus and gratitude.
Do you have anything you would like to add?
I'm also hosting journaling sessions for women online. I'm calling it "Sisters Journaling through the Journey." This women-only virtual space helps cultivate the stillness we need to listen to our own voices, commune with God, and reflect in community.
---
Use the Black Fiction Addiction affiliate link to purchase your copy of Let It Snow by Michelle Stimpson.
---
To learn more about bestseeling multipublished author Michelle Stimpson, visit her website or connect with her on social media.
Twitter: twitter.com/StimpsonTweets
Instagram: instagram.com/stimpson.michelle