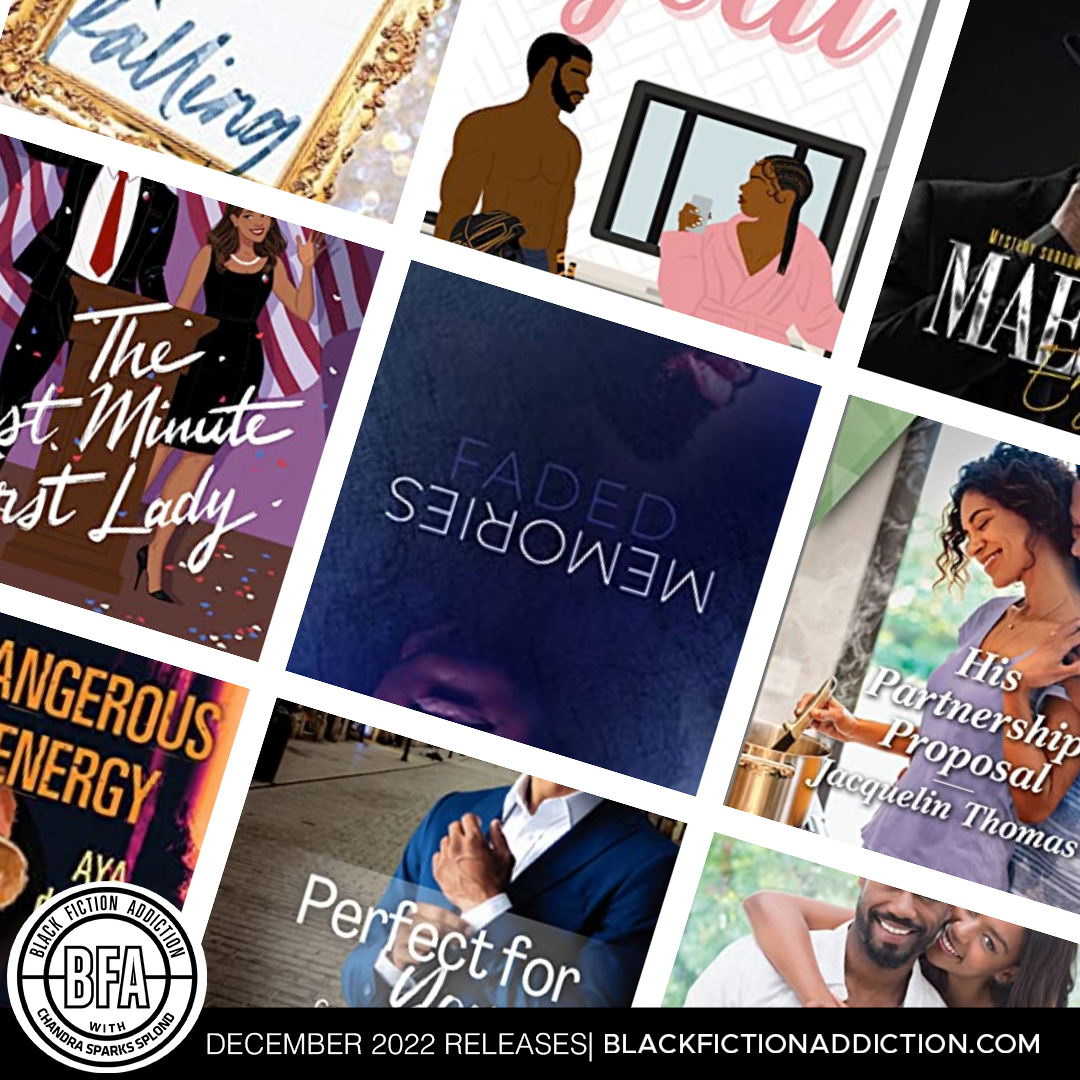 The holidays are officially over, but that doesn't mean they didn't leave plenty of gifts. Check out these black books released in December 2022.
Aja
He was his daddy's son.
Eli "Maestro" Lewis has prepared himself to run the kingdom of Smoke Enterprises. The plan was to allow his father time to rest and live out his golden years with his new love, but someone wanted his father back in the game, and his father, Smoke, was all too happy to show Pittsburgh how he earned his name. They said where there's Smoke, there's fire, and now the city was up in flames. Eli had major problems with that. For one, his pops shouldn't have been running around the city like he was Shaft, risking his life and all he worked hard for, and two, he was more than capable of handling all this trouble on his own. If only his pops would let him.
Being the prince wasn't always easy, and neither was finding love during a war. But he'd deal with all that. Like he always did. That's how he earned his name.
---
Slipped Up in Love (audiobook)
AshleyNicole
Love is Messy. It can be sticky. It can be all consuming. It can come out of nowhere. If you're not careful, you might slip up and find yourself so deep in it that you can't climb out.
Cheyenne has hated Travis since he walked into her class in kindergarten. He pestered her for years until the fates stepped in and moved him away.
But he's back now . . . And pestering her is the last thing on his mind. His heart has known for years what hers is still trying to figure out: he slipped years ago, now it's her turn.
Contains mature themes.
---
Iris Bolling
What happens when dysfunctional families meet the Lassiters?
They all learn the meaning of LOVE…
Love is Kind, Love is Patient, and Love… lasts for a lifetime even if it kills you.
Christmas is the time when wishes come true. Be careful what you ask for.
I fell in love with you at a wedding. There were days when I did not like you at all, but you were the man standing at the end of the aisle with the snow falling around us whenever I dared to dream. Now we are here, at our wedding in Connecticut on Christmas Day. The setting is perfect, and I cannot wait to spend the rest of my life with you.
Jade Estelle Lassiter
It took you knocking me on my ass to realize you were always the one. We met as young adults and thought we knew everything only to learn there was so much more to discover. As I watched you from afar you grew into the one woman I could not live without. On this day, I will make you my wife. As we embark on this day, I thank God for bringing you back into my life at a time when I was wise enough to grab you and never let you go. My heart, my mind, my body – the very soul of me is yours forever and always.
---
Kimberly Brown
"The tragedy of life is not death… but what we let die inside of us while we live." –Norman Cousins
Jamison Jareau has suffered a terrible loss. His wife of eighteen years passed away the day she gave birth to their son. Consumed with grief and guilt over her death, Jamison has thrown himself into work and raising his four children without her. Two and a half years have passed since he lost his soulmate. The kids are growing up and Jamison realized he needs a little more help with them than he wants to admit. At the urging of his mother-in-law, he seeks a live in nanny to alleviate some of the stress of being a single parent.
In walks Aleviyah Sandifer, a beautiful, vibrant breath of fresh air. The kids immediately take to her and they aren't the only ones. Jamison soon finds himself enthralled with a woman other than the one he'd been with since he was fourteen years old. With new feelings arising, guilt begins to set in over his newfound attraction. As bad as he wants Aleviyah, he can't help but feel like he is betraying his wife.
When forced to finally come to terms with his feelings, will Jamison give in and embrace the budding romance between him and his nanny? Or will he continue to deny himself the happiness she's brought to his household?
---
Ann Marie Bryan
A STANDALONE NOVEL: From #1 Amazon Bestselling Author Ann Marie Bryan comes the second novel in the McIntosh Brothers series—a deeply moving story about faith, courage, a second chance at love … and what it really means to be a family.
Sometimes, all you need is a second chance at love.
Let the adventure begin …
Rylan McIntosh was twenty-three years old when Savannah McKenzie shattered his world. Everything was almost perfect … until she disappeared. Nearly seven years later, Savannah stands before him with not a hint of remorse. The naive young girl is gone and the woman in her place is at the top of her game. She's all glam in a tailored suit, acting like they were nothing more than mere acquaintances. But she's forgotten something—how relentless he can be.
Having experienced more than her fair share of tragedy, the last thing Savannah wants is to contend with Rylan. Back then, she'd surrendered to her feelings for him and conceded to his request for a relationship … well, until she was forced to flee. Seeing Rylan again stirs up buried memories she has no intention of reviving.
All bets are off as they battle through the hurt and pain of their shared past. Savannah begs for a truce and, surprisingly, Rylan agrees. That's until he discovers a web of secrets and lies that run deeper than he could have ever imagined. Still, some connections are too powerful to ignore. Will Rylan and Savannah develop the courage to leave the past behind? Will they allow God to restore what has been broken?
---
J. Shanee Byers
Zoie King and Pierre Bodè have one thing in common – they have to participate in another wedding and like it. They are both fed up with their love lives and have thrown themselves into their work. But thanks to their best friend and cousin, the bride and groom, Sia and Anthony, Zoie and Pierre discover that there just might be something to having a Merry Christmas after all.
---
Brigitte Carter
Louise Cummings, poised, smart and the proud manager of her family's estate. As the boss she envisions expanding the business and the family legacy. But this move will require the family to approve. To her dismay they hire an outside consulting company to audit the business. Enters Carlos Hernandez: attractive, charming consultant who also has eyes for Louise. She has spent years building her status as the got-it-all-together, hard working manager. She hasn't had time for romance and isn't trying to get into one with Mr. Hernandez. But this man is a master at getting past her walls.
Louise must choose between jumping headfirst into a romance or remaining in her poised, predictable world. After all, if it came down to romance and the Cummings' Estate, she would always choose the estate first. Right?
---
Sharon C. Cooper
Spoiled, fickle, and prissy are only a few of the adjectives that have been used to describe Morgan Redford. Though she's never had to worry about money, she's determined to make a name for herself on her own terms. Her new venture won't be an epic fail like her former professional cuddling service or the short-lived pet hotel. This time, through the nonprofit she cofounded, Morgan is doing something meaningful—helping teens who are aging out of foster care—and she's got her eye on a property that could house these kids. But the competition is steep, and one of the bidders is someone she never expected. . . .
When real estate developer Drake Faulkner learns that his ex—the one who ghosted him years ago—is a potential buyer for the property his eccentric mentor is selling, his competitive streak amps up. No way is he letting her win the property he wants. Bitter? Yes. Petty? Probably. But his mentor has a stipulation: potential buyers must participate in an Ironman competition of sorts for the property. Drake refuses to play along with this ridiculous demand, until he discovers Morgan has signed up. If Little Miss Can't Run a Block Without Gasping for Air is doing it, he will too. But as the gauntlet of games heats up and forces them to face the past, they are met with a pull that feels all too familiar.
Now, if only they could keep their eyes on the prize instead of on each other—but who's to say they can't do both?
---
Aya de Leon
Coming from a troubled youth, Morgan Faraday grabs every opportunity to up-level her life. So she definitely plans to keep oil company heir Sebastian Reid interested . . . all the way to the altar. He's brilliant, supportive, and is turning his billion-dollar company green to make up for his ancestors' exploitation. With him, Morgan can have love, money, and the power to make the world better. And securing her future is far more important than the attractive environmental activist she suddenly has unexpected feelings for . . .
But once Morgan gets a glimpse of Sebastian's secret allies and confidential emails, she's stunned to find he's only talking a good game. His company is responsible for several ecological disasters, and a chance encounter makes it clear to Morgan the lengths he'll go to stay on top. To gather enough evidence to expose him, Morgan will have to rely on her quick wits and new friends to stay one step ahead of a corporate conspiracy. But as the danger comes closer, will Morgan put herself first and run—or face down the risk, even at her cost of her life?
---
Nicole Falls
A fortuitous reconnection brings old friends Ivy and Gabriel back together again in their small hometown. Many years have passed since they've last seen one another, but that doesn't matter. Ivy and Gabe pick back up where they'd dropped off quickly with one notable exception—instant mutual attraction.
---
Celeste Granger
Tragedy drove Genesis Knight, medical examiner, to a new place, a different opportunity. Zeek Wilson, Captain for Elite Security, was already there. Genesis relocated alone, and in her aloneness sought to understand the demise of others for those that remained. Zeek was a protector by nature. His job reinforced that and he was dedicated to keeping his clients safe from harm. Yet, he couldn't protect the one person who meant the world to him.Each pushed themselves. Still, each reconnected to the horror that drove them, that plagued them, that worried them in their dreams.When Genesis and Zeek's paths crossed, an awakening transpired. There was a cosmic shift that elevated the atmosphere and insulated a bond of unimaginable love that would be tested, tried, and proven.
---
Sherelle Green
The Grinch's Roommate is a slow-burn holiday romance that was originally part of the Wrapped in Red (2 books in 1) duo. Content has been refreshed and key scenes have been added or extended.
According to college professor Sage Langley, there's nothing holly or jolly about the month of December. Therefore, a solo Caribbean vacation is the perfect escape from all things Christmas. Until she's delivered an unwanted present in the shape of a handsome attorney determined to invade her luxurious vacation and bring all of that annoying cheer with him.
Grayson Ellington may be the last person Sage wants to room with, but he plans on taming this sexy Grinch, starting with a delicious meal and a peek into life on the island. When getting Sage to loosen up proves more difficult than he realized, Grayson steps up his game. Anything is possible around the holidays, and his best friend's sister is about to find out that she's at the top of his to-do list.
---
Deanna Grey
Aderyn
Resident playboy, Samson Morgan, thinks he can beat me at my own game.
The hockey captain truly believes he can stop playing the field for longer than I can start having one-night stands.
Okay, sure, historically I'm known for being an all-in, ask-to-be-your-girlfriend-on-the-first-date romantic. But being a player isn't that hard. And I came to Mendell University to win. Whether that's on the ice or off.
Morgan doesn't realize it yet but he's finally met an opponent who can take him down.
Sam
My bet with the women's hockey team captain feels like an easy win.
Three months pretending to be a one-woman kind of man? Easy…scary easy, actually.
Somewhere along the line, I start taking my role too seriously.
This semester isn't the time for me to get distracted from my main goal – ensuring my team gets a fair shot this season.
But Aderyn Jacobs consistently makes me rethink everything I've ever wanted. I'm in danger of losing something far bigger than our bet.
__
Team Players is a college hockey romance starring two cocky and competitive hockey captains. This is book two of the Mendell Hawks series. It's recommended to read the series in order.
---
K.L. Hall
A brotherhood. A breakup. And a plot twist = one messy Christmas in the Falls.
---
Alexandria House
For Maleek Jones, hockey is his wife. Everything and everyone else is his mistress, an aside. When unexpected responsibilities land in his lap, the balance of his world is disrupted, changing the way he sees everything.
Trying to figure out life while recovering from trauma, Nuri Knox finds herself in desperate need of the one thing Maleek has to offer.
In each other, they discover what neither of them expects.
Love.
---
Miss Jenesequa
Putting herself first is what Jordana Evans knows how to do best. She's at the top of her game in her career and no longer haunted by memories of her past threatening to steal her joy. In her mind, being in love is a want, not a need, and she's convinced that she'll be just fine without it. Having intimate relations with the opposite sex is something she's willing to do for one night only. But then came along…him.
Being the son of a hood legend means absolutely nothing to Genesis Washington. His only priorities are taking care of the two people who have his heart–his sister and his nephew–and running the multimillion dollar company that keeps his pockets fat. Juggling love and business just never made sense to a man like him, so he chose the latter.
But crossing paths with Jordana Evans suddenly changes everything for him and she becomes the only woman he wants. And he isn't the type of man who shies away from whatever he desires.
When Jordana and Genesis lay eyes on each other, they're unable to fight off the feelings that form from their very first encounter. What starts off as a onetime thing quickly turns into an addiction neither of them can get enough of. But the pain of Jordana's past has her determined to keep their new arrangement strictly between the sheets. Can Genesis truly be the one to ease Jordana's heavily guarded heart, or will family do more damage to Genesis and Jordana before they fully have the chance to prosper?
---
Christina C. Jones
Desperate to escape post-divorce melancholy, Katari Kimble joins her favorite cousins in Blackwood to become a part of the Night Shift team. The night before Christmas, a mysterious visitor sends her on a deep dive to re-examine her past, re-evaluate her present, and re-think the future she's imagined for herself—including who gets to be part of it. Faded Memories is a novella.
---
Tiye Love
ALL TRE LASALLE WANTS FOR CHRISTMAS IS HIS WIFE…
With his upcoming re-election bid, new conflict with his former rival/best friend, and his approaching holiday party, Tre needs his wife more than ever. And since Raini has been preoccupied with their temperamental infant son and her own thriving art gallery, Tre may not get his wish.
---
J. Nichole
How do you tell your best friend you are in love with her little brother?
It wasn't exactly love, at first, for Maria. For years, Daniel was always just her best friend's little brother. Then as they got older, he got sexier, and more charming. Charming, just like the guys in the romance books she loved to read.
Daniel wasn't interested in anything serious. His business made him believe falling in love wasn't worth the ultimate loss. Because at Boykins Funeral Home, he saw many heartbroken widows.
He was sure he'd rather avoid love than suffer loss. Until he fell for Maria.
---
Tina Martin
Eli is a man conflicted. Confused. Traumatized from his childhood. Deceived by his family. Broken.
All he has is her. Natalie.
He tries to love her. No, he DOES love her. More than anything. More than himself. That's why he's willing to let her go. She deserves better, no matter how much she says otherwise, she does. He's aware of it and when he can no longer ignore it, he decides to make a move – one that pains him. He leaves. But when he realizes that letting her go was a mistake, it may be too late to get her back.
Through the frustration, Cadence is her sister's backbone. She's so busy taking care of her sister that she doesn't see how her own life is passing her by. That is until Gary makes it clear to her. For the first time, in a long time, she finds companionship with him, but will her sister's life interfere in what could be a wonderful relationship.
---
Tina Martin
I need a job, but I should've listened to everyone who warned me about Essex DePaul, the millionaire CEO of his own tax firm. He's one of the most handsome men I've ever seen. He has eyes that make you forget to swallow, a dazzling smile guaranteed to make your heart race, and a face you'd surely never forget. Everything about him is perfect–everything except his attitude.
He's one of the rudest, most callous men I've ever met. He takes rude to a whole new level. At work, they call him "the dictator". Look at him the wrong way, and you're fired. Say something out-of-line to him, and you're out on your tail.
So, why do I work here? The money. I'm broke with no hope, living with my best friend in a cramped two-bedroom apartment. I need my own place, and for some unfathomable reason, Mr. DePaul has agreed to pay me double the salary for an accounting position. With that much money, I should be able to put up with his attitude, shouldn't I?
---
Rude Boss 2 (audiobook)
Tina Martin
I wanted to keep Quintessa close to me because she's special. She's a girl from my past that grew up into an amazing, beautiful, and brilliant woman. I want to make her mine, but she doesn't trust me fully because she doesn't know who I am.
Therefore, the time has come to reveal my true identity before she finds out on her own, but things don't always go as planned, does it? I know that firsthand. If life went by a plan, Quintessa would've been mine years ago. We would've been together. We would've been living our happily ever after.
But we're not. We're lagging behind. Playing catchup. Reminiscing…I can't risk losing her again after putting forth all this effort to ensure we found each other again. But who's to say that won't happen anyway, especially when I struggle with my own identity. When I fear that the person I've become is not a man she could love.
This is the conclusion to the DePaul & Company Series!
---
'Twas the Clue Before Christmas
Tia McCollors
'Twas the Clue Before Christmas is book nineteen of the series, Miracles & Mysteries of Mercy Hospital.
Longtime Charleston resident Benjamin Christmas loved the holidays and spent his entire life spreading the kind of joy and cheer that's synonymous with his name. He also loved puzzles, games, and mysteries. So it was no surprise that when Mr. Christmas passed away he left behind one last puzzle—a scavenger hunt! At the end of the hunt is a very generous donation to Mercy Hospital—if it is completed by Christmas Eve. And there is another very important condition. In order for the hospital to receive the donation, Shirley Bashore must be the one who completes the task!
The pressure is on for Shirley. Can she fulfill her other commitments of the season and still solve Mr. Christmas's clues in time? Her journey will take her all over her beloved city, and perhaps there is more than one grand prize waiting at the end of her quest.
---
The Dirty Doctor and the Assassin
Tucora Monique
"I'm just a soul whose intentions are good. Oh, Lord, please don't let me be misunderstood." —Nina Simone
If there's one thing thirty-one-year-old Jude Carbine has sustained, it's a hefty appetite for guns, buttah, and family. As the youngest boss in the Carbine hierarchy, he's spent the better part of his life being a witness to violence and proving to be unscathed. Still, the essence of loneliness and insomnia that lingers at night leads Jude to pick up a side hustle, one that pulls his reputation of being bluntly honest into question and realigns the cocky gunman with someone just as… dirty.
Osage Taylor has always known she would be a doctor. However, she would've never believed at thirty-one, she'd be a single mother, unwed, and her family's personal bank. Despite maintaining a successful medical practice, the ginger-haired beauty finds herself buried under bills and childhood trauma. Nevertheless, being a product of her environment triggers old hustles to feel like solid resolutions… until someone threatens to tell the world where the doctor goes when the hustlers call.
In need of refuge, Osage and Jude can't seem to rid themselves of their desire for one another once they cross paths. Unbeknownst to them, where there is love, there's jealousy, and where there is money, there's a hater in the shadows.
---
Lesanda Moore
After a recent breakup, the last thing Spirit Houston wants to do is face her parents, or her self-proclaimed failures, during Christmas. When her roommate insists she spends the holiday with her family back home, Spirit agrees to accompany her.
What she doesn't know is she will have to share a room with a complete stranger.
A sexy stranger.
Will they be able to coexist in the same space or drive each other nuts over the Christmas holiday?
---
Tinia Montford
That's all everyone seems to talk about these days. Jolie Coldwell isn't one of them. As a journalist, her priorities comprise digging up dirt on crooked politicians and local cover-ups. When her latest exposé on a congressman lands her in hot water, her days are reduced to covering the senior center's casino night.
Unexpectedly, news breaks: the on-air investigative segment needs a replacement. This promotion advance could her career.
She needs a breaking story. She needs it now.
The road to office is ruthless compared to the courtroom. Without warning, Cassian Anders' popularity rating falls, threatening his position on the ballot. He will do whatever it means to secure votes. Now, not only is he engaged, but he's getting married to his non-existent fiancée…
He's never relied on luck, but when a convenient but unorthodox wife falls into his lap? He makes her a deal.
He needs a wife. He needs it now.
Will Jolie and Cassian be able to fool the public long enough? Can she handle the public poking around in her past, one she would rather keep under wraps… Above all, can she be a model first lady or are they destined to be a scandal?
---
K.D. Richards
There was no quiet homecoming for Nikki King. Not with a body discovered on her lakefront property and Terrence Sutton's unexpected arrival. The police detective is convinced his sister's disappearance and the threats Nikki has been receiving are connected. Nikki would rather avoid the man who once let a family feud tear them apart, but can she afford to refuse his protection? Not with danger lurking in the dark water just beyond her doorstep.
---
Amber Samuel
Standing on the sidelines of her sister's third baby shower with her thirtieth birthday around the corner, Indigo is feeling the pressure about one thing she hasn't yet mastered: a healthy, long-term relationship. As owner of Houston's hottest destination for luxury shoes and accessories, Indigo excels at finding clients the perfect shoe, but she's having a hard time finding a partner who is her perfect fit.
So she approaches her lackluster dating life the same way she does any challenge―with determination―and books her social calendar full of potential suitors. She needs a man who can handle her busy life, get along with her big and boisterous family, and mesh with her tight-knit friends, including Nate, her childhood bestie.
While one guy is great on paper, and another sets off sparks, neither are Mr. Right. And her drive to find him begins to interfere with the things and people she values most. Can Indigo let go of past hurts and unrealistic expectations and finally admit to herself that her perfect man has been in front of her the whole time?
---
Yahrah St. John
Childhood friends become forbidden lovers in this sexy start to the Six Gems series from Yahrah St. John.
Their fiery affair fulfills her fantasies…
And puts everything at risk.
When travel blogger Wynter Barrington's wealthy, disapproving family cuts her off, she finds comfort in a passionate chance encounter with Riley Davis, her best friend's brother. He's hot as hell…and totally off-limits.
And when they meet again months later, they begin a sizzling affair. Wynter knows Riley doesn't do love and marriage, but her youthful crush is feeling more and more like a real relationship. If she's not careful, Wynter may put more than her relationship with her best friend on the line. Can she survive falling in love with the one man she was never supposed to touch?
---
Jacquelin Thomas
Could forgiveness be…
The secret ingredient?
Success is everything to chef Terian LaCroix—his demanding father will accept no less. And his drive to be the best meant betraying Aubrie DuGrandpre. Aubrie is stunned when unexpected circumstances push them together to open a restaurant on Polk Island…and Terian is all in. His plans are sound, but he's just as hard to resist as he was in culinary school. Could forgiving him put love on the menu?
---
Snow King Catches His Snowflake
A.E. Valdez
After being in a relationship for three years, Noelle Frost is faced with the reality that she was definitely the better half. Her friends, ecstatic she's dropped the dead weight of a cheating boyfriend, urge her to get away for the holiday and take some time for herself.
Not sure if that'll fix anything but willing to try, she books a last minute trip to the world-renowned Mistletoe Mountain Resort. Noelle boards the plane with the promise of peace and relaxation on the horizon.
Snow King is stuck in a rut, believing himself undeserving of joy and pleasure after suffering more than one devastating loss — one he still shoulders the blame for. Even with supportive family and friends, he still prefers solitude.
Every year, instead of trudging through the painful memories Christmas brings, he takes a solo trip to escape the holiday cheer. Typically that's anywhere that doesn't remind him of the season. But this year, his well-meaning assistant books him a trip to the North Pole reincarnate.
An overbooking incident, one dis-robed guest, and a nasty run-in with pepper spray tell the Christmas story in a way you won't believe.
---
Joan Vassar
Tracy Strong has spent the last 10 years loving Africa.
Africa Walker has spent the last 10 years loving Tracy.
The only thing keeping them apart is everything. Travel back to 1985, New York City and experience being young, Black, and in love.
---
Monica Walters
Arrow Vaughn is tired of random interactions with women. With everyone around him finding love and maintaining healthy relationships, it's hard to not want the same thing. His career is intact, his financial status is stable, and he's a likeable guy. He's longing for intimacy with one woman who can claim his heart and share his intellect. Despite his need to settle down, he continues to play the field until the right woman presents herself in the form of a patient in need of an anesthesiologist.
Lynn Jolivet is at peace with who she is as a woman. There is only one problem. The doctor warns her that unless major changes are made, she could die within the next two to three years. Scared straight, Lynn decides it's beyond time to get her health on the right track. When she arrives for surgery, she's a bundle of nerves, but a certain anesthesiologist has a way of calming her fears but heightening her senses in ways unimaginable.
Arrow knows immediately after seeing Lynn that she could possibly be the woman he's supposed to do life with. Lynn is skeptical about his timing, because she doesn't want to be just another conquest. Can Lynn rid herself of her trust issues regarding Arrow in order to navigate her way to love, or will she friend zone him indefinitely?
---
Alexandra Warren
Train. Fight. Repeat.
That's been Princeton "The Prince" Lattimore's life for as long as he can remember. But when an interruption to his heavyweight champion world comes in the form of an alluring journalist who sees well beyond his undefeated stature, he quickly learns there's a lot more to life outside of the boxing ring.
Write. Submit. Repeat.
As a budding journalist, Bella Stevenson is determined to solidify her place as one of the best writers in the game. But when she's assigned to cover a boxing match – a sport she knows nothing about – she realizes that it's going to take a lot more than just a good write-up to do so. And once chasing a good story turns into meeting the man of her wildest imagination, her world is quickly turned upside down in more ways than one.
Falling for each other proves to be an easy feat. But going the distance becomes the biggest challenge either of them has faced, especially as Princeton discovers who's really in his corner…
---
Bailey West
For the child of an active military service member, making friends was not always easy, but when Benson Gladwyn arrived at Mrs. Compton's fifth-grade class, he and Selena Francis became best friends.
When Benson's family had to move away, he and Selena planned to stay in touch, but life happened, causing them to lose contact.
Almost twenty years later, Benson, serving in the military overseas, receives a letter from his long-lost friend.
A friendship is reunited. A bond renewed.
---
DL White
Struggle isn't love.
At least, that's what a broken Malik Hines told himself when he walked away from the love of his life, just as her career was on the rise. With any luck, he would have time and space to dig himself out of a dark hole. Healing, rebuilding, launching his Game Studio and writing his premier game took time. Suddenly, it had been nearly a decade since they last spoke.
Seeing her in the media stirs up a long harbored desire to reconnect, and Malik takes the biggest chance of his life. Could that door open again?
After taking over her father's company, India Parker is on the hunt for the next big thing to push her company forward. In the background of her success, there is loneliness. Longing. And the feeling that there's a large part of her life that has been on pause.
When a surprise gift arrives at her office, it reminds her of the man she used to love and would like to love again. The choice to open that door and press play…is hers.
Hey, lover is a contemporary love story about getting a second chance with your soulmate.
***
Content Advisories for this title: mentions of cancer, treatment for cancer, depression, faux relationships, infidelity.
---
Lula White
In this steamy, second chance, Christmas romance, meet overworked New York attorney, Tazima Beasley.
After a shattering career disappointment, she receives an offer.
Little does she know, it's the offer of a lifetime–to represent a man in prison.
And not just any man. But Odell Jackson.
"A vision enters the back of the dining room, and shuts down my thoughts. In Christmas crimson, she smooths her hands down her strapless gown, which is velvet cloth wrapped around the flawless Harry Winston jewel she is. Her gaze flits across all these people and she seems self-conscious in her skin.
Bashful and squirming as if she feels out of place, she obviously has no idea she's the sexiest, baddest one in here, sequins or not. Our eyes connect. She's the moon that hangs over my night, my Christmas, my life."
Odell has pled to be paroled for years. But can his lawyer, Tazima, also be freed?
A heartwarming, toasty, snowy, stand-alone Christmas romance, can two people defy the odds and carve out A New Life for Christmas?
Trigger warnings: Prison, death, grief, domestic dispute, sex