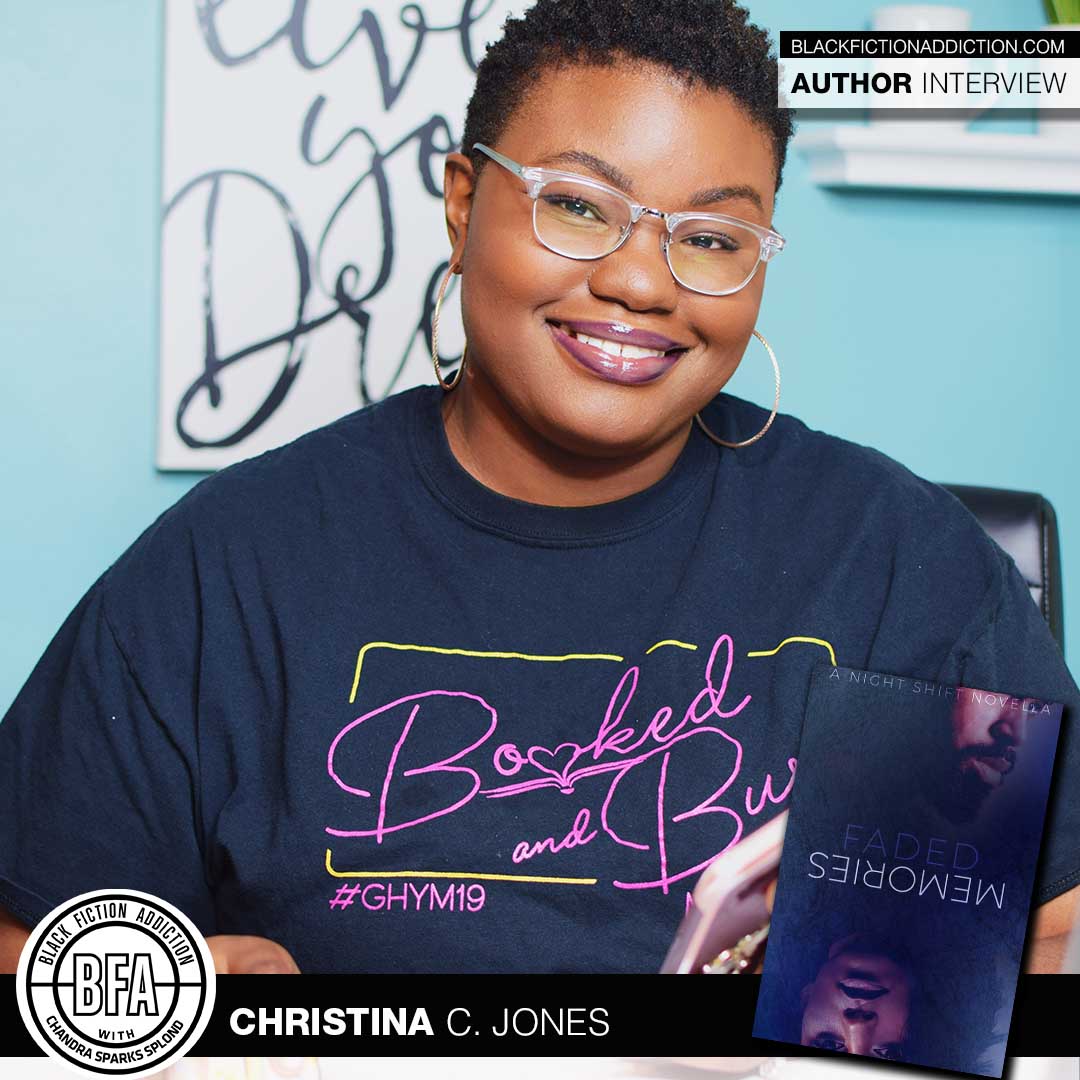 Prolific romance novelist Christina C. Jones took a break from a busy schedule to stop by for a visit. I recently spoke with her about Faded Memories and got the scoop on her upcoming release Hostile Takeover.
When did you fall in love with the written word?
At a very young age! I remember running through the bulk of what was available (and age appropriate) at both my elementary school library and my local public library. Probably why I was reading Eric Jerome Dickey and Terry McMillan as a pre-teen!
Tell me about your latest book.
My latest release is a part of the Night Shift series: Faded Memories. It's kind of a second-chance romance with some mystical elements set around the holidays.
The one I'm working on right now though is Hostile Takeover which is a…well, hostile marriage of convenience.
Why did you decide to write it?
The characters decided for me! I try to never force any part of the writing process. I have my systems in place to streamline and organize, but the stories themselves come to me—character first, and then I dig in to learn who they are.
What do you want readers to learn from the story?
There's no lesson with this one, just vibes LOL. I'm having a great time writing it, and I hope anyone who picks it up has a great experience as well.
If you could pick another profession, what would it be and why?
I'd be a great party/event planner. I love decorating, I love baking, I love hosting and gifting, all the things that make a shindig feel special—and I've been told I'm actually pretty good at it too!
What's the best part of being an author?
Getting the stories out of my head and in front of people who feel seen through the stories I've weaved.
What's the worst part of being an author?
When readers expect a story that fits their exact ideals instead of accepting the one that's presented.
What's next for you?
I'm currently working on Hostile Takeover, which I hope to have out next month [February]. Also adapting some more of my work into audiobooks.
Do you have anything you would like to add?
Just a thank you for inviting me to share a bit of myself! The support is absolutely appreciated!
---
Use the Black Fiction Addiction affiliate link to purchase your copy of Faded Memories.
---
To learn more about romance novelist and digital media creator Christina C. Jones, visit her websites or connect with her on social media.
Websites: beingmrsjones.com and ccjromance.com
Twitter: twitter.com/beingmrsjones
TikTok: https://www.tiktok.com/@beingmrsjones
Instagram: Instagram.com/beingmrsjones
Facebook.com: facebook.com/beingmrsjones
YouTube: youtube.com/christinajonesauthor
Patreon: patreon.com/ccj