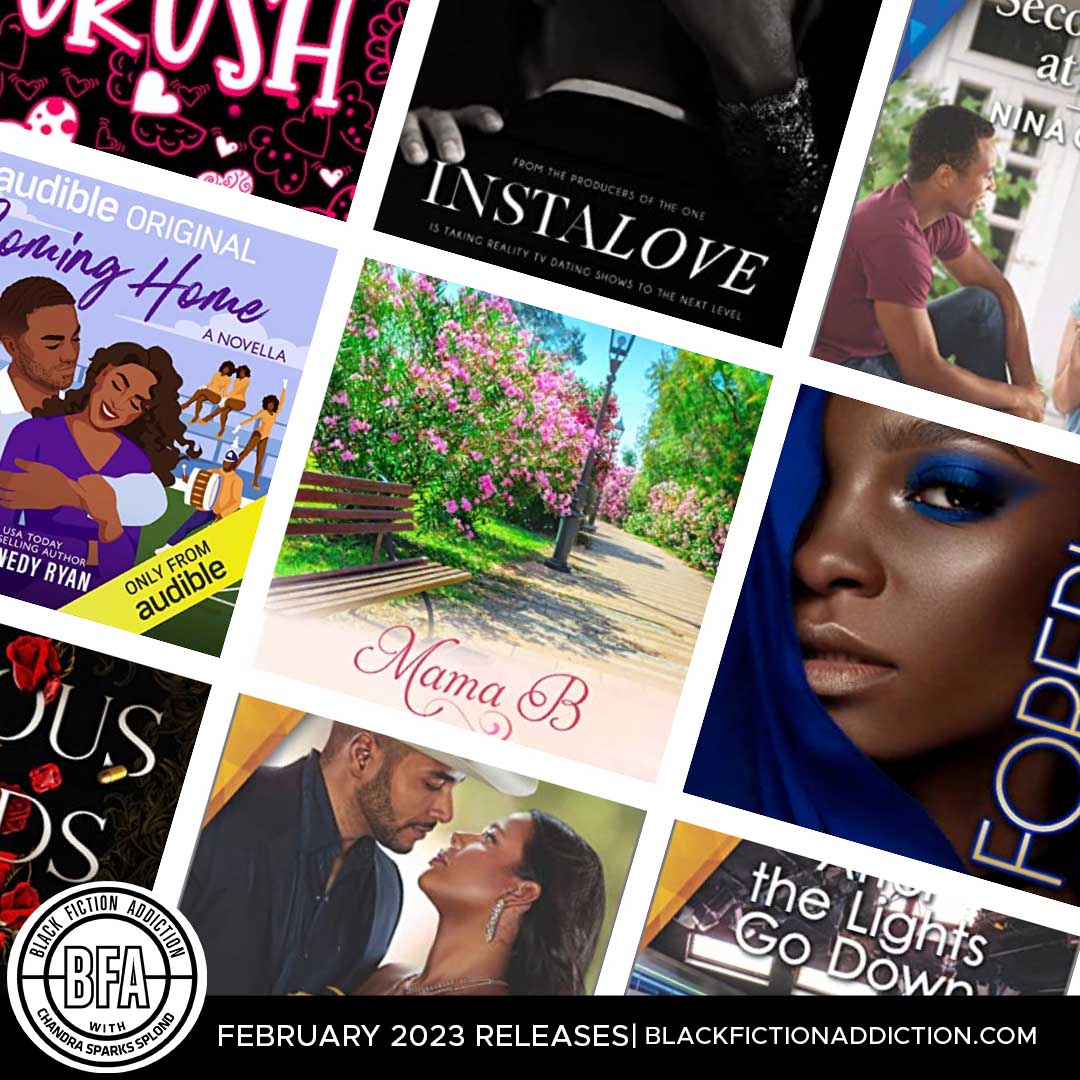 February has come and gone, and it left a lot of great new releases behind. Here are some black books released:
Danielle Allen
It's been three years since being betrayed by my best friend and my boyfriend. And while I was over them, I was still triggered by the pain they'd caused.
I was leery of people. I found it hard to trust and open up. Meaningless flings filled the void and quelled any loneliness. But what I truly wanted was love.
Wine drunk and fresh off the heels of a bad first date, I applied to be a part of the relationship social experiment and hit TV show InstaLove.
It wasn't until I was accepted to be part of the show that it hit me: I'm engaged to a man I've never met.
---
Lacey Baker
Travel writer Allie Sparks has one goal: to find the story that will save her career. So here she is, visiting her bestie on picturesque Crescent Island—with sun-warmed beaches, the briny smell of the ocean, and rumors of a secret astrologer-matchmaker who guarantees love. Of course, Allie doesn't believe in any of that stuff. If anything, she'll prove it's a total scam.
Ryan Parker believes in love—just not right now. He's focused on expanding his family's barbeque business, finding investors, and keeping his too-big Great Dane puppy from jumping on everyone, including his sister's pretty, whiskey-eyed best friend. Besides, falling for a tourist is definitely not in his astrological forecast.
Allie is doing everything she can to resist the charm of the town and its beauty, not to mention her attraction to Ryan. But there's a lot more happening on Crescent Island than anyone knows…and when her story goes to print, this tiny, close-knit town might never be the same.
---
Lauren Blackwood
Eighteen-year-old Victoria is a Wildblood. Since she was kidnapped at the age of six and manipulated by the Exotic Lands Touring Company, she's worked as a tour guide ever since with a team of fellow Wildbloods who take turns using their magic to protect travelers in a Jamaican jungle teeming with ghostly monsters.
When the boss denies Victoria an earned promotion to team leader in favor of Dean, her backstabbing ex, she's determined to prove herself. Her magic may be the most powerful on the team, but she's not the image the boss wants to send their new client, Thorn, a renowned goldminer determined to reach an untouched gold supply deep in the jungle.
Thorn is everything Victoria isn't – confident, impossibly kind, and so handsome he leaves her speechless. And when he entrusts the mission to her, kindness turns to mutual respect, turns to affection, turns to love. But the jungle is treacherous, and between hypnotic river spirits, soul-devouring women that shed their skin like snakes, and her ex out for revenge, Victoria has to decide – is promotion at a corrupt company really what she wants?
---
Diane Marie Brown
Generations of Montrose women—Augusta, Victoria, Willow—have lived together in their quaint two-story bungalow in California for years. They keep to themselves, never venture far from home, and their collection of tinctures and spells is an unspoken bond between them.
But when seventeen-year-old Nickie Montrose brings home a boy for the first time, their quiet lives are thrown into disarray. For the other women have been withholding a secret from Nickie that will end her relationship before it's even begun: the decades-old family curse that any person they fall in love with dies.
Their surprise guest forces each woman to reckon with her own past choices and mistakes. And as new truths about the curse emerge, the family is set on a collision course dating back to a Voodoo shop in 1950s New Orleans's French Quarter—where a hidden story in a mysterious book may just hold the answers they seek in life and in love…
---
Falling in Love on Sweetwater Lane
Belle Calhoun
Veterinarian Harlow Jones knew returning to small-town life, even temporarily, would be a disaster. She just never guessed it would start that way—with her car skidding off the road outside Mistletoe, Maine. And while her rescuer is both charming and handsome, Harlow isn't about to get involved with a local. She's in town for one reason only—to pay off her vet school bills—and then she's back to her real life in Seattle.
Nick Keegan knows all about unexpected, life-altering detours. He lost his wife in the blink of an eye, and he's spent the years since being the best single dad he can be. He's also learned not to take anything for granted, so when sparks start to fly with Harlow, Nick is all in. He senses Harlow feels it too, but she insists romance isn't on her agenda. He'll have to pull out all the stops to show her that love is worth changing the best-laid plans.
---
Dhonielle Clayton
In this all-new novel from the world of Dhonielle Clayton's sweeping, lush Belles series, rebellious, outspoken, fan-favorite Edel Beauregard enters the Beauty Trials—a deadly competition to find the next Queen of Orléans. Sophia, the dangerous and erratic former queen, has been imprisoned, restoring peace to Orléans. Now her sister, Charlotte, sits on the throne and has decided to invoke the ancient tradition of the Beauty Trials—a series of harrowing tests meant to find the true ruler of Orléans. Edel, who has always aspired to be more than a Belle, decides to enter and, after promising to bind her arcana to keep from having an unnatural advantage, joins a few dozen other hopefuls intent on becoming the next Queen of Orléans. But the Trials are far worse than any of them bargained for. As the women are put through tasks that test their strength, confidence, composure, and bravery, many perish, and Edel is mysteriously attacked by one of the other competitors—forcing her to use her powers just to survive. Will her subterfuge cost her the crown, or is there a larger conspiracy at play? New York Times best-selling author Dhonielle Clayton returns to her sweeping, lush fantasy series with an all-new story teeming with high-stakes court intrigue and danger disguised by beauty.
---
Dhonielle Clayton
Camille must save Orleans in this high-stakes sequel to the instant New York Times bestseller.
---
Nina Crespo
She's no trespasser…but causing trouble just the same.
Hoping to get away from the hustle of Hollywood, producer Holland Ainsley finds the perfect subject for her new project. Except the old Maryland farmhouse comes with widower Myles Alexander. His goal is to fix up the place and sell it, not have a beloved memory become some documentary. Holland's vision may prove more enticing than Myles's battered heart imagines. Is his heart also ready for a reality check on happiness?
---
Sherron Elise
Ahmani finds love right in time for Valentine's Day and she's taking the definition of 'boy-crazy' to a whole new level. Nothing or no one will come between her and her new boyfriend…not even The Slumber Sisters!
---
Nia Forrester
She dedicated her life to working for the justice system, but when she needed it most, it didn't work for her.
On the eve of trial, Assistant District Attorney Lainey Abbott gets a disturbing phone call. Her baby sister, Stephanie, who should have been back at her college dorm after visiting for the weekend, never arrived. At first, she isn't too worried, because she's a system insider and has plenty of resources available to locate her sister quickly, including Russ Sanders, the police detective she's been on and off with for years. It'll take a couple days, tops. They'll find Steph and give her a piece of their mind for being so irresponsible.
But a year later, Stephanie still hasn't been found.
And what's worse, the system Lainey once had so much faith in, no longer seems inclined to look. Reeling from the loss, her career and personal life are in freefall, and most days she can't even bring herself to care.
Until another case surfaces, of a girl who's gone missing under strikingly similar circumstances to Steph's …
---
Kristina Forest
Shy, bookish, and admittedly awkward, Lily Greene has always felt inadequate compared to the rest of her accomplished family, who strive for Black excellence. She dreams of becoming a children's books editor, but she's been frustratingly stuck in the nonfiction division for years without a promotion in sight. Lily finds escapism in her correspondences with her favorite fantasy author, and what begins as two lonely people connecting over email turns into a tentative friendship and possibly something else Lily won't let herself entertain—until he ghosts her without a word.
Months later, Lily is still crushed, but she's determined to get a hold of her life, starting with finding a date to her sister's wedding. And the perfect person to help her is Nick Brown, her charming, attractive new neighbor, who she feels drawn to for reasons she can't explain. But little does she know, Nick is an author—her favorite fantasy author.
Nick, who has his reasons for using a pen name and pushing people away, soon realizes that the beautiful, quiet girl from down the hall is the same Lily he fell in love with over email months ago. Unwilling to complicate things even more between them, he agrees to set her up with someone else, though this simple favor between two neighbors is anything but—not when he can't get her off his mind…
---
Celeste Granger
For Journi St. James, traveling the world was status quo, something she had been doing since she was born. But as an international translator who speaks multiple languages, she changed what she was used to, parlaying her travel into an illustrious career. Traveling and negotiation was also the way Journi dealt with past hurt from a love not so long lost.
Lucas Baker, also traveled the world but for very different reasons. He is the primary bodyguard to Gideon, St. Clair and Gideon's musical endeavors took Lucas to places others had only ever dreamed of. His busy schedule precluded Lucas from laying a loving foundation and building with that special someone.
But a chance encounter would change the trajectory of their hidden desires and place Journi in Lucas' orbit. She's reticent, not willing to avail herself for another hurt. Yet his persistence and consistency prove to Journi that finding real love is worth the risk.
---
Donna Hill
Two news anchors. One job.
And a passion that won't be denied…
It's lights, camera, scandal when competing morning show anchors Layne Davis and Paul Waverly set their sights on the same promotion. Yet sizzling looks and smoking hot kisses are proving more distracting than the competition itself. Paul has always been the object of Layne's desires, and now's her chance to close the deal. But will a future with Paul mean sacrificing her dream of having both a successful career and love?
---
Alexandria House
---
Alexandria House
---
Lipstick Diaries: Chemical Reaction
Tiye Love
Five years ago, Simone Austin walked away from Chris Alexander. Their mad chemistry still haunts her, and no other man has been able to live up to the man she left behind. Tired of being single, she and her girls make a pact. They vow to be sexually fierce, completely open, and purposeful in getting what they each want from men.
Even second chances.
After a thirst-trapping pic of Simone is posted on IG, she receives plenty of male attention, including a private message from Chris. Simone can feel the heat through his words and decides to reconnect. Soon old insecurities seep in, and Simone questions if she's too afraid to get burned again to take another risk on Chris.
---
LaQuette
A cosmopolitan designer gets a taste of country life with Royal, Texas's hottest rancher in the latest installment of Texas Cattleman's Club: The Wedding by LaQuette!
She's willing to give him everything in bed
But will she risk her career for passion?
Keely Tucker knows designing a showstopping wedding dress for a movie starlet is the career-making opportunity of a lifetime. But Jacob Chatman has sent her focus into a tailspin! When a blackout leaves her stranded with a rancher she can't resist, their passion practically sets the sheets on fire. Jacob admires her drive…but is their hookup worth Keely risking her hard-earned ambitions for a life in Texas?
---
Robbi Renee
In every game, some rules are made to be broken.
For Lennox Black, never could he imagine that the effortlessly pretty, coy, yet mysterious new woman in town, Tia Alexander, would become his most formidable opponent to date.
Has he met his match? Or is Tia in over her head?
---
D. Rose
After receiving life-changing news, Magnolia Fields goes to her father's hometown, Eden Island, looking for answers. An unlikely encounter with Ellis Francois–the owner of the bed-and-breakfast Magnolia booked upon her arrival–begins her journey toward healing and experiencing true love.
---
Kennedy Ryan
They got everything they wanted…but never had each other.
Touré Wallace and Niomi Spencer were close friends at Finley College, the prestigious HBCU they attended. The attraction that simmered between them every semester was a question they never got to ask or answer before soaring ambitions launched them to opposite corners of the world. Both chased their dreams of grit and glamor as high-profile journalists. They got it all…except a shot at being more than friends.
Years later, Touré is an award-winning investigative journalist and Niomi is America's most popular morning-show host, but they both feel like something's missing. When their alma mater recruits its most famous alums for an interview during homecoming, every look, every touch is electric. The air hums with what could have been, and they're tempted by what they could have right now, if only for one weekend. Have they traveled the world, chasing something special, when all it took was coming home?
Featuring the musical stylings of Southern University's marching band, Human Jukebox!
---
Danyelle Scroggins
She's growing tired.
And I really can't blame her.
It's hard being a first lady when you often feel like the least important…
Then of all the stupid things I could do,
I did the most detestable.
I thought she forgave me.
Thought our lives were moving forward.
The church is growing and I'm marrying people like crazy.
But in the midst of all the love, my wife is suffering in silence.
I've been begging behind the scenes,
Because at the end of the day, it's what we are supposed to do. Right?
Yet, she's more determined to leave than she's ever been before.
It's time for me—the pastor, to go get the counseling I need.
So I can continue to be the example that I want to be for the parishioners.
But even more than that, to persuade my wife to please STAY.
---
Kiru Taye, Unoma Nwankwor, Nana Prah, Empi Baryeh, Zee Monodee, Nkem Akin
6 contemporary romance stories celebrating African Joy.
Journey from Lagos, Nigeria to Accra, Ghana, from Curepipe, Mauritius to Las Vegas, USA, and meet swoon-worthy book baes. The happy ending is guaranteed!
This limited-edition box set introduces 6 exciting and heart-warming book series by African authors. Prepare for enthralling stories of passion, love, and African joy!
Tropes: second chance romance, forbidden love, one-night stand, rockstar romance, and billionaires.
BOUND TO FATE by Kiru Taye
All Ike wants to do is to keep out of trouble and get through the one-year internship required for his degree program. But trouble finds him, in the form of the intelligent and brave Lara who turns his world upside down. Falling in love is forbidden. So why does it feel so right? Love like theirs cannot be denied. But catastrophe lies in wait and one-night changes their lives forever.
VEGAS NIGHTS by Unoma Nwankwor
A woman scared of being hurt again is bent on playing it safe.
A man determined to stay focused and never experience poverty again.
One night on the wild side that changes everything.
LOVE AND HIPLIFE by Nana Prah
Blaise is on the verge of taking African Francophone countries by storm with his new style of music. Learning how to sing in French without butchering the beautiful language is harder than he thought. Multi-linguist, Lamisi is the key to his success. When his presence in her life puts her in danger, will he end the budding relationship in order to keep her safe?
MOST ELIGIBLE BACHELOR by Empi Baryeh
When Lord—his given name, not a title—sets his sights on Chantelle, he has more than work on his mind. Yet, even the infamous playboy couldn't have predicted the magnetic attraction from the moment they met, nor the evening ending with more than just an interview. But now he has to convince Chantelle that their one-night stand wasn't a mistake… and that not all bachelors are heartbreakers.
THE ONE THAT GOT AWAY by Zee Monodee
Eldest sister of the Hemant sibling trio, Lara, returns to Mauritius as a divorcee and she comes across Eric, the man she loved as a teenager and gave up because their interracial relationship would not stand a chance on this island. But here comes a second chance: Eric wants her back in his life, and he will stop at nothing to win her back. Will Lara be her own worst enemy and thus end up unhappy ever after?
BITTERSWEET BEGINNING by Nkem Akin
"Efe Sagay grew up and went to school in Nigeria. While attending school she met the love of her life, her soul mate, the person she wanted to spend the rest of her life with…Kevwe Mukoro. And the feelings were duplicated by Kevwe. As soon as Efe graduated, they would be married. This was the dream and this was the plan. But real life doesn't always see things the way we do. The perfect future can always be destroyed by unforeseen circumstances." ~ Martha A. Cheves, Author.
---
Toni Shiloh
To build a future together
They must both let go of the past…
Returning home after a bad breakup, Jordan Wood is eager to prove she can run her family's store. Setting up a partnership with Declan Porter's struggling adventure business might do the trick. But the handsome single dad is set in his ways—in business and in love. Can winning his—and his son's—heart help them all heal?
---
Michelle Stimpson
Just because they're family doesn't mean they'll get along…
Beatrice "Mama B" Wilson doesn't have much family left to speak of. So when she learns of an inheritance left to her by an estranged uncle, she and her husband, Frank, travel out of town for the reading of the will. Mama B hopes to make a connection with her father's side of the family, provided they're not too trifling. But as it turns out, trifling is exactly what she gets from their first meeting, dropping Mama B smack dab in the middle of family foolishness with a first cousin who wonders why Mama B and Frank came out of the woodwork trying to claim their heritage now. Can Mama B get the root of the family problems, or will she and Frank hightail it out of there and leave her Daddy's side of the family to their own devices?
Filled with the humor, wit, and faith-filled storytelling that made the Mama B series a bestselling, award-winning series, Michelle Stimpson's beloved "Mama B" will make you laugh, cry, and remember what matters most in life.
---
Nic Stone
Scars exist to remind us of what we've survived.
DETACHED
Since Shelbi enrolled at Windward Academy as a senior and won't be there very long, she hasn't bothered making friends. What her classmates don't know about her can't be used to hurt her—you know, like it did at her last school.
WASTED
Andy Criddle is not okay. At all.
He's had far too much to drink.
Again. Which is bad.
And things are about to get worse.
When Shelbi sees Andy at his lowest, she can relate. So she doesn't resist reaching out. And there's no doubt their connection has them both seeing stars . . . but the closer they get, the more the past threatens to pull their universes apart.
---
Shanora Williams
WILLOW
I was never meant to live an ordinary life, and when I'm dropped from the sky into a haunting forest, facing the barrel of an unknown man's gun, I believe it to be true.
Ruler of Blackwater, Caz Harlow, is the man behind the gun. He's broody, calculating, commanding and, surprisingly, I can hear every thought that runs through his mind. Because I can, he wants me out of his world and sent back to where I came from, so he makes it his mission to find a way.
It seems like a simple task, until I realize his world is unlike mine—that his is filled with violence, chaos, destruction, and gifted people who can kill you with one look. In his universe, it's hard for a regular human like me to survive, but with Caz at my side, the possibility is higher. And the more time we spend together, the harder it is for me to ignore the connection that makes me feel alive.
He says we're not meant to be, so why does everything about him set my soul on fire?
CAZ
I have too many enemies to count, and when this Willow woman drops into my forest, that's exactly what I think she is: an enemy.
But then she makes a remark without even opening her mouth, and I realize I can hear her thoughts, and she can hear mine.
As Monarch of Blackwater, I can't allow her to stay. By doing so, I risk losing everything I've worked so hard to build, so I make it my mission to find her a way back home.
But as this mission rolls on, I realize my bond with Willow goes much deeper than I ever could have imagined. And the more I reject her, the more pain I feel entering my body. However, when I lower my guard, the pain disappears and I crave her touch.
This relentless, undeniable bond is becoming impossible to ignore, but I can't give into it. For if she stays, death will come for us, and it's up to me to choose our fate.
Do I risk staying with her and putting her life at constant risk, or do I sacrifice the one thing that brings me happiness and let her go?
---
Lakita Wilson
Leila is crushed when Dev, her boyfriend of four years, breaks up with her right before graduation. Just when she's thinking she wasted her entire high school experience on a dead-end relationship, her best friend Bree reminds her that Last Chance Dance is just around the corner.
A high school tradition, the Last Chance Dance gives all the students one last opportunity to find love before they graduate. All Leila has to do is submit three unrequited crushes to the dance committee and if any of her crushes list her too, they'll get matched. Presto: new relationship, just like that. To her utter amazement, Leila is matched with all three of her choices—and with someone she never expected, Tre Hillman, her chemistry partner and low-key nemesis.
Though at times skeptical, Leila embarks on her Last Chance Dance mission—trying out her matches and going on dates. If Dev wasn't her true love—then maybe someone else is. She knows it's definitely not Tre, even though he seems more and more determined to convince her he's right for her.
But as graduation and the dance approaches, and each date seems to change her mind (and her heart)—Leila must figure out what—and who—