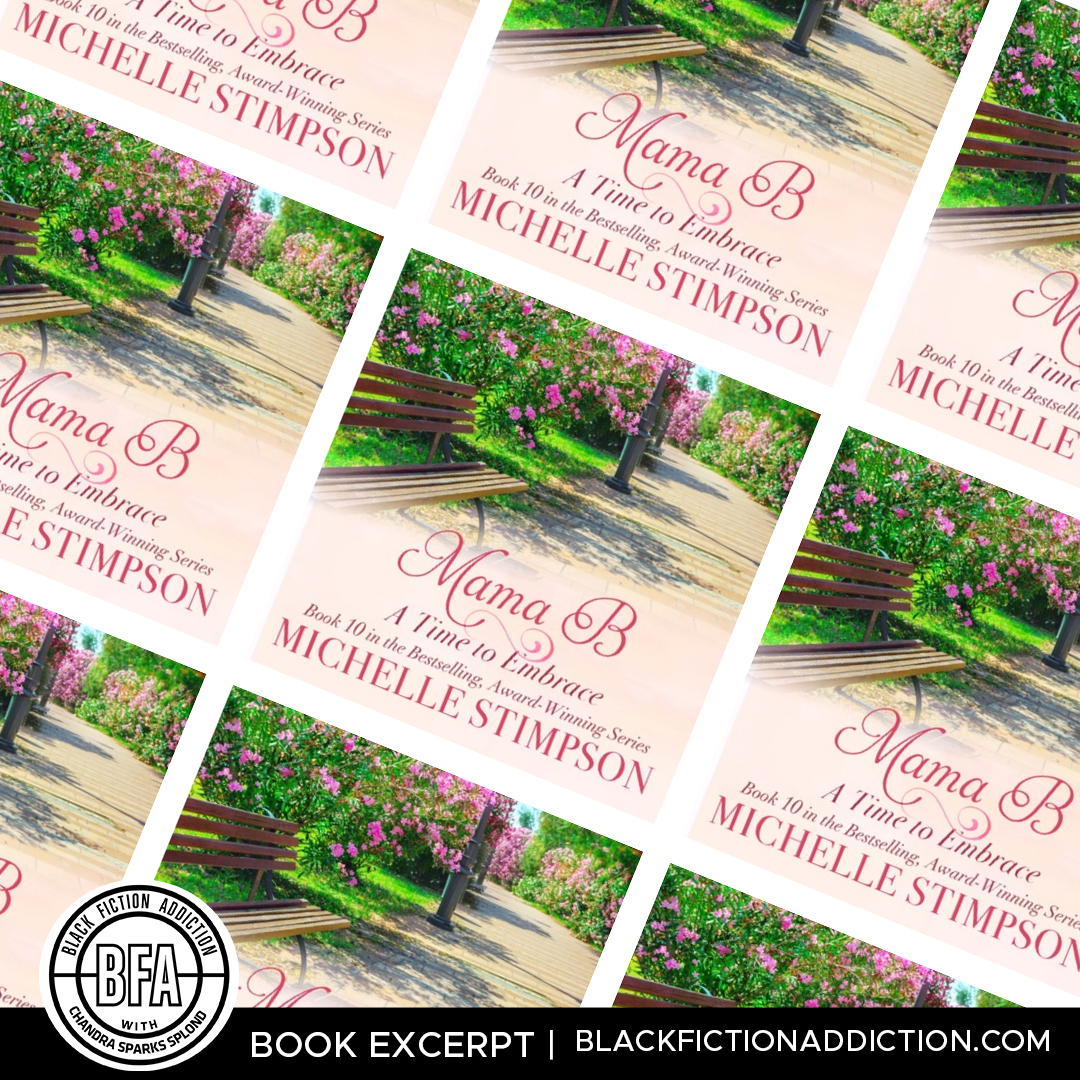 Author Michelle Stimpson is stopping by today to share an excerpt from her award-winning, bestselling Mama B series. Here's a sneak peek at A Time to Embrace.
I called my oldest daughter, Debra Kay, and told her about our plans.
"Mama, have you ever met these cousins of yours? I mean, you ever spent any summers with them? Seen them at a funeral? I only heard grandmother speak of them a few times, and she wasn't complimentary."
Debra Kay was telling the truth. My mother had a way of making references to my daddy's side of the family when somebody did something terribly wrong. "You got it honest from your daddy's side, but I'm gonna pray it out of you!"
I tried to remember now the nature of the things she blamed on the Pellums. Was it stealing? Lying? Shoot, it could have been just leaving dishes in the sink at night, which ranked right up there next to murder in my mother's book.
"Listen, Debra Kay. Now, my mother was a churchgoing woman. God-fearing and law-abiding. But I have to say, I do believe she was happy to be able to return to her Baptist ways after my father passed away. And I know his family was never keen on him marrying my mother because she was not from the Holiness Church. I think that was the root of this family split."
"Fine. Just go, hear the will, take the money, and run," she quipped.
"What kind of attitude is that? I think it's high tide I found out for myself what my daddy's family is like. I want to know if things were much better for them living in the north. I kind of wanted to move North myself, looking back. Everybody said there was so many more opportunities if we can just get out of the Jim Crow South."
"I think you and Daddy did just fine staying in Texas."
"That's because no matter what the law is and what people say, God is faithful anywhere and everywhere," I told my daughter. "I'll let you know when we leave out. "
Next on my list to contact were Son and Cassandra. I figured I'd better call Son next because he gets all in his feelings if he's the last to know something. And if you know anything about Son, you know he sounded just like Frank.
"There is no need for you to travel that far. How much money are we talking about, anyway? And why didn't he contact you when he was alive? How many people are you splitting this money with?"
"I do not know the answers to all these questions. When I know, I will be sure to inform you, sir."
He seemed a little less irritated when I told him that Frank was definitely going with me.
"Call me for backup if you need to. It's crazy up there in Gary, Mama. Dangerous. A lot of crime takes place in the North. Cold, hard streets."
Now he was sounding like a newscaster on TV. Always trying to make people scared. On top of that, I was willing to bet Son ain't bit mo' set foot in Gary, Indiana than a man on Mars.
Before he got all riled up, I set him straight. "Son, this is an F-Y-I phone call, not a consultation or a request for permission. Frank and I have decided to go. I will call you when I know more."
He huffed. "Tell Frank to call me."
My neck slid to the side. "I beg your pardon?"
"I trust Frank's street sense. He knows when people are trying to get over on him. No offense, Momma, but you're too nice for your own good sometimes. Always letting people move into your house, spending hours volunteering at the church when you should be resting your feet. I've even seen you give money to somebody you knew was on drugs in downtown Dallas."
"Correction. I did not give her money. I gave her food so she could eat."
"Same thing," Son snapped. "It's people like you who enable others to not be their best."
Blood pounded in my ears at his ridiculous rant. "First of all, that woman was pregnant. If you'd taken a moment to see her as a person and not a beggar, you would have known that. Secondly, what I do with my time and money is my business. I give as the Lord directs." I started to say that he had a lot of nerve to fuss about me helping folk when, if I counted up which adult child had borrowed the most money, kept up the most foolishness, and required the most ongoing support, it would be him. Hands down.
I was itchin' to say that last part, but the Holy Spirit stopped me. Some folk can't handle the whole truth all at once; you got to cut it up into tiny pieces so their sensitive systems can digest it.
Son took a deep breath. "Momma. All I'm saying is…be careful."
"Then say that. Not all the extra. Okay?"
"Okay."
"I love you, Son."
"I love you, too, Momma."
"I'll keep you posted. Bye."
---
Use the Black Fiction Addiction affiliate link to purchase your copy of Mama B: A Time to Embrace.