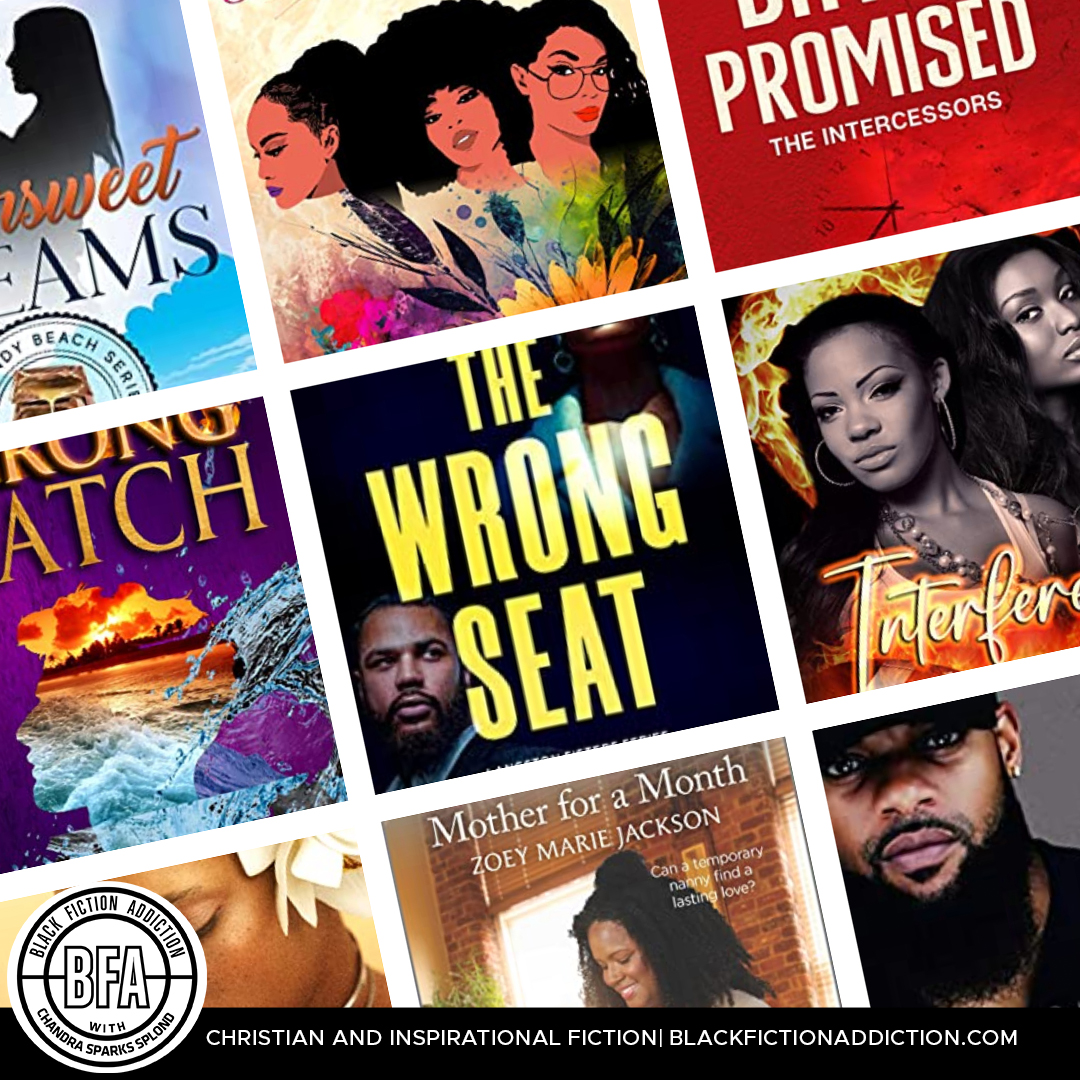 Love Black Christian and inspirational fiction reads or looking to give them a try? Use my affiliate links to check out these releases.
The Wrong Catch by Dr. Velma Bagby
In book #3 of the CATCH series, Greyson presents trophy fish as the new characters in his stories about dating the wrong men.
Word spread like wildfire after his daughter Veronica Dawson's Sunday testimony, when she shared her dad's fish stories describing the wrong guys she dated: the Catfish who loves garbage, the Sturgeon who likes to nibble, the Salmon who hates getting caught, and the Pufferfish who is handsome until agitated.
As more women heard the stories, they couldn't get enough and wanted more. Some commented, "I can't believe I dated all those fish characters." While others responded, "The use of fish personalities as men were genius."
In response to the demand to know more about the stories, Greyson and Veronica decided to host a conference. But this time, Greyson focused on the WRONG CATCH. There, Greyson introduced four new fish analogies based on an elite group of trophy fish popular for fishing tournaments, a multi-million-dollar business. The 4 stories bring together the powerful fighters called the Black Bass. He told of other Bass fish called the Pike fish (twins), also strong and popular with anglers. To win a trophy fish anglers must prepare for a long fight, as these fish will fight relentlessly to avoid getting caught, including flying above water to knock the hook out of its mouth. Most times the trophy fish wins, tiring out the angler. But if the angler wins, he earns bragging rights having won the fight, in addition to winning thousands of dollars.
On land, a trophy feels entitled, even when his financial status does not match the title. He does not see the woman as the prize and sees only himself and what he wants. These guys believe anyone in their inner circle is like an extra in a movie and lucky to be around them.
The question Greyson challenged the women to answer was: If the guy is a trophy, what does that make the woman called to be his prize (crown)? Find out more in The WRONG CATCH.
---
Bittersweet Dreams by Cecelia Dowdy
What would you do if you discovered your fiancé was a thief?
Karen Brown's fiancé was the treasurer of their large megachurch. After embezzling thousands of dollars, he disappeared with his beautiful assistant. Reeling from shock, Karen moves back in with her mom. When she arrives, she meets Keith, the blunt next door neighbor who knows way too much about her past. Keith Baxter—plumber and future preacher—is enamored with Karen. Can he sweeten Karen's mood with his homemade candy and convince her that not all men are dishonorable?
---
Interference by Sherron Elise
Gya is forced to try and pick up the pieces of her life and shattered heart in the aftermath of Bryant's betrayal and deceit.
Meanwhile, Tatum is embroiled in the fight of her life as King faces allegations that can not only end his career but his freedom…
---
 The Wrong Seat by Natasha Frazier
Life doesn't return to normal for the Langston Sisters…
Compelled to get her family's business back on solid ground after Crystal's arrest tanks their company's sales and reputation, Ava shoulders the responsibility to secure the biggest deal Langston Brands has had since inception. However, someone doesn't like the idea and poisons her to thwart her mission.
Ava's father hires The Four Kings private security firm to protect Ava from the ongoing threats. When Zack Kingsland takes the job, he does so reluctantly. He's been out of the field for five years since his last job cost him his ex-wife. Now that he's back in the thick of things, he finds that he not only needs to protect Ava, but also his heart.
A man of his word, Zack won't compromise his assignment or Ava's safety, not even for the growing feelings he has for her.
How can Ava and Zack navigate their feelings without losing sight of the mission—to keep her safe?
---
Mother for a Month by Zoey Marie Jackson
For the baby's sake, she'll tolerate anything
Even his exasperating—and handsome—uncle
Adorable baby Micah melts Sienna King's heart instantly. Too bad he's related to the most insufferable man Sienna knows. Joel Armstrong has temporary custody of his sweet nephew—and no clue what he's doing. Sienna has free time…and a yearning to be a mother. It could be a perfect match. But what happens when they both start wanting a long-term ever after?
---
Almost Destroyed by Lakisha Johnson
Ava Gentry met Andre, thirteen years ago, when he was the officer who responded the night she was attacked. Years later, he's still treating her like that scared and broken girl with no self-esteem in need of saving. Every chance he gets, he tries to destroy her with his words and actions leaving her feeling unworthy of love and respect.
The sad reality was it wasn't the first time she's felt this way. From being abused by her grandfather to even worse foster homes; suffering has almost destroyed her identity and ability to love herself.
But she's had enough.
Finally standing up for herself, Andre throws her out, destroying her belongings while almost destroying her. On her own and starting over, she realizes the first thing she needs, besides a place to stay and a job is a relationship with God. Yet, things prove harder than she ever imagined, especially when trouble won't let go, and neither will Andre.
---
The Essence of His Soul by Mya Kay
When Essence Taylor, owner of Taylor Made Music Group, walks into Mocha Tea & Trends, a new high-end coffee shop in Old City Philadelphia, her goal is to get some work done. But when she overhears the manager ending a frustrating call with the artist scheduled to perform that weekend, she jumps at the chance to offer her newly signed songstress.
Enter Philadelphia basketball sensation, Shane Bishop, the shop's owner. Their eyes lock and she's certain she feels butterflies, but she refuses to be distracted—and by a ball player no less. But Shane is already smitten as he listens to her and the manager seal the deal for her artist to showcase her talent. Later, Shane slides into her DM's, sending her a message that leaves her speechless. After they exchange numbers and move to talking on the phone, she finally agrees to go out with him.
What starts out as a newfound friendship between two preacher's kids, turns into a God-ordained romance as both of their lives are shaken up by family secrets, old flames, and an incident that could ruin both of their careers.
Will Essence and Shane be able to keep their love tight through the ups and downs of the entertainment business they're a part of, or will family drama, past trauma, and rumors be too much for them to endure?
---
Carrying the Cross by She Nell
Sometimes those closest to you cause the most damage.
Diamond's dream is her family's nightmare and the only support she has is killing her slowly. If she is going to build her empire, she must do it alone. The truth causes her to spiral out of control and question everything. Pain is her cross.
She is smart.
She is creative.
She is connected.
But is she strong enough to carry her cross alone?
---
Day Not Promised: The Intercessors by Pat Simmons
Pat Simmons introduces a new Christian fiction series that reminds readers that the bad guys don't always win, especially when the Lord fights our battles.
Omega Addams thought it was a typical work day until a detour on the way home changes everything. She's almost killed, but an innocent bystander, Mitchell Franklin, takes a bullet for Omega during a gas station robbery.
In the aftermath, Omega has no idea that God expects her to "pray it forward" until a spiritual battle unfolds before her eyes. Another innocent bystander is in trouble; unless Omega gets her prayer life together, others will die without Christ. It's a chain reaction that highlights the responsibility of a Christian–hot, cold, or lukewarm. It's time to get our acts together. We are our brother's keeper.
---
Finding Our Way by Michelle Stimpson and CaSandra McLaughlin
How does a mother escape the stress of living with her grown children?
Patrice Reed is retired, but between church life and home life with her two adult daughters and grandson, there is no time for her own life. That is, until she meets Theo Santoro, who makes her recognize that she's missing out on her best life.
Wanna-be reality TV star, Quida, desires fame regardless of the cost. And motherhood is cramping her style.
Jade, a plus-sized millennial, struggles to find her place in the family and in the world.
Can Patrice and her daughters find their way to peace under one roof?
---
Cold Case Deceit by Jacquelin Thomas
An unsolved homicide. Old secrets.
And investigators with a past.
Cold Case Unit supervisor Phillipa Stevenson is willing to investigate an unsolved murder for her ex-fiancé—without his help. Detective Kyle Rossi broke her heart years ago, but she'll find justice for his sister-in-law. Only, the victim isn't who they thought she was. And working with Kyle becomes Phillipa's best chance. As they follow a decade-long trail of betrayal and murder, Phillipa must put aside her heartache to uncover the truth…about the victim's past and their own.