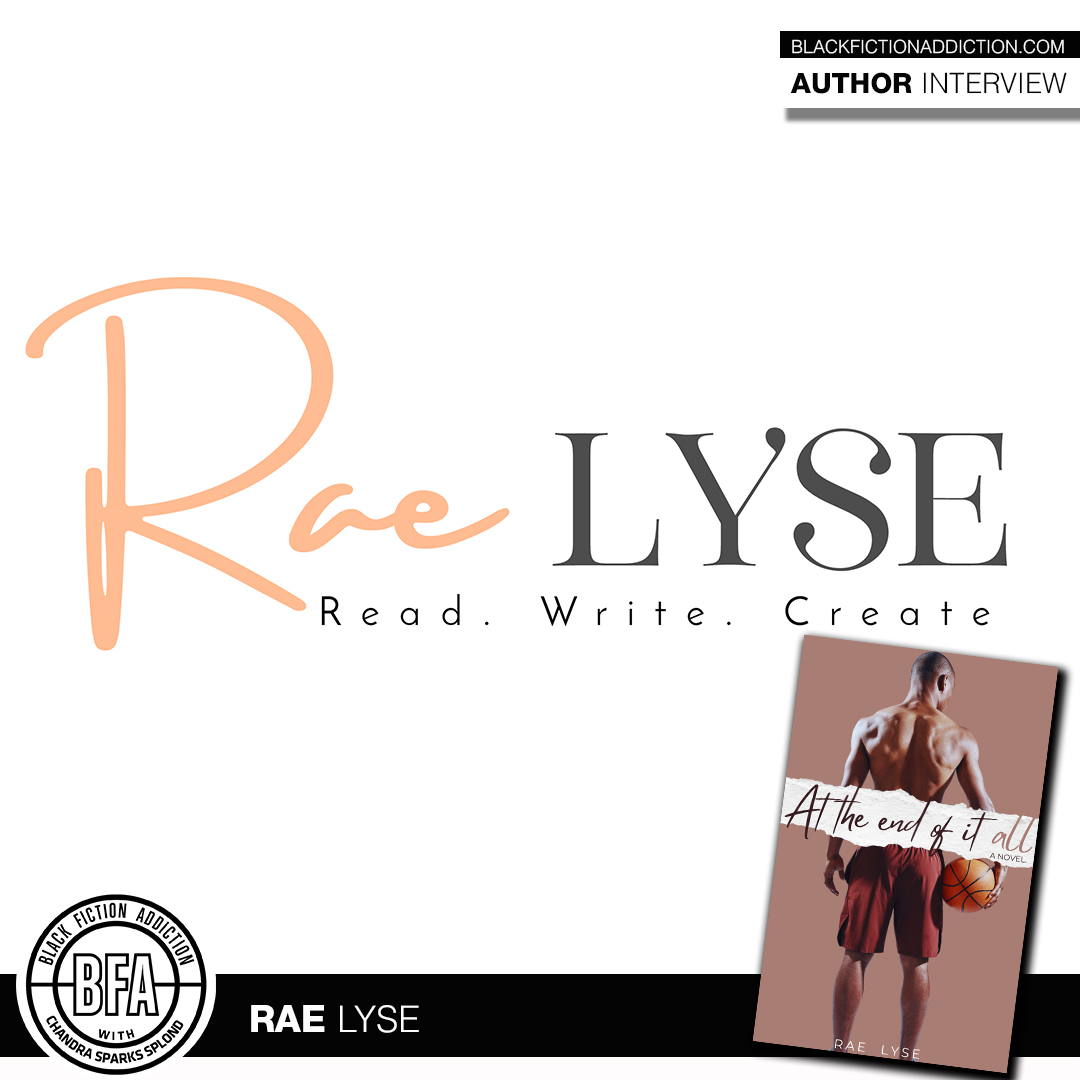 Author Rae Lyse has a new release with all-new characters. Black Fiction Addiction couldn't wait to chat with her about At the End of It All.
Tell me about your latest book.
My latest book, At the End of it All, follows the college romance of Ace and Lourdes.
Here's the synopsis:
Everyone and everything has one.
They're inevitable, right?
At twenty-one, Ason Williams Jr. knows all about inevitable endings. He's formerly famous, a popular rapper's muse, the son of a three-time NBA champ, and a little…𝘤𝘰𝘮𝘱𝘭𝘪𝘤𝘢𝘵𝘦𝘥. After a disturbing scandal and loss rocks his world, he's left to deal with both in a city that doesn't quite feel like home. It's a place filled with old family friends he's never met, reminders of all the endings he's had to endure, and even worse—he's stuck there after his dad takes a job no one ever imagined him taking. Eighteen-year-old Lourdes Hines doesn't think about endings because she's too busy dealing with the now. She's a part-time college student, full-time caretaker, and worst of all, a lowly freshman on a campus she doesn't have time to get accustomed to. After a tense run-in with a boy she's sure she's supposed to hate, the endings she's been running from catch up to her at full speed, and she faces a question he seems to have the answer to: 𝘞𝘩𝘢𝘵 𝘩𝘢𝘱𝘱𝘦𝘯𝘴 𝘢𝘵 𝘵𝘩𝘦 𝘦𝘯𝘥 𝘰𝘧 𝘪𝘵 𝘢𝘭𝘭?
The story is a standalone with new characters but still exists in the same universe as my previous series, The Sun Series. It touches on many topics, such as caregiver burnout, health disparities in the black community, unhealthy family dynamics, how controversy is handled amongst young black athletes, and much, much more. There's something for everyone to relate to in this story, and it takes place in my home state of Texas, which is always fun!
Why did you decide to write it?
I wanted to write a really heavy romance story. The previous books I wrote were romances, but they all had an underlying urban element to them, and this project is strictly romance.
Who is your favorite character in the book and why?
This is hard! I love both of the main characters for so many reasons, but I will have to say my favorite character is Ace. He's such a layered person trying to exist in this new world he's been forced into. He was by far the hardest male character I've ever written next to Dre from Thirty. Typically, male characters are the easiest for me, but he's gone through so much in this book that embodying him and his thought process was difficult and rewarding because I know there are thousands of boys like him out in the world whose stories have never been told.
What was the hardest part about writing the story?
Not letting life get in the way of finishing it. I started writing this story last summer and thought I'd finish it much sooner than I actually did, but last fall I dealt with a lot of personal problems and had an unfortunate health scare that took a toll on me mentally and physically. It took me away from the story for a while, but I'm thankful that I could persevere and finish what I started.
If you were to write a book about your life, what would be the title and why? 
Hmmm, I'm not the best at titles. Maybe An Evolution. Sometimes I look back at older versions of myself and can't believe how far I've evolved and am still evolving as a young black woman.
What would you tell your 16-year-old self? 
You're perfect just the way you are. There's nothing about you that you need to change to appease other people. Showing up as yourself is enough.
What is something readers would be surprised to know about you? 
I'm a medical social worker, and I work with adults. I think because of the subject matter in my previous books, many people thought I worked with children, but I actually never have. Shout out to all of my social workers working with our babies! It's such a thankless job, and I love them for taking on such a challenging role. They don't get enough recognition.
Tell me about a book that changed your life and why. 
Jason and Kyra by Dana Davidson! This book made me fall in love with black romance—especially black young adult romance.
What's next for you?
Lots of book events! I'll be at Indie Love in Atlanta, Behind the Pen in New York, and at the Girlfriends Unfiltered Mixer in Pasadena, California, signing books and taking pictures. Check out my website for more information. Of course, more books and audiobooks are coming as well.
Do you have anything you would like to add?
Thank you for this opportunity and for always showcasing black voices in the writing community.
---
To learn more about Rae Lyse, visit her website or connect with her on social media.
Instagram and FB: raelysebooks
Twitter: rae_lyse