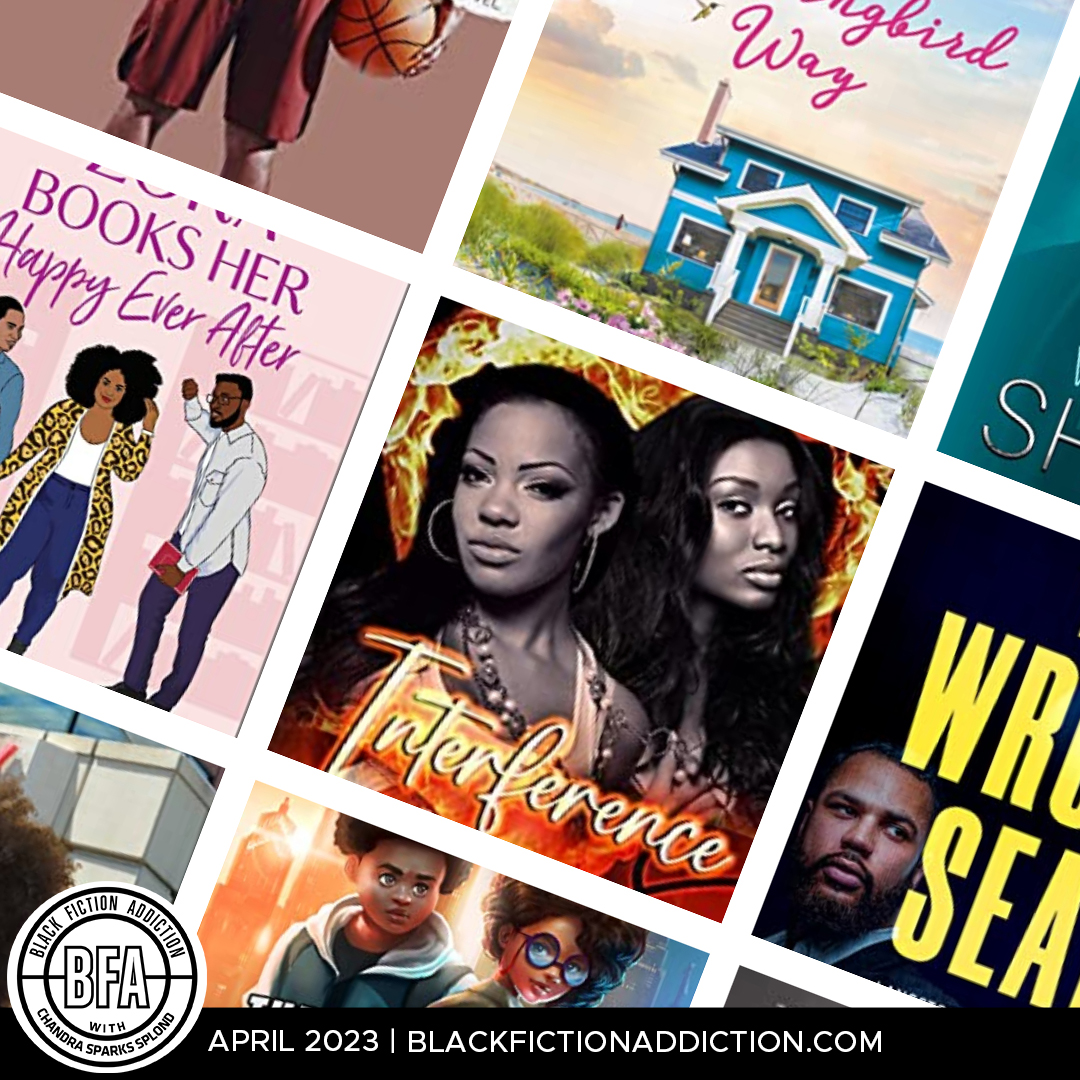 April is over, but it left plenty of amazing book gifts behind. Here are a few black books that were released.
Smoke (audiobook)
Aja
Mystery, crime, and grit surrounded his family, often bringing power-hungry enemies right to his doorstep. Never one to back down from any opposition, he often stood victorious. But this new threat is something different and not at all one he is prepared for until an old love comes to save him.
Elijah Lewis aka "Smoke" has to decide what to do with the gift of knowledge he's received. Does he deliver more pain to the people responsible for trying to take him out, or does he take well-meaning advice and get out of this line of work? For people like him, there were only so many places he could go and the top two were: to jail or to hell.
Contains mature themes.
---
Jayne Allen
In this final installment in the acclaimed Black Girls Must Die Exhausted trilogy, Tabitha is juggling work, relationships, and a newborn baby—but will she find the happy ending she's always wanted?
After a whirlwind year, Tabitha Walker's carefully organized plan to achieve the life she wanted—perfect job, dream husband, and stylish home—has gone off the rails. Her checklist now consists of diapers changed (infinite), showers taken (zero), tears cried (buckets), and hours of sleep (what's that?).
Don't get her wrong, Tabby loves her new bundle of joy and motherhood is perhaps the only thing that's consistent for her these days. When the news station announces that they will be hiring outside competitors for the new anchor position, Tabby throws herself into her work. But it's not just maintaining her position as the station's weekend anchor that has her worried. All of her relationships seem to be shifting out of their regular orbits. Best friend Alexis can't manage to strike the right balance in her "refurbished" marriage with Rob, and Laila's gone from being a consistent ride-or-die to a newly minted entrepreneur trying to raise capital for her growing business. And when Marc presents her with an ultimatum about their relationship, coupled with an extended "visit" from his mother, Tabby is forced to take stock of her life and make a new plan for the future.
Consumed by work, motherhood, and love, Tabby finds herself isolated from her friends and family just when she needs them most. But help is always there when you ask for it, and Tabby's village will once again rally around her as she comes to terms with her new life and faces her biggest challenge yet—choosing herself.
---
Velma Bagby
In response to the demand to know more about the stories, Greyson and Veronica decided to host a conference. But this time, Greyson focused on the WRONG CATCH. There, Greyson introduced four new fish analogies based on an elite group of trophy fish popular for fishing tournaments, a multi-million-dollar business. The 4 stories bring together the powerful fighters called the Black Bass. He told of other Bass fish called the Pike fish (twins), also strong and popular with anglers. To win a trophy fish anglers must prepare for a long fight, as these fish will fight relentlessly to avoid getting caught, including flying above water to knock the hook out of its mouth. Most times the trophy fish wins, tiring out the angler. But if the angler wins, he earns bragging rights having won the fight, in addition to winning thousands of dollars.
On land, a trophy feels entitled, even when his financial status does not match the title. He does not see the woman as the prize and sees only himself and what he wants. These guys believe anyone in their inner circle is like an extra in a movie and lucky to be around them.
The question Greyson challenged the women to answer was: If the guy is a trophy, what does that make the woman called to be his prize (crown)? Find out more in The WRONG CATCH.
---
Terry J. Benton-Walker
Thirty years ago, a young woman was murdered, a family was lynched, and New Orleans saw the greatest magical massacre in its history. In the days that followed, a throne was stolen from a queen.
On the anniversary of these brutal events, Clement and Cristina Trudeau—the sixteen-year-old twin heirs to the powerful, magical, dethroned family—are mourning their father and caring for their sick mother. Until, by chance, they discover their mother isn't sick—she's cursed. Cursed by someone on the very magic council their family used to rule. Someone who will come for them next.
Cristina, once a talented and dedicated practitioner of Generational magic, has given up magic for good. An ancient spell is what killed their father and she was the one who cast it. For Clement, magic is his lifeline. A distraction from his anger and pain. Even better than the random guys he hooks up with.
Cristina and Clement used to be each other's most trusted confidant and friend, now they barely speak. But if they have any hope of discovering who is coming after their family, they'll have to find a way to trust each other and their family's magic, all while solving the decades-old murder that sparked the still-rising tensions between the city's magical and non-magical communities. And if they don't succeed, New Orleans may see another massacre. Or worse.
---
Monica Brashears
Magnolia Brown is nineteen years old, broke, and effectively an orphan. She feels stuck and haunted: by her overdrawn bank account, her predatory landlord, and the ghost of her late grandmother Mama Brown.
One night, while working at her dead-end gas station job, a mysterious, slick stranger named Cotton walks in and offers to turn Magnolia's luck around with a lucrative "modeling" job at his family's funeral home. She accepts. But despite things looking up, Magnolia's problems fatten along with her wallet. When Cotton's requests become increasingly weird, Magnolia discovers there's a lot more at stake than just her rent.
---
Kimberly Brown
Eliana Barlow has spent years longing to be a mother. With six miscarriages, she is finally blessed with a beautiful baby girl through the loss of her best friend Porchea. The loss of her husband in the line of duty only two years later proves to Eliana that life can be cruel. Dealing with heartbreak amid raising her daughter is no easy task, but Eliana manages to do it all with grace.
Malachi Devereaux has spent the bulk of his adult life longing for the one thing he's never had, a child. Set to be married to the beautiful Ziva Shaw, he has hopes of finally fulfilling that dream. When a young girl shows up in his classroom claiming to be his daughter, Malachi's entire world is changed in the blink of an eye.
The secrets of his former lover come to light the same time as revelations about his current fiancée. The realization that she will never accept his child forces Malachi to choose between two different kinds of love. The problem with Ziva is she isn't willing to give him up so easily. The budding relationship with not only Malachi and his daughter but her mother pushes Ziva over an already fragile edge.
---
Madam X
Niobia Bryant
By popular demand, national bestselling author Niobia Bryant brings you the sizzling, sexy, twist-a-minute follow-up to Madam, May I, in which Manhattan's most exclusive madam discovers her past is back with a vengeance …
Billionaire celebrity clients, anything-goes erotic nights, seductive betrayals—Desdemona Dean couldn't wait to leave the high-end prostitution game behind.
Now settled down with the only man she's ever loved, Desi is getting the chances her shattered childhood denied her—and making her life truly her own. Until a basketball superstar publicly credits Madam X's unmatched sexual services for his astonishing career. Add an anonymous tip to the police—and suddenly Desi is in the center of a social and tabloid media firestorm …
Knowing others' secret desires has always kept Desi safe—and hiding her own wrenching past is the only protection she could ever trust. But her lies are taking her relationship apart piece by piece, keeping her only seconds ahead of the police—and exposing her to a malicious blackmailer determined to destroy her for good …
Now Desi will need all her nerve and cool, calculating bravado to take down her enemies and outmaneuver the law. But once she reveals who she used to be, can she survive the consequences to hold on to the woman she's become?
---
Jerry Craft
Jordan, Drew, Liam, Maury, and their friends from Riverdale Academy Day School are heading out on a school trip to Paris. As an aspiring artist himself, Jordan can't wait to see all the amazing art in the famous City of Lights.
But when their trusted faculty guides are replaced at the last minute, the school trip takes an unexpected—and hilarious—turn. Especially when trying to find their way around a foreign city ends up being almost as tricky as navigating the same friendships, fears, and differences that they struggle with at home.
Will Jordan and his friends embrace being exposed to a new language, unfamiliar food, and a different culture? Or will they all end up feeling like the "new kid"?
---
N.E. Davenport
After discovering the depth of betrayal, treachery, and violence perpetrated against her by Mareen's Tribunal Council and exposing her illegal blood-gift to save her Praetorian squad, Ikenna becomes a fugitive with a colossal bounty on her head.
Yet, somehow, that's the least of her worries.
Her grandfather's longtime allies refuse to offer help, and the Blood Emperor's Warlord is tracking her. She's also struggling to control the enormous power she was granted by the Goddess of Blood Rites…and come to terms with the promises she made to get such power.
Amidst all of this, the Blood Emperor wages a full-scale invasion against Mareen and leaves a trail of decimated cities, war crimes, and untold death in his wake. As the horrors increase, Ikenna and her team realize they must assassinate the Blood Emperor and quickly end the war. But the price to do so is steep and has planet-shattering consequences.
The price to do nothing, though, is annihilation.
War has erupted. Alliances are fracturing. And Ikenna is torn between her loyalties, her desires for revenge, and the power threatening to consume her. With the world aflame, only one thing is certain: blood will be spilled.
---
The Wishing Pool and Other Stories
Tananarive Due
American Book Award–winning author Tananarive Due's second collection of stories includes offerings of horror, science fiction, and suspense—all genres she wields masterfully. From the mysterious, magical town of Gracetown to the aftermath of a pandemic to the reaches of the far future, Due's stories all share a sense of dread and fear balanced with heart and hope.
In some of these stories, the monster is racism itself; others address the monster within, each set against the supernatural or surreal. All are written with Due's trademark attention to detail and deeply drawn characters.
In addition to previously published work, this collection contains brand-new stories, including "Rumpus Room," a supernatural horror novelette set in Florida about a woman's struggle against both outer and inner demons.
---
Sherron Elise
Gya is forced to try and pick up the pieces of her life and shattered heart in the aftermath of Bryant's betrayal and deceit.
Meanwhile, Tatum is embroiled in the fight of her life as King faces allegations that can not only end his career but his freedom…
---
Natasha D. Frazier
Compelled to get her family's business back on solid ground after Crystal's arrest tanks their company's sales and reputation, Ava shoulders the responsibility to secure the biggest deal Langston Brands has had since inception. However, someone doesn't like the idea and poisons her to thwart her mission.
Ava's father hires The Four Kings private security firm to protect Ava from the ongoing threats. When Zack Kingsland takes the job, he does so reluctantly. He's been out of the field for five years since his last job cost him his ex-wife. Now that he's back in the thick of things, he finds that he not only needs to protect Ava, but also his heart.
A man of his word, Zack won't compromise his assignment or Ava's safety, not even for the growing feelings he has for her.
How can Ava and Zack navigate their feelings without losing sight of the mission—to keep her safe?
---
Anissa Gray
It's a warm, bright October afternoon, and Ozro Armstead walks out into the brilliant sunshine on his thirty-seventh birthday. At home, his wife Deborah and daughter Trinity prepare a surprise celebration; down the street, his brother waves as Oz heads back to his office after having lunch together.
But he won't make it to the party or even to his briefcase back at his desk. He's about to disappear.
In the days, months, and years to follow, Deborah and Trinity look backward and forward as they piece together the life of the man they love, but whom they come to realize they might never have truly known.
In a gripping narrative that moves from the Great Migration to 1970s Detroit and 1990s New York, we follow the hopes, triumphs, losses, and secrets that build up and tear apart an American family.
---
L.R. Jackson
Coming to America meets Bridgerton in this enthralling, contemporary debut novel by L.R. Jackson which blurs the lines of forbidden romance and showers hopeless romantics with a second-chance love reunion.
Unlike fairy tales of old, sometimes a woman must fight to save her king.
Ebony Rose desires the freedom to love without limits—but that's for people who aren't harboring the kind of skeletons that could threaten their very existence. Desperately running from her past and a broken heart, Ebony refuses to allow anyone to get close to her—until she crosses paths once more with Dafari, the knight in shining armor she lost long ago.
The last thing King Dafari expects to find in New York is the girl who got away—although he had hoped. Marrying a woman outside of his culture is strictly forbidden, and the clock is ticking for him to choose a queen. However, Ebony Rose embodies all the qualities he seeks in a mate and a matriarch for his country, and Dafari is determined to make Ebony his, despite the laws and traditions that stand between them. Then he makes a grave discovery that causes his world to spiral and leave him questioning everyone he loves.
Secrets buried under betrayal emerge, threatening to destroy the bond between Ebony and Dafari. Will they survive the sinister conspiracy surrounding them, or will royal misdeeds and scandal topple their chance at redemption and true happiness?
---
Sandra Kitt
When Everett Nicholls died, he left his millions to the two people he cared about most: the young law student he was mentoring and his beloved stepson. Eden Marsh and Beck Dennison are instantly suspicious of each other. Suddenly, with all this money at their fingertips, family problems they've each been ignoring can no longer be swept under the rug. Beck and his mother have had a strained relationship since tragedy befell the family when he was a young teen, and Eden knows it's long past time to forge a new relationship with her demanding younger sister. As they begin to confide in each other—and to have fun together—their friendship is an anchor in a stormy new life.
---
Rae Lyse
Endings.
Everyone and everything has one. They're inevitable, right?
At twenty-one, Ason 'Ace' Williams Jr. knows all about inevitable endings. He's formerly famous, a popular rapper's muse, the son of a three-time NBA champ, and a little… complicated. After a disturbing scandal and loss rocks his world, he's left to deal with both in a city that doesn't quite feel like home. It's a place filled with old family friends he's never met, reminders of all the endings he's had to endure, and even worse—he's stuck there after his dad takes a job no one ever imagined him taking.
Eighteen-year-old Lourdes 'Phat' Hines doesn't think about endings because she's too busy dealing with the now. She's a part-time college student, full-time caretaker, and worst of all, a lowly freshman on a campus she doesn't have time to get accustomed to. After a tense run-in with a boy she's sure she's supposed to hate, the endings she's been running from catch up to her at full speed and she faces a question he seems to have the answer to: What happens at the end of it all?
---
Brandon Massey
When Cam and Desiree Woodson find the luxurious rental home in a quiet, suburban Atlanta neighborhood, they believe they've discovered the perfect place for their growing young family—and for their tight budget, the price is too good to be true. But what starts as a bargain soon turns into a nightmare when the landlord's unusual lease terms become more suffocating than they ever imagined…
HE OWNS YOUR FAMILY…
A struggling writer desperate to make ends meet, Cam is lured into a dangerous deal by the landlord, offering more lenient terms and great money in exchange for shady favors. But when things spiral out of control, Cam and Desiree find themselves trapped in a chilling web of lies, blackmail, and violence.
HE OWNS YOU…
As tensions rise and danger looms, the Woodsons must fight to keep their family safe from the landlord's tightening grip. Will they unravel the sinister truth behind the landlord and escape…or will they become his latest victims in a twisted game of life and death?
---
Zora Books Her Happy Ever After
Taj McCoy
Zora has committed every inch of her life to establishing her thriving DC bookstore, making it into a pillar of the community, and she just hasn't had time for romance. But when a mystery author she's been crushing on for years agrees to have an event at her store, she starts to rethink her priorities. Lawrence is every bit as charming as she imagined, even if his understanding of his own books seems just a bit shallow. When he asks her out after his reading, she's almost elated enough to forget about the grumpy guy who sat next to her making snide comments all evening. Apparently the grouch is Lawrence's best friend, Reid, but she can't imagine what kind of friendship that must be. They couldn't be more different.
But as she starts seeing Lawrence, and spending more and more time with Reid, Zora finds first impressions can be deceiving. Reid is smart and thoughtful—he's also interested. After years of avoiding dating, she suddenly has two handsome men competing for her affection. But even as she struggles to choose between them, she can't shake the feeling that they're both hiding something—a mystery she's determined to solve before she can find her HEA.
---
Can't Help But Love You (audiobook)
Taye Mo'Nae
Aisha owns her own printing company, creating custom shirts, mugs, and other things. She's guarded and has a hard time allowing men to get close to her on a serious level. One heartbreak was enough for her. She eventually learns the only one who can heal that hurt she felt years ago is the same guy who caused it. But is that possible knowing the secret she's holding onto?
Gage is doing the only thing he ever wanted, playing professional basketball. After being injured he finds himself coping with it in unethical ways. A trip back home is meant to help him regroup and refocus to get back into the game, but when he's hit with another blow, he sinks deeper. Now he's stuck battling internal demons and trying to stay above water. Will he be able to bounce back or will he lose it all from life humbling him?
These two deal with forbidden love, secrets, deception, and hitting rock bottom. Is there love enough to overcome it all?
---
QuestLove with S.A. Cosby
Seventh grader Rahim Reynolds loves testing out the gadgets invented by his brilliant friend Kasia Collins. First there were the X-ray glasses and all the trouble they caused. Now there's the new cell phone she built for his birthday, even though his parents won't let him have one. But Rahim is excited to use the phone to search for videos of his favorite old-school rap group. What he doesn't know is the phone has a special battery that interfaces with a secret government satellite, which spells trouble when the phone transports him back to 1997. Almost immediately, he learns what every time traveler before him has: Actions in the past jeopardize the future. With Kasia as his only lifeline to the present, Rahim works with her to get home unscathed, all the while dodging bullies (on his end) and suspicious government agents (on hers).
Philadelphia in the late nineties is a new world for Rahim and Kasia, but it is a familiar place for Questlove, who, alongside S. A. Cosby, delivers a high-velocity tale where two best friends discover that sometimes the best beat is the one that brings you back home.
---
Reese Ryan
Ambitious real estate agent Sinclair Buchanan is ecstatic to be her best friend's maid-of-honor—until she discovers the best man is Garrett Davenport. Sin and Rett's mutual hate crush ignited when they were teens and hasn't let up since . . . except for that one extremely hot (and extremely regrettable) night they shared five years ago.
Nothing gets Rett fired up like going toe-to-toe with Sinclair. She's as infuriatingly stubborn, and as absolutely gorgeous, as when he fell for her back in high school. Working together to plan their best friends' last-minute wedding is one thing, but when his matchmaking grandmother gets involved Rett knows he's in deep. Attraction has always simmered between them, but this time, they're both in danger of losing their hearts.
---
Suzette Riddick
Emergency room nurse practitioner Samantha "Sammie" Lawrence gives the impression that she always has it together. Her dominating personality has gotten her into trouble one too many times. Especially when she crosses paths with her father's new business associate Dexter Davis.
Real estate developer Dexter Davis is the no nonsense type that doesn't have a problem with putting anyone in their place, including Samantha Lawrence. His confrontation with the beautiful, abrasive young woman could be the undoing of a profitable acquisition.
When events force Sammie and Dexter to become business partners, they learn they have a lot in common. Similar experiences of loss and grief act as a catalyst to bring them together.
As the couple is settling into a world of happiness and devotion, a once trusted friend from Sammie's past threatens to decimate their existence when Sammie's secret comes to light.
Will Sammie and Dexter weather the storm?
---
Angie Thomas
It's not easy being a Remarkable in the Unremarkable world. Some things are cool—like getting a pet hellhound for your twelfth birthday. Others, not so much—like not being trusted to learn magic because you might use it to take revenge on an annoying neighbor.
All Nic Blake wants is to be a powerful Manifestor like her dad. But before she has a chance to convince him to teach her the gift, a series of shocking revelations and terrifying events launch Nic and two friends on a hunt for a powerful magic tool she's never heard of…to save her father from imprisonment for a crime she refuses to believe he committed.
---
Tiye
Dear Lipstick,
I've fallen for the enemy. An enemy in every sense of the word. He stole my promotion. He's an overbearing control freak. And he once hurt someone I loved. I hate him. Well, I used to hate him. I relentlessly pursued him with ulterior motives to destroy him.
Now…now he imbues my every waking breath.
He's seeped through the crevices of my frozen heart, which I once thought an impossible feat. My friends have all found love and waiting for me to claim the same. But what I feel for Adonis is twisted and dark. Maybe that's the only type of love I'm capable of. He begs to differ.
---
Monica Walters
Milton 'Jungle' Patterson, while brought up in the street game, was also brought up in love. Although he veers away from it in his adult life, as he's getting older, he is starting to crave it. He knows that living the life he inherited, being a kingpin, isn't something he wants for himself anymore. However, love comes to him from an unsuspecting source… one of his friends' sister. Trying to keep their relationship strictly platonic just isn't working, especially when she flirts every chance she gets, even while he is trying to pursue something with someone else. He can only resist her for so long, and he realizes that he needs her as much as she needs him.
Chelsea Marcellus, formerly known as Jenetta, has had a rough life. Now that she's free from the bondage she was once in, she finds herself in turmoil all over again. She loves a man that seems determined to keep her at arm's length, and she longs for her daughter, a baby that was stolen from her. The adoptive parents are trying their best to keep her away, but she just won't bow out without a fight, especially after the lengths they've gone to keep her away from her. Having Jungle and her family's support helps, but the situation is tearing her apart.
When Jungle finally concedes to Chelsea's advances after a failed attempt at love with someone else, she wonders if he's serious about her. She doesn't want to feel like his second option. Can she trust him enough to give him a chance to love her beyond what she's ever known, or will she just cut her losses and choose to strictly remain friends?