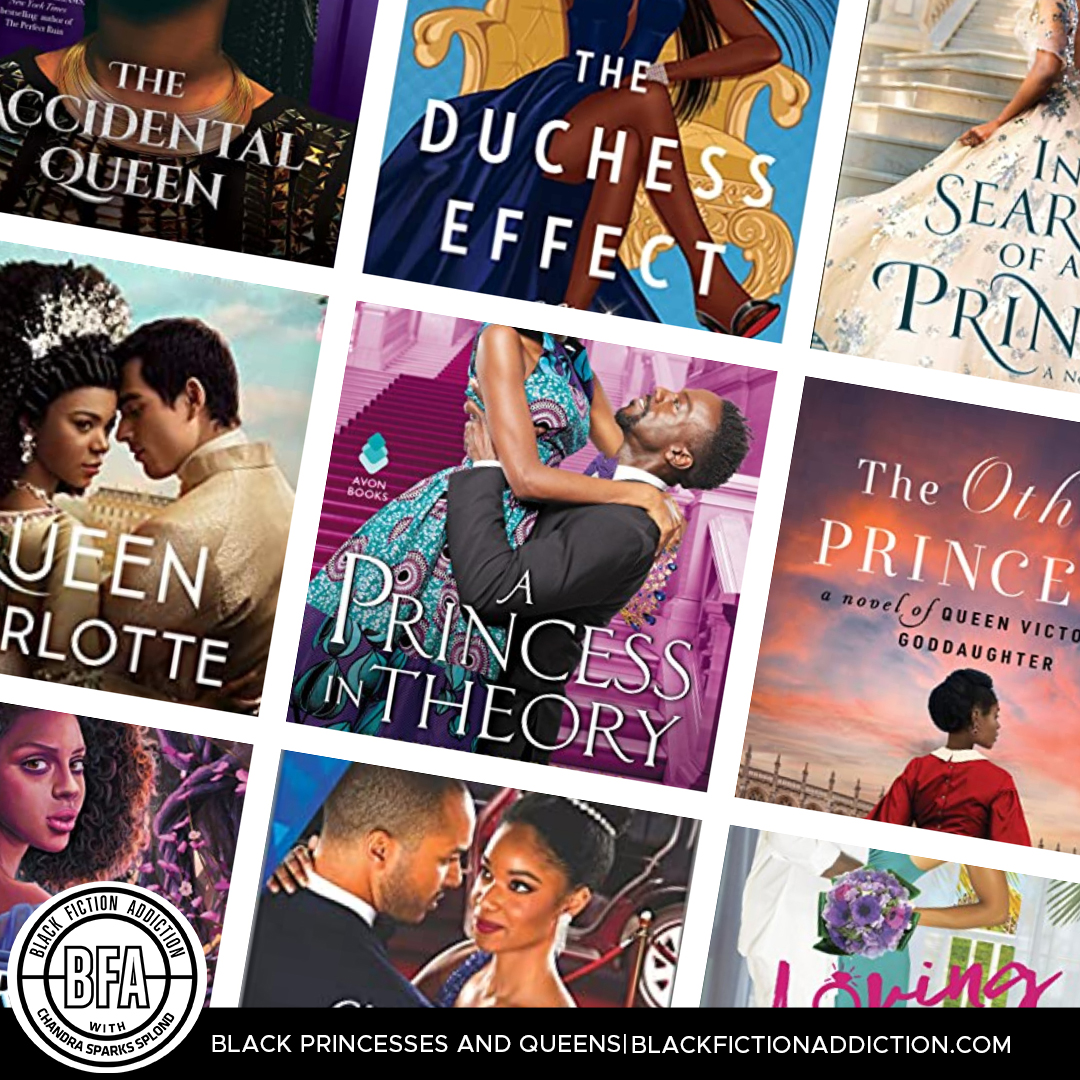 The live-action version of The Little Mermaid, starring Halle Bailey, hits theaters this weekend, so in celebration, I'm spotlighting black books that feature black princesses and queens.
A.C. Arthur
To kiss a royal
As Grand Serenity's goodwill ambassador, Princess Samantha DeSaunters lives a dazzling, high-profile life. Her own romantic dreams come second to her devotion to her island realm. Until she impulsively kisses a sexy stranger at a political gala. Now the reticent royal can't get enough of Garrison Montgomery, the former soldier hired to keep her and the throne safe. But who'll protect Sam from yearning to turn their mock courtship into the real thing?
In the Caribbean to run security for the ruling family, Gary instead finds himself caught up in a sizzling forbidden affair that could sabotage his mission. As he and Sam share passionate secret nights that make him forget about his past, the threat against the DeSaunterses escalates. Can Gary protect Sam from the enemies out to destroy the crown and hold on to the chance at happily-ever-after with his princess?
---
Kalynn Bayron
It's 200 years after Cinderella found her prince, but the fairy tale is over. Teen girls are now required to appear at the Annual Ball, where the men of the kingdom select wives based on a girl's display of finery. If a suitable match is not found, the girls not chosen are never heard from again.
Sixteen-year-old Sophia would much rather marry Erin, her childhood best friend, than parade in front of suitors. At the ball, Sophia makes the desperate decision to flee, and finds herself hiding in Cinderella's mausoleum. There, she meets Constance, the last known descendant of Cinderella and her step sisters. Together they vow to bring down the king once and for all–and in the process, they learn that there's more to Cinderella's story than they ever knew . . .
---
Denny S. Bryce
With a brilliant mind and a fierce will to survive, Sarah Forbes Bonetta, a kidnapped African princess, is rescued from enslavement at seven years old and presented to Queen Victoria as a "gift." To the Queen, the girl is an exotic trophy to be trotted out for the entertainment of the royal court and to showcase Victoria's magnanimity. Sarah charms most of the people she meets, even those who would cast her aside. Her keen intelligence and her aptitude for languages and musical composition helps Sarah navigate the Victorian era as an outsider given insider privileges.
But embedded in Sarah's past is her destiny. Haunted by visions of destruction and decapitations, she desperately seeks a place, a home she will never run from, never fear, a refuge from nightmares and memories of death.
From West Africa to Windsor Castle to Sierra Leone, to St. James's Palace, and the Lagos Colony, Sarah juggles the power and pitfalls of a royal upbringing as she battles racism and systematic oppression on her way to living a life worthy of a Yoruba princess.
Based on the real life of Queen Victoria's Black goddaughter, Sarah Forbes Bonetta's story is a sweeping saga of an African princess in Victorian England and West Africa, as she searches for a home, family, love, and identity.
---
Alyssa Cole
From acclaimed author Alyssa Cole comes the tale of a city Cinderella and her Prince Charming in disguise . . .
Between grad school and multiple jobs, Naledi Smith doesn't have time for fairy tales…or patience for the constant e-mails claiming she's betrothed to an African prince. Sure. Right. Delete! As a former foster kid, she's learned that the only things she can depend on are herself and the scientific method, and a silly e-mail won't convince her otherwise.
Prince Thabiso is the sole heir to the throne of Thesolo, shouldering the hopes of his parents and his people. At the top of their list? His marriage. Ever dutiful, he tracks down his missing betrothed. When Naledi mistakes the prince for a pauper, Thabiso can't resist the chance to experience life—and love—without the burden of his crown.
The chemistry between them is instant and irresistible, and flirty friendship quickly evolves into passionate nights. But when the truth is revealed, can a princess in theory become a princess ever after?
---
L.R. Jackson
Ebony Rose desires the freedom to love without limits—but that's for people who aren't harboring the kind of skeletons that could threaten their very existence. Desperately running from her past and a broken heart, Ebony refuses to allow anyone to get close to her—until she crosses paths once more with Dafari, the knight in shining armor she lost long ago.
The last thing King Dafari expects to find in New York is the girl who got away—although he had hoped. Marrying a woman outside of his culture is strictly forbidden, and the clock is ticking for him to choose a queen. However, Ebony Rose embodies all the qualities he seeks in a mate and a matriarch for his country, and Dafari is determined to make Ebony his, despite the laws and traditions that stand between them. Then he makes a grave discovery that causes his world to spiral and leave him questioning everyone he loves.
Secrets buried under betrayal emerge, threatening to destroy the bond between Ebony and Dafari. Will they survive the sinister conspiracy surrounding them, or will royal misdeeds and scandal topple their chance at redemption and true happiness?
---
Michelle Lindo-Rice
If she wants a happy ending
She'll have to write her own story
Working as Hollywood heartthrob Axel Harrington's personal assistant isn't exactly a fairy tale come true for Maddie Henry. Despite crushing on his Prince Charming looks, Maddie has had enough of Axel not recognizing her value. Well, this Cinderella is shattering the glass slipper to pursue her dream career! The "Sexiest Man Alive" has two weeks to find a new assistant. And to realize that Maddie is the key to his happily-ever-after.
---
Tracey Livesay
Against all odds, sexy American rapper, Danielle "Duchess" Nelson and brilliant reclusive royal Prince Jameson have fallen in love! They've decided to take their relationship public and find a way to make their two worlds coexist. On their terms.
Unfortunately, falling in love was the easy part.
Jameson and Dani's love story has made them the most popular royals since Prince John, but that popularity comes with a price. Dani looks forward to signing the deal with a major cosmetics company that will make her skin care line, Mela-Skin, a force in the industry, and finally grant her the control over her life she's craved since childhood. But the company wants to take advantage of their fame and involve Jameson in Mela-Skin's marketing campaign. Dani is outraged! Her company has nothing to do with Jameson.
After stepping up for the royal family, Jameson yearns to retreat back into academia. But he's fired when his university raises concerns about his newfound notoriety. And suddenly the queen, initially against the relationship, backtracks, seeking their cooperation when the family is embroiled in yet another scandal. This isn't the quiet life Jameson was hoping for.
Dani and Jameson truly love each other. But under the scrutiny of the international spotlight, when the doubts, compromises, and secrets begin to take their toll, will their love be enough?
---
Shonda Rhimes and Julia Quinn
In 1761, on a sunny day in September, a King and Queen met for the very first time. They were married within hours.
Born a German Princess, Charlotte of Mecklenburg-Strelitz was beautiful, headstrong, and fiercely intelligent… not precisely the attributes the British Court had been seeking in a spouse for the young King George III. But her fire and independence were exactly what she needed, because George had secrets… secrets with the potential to shake the very foundations of the monarchy.
Thrust into her new role as a royal, Charlotte must learn to navigate the intricate politics of the court… all the while guarding her heart, because she is falling in love with the King, even as he pushes her away. Above all she must learn to rule, and to understand that she has been given the power to remake society. She must fight—for herself, for her husband, and for all her new subjects who look to her for guidance and grace. For she will never be just Charlotte again. She must instead fulfill her destiny… as Queen.
---
Toni Shiloh
It seems like a dream come true…until it forces her to question everything.
Brielle Adebayo is fully content teaching at a New York City public school and taking annual summer vacations with her mother to Martha's Vineyard. But everything changes when her mom drops a bombshell – Brielle is really a princess in the island kingdom of Ọlọrọ Ilé, off the coast of Africa, and she must immediately assume her royal position, since the health of her grandfather, the king, is failing.
Distraught by all the secrets her mother kept, Brielle is further left spinning when the Ọlọrọ Ilé Royal Council brings up an old edict that states she must marry before her coronation, or the crown will pass to another. Brielle is uncertain if she even wants the throne, and with her world totally shaken, where will she find the courage to take a chance on love and brave the perils a wrong decision may bring?