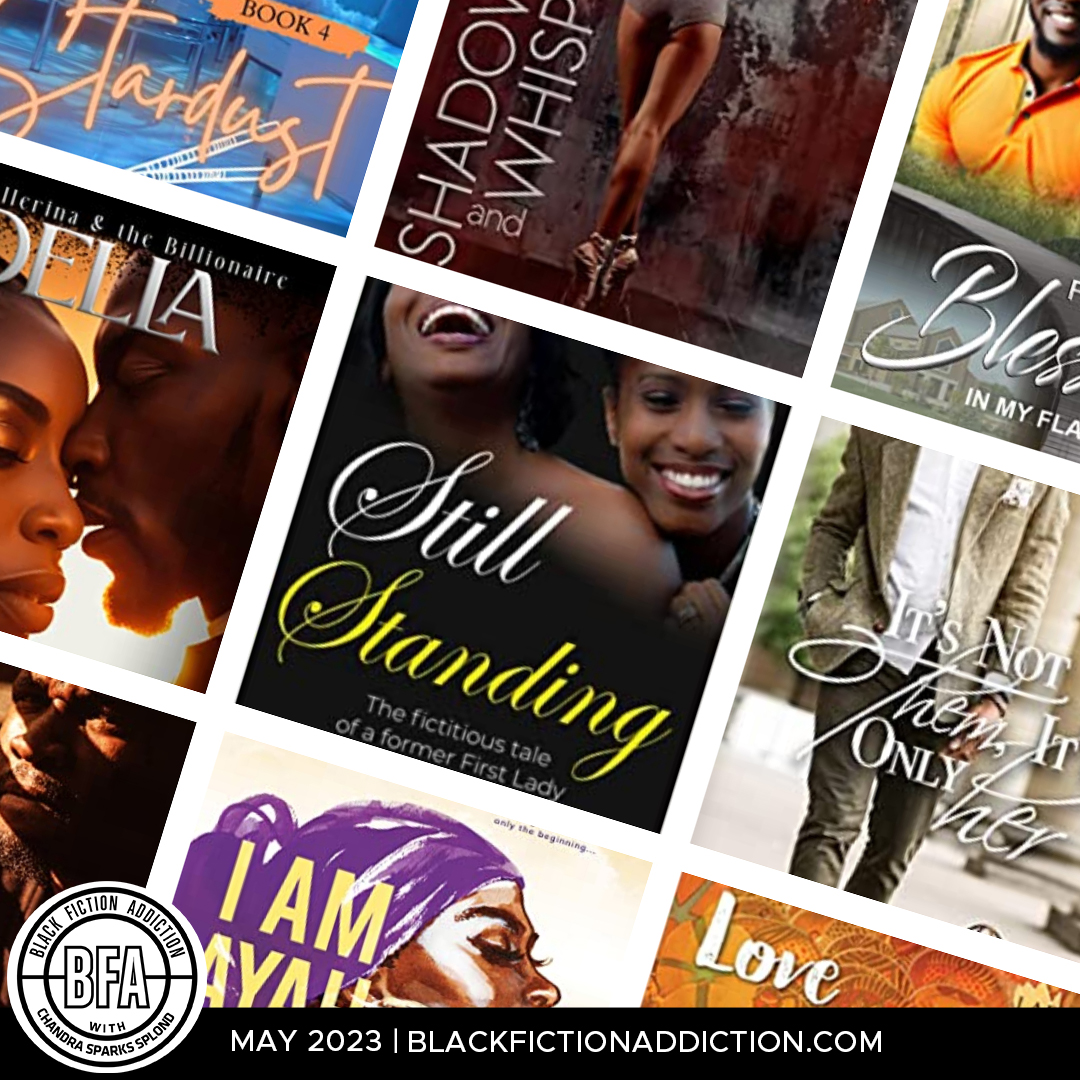 Between Mother's Day, birthdays, anniversaries and graduations, lots of authors still found time to drop some literary gems. Here are a few black books released in May.
Angela Abdur-Rasheed
Andrea, or Lady A as she was called in her previous life as a Pastor's wife, has found herself at a crossroads following an unwanted divorce, an unbelievable journey to healing and a beautifully unexpected second marriage.
She quickly learns that singlehood and marriage a second time around are just as much of a rollercoaster ride as the first time and are giving the highs and lows of divorce a run for its money. The sudden divorce of a family member, a few gossiping former church members, and some shocking revelations about her former spouse are the perfect storm to whip up the plot twists that test her fortitude and prove her faith as she navigates "I Do" pt. 2. Sprinkle in a colorful cast of characters to join in on the ride adding some wisdom, humor and, of course, drama, and you have an ideal recipe for the re-emergence of Drea.
---
Stacey Abrams
Supreme Court clerk Avery Keene is back, trying to get her feet on solid ground after unraveling an international conspiracy in While Justice Sleeps. But as the sparks of Congressional hearings and political skirmishes swirl around her, Avery is approached at a legal conference by Preston Davies, an unassuming young man and fellow law clerk to a federal judge in Idaho. Davies believes his boss, Judge Francesca Whitner, was being blackmailed in the days before she died. Desperate to understand what happened, he gives Avery a file, a burner phone, and a fearful warning that there are highly dangerous people involved.
Another shocking murder leads Avery to a list of names – all federal judges – and, alarmingly, all judges on the FISA Court (the United States Foreign Intelligence Surveillance Court), also known as America's "secret court." It is this body which grants permission to the government to wiretap Americans or spy on corporations suspected of terrorism. As Avery digs deeper, she begins to see a frightening pattern – and she worries that something far more sinister may be unfolding inside the nation's third branch of government. With lives at stake, Avery must race the clock and an unexpected enemy to find the answer.
Drawn from today's headlines and woven with her unique insider perspective, Stacey Abrams combines twisting plotlines, wry wit, and clever puzzles to create another immensely entertaining suspense novel.
---
Kianna Alexander
Experienced journalist Nona Gregory has just been assigned a story that could catapult her career into the stratosphere—that is, if she can get the most reclusive young architect in the state to open up about his work. Nona's typical no-nonsense, professional approach isn't going to fly with this design aficionado, so she'll have to take extra measures to ensure she gets the full truth for her write up.
Architect Ken Yamada is known for his unique designs, not for his social skills. He's an introvert who needs alone time to fuel his creativity—that, and the contentment he gets from playing drums with his friends and bandmates in the Queen City Gents. When he hears a reporter has been sniffing around for information about his personal life, he isn't pleased. His displeasure is somewhat softened when he finally meets the beautiful woman who wants to know all about him. But he's still not ready to reveal his inner life to the world.
Their shared love of music, and mutual dedication to their work soon creates a bond between them. But he has secrets he simply can't reveal, even though she's loathe to take no for an answer. Will their stolen moments together lead to pain, or could their connection lead to a lasting love?
---
What Happens After Hours (audio)
Kianna Alexander
He's not impressed by her fame. She's not impressed by his money. These opposites are about to ignite!
From the moment RB star Cambria Harding walks into Miles Woodson's Atlanta recording studio, he knows there'll be trouble. She's as fiery as he is reserved, and she gets under his skin like no woman ever has. The impassioned artist forces Miles out of his comfort zone, saying this spark is just a pleasurable distraction.
But the heat of their "limited engagement" makes them wonder if opposites can do more than just attract …
---
Takerra Allen
NEEDFUL NOOR: A TWO-PART MEGA NOVEL
She escaped the life she had, to find the life she needed…
How much of our fate is circumstance?
Noor's life path has always been potholed with obstacles.
But she was a survivor, an adapter…a proud wanderer.
Still, the deep yearning for more kept her motivated to conquer every hindrance, because there had to be more waiting – somewhere.
Hitchhiking her way to a new coast, she lands at the feet of money, prestige, and a soul-touching love, all at the doing of a chance job opportunity.
But it doesn't mean all even terrain, and her past has a problem letting go.
Still, Noor is convinced destiny has brought her to the life she deserves.
She won't allow the girl she was stop her from becoming the woman she needs to be.
Rules don't apply, and she's tired of letting life happen to her.
She's determined to finally get everything she's ever wanted.
Everything she's ever needed.
---
A.C. Arthur
If the feelings come back, is it possible they never left?
When Jorie Kemp set out to put her design company on the national level by entering a contest to be on a flipping houses reality show, she had no idea she'd end up working with her ex-high school sweetheart, Dominic Hughes. Let alone falling for his precious son.
Baby mama drama, coupled with catastrophes on the project, makes the rekindled passion between Jorie and Dom seem like the worst idea ever. Yet, for these old flames, something just keeps reigniting the fire and pulling them back to love.
AUTHOR'S NOTE: This is a re-release of a previously published book. The cover has changed, but there were no additions or changes to the title or the story.
---
Sheena Binkley
Regina & Damien Campbell are enjoying lives as newlyweds. Not only are they soaring in their careers, but they have just purchased a brand new home. Nothing could stop them from living blissfully…. that was until Damien's parents unexpectedly moved into their home.
Regina and Mr. and Mrs. Campbell haven't always had the best relationship, considering the two feel Regina and Damien married too young. Regina feels they are still babying Damien, which causes a rift in her marriage to Damien. When the two begin to treat Regina & Damien's house as their own, it sends Regina over the edge and quite possibly into someone she hasn't encountered in years.
With the constant bickering over Damien's parents, Regina & Damien's marriage will be tested to see if their love will stand the issues they face. But will they both realize them before it's too late?
---
India Hill Brown
Darren Johnson lives in his head. There, he can pine for his crush—total dream girl, Delia Dawson—in peace, away from the unsolicited opinions of his talkative family and showboat friends. When Delia announces a theme song contest for her popular podcast, Dillie D in the Place to Be, Darren's friends—convinced he'll never make a move—submit one of his secret side projects for consideration.
After the anonymous romantic verse catches Dillie's ear, she sets out to uncover the mystery singer behind the track. Now Darren must decide: Is he ready to step out of the shadows and take the lead in his own life?
---
J.L. Campbell
Have you ever been drawn to someone you knew was wrong for you?
That's Nasira's dilemma after she wades through Rory McGregg's fans and sits next to him on a flight. An accomplished dancehall deejay, he's charming, self-assured, and has a certain vibe that's hard to resist.
By the time they touch down in Jamaica, Rory has her number and a promise to see him again.
The after-party she says yes to coordinating turns into a rollercoaster ride of frustration and interference, thanks to his celebrity status and bad-boy reputation.
His lifestyle and circumstances make Nasira uneasy, but Rory's heart is fixed. There's nothing he won't do to prove they're right for each other.
---
Sharon C. Cooper
They've been tasked with planning the ultimate family reunion, but their lives are a little chaotic at the moment.
Toni & Craig: Craig is crazy in love with Toni. But can their marriage withstand her obsession to have more kids?
Jada & Zack: Fashion designer, Jada, is enjoying her new career, but nothing compares to the love she has for Zack. All is well in their marriage until another woman comes on the scene. This person will soon learn that Jada doesn't share, especially when it comes to her husband.
Christina & Luke: They're having a baby! Christina the world-famous artist and Luke, one of the top defense attorneys in the country, are living their best lives. But all isn't as it seems, and Luke's overprotectiveness isn't helping. Is he just nervous about becoming a father, or is there another reason why he doesn't want to let Christina out of his sight?
Martina & Paul: Martina's big mouth has gotten her into plenty of jams. Yet, Paul's love for her has never wavered…until now. She's gone too far. He's had enough. Will he leave her for good? Or can she fix her marriage and hold on to the only man she's ever loved?
Peyton & Michael: Married to the world's greatest husband, Peyton never knew she could be so happy. But when one of Michael's private investigative cases takes a turn for the worse, his number one priority is protecting his family. Even if it means pushing Peyton away.
Will these couples buckle under the challenges of marriage while planning the much-anticipated Jenkins family reunion? Or is the love they share strong enough to keep their marriages together?
---
Sarah Dass
There are two things Tess Crawford knows for sure:
She's destined to be a great Trinidadian Carnival costume designer like her renowned uncle, Russel Messina, and will one day inherit leadership of the family's masquerade band, Grandeur.
Her classmate, the popular social media influencer, Brandon Richards, is the bane of her existence. Everything about him irks her, from his annoying nickname for Tess ("Boop") to his association with David, her awful ex.
But when the future of Grandeur nears the brink of collapse in the face of band rivalry, Tess finds to her chagrin that she must team up with Brandon in a desperate attempt to revive the company.
As Tess and Brandon spend more time together, Tess begins to wonder if everything she thought she knew might not be so certain after all….
Set in lush, gorgeous Trinidad, this is a novel about finding love in the most unexpected places.
---
Saara El-Arifi
Anoor is the first blue-blooded ruler of the Wardens' Empire. But when she is accused of a murder she didn't commit, her reign is thrown into turmoil. She must solve the mystery and clear her name without the support of her beloved, Sylah.
Sylah braves new lands to find a solution for the hurricane that threatens to destroy her home. But in finding answers, she must make a decision: Should she sacrifice her old life in order to raise up her sword once more?
Hassa's web of secrets grows ever thicker as she finds herself on the trail of crimes in the city. Her search uncovers the extent of the atrocities of the empire's past and present. Now she must guard both her heart and her land.
The three women find their answers, but not the answers they wanted. The drumbeat of change thrums throughout the world.
And it sings a song of war.
---
Mimi Grace
Day-to-day life has grown stale for Raven Coleman, who prefers to fly by the seat of her pants than follow any set plan. So when she unexpectedly inherits an outdoor recreation and tour business in a charming small town, it's exactly the kind of shakeup she has been asking the universe for.
Instead of selling Mountaintop Adventures right away, Raven decides to step in as the boss for the summer to determine if it's a position she'd like to hold long-term. Unfortunately, her presence is not well received by the staff, particularly Silas Reynolds, the hardheaded archery instructor.
Silas once had big dreams, but life got in the way. Now he's making the most of his situation. That is until the bubbly Raven thwarts his plan to buy Mountaintop Adventures. She has no industry experience or interest in the great outdoors but insists she can run the business.
The two butt heads immediately, but attraction and rapport soon soften their exchanges. Can Silas and Raven keep professional lines and their opposing goals intact? Or is love a force too strong to ignore?
---
Tracy Gray
Chance Parker loves three things in life:
Basketball
Gorgeous women
Hot sex
In that order.
Being a professional basketball player affords Chance the opportunity to partake in all three things to his heart's content.
He doesn't do relationships, commitment or even two night stands.
Kirbie Miller doesn't consider herself a party girl. She likes to have fun as much as the next person, but hard partying is for later. Right now is for securing her post undergraduate future. She's focused and dedicated – until one fateful night with Chance Parker derails her plans and turns her life upside down.
---
Donna Hill
Alessandra Fleming has spent most of her life running from her past. Her budding photography career, her life in Manhattan, all serve to distract from the secrets and guilt she's never been able to face. Then the call. Her estranged father is in the hospital…and Alessandra must return home to Sag Harbor, crumbling the first wall between her past and her present.
For some, coming home is a relief. For Alessandra, it's a reminder of the family she's lost, of the time she'll never regain. But the answers—the secrets—of her family are hidden in the house, waiting for her. And the only one who may be able to help her uncover them is her father's neighbor, Zach, who brings with him an attraction that's intense and instantaneous, yet oddly familiar.
Now Alessandra is being pulled back not only into her own complex family history, but into the richly documented lives of four extraordinary women. Generations touched by tragedy and triumph, despair and hope. And it's in these aching echoes of the past that Alessandra's own story—her mistakes and her capacity to love—will take shape, guiding her to the life she's meant to live…and the extraordinary person she will become.
---
Sunny Hostin
In a hidden enclave in Sag Harbor, affectionately known as SANS—Sag Harbor Hills, Azurest, and Nineveh—there's a close-knit community of African American elites who escape the city and enjoy the beautiful warm weather and beaches at their vacation homes. Since the 1930s, very few have known about this Historically Black Beachfront Community in this part of the Hamptons on Long Island, and the residents like it that way.
That is, until real estate developers discover the hidden gem. And now, the residents must fight for the soul of this HBBC.
Against the odds, Olivia Jones has blazed her own enviable career path and built her name in the finance world. But hidden behind the veneer of her success, there is a gaping hole. Mourning both the loss and the betrayal of Omar, a surrogate father to her and her two godsisters, Olivia is driven to solve the mystery of what happened to her biological father, a police officer unjustly killed when she was a little girl.
Untethered from her life in New York City, Olivia moves to a summer home in Sag Harbor and begins forging a new community out in this HBBC. Friendships blossom with Kara, an ambitious art curator; and Whitney, the wife of an ex-basketball player and current president of the Sag Harbor Homeowners Association; and a sexy new neighbor and single father, Garrett, who makes her reconsider her engagement with Anderson. She also takes to a kind, older gentleman named Mr. Whittingham, but soon discovers he too is not without his own troubles.
As the summer stretches on, each relationship teaches her more about who she really is. Though not without cost, Olivia's search for her authentic identity in the secret history of her family of origin and her fight to preserve her new Black utopia, will lead her to redefine the meaning of love, friendship, community, and family—and restore her faith in herself, her relationships, and her chosen path.
---
Jahquel J
Catrina has never given love a chance. The moment she finished high school, she left her small town of Wynderland, Georgia to move to New York City. For years, she dedicated her time as an intern until she was able to step into the position that she is in now. Love had always taken a backseat for her. A couple dates here and there, but never anything serious. Family and love is something that Cat has always kept tucked in her back pocket. Love slowed people down and often stole a piece of them when it went bad. Cat never wanted to end up like that, so her career became her love, and her co-workers became family.
One night after a couple glasses of wine Cat decides to download a popular dating app. Only looking for a quick hookup, she matches up with a guy from Atlanta, Georgia who happened to be passing through New York. One message led to months of talking on the phone. And months end up being a year of talking. With the holidays approaching, Cat never goes home to visit, but decides this year she'll make the trip back home to visit family, and with hopes of finally being able to meet the man she has fell in love with over the phone for the past year. However, the moment that Cat steps foot back in her small town, everything goes haywire. Poor Cat has dreams of a southern love, but will she end up with just Catfish?
Rachael and Mason were married right out of high school. She always had dreams of leaving her small town of Wynderland, Georgia, to attend her dream college. Being the eldest child in her family, it has always been important for her to get a degree. All of those dreams diminished when she got pregnant by her high school sweetheart, Mason. Gone were the thoughts of college parties, books, and moving away. Now, her reality was diapers, bottles, and getting married. Their arrangement had always been that Mason would work and provide for Rachael and their children, while Rachael took care of the home and children. That had always been their dynamic since the day she gave birth to their first child.
Years later, and with a developed drinking habit – Rachael is unhappy in her marriage. She yearns for a husband that she doesn't have to pick up from the bar drunk, or one she has to lie to her parents about. Mason hasn't worked in months, and it's been Rachael trying to hold their family together. Rachael comes from a family where you stick it out in your marriage and make it work for your kids. Witnessing her sister's happiness, she can't help but think that there is something out there more for her – that doesn't include a drunk, inconsiderate husband.
Rome Jefferson is a successful real estate developer from New York City. After his very messy divorce, he decided he needed a change of scenery and moved to Wynderland, Georgia. Wynderland is a smaller pace than he's used to. However, the development possibilities are endless. Rome moves to Wynderland looking to further his career as a developer, but what he doesn't expect to find is love.
---
Finding a Blessing in the Flaws
Taretha Jones
Sasha is the thirty-something C.O.O. of a nationwide smoothie shop franchise. Her corporate position brings in the big bucks and has provided her with all the creature comforts that she needs in life. She has a tight relationship with her God and the love of her friends and family. But when tragedy strikes, Sasha's life becomes a whole lot less golden. One fateful night leaves Sasha thinking that she's going to be struggling with anxiety and self-worth issues for the rest of her days. When a handsome ex-FBI agent — Terry — steps on the scene, he falls head-over-heels for Sasha. Terry becomes determined to convince Sasha that she's beautiful — inside and out — even though she's not so sure that's the case. At times it seems like an uphill battle, but Terry is convinced that he can show Sasha there's a blessing in her flaws, thus enabling them to have the happy-ever-after that she's been afraid to even dream of.
---
B. Love
Janae McEntire has suffered enough loss to not want love again. Even without the desire to love, Janae can't help but consider how much better her life would be if she allowed the right man to love her. While her heart tells her that man is Tyreek Roberts, Janae's mind tells her to steer clear of him.
After seeing his brother, Kahlil, find happiness and love, Tyreek decides he's ready for the same. Mister Teacher has a past that demands he tie up a few loose ends before he can obtain his happily ever after with Janae.
To celebrate Honey and Kahlil's upcoming wedding, the crew of friends decide to spend a week in Las Vegas, where both Janae and Tyreek have the chance to explore each other on deep and intimate levels. Just when they allow themselves to consider a future together, an old client from Tyreek's past resurfaces with a big ask and an even bigger secret to blackmail Tyreek into doing just about anything he wants…
---
Olivia Matthews
Spice Isle Bakery owner Lyndsay Murray is always looking for new ways to grow her family's business. But she already regrets agreeing to host the retirement dinner for local high school principal Emily Smith. The tyrant used to be her mother's boss and they did not get along. Six guests arrive for the celebration, but only five survive. Emily starts convulsing—right after eating the curry chicken—and dies soon after. It's not long before the police are knocking on Spice Isle's door, bringing the Murray family back into the heart of another murder investigation—driving away customers in the process. Lyndsay can't help but wonder if this is the end of the bakery, even though it's just begun. She must put aside her reservations about investigating another crime, because the Murrays refuse to go down without a fight.
---
Rhonda McKnight
Home is not a place—it's a feeling.
Casey Black needs an escape. When her picture-perfect vow renewal ceremony ends in her being left at the altar, the former model turned social media influencer has new fame—the kind she never wanted. An embarrassing viral video has cost her millions of followers, and her seven-year marriage is over. With her personal and business lives in shambles, Casey runs from New York City to South Carolina's Lowcountry hoping to find long-lost family. Family who can give her more answers about her past than her controlling mom-slash-manager has ever been willing to share.
What Casey doesn't expect is a postcard-worthy property on a three-hundred-acre farm, history, culture, and a love of sweet tea. She spends her days caring for the land and her nights cooking much needed Southern comfort foods. She also meets Nigel, the handsome farm manager whose friendship has become everything she's never had. And then there are the secrets her mother can no longer hide.
Through the pages of her great-grandmother's journals, Casey discovers her roots run deeper than the Lowcountry soil. She learns that she has people. A home. A legacy to uphold. And a great new love story—if only she is brave enough to leave her old life behind.
---
CaSandra McLauglin and Michelle Stimpson
Patrice Reed is retired, but between church life and home life with her two adult daughters and grandson, there is no time for her own life. That is, until she meets Theo Santoro, who makes her recognize that she's missing out on her best life.
Wanna-be reality TV star, Quida, desires fame regardless of the cost. And motherhood is cramping her style.
Jade, a plus-sized millennial, struggles to find her place in the family and in the world.
Can Patrice and her daughters find their way to peace under one roof?
---
K.C. Mills
Elias Omari exist in the darkness that clouds his mind.
Cress Devereaux exist in the light that inspires her soul.
Together they create beautiful shades of gray.
An arranged marriage forces two families to smooth the edges of their jagged past with the hopes of a new beginning.
Can a union tainted with secrets and uncertainty promise an unbreakable alliance?
The one thing that Elias and Cress share in common is family over everything but should they continue to fight for family when that same family has never truly fought for them?
---
Mya
As the youngest Barrett in the family, Saint was known as the wildcard. As the ultimate playboy, he found himself in bed with more women than a WNBA roster. While he was never actively in the street life, he profited from the benefits his brothers got from being in the business. Even though he was given more than enough money by his big brother to never have to lift a finger a day in his life, he chose to go to college and get a job doing what he loves—being the assistant director of a major food chain.
Music producer and fashion mogul, Avery Duval, was every man's dream. She was smart, creative, and a freak in the sheets. She was a no-nonsense kind of woman with her mind only on elevating to the next level. After failed relationships, she's hesitant to get back out into the dating pool.
When Saint and Avery cross paths, the chemistry is undeniable. They are both put outside of their comfort zones as they navigate through strong feelings and people not wanting them to get to their happily ever after. Will the haters prevail, or will Saint get his redemption?
---
Rod Palmer
Della: perfectionist token-black ballerina…
Miles McKinnon: black-sheep billionaire…
The chemistry: unlike anything either has ever felt…
Disoriented by a week in Paris and a tough proposition, there's this mystique of not quite knowing what's real or facade.
Love will come up against the things they hold most dear, like Della's chance to overcome racial bias in ballet and make history. Nothing is gained without something lost. For love, the stakes are as high as ever.
---
Danielle Parker
Sasha Johnson-Sun might not know everything—like how to fully heal after her dad's passing or how many more Saturdays her mom can spend cleaning houses. But the one thing Sasha is certain of? She will graduate this year as Skyline High's class valedictorian.
At least, she was sure before the principal calls Sasha and her cute, effortlessly gifted ex–best friend, Ezra Davis-Goldberg, into his office to deliver earth-shattering news: they're tied for valedictorian and the scholarship attached…
This outcome can't be left to chance. So, Sasha and Ezra agree on a best-of-three, winner-take-all academic bet. As they go head-to-head, they are forced not only to reexamine why they drifted apart but also to figure out who they've become since. With her future hanging in the balance, Sasha must choose: honor her family's sacrifices by winning (at all costs) or give her heart a shot at finding happiness?
---
Nana Prah
Precious Kpodo has no time for things as futile as love. Nothing will derail her goal of opening a rehabilitation centre, especially a man. That is until her path crosses with her latest client's son. He does more than catch her eye. He unlocks her passion. However, they can't be together because he's an Ashanti. After the torment she endured when her parents died, she vowed never to get involved with that tribe again. Even if her heart is enflamed for the forbidden.
Osei Aboagye has finally met a woman who captivates him even more than the handicrafts and furniture he creates in his limited spare time. Despite their magnetic attraction, he forces himself to stay away because Precious is from the one tribe that his father insists his children don't date. But, no matter how much Osei tries, he can't deny they belong together, and now he must choose between love and loyalty. But loving the enemy could cost him everything, including being cast out from his family.
---
Edited by Taj McCoy
It's the end of the world as they know it—or so they think…
When an international warning siren accidentally goes off, convincing everyone that a meteor shower may just be the end of life as they know it, six couples—friends, exes, crushes and rivals—must take shelter. Inhibitions are abandoned, confessions are made and love blossoms, but what happens when the world doesn't end?
Filled with humor, heat and hope, this riveting collection of interconnected multicultural stories by acclaimed authors Lane Clarke, Farah Heron, Taj McCoy, Charish Reid, Sarah Smith and Denise Williams beautifully explores the secrets we carry with us—and the joy we discover when we let go and reach for the stars.
Two NASA specialist exes forced to reunite under pressure.
Competing food stall owners face no escape—from each other or their shared past.
Two law students learn just how strongly opposites attract between the library stacks.
A pair of literature lovers confront long-held feelings under the covers of a bookstore bunker.
A songwriter discovers her newly hired contractor hits all the right notes.
Trapped on campus, former college rivals entertain their reignited spark.
---
Shonda Rhimes
In 1761, on a sunny day in September, a King and Queen met for the very first time. They were married within hours.
Born a German Princess, Charlotte of Mecklenburg-Strelitz was beautiful, headstrong, and fiercely intelligent… not precisely the attributes the British Court had been seeking in a spouse for the young King George III. But her fire and independence were exactly what she needed, because George had secrets… secrets with the potential to shake the very foundations of the monarchy.
Thrust into her new role as a royal, Charlotte must learn to navigate the intricate politics of the court… all the while guarding her heart, because she is falling in love with the King, even as he pushes her away. Above all she must learn to rule, and to understand that she has been given the power to remake society. She must fight—for herself, for her husband, and for all her new subjects who look to her for guidance and grace. For she will never be just Charlotte again. She must instead fulfill her destiny… as Queen.
---
Kennedy Ryan
In a world of haves and have-nots, Maxim Cade's family and their oil empire have it all…and he wants nothing to do with it. At odds with his mogul father, he's determined to build his own empire, even if it means traveling far from home, painted as the black sheep.
Lennix Hunter is the exception to every one of Maxim's rules. At a protest for the oil pipeline that threatens to mar her ancestral land forever, they meet in a flurry of stars and sparks, and that one moment changes everything. But Maxim's family is the one stealing from hers, and his father is the man she hates most. He has to lie in order to have her once, and despite the truth, he'll do anything to keep her.
Even though Lennix tries to hate Maxim, too, their hearts are pointed in the same direction. The inexorable pull between them, across miles and years, will not be denied.
And neither will Maxim.
---
My Soul to Keep (audio)
Kennedy Ryan
The first book in the Soul trilogy!
It seems the things worth keeping are often the hardest to hold….
Kai: I had two things in life that mattered–my mother and my music. Mama was taken from me too soon, and now music is all I have left. It's the thing that's pushed me right out of backwoods Georgia into Los Angeles, where the line between fantasy and reality shimmers and blurs. I'm finally making my way, making my mark. I can't afford to fall for one of music's brightest stars. Not now. Music is all I have left, and I'm holding on tight with both hands. I won't let go, not even for Rhyson Gray.
Rhyson: I had one thing in my life that mattered–music. The only constant, it's taken me to heights most people only dream about, a gift dropped in my lap at birth. I thought it was enough. I thought it was everything, until I met Kai. Now, she's all I think about, like a song I can't get out of my head. If I have to chase her, if I have to give up everything–I will. And once she's mine, I won't let go.
---
Kennedy Ryan
The second book in the Soul trilogy. You must listen to the first book, My Soul to Keep, first.
Rhyson: She doesn't wear my ring. We never stood before a preacher. The only vows exchanged were between our bodies and souls. But she was mine, and I was hers, until I ruined it.
I have to believe that every day, every step, every breath brings me closer to making things right. To making her mine again.
Kai: I've seen promises broken. I know love makes no guarantees. But things were different for Rhys and me, until he lied, and I walked away. Only there's a chain between our hearts that I can't break. Even if I forgive him, a shadow from my past hangs over us, over this love that reaches all the way down to my soul.
---
Refrain (audio)
Kennedy Ryan
Book three of the Soul Trilogy is an emotionally charged epic conclusion that had to be told and should not be missed for fans of this series and this couple!
People dream of a love that runs deep. So deep it feels like it's always been with you, just waiting for the person who'll own your heart and soul forever. So few ever find it, but for Rhyson Gray and Kai Pearson, happily ever after was only the beginning….
One of the biggest rock stars in the world and one of the brightest rising stars make a life together. Sometimes it's glamour-filled days and blissed out nights, but it's mostly staying true in the too-bright glare of the spotlight. It's long stretches where the road is lonely and the work is hard. It's living in a love that's the safest place you know even while danger lurks at your door.
---
Neesh Santiago
Kenzie is just starting to get her life on the right path. She recently accepted the love of Jesus Christ into her heart and is committed to being a living testimony to the power and love of God. She just needs to be baptized to make her spiritual transformation complete…but there's one problem.
She's terrified of water from a traumatic experience.
As she embarks on her journey, she encounters Karl, a man who has everything to offer—including a serious commitment to Christianity.
Can Kenzie overcome her fear in time to be Karl's help meet? Or will her struggle keep her from finding true, divine love?
---
Danyelle Scroggins
Who would imagine having a black mother who felt it more important to teach her girls how to be Christians verses the struggles life has with being black. From a young mother who knew all too well what it meant to be African American, she decided that there was something more important that being black in America.
---
Ian K. Smith
Someone wants Morgan Shaw dead—or so the beautiful, brilliant, and hugely popular evening news anchor of top-rated Chicago TV station WLTV believes. Fearing for her safety, she turns to P. I. Ashe Cayne for protection. Though he sympathizes, Ashe turns her down—he's not a bodyguard. But when Morgan's car tires are slashed and she's threatened again, Ashe agrees to help her.
Her mysterious assailant isn't the only threat worrying Morgan. She's nervous about the upcoming "sweeps"—the all-important overnight ratings period—which will determine Chicago's highest-rated television newscast and the city's number-one anchor. Morgan has long been Chicago's news queen. Now, though her crown is in jeopardy. She refuses to lose to her crosstown rival, and will risk everything to stay on top—including an audacious investigation into the suspicious shooting of an unarmed African American man by a white cop. The explosive case and her discoveries boost her ratings—and create powerful enemies eager to protect their secrets.
To save his client and find the truth, Ashe must wade through the tangled layers of competitive local news and the deceptive schemes of its power players, and uncover the identities of those behind the murder of a seemingly innocent man.
---
Jaylonna Stevette
As Tabby takes a ride on the back of her young hottie's motorcycle, little does she know that she is in for the ride of her life. Love's journey with Jaquan was full of surprises, highs, and lows. Romance, fancy trips, and plenty of gifts. But the age difference and their lifestyles seemed to create chaos in the midst of the calm. Tabby was getting back to happy when she met Jaquan. But now she finds herself wondering, was she really happy?
And then there was James, Keisha, and Pastor Doug, Back in the midst of the most trying time of her life. Between the remnants of her past and the challenges of being "Stella," besides getting her groove back, love's journey presented some painful bumps in the road in which Tabby finds herself yet again on a reckless erotic journey to happy.
Tabby tells her story of love's journey; and how a love so simple turned into something so complex. Love's journey turns into love's lesson in a dramatic way, and Tabby faces the person most in control of her happiness; Tabby.
"Almost Happy" tells a tale of love, romance, and erotica in an urban fashion. What happens when you try to turn a fuck boy into a boyfriend? Tabby's tale looks into love, sex, and conflict with the "bad boy" as she struggles to finally be happy.
---
Monica Walters
Loving hard doesn't do anyone any good when the love isn't reciprocated. If Rondo Simpson could have a do over in his love life, he would jump at the opportunity. The woman he's loved for over ten years has committed the ultimate betrayal and has convinced him that love just isn't in the cards for him. Even attempts at love before her seemed to be one-sided and leaves him heartbroken. However, unexpectedly, the type of woman he's been longing for walks into his life when everything is in disarray, stealing his attention from the word go.
Dinalee Cadien knows what it feels like to give her all to the man she loves, and it still not be enough. Now a single mother and divorcee, life just isn't what she thought it would be. After being stationed in a city where she doesn't know anyone, Dinalee attempts to make the best of it, creating a new start for herself and her children, thinking this is what's best for them. A fateful day at the gas station changes everything.
Rondo and Dinalee are on the fast track to something special, but unfortunate incidents cause doubt and hesitancy to rear their ugly heads, bringing their journey to a screeching halt. Their intense connection suffers, because they can't seem to move past their insecurities about love. Will they fight for what they know their love can become, or will they continue to let destiny elude them and allow complacency to set in?
---
Denise N. Wheatley
A killer's terrorizing River Valley…
And its newest sergeant.
With a serial killer terrorizing her desert town, Sergeant Charlotte Bowman needs the savviest partner she can find—fast! Enter hotshot California detective Miles Love. Together Charlotte and Miles make a formidable team despite their fiery past. But with the stakes as intense as their chemistry, can the pair outwit a ruthless murderer—who might just have River Valley's newest sergeant next in his sights?
---
Elle Wright
My mission in life is simple. Family. Food. Freedom. Most people don't question my love for my family. And I make my living as a celebrity chef. The freedom part? The thought of being confined—behind bars, at a desk, or in a monogamous relationship—is not something I want for myself. Unfortunately, it becomes a problem when women want to make me their Forever Bae. Even after I make it clear that I'm not looking for more than short interlude.
Except… when I think of her, when I'm with her, I don't feel stuck. I actually want uninterrupted time with her. Surprised? Me too.
Want to know how I ended up in this predicament? I wish I knew because I definitely wasn't looking for it. Maybe it's the way she takes care of me? By listening to the things I say and everything I don't say.
Want to know why changing our relationship dynamic is a bad idea? I'm not the only one who wants her. Which makes it very complicated.
Want to know another reason why this is a bad idea? My track record speaks for itself. And she deserves someone good. I'm… not.
The choice is hers, though. I hate to lose so I'm playing to win. And I will show her that it's not him that she needs. It's me.
IT'S NOT THEM, IT'S ONLY HER is book four in the Young In Love Series, featuring the very large, very fun Young Family. If you love romance with layered characters and laugh out loud moments, snag your copy. This novel contains sex, profanity, and sensitive subjects that some may find triggering.
---
Ibi Zoboi
Warrior Princess. That's what Nigeria Jones's father calls her. He has raised her as part of the Movement, a Black separatist group based in Philadelphia. Nigeria is homeschooled and vegan and participates in traditional rituals to connect her and other kids from the group to their ancestors. But when her mother—the perfect matriarch of their Movement—disappears, Nigeria's world is upended. She finds herself taking care of her baby brother and stepping into a role she doesn't want.
Nigeria's mother had secrets. She wished for a different life for her children, which includes sending her daughter to a private Quaker school outside of their strict group. Despite her father's disapproval, Nigeria attends the school with her cousin, Kamau, and Sage, who used to be a friend. ­There, she begins to flourish and expand her universe.
As Nigeria searches for her mother, she starts to uncover a shocking truth. One that will lead her to question everything she thought she knew about her life and her family.
From award-winning author Ibi Zoboi comes a powerful story about discovering who you are in the world—and fighting for that person—by having the courage to be your own revolution.