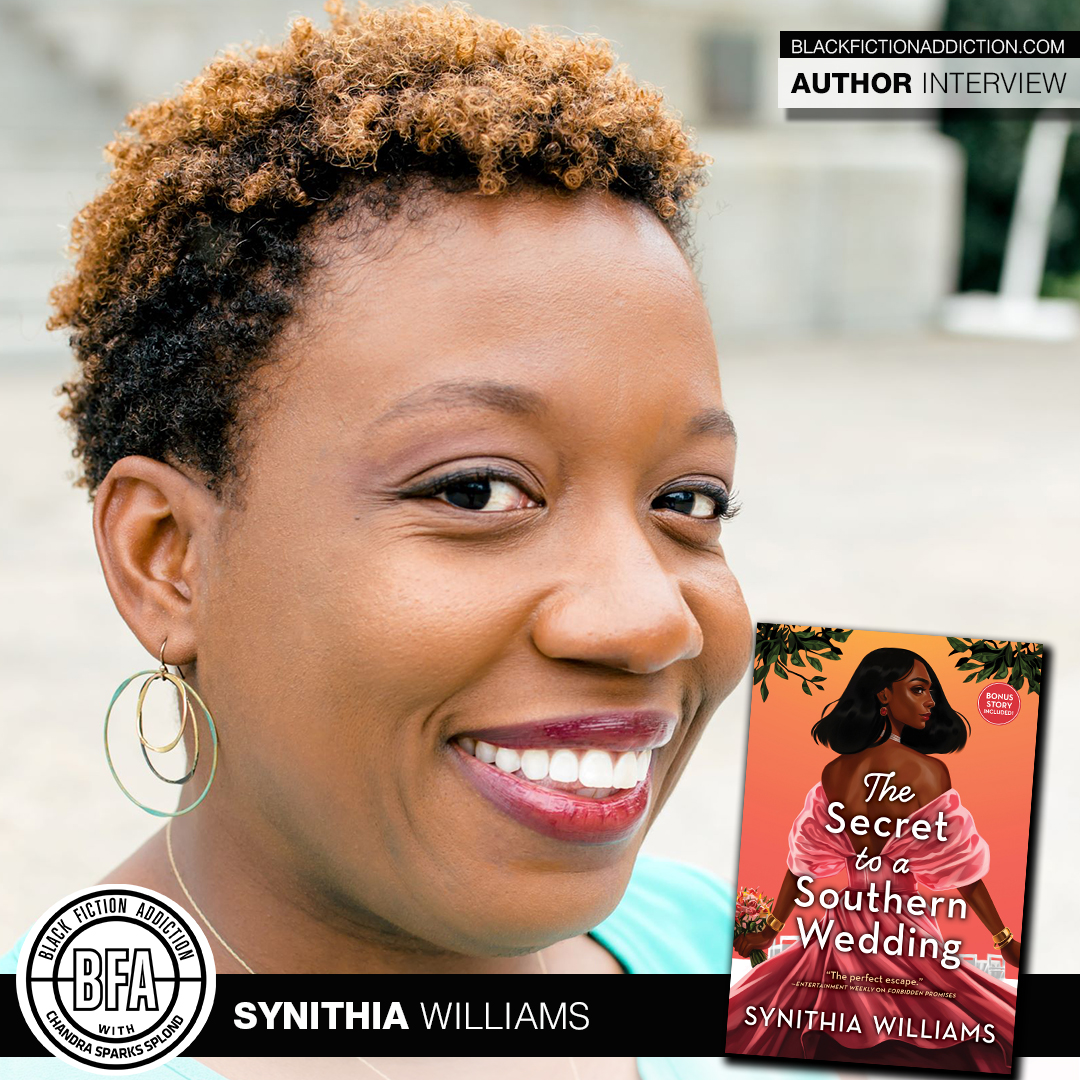 For author Synithia Williams, the books just keep on coming. I recently spoke with her about her latest release, The Secret to a Southern Wedding.
Tell me about your latest book.
My latest book, The Secret to a Southern Wedding, is the first book in my new Peachtree Cove Series. The series focuses on the friendship of three women, Imani, Halle and Tracey (aka The Get Fresh Crew) as they rediscover themselves and find love. Book one is Imani's story. She's determined to stop her mom's impulsive wedding to a man she just met online, but when Imani returns home, she finds herself drawn to the groom's son.
Why did you decide to write it?
My last series focused on three brothers, and I've wanted to write a book tied to female friends. The idea for TSTSW came from several different places. Topic of what would happen if your mom suddenly decided to remarry came up during a brainstorming session, and because I'm messy, I had to throw in the idea of the heroine falling for the person she least expected.
What do you want readers to learn from the story?
That's a good question. I honestly don't start writing with the idea of including some type of lesson. When I finished this novel, I hoped readers would appreciate Imani's relationship with her mom. How she had to learn to trust after seeing her parents' relationship end in such a disastrous way. I also hope readers see the value of having a good circle of friends and family to help you when you're struggling.
What do you want readers to learn from your life?
Another good one! I guess I'd like readers to look at my life and learn that if you really want something you have to make the time to pursue it. I work full time, with no plans to quit and write full time. I need that retirement plan I've been working on to materialize. Because I work full time, I have to make the time to write. I've set aside working hours on the weekend, made it clear to friends and family that sometimes I may have to write on a vacation, and I still create space to enjoy life. It's not always easy, and I do get tired, but I love what I do, and I want to keep writing. It's important enough for me to find a way to make it work.
If you could pick another profession, what would it be and why?
I'd own a bookstore/coffee shop. I love bookstores and coffee.
When did you fall in love with the written word?
I've been an avid reader for as long as I can remember. I was the kid most likely to be found reading a book than playing outside. I've always made up stories. I hand wrote all kinds of stories when I was younger, and I still have some of the stories I started and book ideas I jotted down when I was in middle and high school.
What's something readers would be surprised to know about you?
That I don't get to read as much as I'd like. If I sit down with a physical book at the end of the day, I fall asleep in minutes. No matter how good the book is! My brain is like "shutdown in progress." So, I mostly read via audiobooks that I listen to in the car, when I take a walk, or when I'm cooking.
What books have you read lately and loved?
I recently finished the fantasy novel Fourth Wing and loved it. The book hit all my fantasy loving spots with dragons, action, and a strong female lead. Before that, I finished They Come at Knight and Yellowface. They Come at Knight is great if you love action/spy novels. This one has a Black female assassin as the lead, which is amazing. Yellowface also has a little mystery and suspense and gives an interesting view of the publishing industry.
What books are you excited to read?
I can't wait to read It Ends with Knight, the next book after They Come at Knight, and the follow up to Fourth Wing. I love series!
What's next for you?
I'm working on a new Harlequin Special Edition novel, and then I'll be finishing the last book in the Peachtree Cove Series. When I'm done with those, I'll have a little bit of a writing break over the holidays (Yay!). I've got several ideas, but I haven't had time to dig into them. I'm looking forward to getting time to focus on something new.
Do you have anything you would like to add?
I want to say thanks for having me on Black Fiction Addiction! I appreciate you having me on your site today.
---
Use the Black Fiction Addiction affiliate link to purchase your copy of The Secret of a Southern Wedding.
---
To learn more about romance and women's fiction author Synithia Williams, visit her website.
Website: www.synithiawilliams.com
Instagram/Twitter/TikTok: @SynithiaW
Facebook: www.facebook.com/synithiarwilliams